Food & Drink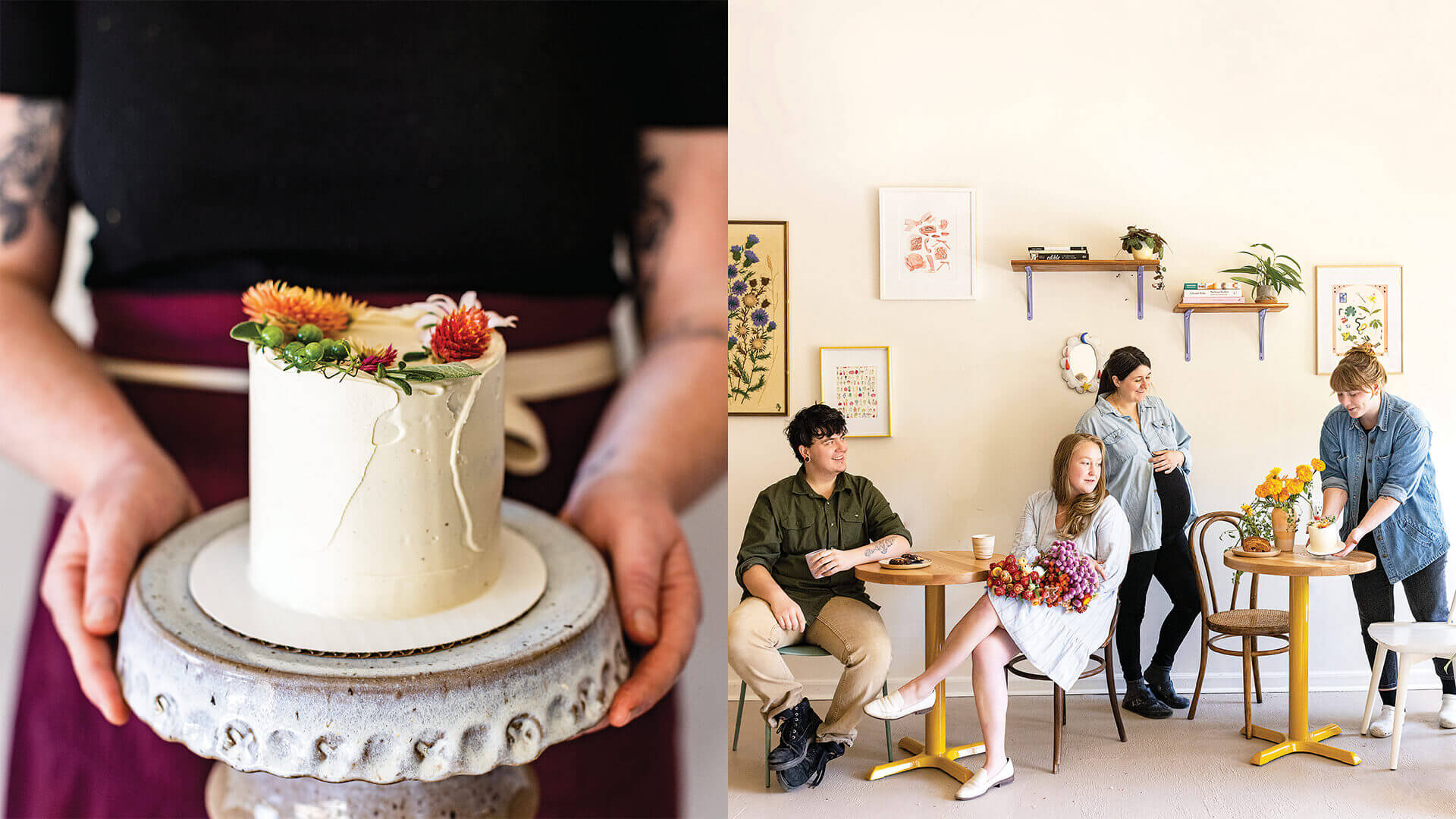 Petal Pushers
With its first brick-and-mortar shop, Bramble Baking Co. blooms in Hamilton.
---
By Amy Scattergood
Photography by Julie Hove Andersen
at Bramble Baking Co. bakery in Hamilton, strewn like footprints from a happy childhood: gomphrenas and marigolds, nasturtiums and mums, scented geraniums and roses. They're drying upside-down above the window into the bakery's open kitchen, in buckets near the refrigerated case—loaded with the popular biscuit breakfast sandwiches, one of the few bakery items not bedecked with flowers—and in vases and bottles around the cozy dining room. Petals trellis up the sides of baker-owner Allie Smith's small-batch cakes—some the size of hubcaps, some of kitchen timers—and scatter across the tops of tiny carrot Bundt cakes.
Opening Spread
Bramble staff, from left, Carrie Beha, Emma Kinney, Jaime Hacker, and Allie Smith.
But such artistry was not born overnight. In fact, in October, just a few weeks after Bramble opened as a tea-proper, brick-and-mortar-and-sugar bake shop, Smith, 30, closed the doors she'd spent five years working to open. "We're learning how to bake even better for ya! Thanks for your understanding," read a yellow construction-paper sign taped to the front door of the building, home to two previous bakeries (Batch Bake Shop, Hamilton Bakery), along a busy stretch of Harford Road.
Smith had pressed pause, scheduling a training and production day on a bright Wednesday to give the staff—most of whom started in September—time to reset, hone their already considerable skills, and come together as a team as they racked up trays of the popular baked goods. Clearly, the spot has since hit its stride.
Bramble's calling cards come in the form of egg-yolk chocolate-chip cookies, chocolate tahini babka knots, purple sweet potato pies with toasty meringue, apple cider scones, chocolate cakes with cinnamon buttercream and salted caramel, and more—many festooned with flowers.
Inside the 2,100-square-foot bakery—which began life as a home-based cottage bakery and took hold in Baltimore's farmers' markets—one wall houses a burgeoning locavore marketplace. Cornflower-blue shelves are stacked with containers of spices from Burlap & Barrel and Diaspora Co., teas from Wight Tea Company, soaps and jars of raw honey from Hon's honey, and gorgeous ceramic plates, made by Emma Kinney, the baker's flower specialist, who also works as a florist. (Being able to effectively multitask is a given at any bakery, as is, for many bakers, a long and interesting resumé.) Bramble merch comes in the form of pretty mugs with the bakery's signature tangle.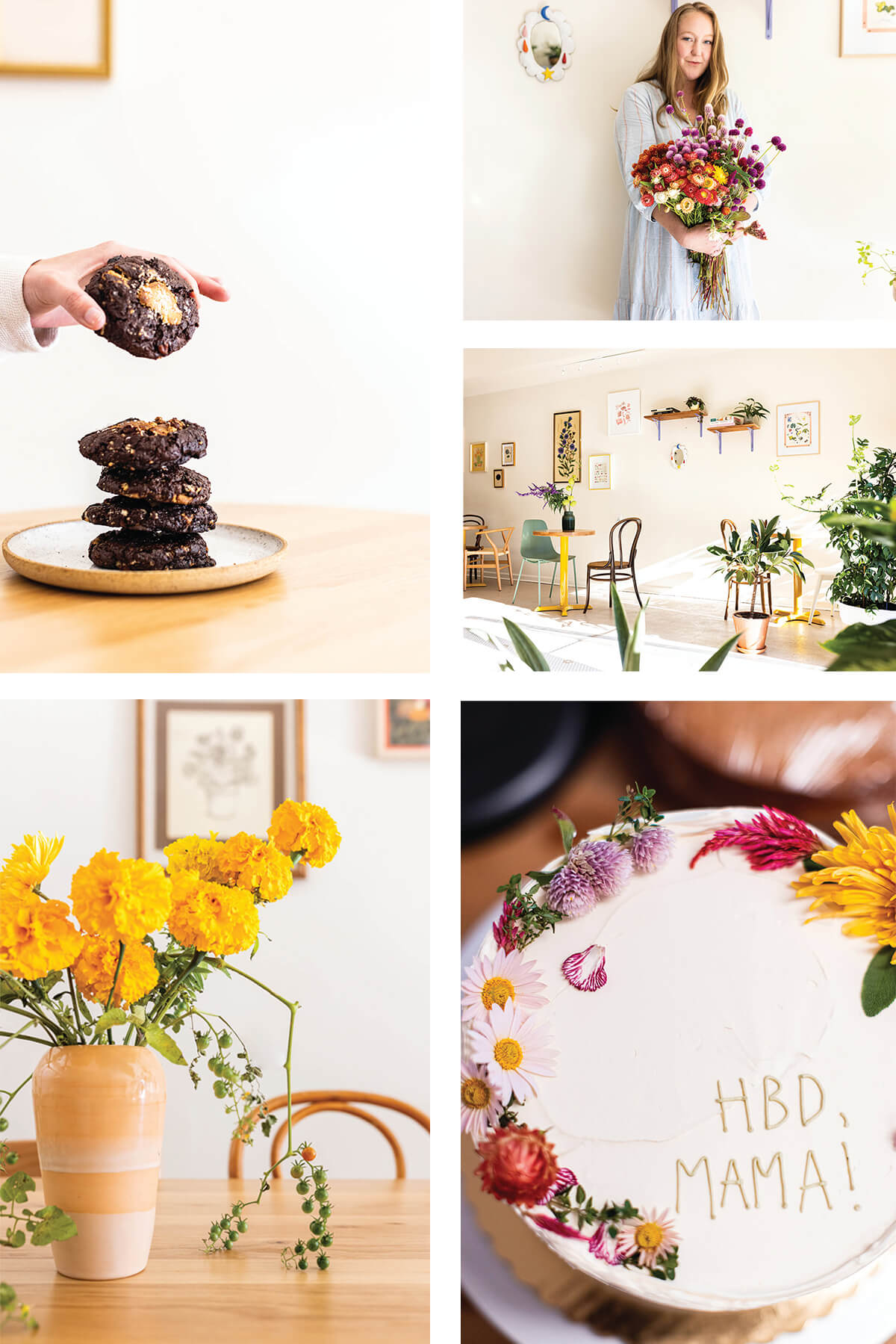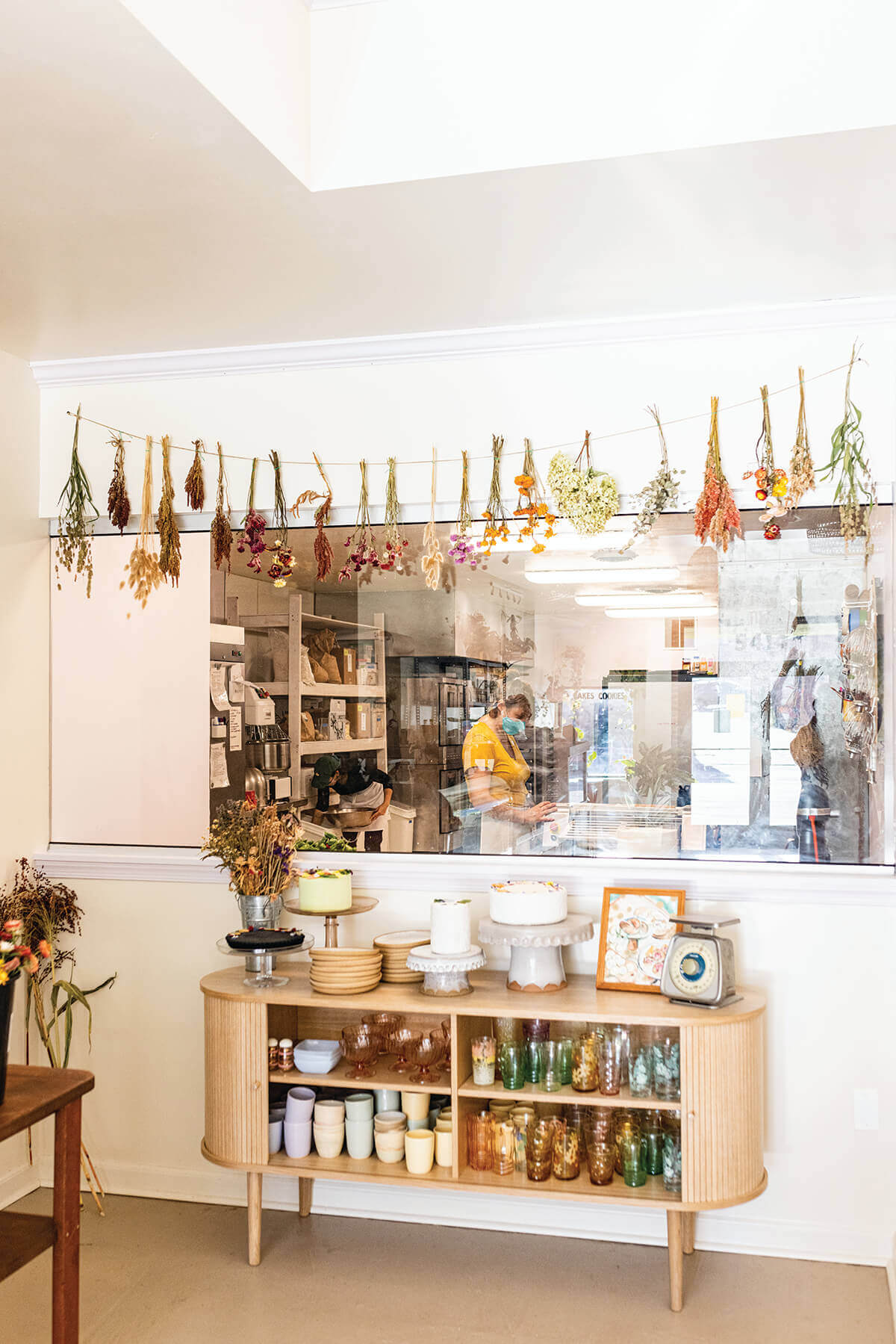 From top: A stack of rye-cocoa cookies; Emma Kinney holds fresh flowers; Bramble Baking Co. owner Allie Smith at work; custom decorated birthday cakes adorned with flowers; marigolds sit in a vase on the table; the bakery in sunlight
"We've put flowers on every cake since we opened the bakery. There was a synergy that made sense."
"I started as a holiday vendor, and so I had to pick a name and become a thing," says Smith.
She's talking origin stories: of the bakery and its contents, of the community she's assembled to run it, and of the direction they're collectively working to travel toward. Because as the physical doors to Bramble finally opened, Smith has also been redefining the business model—moving toward a co-op structure—as well as the kitchen community itself, hiring a diverse staff of people who are similarly interested in living and working outside of conventional definitions. The goal? To create terrific baked goods and—simultaneously—a safe and happy working space.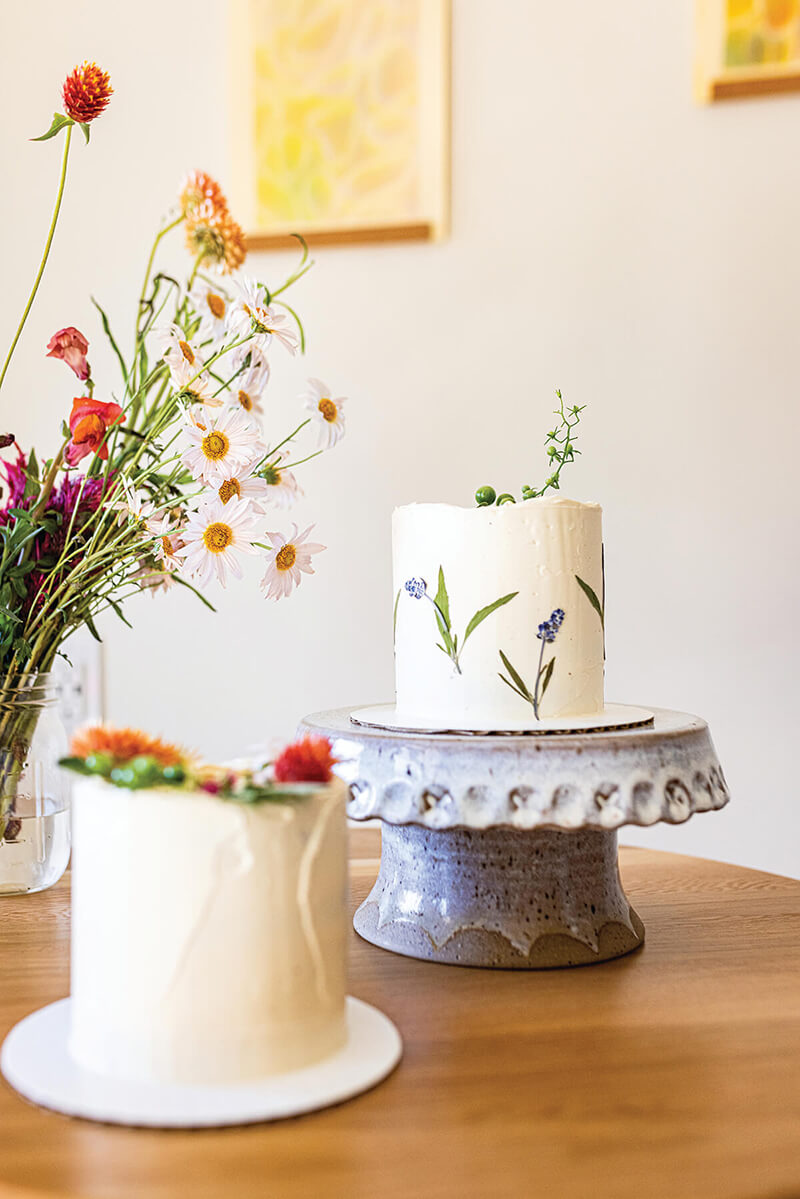 Finished cakes brimming with blooms.
"My grandmother has a lot of lovely, comforting recipes that we still use in our home. But they're very Betty Crocker, like mayo-chocolate cake," Smith says. At Bramble, she continues that tradition, but with elevated recipes that include: voluminous biscuits, botanically inspired cakes, homespun cookies, and earthy hand pies—all mostly made entirely by hand—inside a pastry case that often doubles as a flower garden.
"We've put flowers on every cake since we opened the bakery," says Smith, recalling Bramble's early days in the farmers' markets, where utilizing every bit of available produce is as much of a good habit as it is in traditional kitchens. "There was a synergy that made sense."
Blond wood tables and mismatched chairs fill the dining room, still take-out only. Plans for cake-decorating workshops, done before the pandemic, were also put on hold, though the staff did manage to hold one on a farm. Inside the production kitchen sits an old deck oven, defunct since a previous bakery iteration, now the steampunk-style shelf for a row of wooden bannetons, or proofing baskets. Next to it are the two stacked Blodgett convection ovens that bake most everything in the bakery.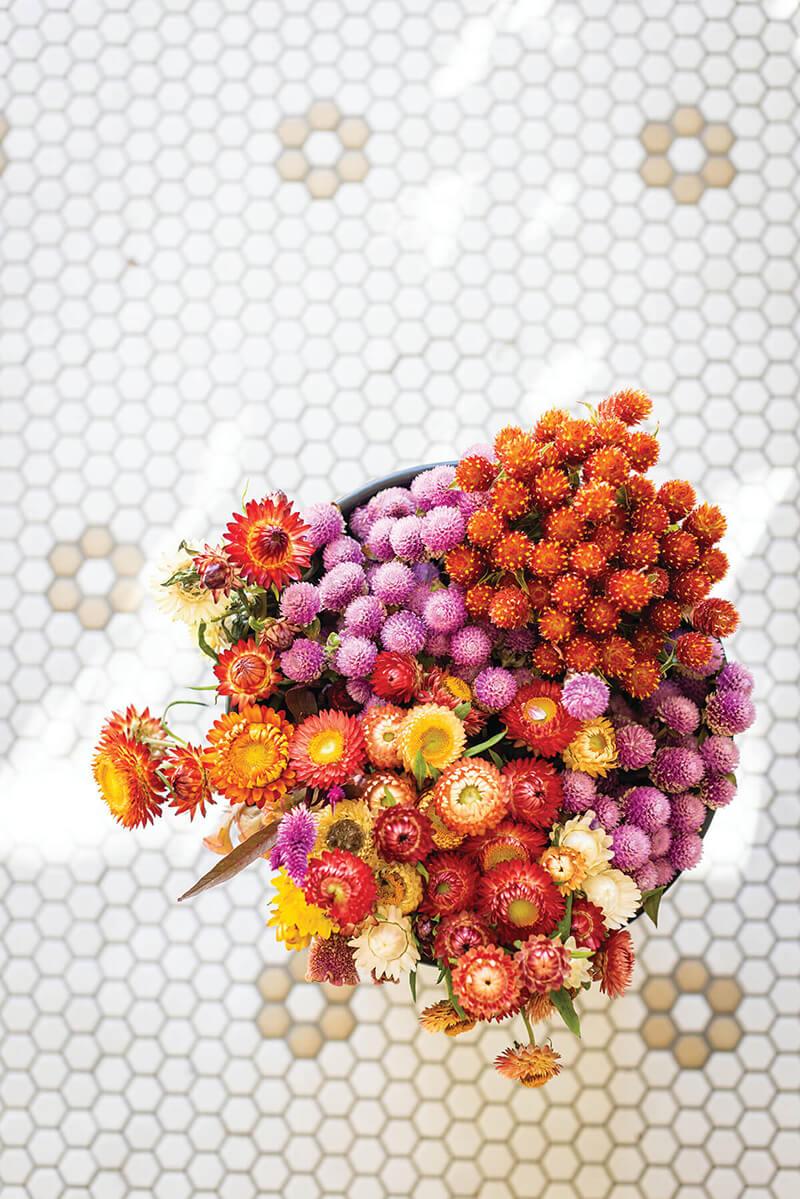 A bucket of fresh flowers at the ready.
The kind of vegetation you might get on your baked goods depends, naturally, on the whims of the season, the garden, the baker. In the fall, when Smith and Kinney favor fruits and vegetables along with the flowers, the cakes and pastries bear currant tomatoes, Jupiter grapes, husk cherries, sometimes wild raspberries on the vine.
Most of what's in Bramble's pastry-case comes in the form of a weekly bucket from Hillen Homestead, an urban farm wedged into a reclaimed site a few miles away from the bakery. The bakers trade a bucket of Hillen owner-farmer Maya Kosok's scrap stems for a box of bakery items, a barter system built of sweet peas, celosia, and sage.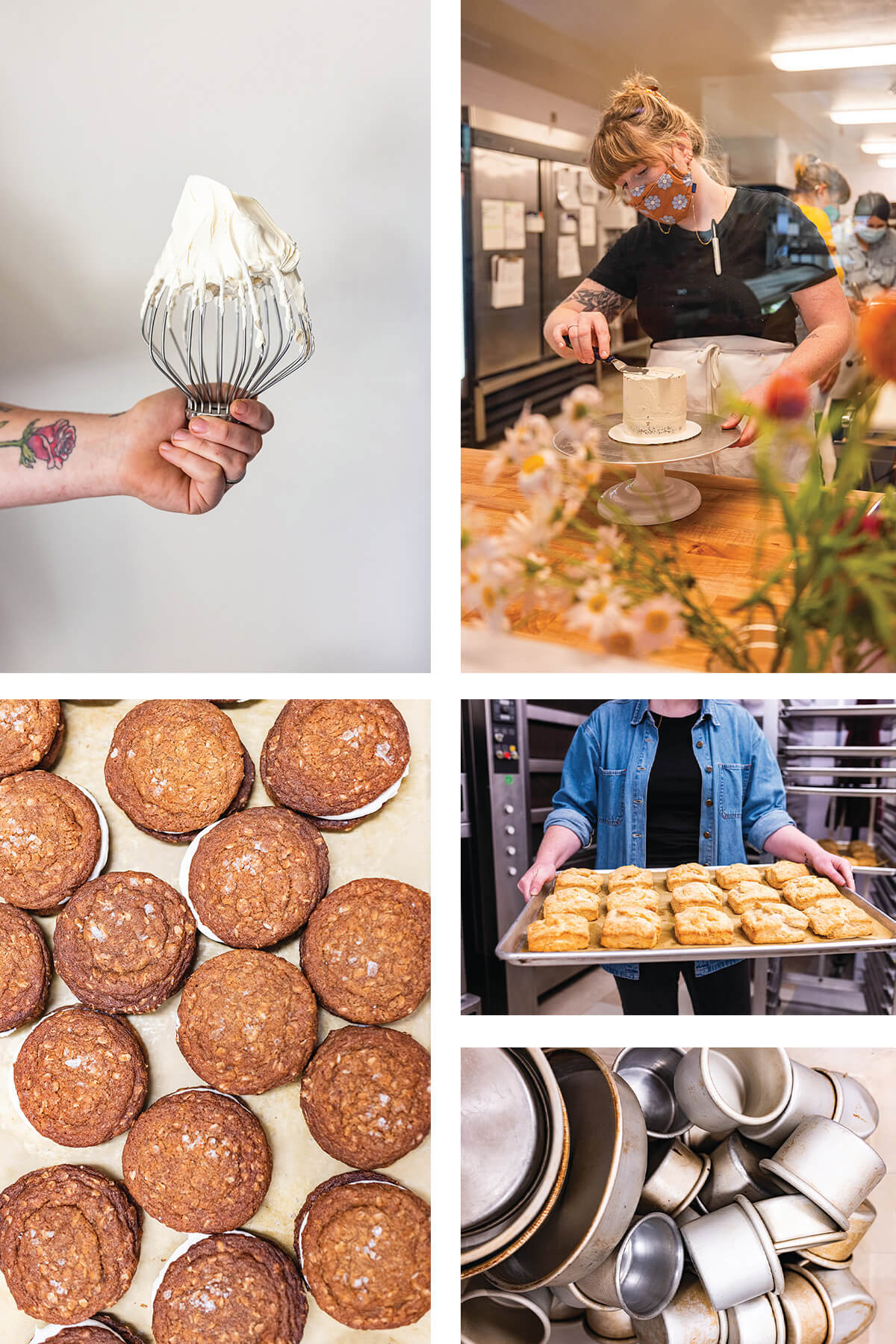 A whisk of apple cider Swiss buttercream; Smith decorating a frosted mini cake; a tray of just-baked buttermilk biscuits for the breakfast sandwiches; an array of baking pans; the oatmeal cream pies.
"It was fun to be in art museums parallel to baking. It's a great place to soak up inspiration."
In winter, Bramble concentrates on sturdier blooms, pressed petals, and preserved vegetation. "Our cakes become very viola-heavy," says Smith. "Sometimes we do a pressed, fresh mélange," says Kinney, which might include hydroponic, indoor-grown flowers, as well as those the staff presses and dries.
Smith, a Maryland transplant, started baking in part as a way of getting attuned to the local growing season. "When you move to a completely new region of the world, you're often a little unmoored," she says. Smith, who was raised in upstate New York and went to grad school for museum studies in Boston, relocated to Maryland for a job as an education coordinator at The Walters Art Museum in 2016. "I had a lot of time in my evenings, so I started baking obsessively, to keep myself occupied, and it became a way for me to become more familiar with mid-Atlantic produce."
Smith used her income from the Walters to get that foothold and then began honing her baking skills at a commercial kitchen sharing space with a small catering business. In 2019, Bramble became Smith's full-time job. "It was fun to be in art museums parallel to baking," she says. "It's a great place to soak up inspiration. The jury is still out on whether I'll call cake 'art' or not."
In those early days, Smith and her partner, Robin Rhodes, a full-time musician who plans to help with more events at the bakery when COVID-19 restrictions further lift, would take Smith's baked goods to farmers' markets, first the Cross Street market, then the 32nd Street market in Waverly. It was there that many of Smith's current staff first encountered both baked goods and baker, including longtime staffers like pastry chef Jaime Hacker.
"I want to make rustic rye croissants and not matcha foam," says Hacker of the career trajectory that brought her from culinary school to a series of restaurants where she found herself following trends rather than baking what she wanted. Hacker was the first person to join Smith's team—Kinney, the second, came on just before the pandemic—and had been at a crossroads in her career.
"I have this classical French training, worked at enough [restaurants] to realize how toxic the industry was," says Hacker. "I was thinking about what else to do with my life, and I reached out to Allie via Instagram to see if I could bake with her for fun."
Bramble's croissant program began with Hacker, who's doing a tutorial on the laminated pastry for others in the kitchen. "I'm going on maternity leave in a week and a half, so I'm trying to teach everybody how to do this," she says, feeding sheets of butterstacked dough through the machine's roller, like laundry. Nearby, sheet pan racks are loaded with warm buttermilk biscuits and the roasted purple potatoes for pies, waiting for the next stage in the bakery's production schedule.
Rahma Haji, a Ph.D. candidate in the University of Maryland's Harriet Tubman Department of Women, Gender, and Sexuality Studies program, would wake up early on Saturday mornings to make it to the market stand in time to get babkas, one of Bramble's specialties. "People love pastries," Haji says. "That's literally how I started." Now Haji spends those weekends behind the counter at the bakery, working front-of-house and further advancing personal pastry skills. "I love to bake; there's an element of experimentation."
The same can be said for Smith's evolving business model, which Smith describes as "ambiguous by design." This could also describe many of those who have gravitated to her kitchen.
"Bramble has grown into a more queer- and women- led space as we've grown our team," says Smith. "Lots of women, but lots of non-binary folks. We've prioritized and will continue to prioritize a work environment that has care at its center, and I do think that there's a certain queer sensibility and a feminist sensibility that allows us to stay true to that. I'm not sure how the two will inform each other yet, but that's how we've naturally grown."
Recently, there's been a lot of discussion about giving back-of-house food service professionals their due, both financially and in terms job contentment. "I entered the food world when there was beginning to be this reckoning about that, and there's more and more each year," says Smith. "The pandemic created space for the folks in lower places to be heard."
Drew Koshgarian arrived for her first day at the bakery with her own rolling pin. Koshgarian says that she wouldn't have applied for a job at Bramble if Smith hadn't included a focus on collaboration, responsibility-sharing, and respect in the job description. "Everybody's become more aware of how things work when everybody feels valued," says Koshgarian, who worked in bakeries in Los Angeles (and also did improv and stand-up comedy there). "It was wildly antiquated," Koshgarian says of the restaurant industry. "Allie comes from an art history background; everybody in this kitchen is interesting."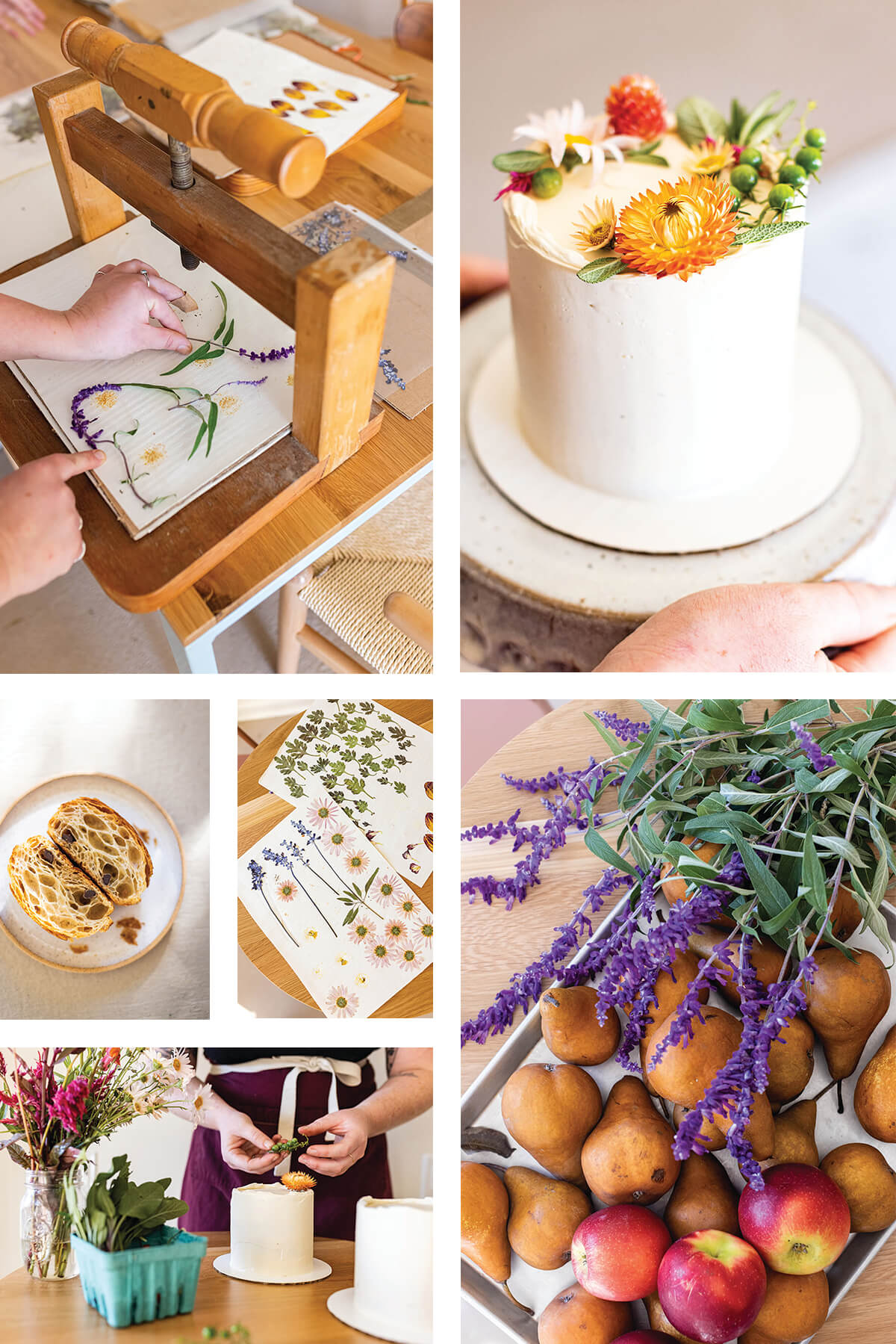 Clockwise from top, an old flower press; a frosted mini cake with currant tomatoes and dried flowers; fresh fruit and flowers; decorating a cake; the pain au chocolat; pressed flowers for decorating.
"The kind of community that Allie's trying to create is very inclusive—in any possibly use of the word."
Like Hacker and Koshgarian, Dayna Palmer logged time in the restaurant industry. "I focused my career in chocolate for the last six years, but this is the first time I've worked in a bakery since culinary school," says Palmer. "The kind of community that Allie's trying to create is very inclusive—in any possible use of the word."
As she speaks, Palmer pours buttermilk into a well in the center of the butter-flour mixture for biscuits—the bakers produce 48 of them on weekdays, selling out in hours. She was the person who added chocolate bon bons to the bakery's holiday repertoire, which also quickly sold out.
But no matter what delicious treats Smith adds to the menu, flowers will always be Bramble's signature.
"Part of using flowers is honoring their temporary beauty," says Kinney, as she carefully stores flattened petals and herbs in binder pages.
With additional flowers—all are non-toxic and/or edible—to feed the sweet workflow coming in from Two Boots Farm, Belvedere Farm Flowers, and Locust Point Flowers, there's enough to load into an old wooden flower press, donated to the bakery in its nascent days.
"It's very therapeutic," says Felicity Lugay, a front-of-house staffer and Towson University special education major, as she lifts mum and tulip petals, leaves of salvia and sage. "When we run out of space [on the flower press], we just use some books," says Kinney as Lugay brings some thick cookbooks (The Cake Bible, by Rose Levy Beranbaum; Roxana Jullapat's Mother Grains; Claire Ptak's The Violet Bakery Cookbook) down from the bakery's shelves.
Kinney instructs folks to refrigerate their cakes, to keep them out of the sun for the sake of both flowers and buttercream—Smith keeps a blowtorch beside the KitchenAid to help control the temperature of the finicky frosting as the layer cakes are assembled—and recommends that fresh flower cakes are best given, and eaten, as soon as reasonably possible. This is not generally an issue.
Carrie Beha, who—like most of the Bramble staff—moves between front-and back-of-house work, also first learned about the bakery through the farmers' market. Beha started working as a teenager and never went to college, instead eventually transitioning to a job at Moon Valley Farm, in Woodsboro, one of Bramble's suppliers. "My heart lit up," Beha says, after seeing the post on Good Food Jobs about Bramble. Of the bakery's wider social project, Beha says: "Hopefully we can keep that balance. I think that's going to be the best part of Bramble—and the hardest part."
Because despite the garlands of flowers and the warm cookies, working in a bakery is not easy. The demands are high, and the hours are long: Smith starts work at 1:30 a.m. on Saturdays, and on the weekends someone is at the bakery starting at 2:30 or 3 a.m. "The only way to make this kind of work sustainable, when it's so against our circadian rhythms, and places a lot of demands upon your body, is really to be honest with yourself and with each other," says Smith. She spreads buttercream on a mini pumpkin layer cake, turning the cake stand around like a clock. "The pinnacle of honesty that we've been able to figure out for ourselves, is working toward this collaborative environment."
Good sourcing, whether local or otherwise, has always been one of Bramble's priorities.
"It was really important to me to work with local farms and local ingredients," says Hacker, whose stellar rye croissants, using stone-ground rye flour from Castle Valley Mill in Doylestown, PA, are a masterwork, simultaneously buttery and flaky, and earthy from the whole grains. (All Bramble's milk and buttermilk come from South Mountain Creamery in Middletown; the pie dough is made with flour from Small Valley Milling in Halifax, PA, and Migrash Farms, near Randallstown; those biscuits are made with with Plugra butter.) "Allie understands how important that is, when I had so many chefs who said, you're lucky you get any flour at all."
It's not difficult to see how Bramble's workplace setting translates from production table to pastry case. "The stuff I'm doing here," says Hacker, "is some of the best stuff I've ever done." "Kindness made me want to work here," says Haji later, sitting outside on the bakery's sun-drenched bench, summing things up with a baker's deftness. "It's great to be a part of something and feel valued, to be in a community. It puts everything into perspective."
Because depending on where you are in the world, brambles can be roses or weeds, blackberries, even Arctic brambleberries—hardy and resilient, often grown in neglected spaces. And utterly beautiful, not unlike bakers themselves.