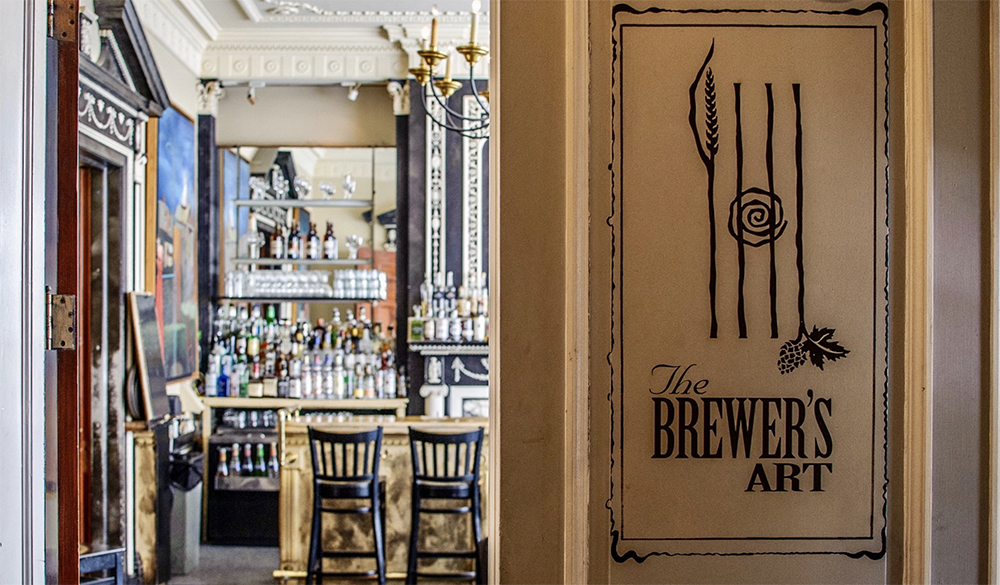 The Brewer's Art
For more than 20 years, city dwellers have gotten to know the The Brewer's Art as a dimly lit, dichotomous destination for pairing house-brewed drafts of Resurrection and Beazly in both its posh upstairs setting and its cavernous basement below.
Come spring, a second location in Howard County will offer a middle ground between the two in the form of a rustic tavern in Highland.
"It isn't super modern out here in Western Howard County," says Ryan Roth, a Highland resident who owns The Brewer's Art building in Mt. Vernon. "It's a little more traditional, so we're definitely going to keep it casual."
Aptly named The Brewer's Art Tavern, the 85-seat sister spot will add some casual charm to the former home of the Twist and Turn Tavern, then Highland Tavern, off of Clarksville Pike. Roth—who estimates that he lives about 200 feet from the new restaurant—took over the lease last fall, and approached his Brewer's Art tenants about teaming up to open a second location in the space soon after.
"I was always a big fan of theirs," he says. "And I figured, 'Hey, these guys probably know a lot about running a restaurant.' They're a cautious group. They've been doing the same thing for a long time, and it's worked for them, but I think they saw the advantages and were excited about it pretty quickly."
Brewer's Art co-owner Volker Stewart explains that the team was uncertain of the Mt. Vernon restaurant's fate when the building was up for sale a few years back. But after Roth became the new landlord in 2017 and later presented his expansion plans, it seemed like the right time to widen the footprint.
"It was kind of a serendipitous thing," Stewart says. "Ryan was a fan of The Brewer's Art, which all of the partners thought was pretty great. He reached out to us about reopening his local bar with a new concept, and after a number of conversations, we thought it would be a great fit."
Roth expects that 50 percent of the menu in Mt. Vernon will carry over to the new tavern, which will dedicate six of its 14 taps to Brewer's Art beers. Executive chef Andrew Weinzirl will oversee both kitchens, bringing approachable staples like the rosemary-garlic fries, poutine with pickled chilis, and soft pretzels with Resurrection mustard to the new space.
Aside from the local craft beer and cider, the beverage offerings will include a selection of house cocktails and a 180-bottle wine list that Roth is curating with the help of the staff at Highland Wine & Spirits next door. "We want to offer some nice bottles that people can just walk over and buy for themselves after dinner if they're so inclined," he says.
Though most of the building was equipped with proper plumbing and electrical systems, construction crews have been hard at work restaining woods, bringing in new furniture, and adding fresh coats of paint in advance of the early-April opening. The goal is to tone down the horse country feel of the previous inhabitant to make way for a more inviting, warm interior. The spot also features a 20-seat outdoor patio that Roth plans to convert into a beer garden.
As the Howard County dining scene continues to grow with new concepts like The Turn House, Manor Hill Tavern, and Cured 18th & 21st, Roth is looking forward to adding yet another dining destination to the area. For his part, after two decades, Stewart feels the timing is finally right for the expansion of Brewer's Art.
"Ryan is committed to creating a space that offers the same high-quality product and experience that we offer here," Stewart says. "We are excited to have a sister restaurant."