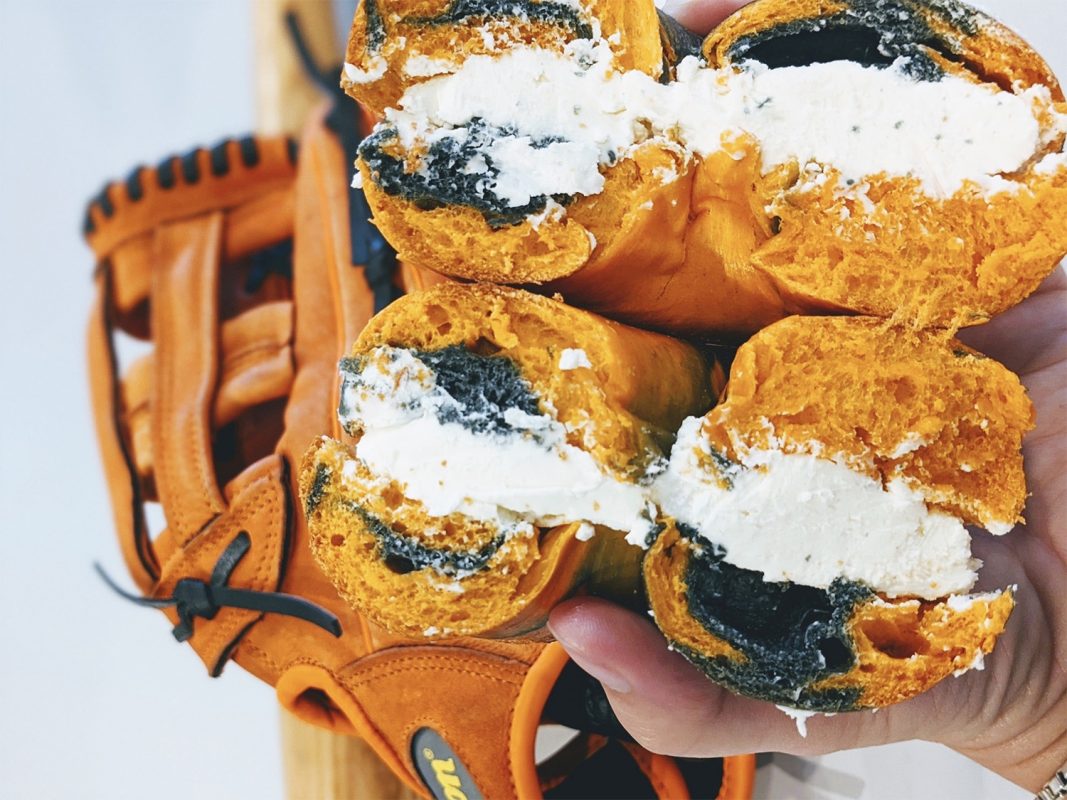 THB Bagelry & Deli
While we're excited the O's are finally taking the field, it's hard not to lament the traditions of a typical Opening Day—like seas of fans decked out in orange flocking down Pratt Street to Camden Yards, vendors hawking the requisite peanuts and Natty Bohs, and the scent of greasy ballpark fare wafting throughout the stadium. Though the away opener against the Red Sox on July 24—and the first home game against the Miami Marlins on July 29—will seem surreal with no fans in attendance, local restaurants have us covered with festive food and drink specials to enjoy while watching at home. Here are a few ways to get into the spirit:
The Charmery: It should come as no surprise that master creamer David Alima has dreamed up an orange-inspired ice cream flavor to honor the return of the birds. All Charmery locations in Hampden, Towson, and Federal Hill are now scooping "Squeeze Play," made with fresh-squeezed orange juice, orange zest, and orang bun(d)t cake.
THB Bagelry & Deli: To celebrate the home opener on Wednesday, July 29, all four THB locations will fill their bins with orange-and-black bagels. Enjoy the one-day-only offering with a classic schmere or your favorite sandwich fillings.
Zeke's Coffee: Starting with the away opener on July 24, this neighborhood staple on Harford Road will be featuring a special menu of $5 ballpark fare while supplies last. Get your fill of classics like jumbo hot dogs, Pollock Johnny's, soft pretzels with Zeke's coffee porter mustard and cheese sauce, and stadium-style nachos with salsa and jalapeños. Round out your pregame platter with $2 Bohs and $3 Brewer's Art Birdhouse cans.
The Sporty Dog: Nothing says baseball like hotdogs. And this fan-favorite purveyor is ringing in the season by dropping a new menu item. The aptly named "O Dog" is topped with crab meat and mac and cheese made with O-shaped pasta. Order for curbside pickup for the away opener and throughout the weekend.
The Classic Catering People: This Owings Mills-based catering company has crafted an "O"pening Day menu of carryout fare that is meant to make your feel like you're watching the condiment races and the crab shuffle from the stands. Boxed meal options include fried chicken with macaroni salad and watermelon, crab cakes with coleslaw and Old Bay chips, and a pit beef sandwich pack that feeds four.
Nottingham's: If you're backing the birds from Howard County, consider snagging a seat on the patio at this Columbia spot—where the game will be on all screens with sound. Specials for the away opener include $3 draft beers, $6 hot dogs, and $10 burgers served with chips and a Miller Lite or Yuengling.