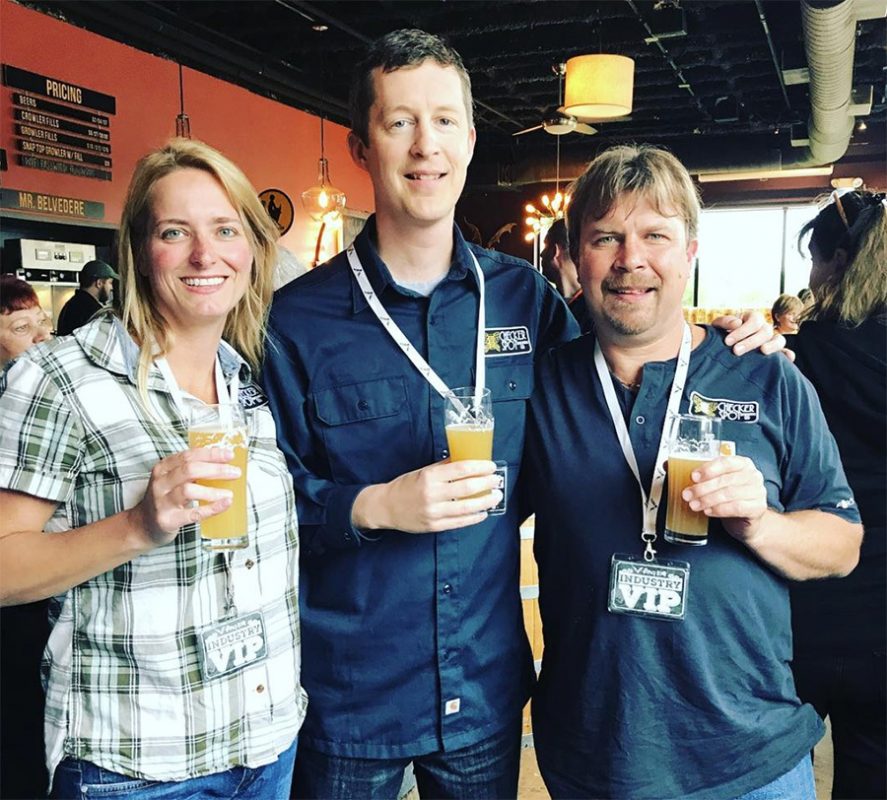 Checkerspot Brewing
On a sunny day in February, about a dozen brewers, writers, and beer aficionados gathered in the basement of a Patterson Park row home. There, they tapped kegs and casks of some experimental beers (like a milk stout fortified with crab shells) and each person scored the beers and wrote down their opinions on 3×5 cards. 
Call it grassroots marketing, field research, or maybe the most fun focus group ever. This is part of the strategy behind Checkerspot Brewing, which is opening in South Baltimore by the end of this year. For the past 18 months, the team behind Checkerspot—Judy Neff, her husband Rob, and their partner Steve Marsh—have been hosting in-home taste tests, collaborating with established breweries, and strengthening their relationships with local farms as they prepare for the opening.
"I am taking the leap to turn my passion into a career," says Judy, who has a Ph.D in microbiology and has been home-brewing for 12 years. "We thought the smartest approach was to get to know all the brewers in Maryland—work with them, get their advice and expertise. It's one of the few industries where there really is very little competition."
Checkerspot Brewing—named after the state butterfly of Maryland—will be located at 175 W. Ostend Street, a stone's throw from M&T Bank Stadium and Horseshoe Casino. Judy says opening the brewery has been a long-time coming and they are so excited to have the expertise of Marsh, who started the cask program at Heavy Seas Beer a decade ago.
"They're one of the top producers of cask beer in American and Steve was instrumental in starting that up," she says. "But he's also been sourcing local hops and fruits from Maryland farms since it was sort of this unknown entity. Back then, a farmer growing peaches wasn't thinking they could sell it to brewers."
But that movement has certainly changed and Marsh's agricultural connections are paying off. In May, the brewery collaborated with Frederick-based Flying Dog to release Two Paws Ale, a pale ale brewed with 100-percent local malt from Chesapeake Malting and paw-paw fruits and honey. 
"Not surprisingly, smaller farms produce the most flavorful ingredients," she said. "We want people to get back to understanding the circle of life from a beer perspective."
Checkerspot also wants to get a real survey of their future market, which is why the Neffs have hosted two in-home taste tests to get feedback about their beer. The first one was a range of different styles and the second one focused primarily on saisons. 
"It helps remind you that you're not just brewing beer for your own palette," Judy said. "Our goal isn't to focus on just one style and try to be as open as possible to all tastes and preferences."
So far, Checkerspot's core beers include the milk stout with crab shells, which is their play on an oyster stout. They'll also have a juniper IPA in the rotation, which plays with juicy, candy-type hops and the piny notes of the juniper berry. They'll also feature at least one high ABV beer, as well as two cask options. The brewery itself is a 10,000-square-foot space with a two-floor taproom that will overlook a giant brew house with 22-foot ceilings. 
"The location really can't be beat," she said. "South Baltimore really has a strong neighborhood feel where people are passionate about supporting local. We're just really hoping this will be a fun place to hang out and that we'll be known for our great beers."