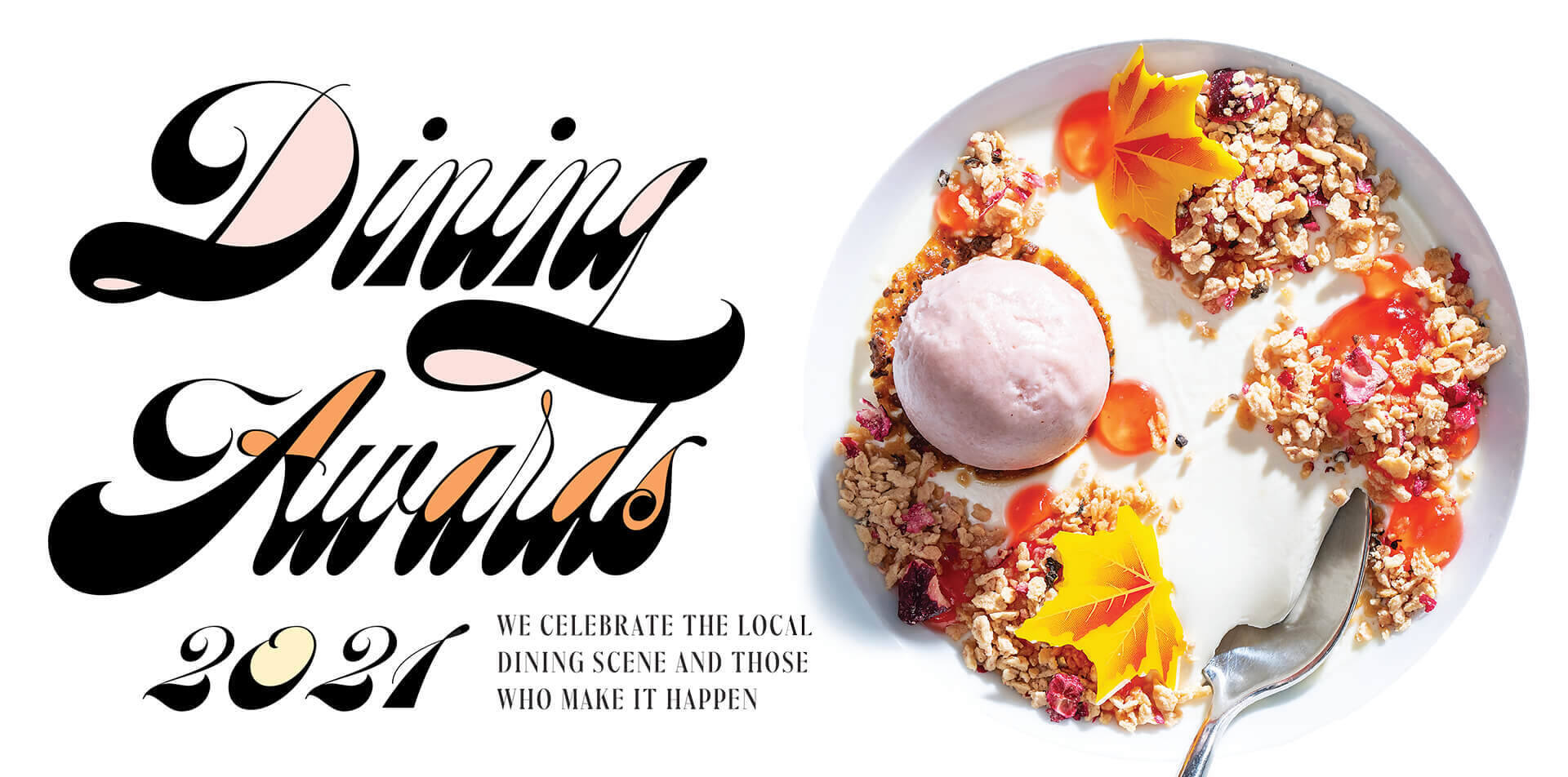 Food & Drink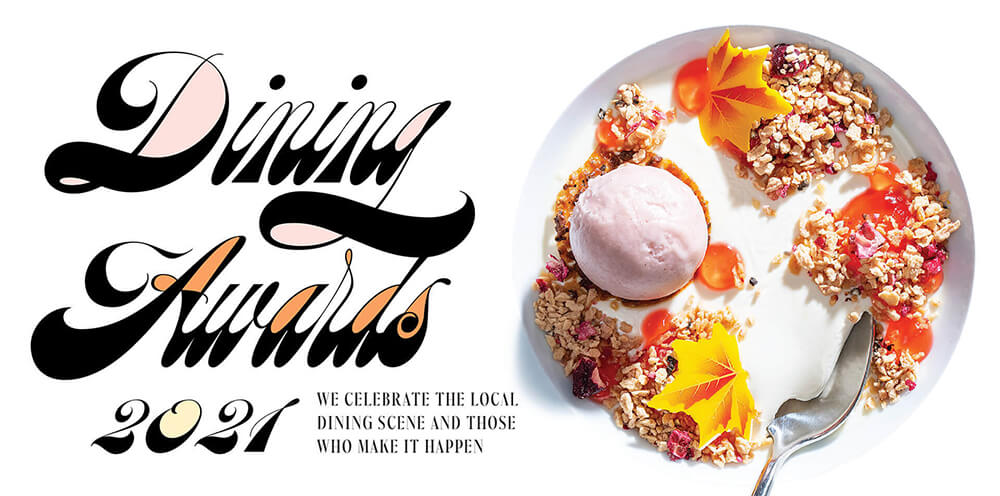 We celebrate the local dining scene and those who make it happen.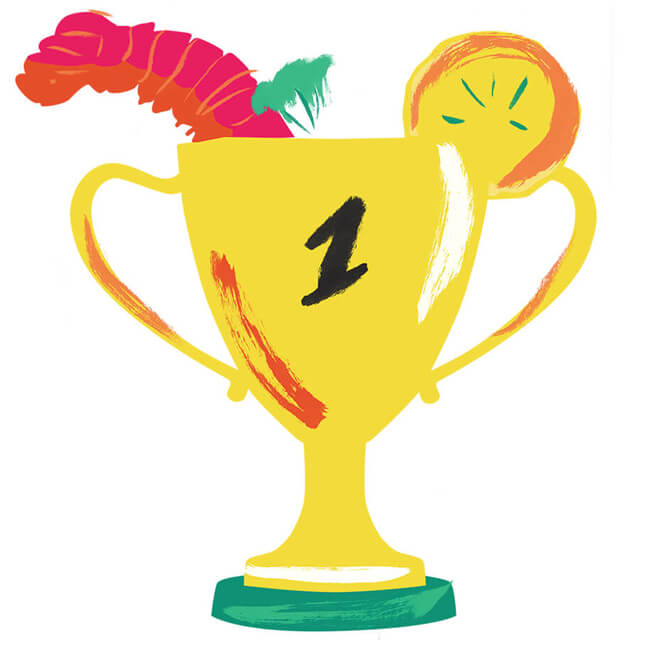 Every year around this time, for our Best Restaurants roundup, we ask ourselves why any one spot stands out. Is it the food, the décor, the service, the ambiance, or some combination that makes our hearts go pitter patter? But this past year, with the rise of COVID-19, all the rules have changed—and 2020 was a year like no other year we've covered. As restaurants have fallen on hard times, we've been stirred to celebrate the scene with our first-ever Baltimore Dining Awards. Given what sometimes seemed like insurmountable challenges, we see the hospitality industry anew. And we swear—once we're all vaccinated—we'll never again complain about loud music, slow service, or small portions. Starting March 16 of last year, due to COVID-19, Maryland restaurants were mandated to close for indoor service, and then, in the ensuing months, allowed to reopen with a Byzantine series of ever-changing dine-in guidelines and a second wave of crippling closures just before Christmas. All the while, there was a growing demand for takeout. In essence, restaurants had to fight for survival and were forced to find new ways of conducting business, whether doing carryout for the first time, converting to contactless service, or simplifying menus to pare down labor and food costs. Some made the decision to stay shuttered inside while ramping up outdoor dining and giving rise to al fresco Edens with shrubs and string lights. With their boundless creativity, restaurants have continued to inspire us—from elaborate tents and individually heated tables (La Cuchara, Orto) to subscription services (Gracefully Coffee, Larder) to restaurateurs who shelled out beaucoup bucks to add virus-killing lights and new HVAC systems for increased air exchange (Linwoods, Citron).
Above all, we salute every server, every bartender and baker, every chef and sous, every dishwasher, every person making the magic happen...
In this reimagined landscape, for restaurants and patrons alike, just showing up—while wearing a mask—was half the battle. In fact, that restaurants continued to operate at all sometimes seemed like a small miracle. So this year, when we asked ourselves, "What stood out on the scene?" we had newfound perspective. More than ever, we appreciate the people and the places that have made the best of it in the hardest of times, from the servers who did their jobs even at risk to themselves to the restaurateurs who kept their businesses afloat by dipping into their personal savings and the neighborhood joints that kept us anchored when the whole world seemed unmoored. Every day we marveled at the chefs who devised dishes sturdy enough to withstand carryout, bartenders bagging craft cocktails to go, and managers working overtime to keep us safe by taking our temperatures before taking our orders. Above all, we salute every server, every bartender and baker, every chef and sous, every dishwasher, every person making the magic happen so we can still enjoy restaurant-quality food, whether dining in at a distance, getting it to-go, or simply serving as a source for pantry staples. From behind your masks—and ours—we see you (and, oh, how much we missed you when you were closed). And to out-of-work hospitality folks, we say keep the faith. We will see you on the other side. In a year when everyone burned brightly, we give props to our entire culinary community, while also singling out a few stars. We also bow our heads to those we've lost.
You have our deepest gratitude.
---
CHARITABLE GIVING
Atlas Restaurant Group
In the past year, as many of us have fallen on the toughest of times, Atlas Restaurant Group came to the rescue and showed us that charity does, in fact, begin at home. Despite the fact that their 14 Baltimore-based properties were closed off and on (and off) throughout the pandemic, Charm City's largest restaurant group focused on those hit hardest. Whether doing weekly Grocery Giveaways (from produce to pantry goods and even rolls of toilet paper) for out-of-work hospitality workers in partnership with purveyors such as Saval Foodservice and Coastal Sunbelt Produce or providing countless hot meals for the homeless at St. Vincent de Paul's in Fells Point, Atlas owners Alex and Eric Smith and their team dug deep and gave back to the city they love. The acts of generosity also included giving away thousands of pounds of Atlas Farms produce to various charities (Westminster Food Bank, Sharp Leadenhall Baptist Church) when their properties were shut down due to COVID-19. In all, Atlas has donated tens of thousands of meals and grocery essentials to those in need. Thanks to them, many Baltimoreans have been able to rest a little easier at night.
---
SURVIVOR
SoBo Cafe
We've always seen Federal Hill staple SoBo Cafe as a survivor, but after a car plowed into the business' outdoor dining area on October 18 in a hit-and-run, the cozy cafe on Cross Street known for its brunches and burgers really showed its mettle, handling it with trademark gumption and grace. Even as the wreckage was being cleared, SoBo remained open to serve the community with carryout orders and outdoor seating. And we were touched to see that, in true Baltimore fashion, there was an outpouring from other area businesses that quickly mobilized to set up a GoFundMe page and helped with the cleanup to get the restaurant back up and running. Sometimes you don't know what you've got until it's (almost) gone—we appreciate SoBo Cafe more than ever. Clearly, they're here for the long haul.
---
BAR SNACKS
Dutch Courage
After a few visits in the past year (both pre-pandemic and for carryout), we can safely say that the cocktails aren't the only stars of the show at this Old Goucher watering hole. As much as we love the drinks—many of which make use of the bar's 100-bottle gin collection—props are in order for chef Carl Zimmerman's snack offerings. Aside from his roster of larger plates and rotating "Smokin' Sunday Supper" menus that highlight a different smoked meat each week, the chef turns out a number of shareable snacks that are ideal for lining your stomach in between rounds. Some of our favorites include fried Japanese peanuts, a build-your-own charcuterie "Happy Box" with soft cow's milk cheese and aged prosciutto, and a house-made fermented onion dip—served with salt-and-pepper kettle chips—that puts the stuff in jars to shame.
---
BARTENDERS OF THE YEAR
Cane Collective
When the COVID crisis hit, veteran bartenders Aaron Joseph and Ezra Allen launched this colorful line of bottled mixers with the hope that they would not only bring the experience of craft bartending directly to people's homes, but also act as a fundraiser to support industry workers in need. Sure enough, the innovative concept turned into a fast favorite as the pandemic left cocktail enthusiasts longing for a stool at their favorite haunts. Since first dropping at local stores in March, the flavorful concoctions have become a staple on home bar carts all over town—satisfying cravings for both classics (the Southside mix fuses lemon, mint, and ginger) and seasonal sips (the Mixed Berry Punch with lemon juice, mint, One Straw Farm berries, and edible glitter—ooh la la). Each blend suggests spirit mixers on the label but can also be enjoyed as a non-alcoholic mocktail on its own.
---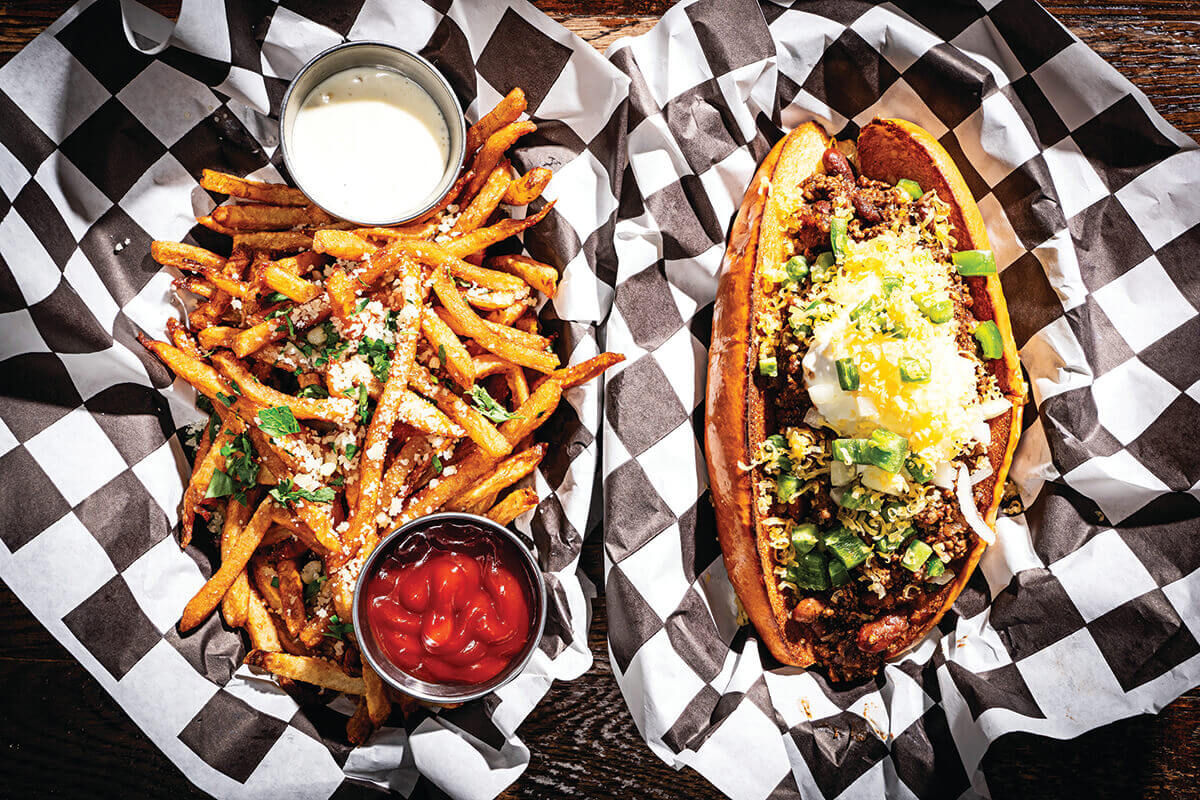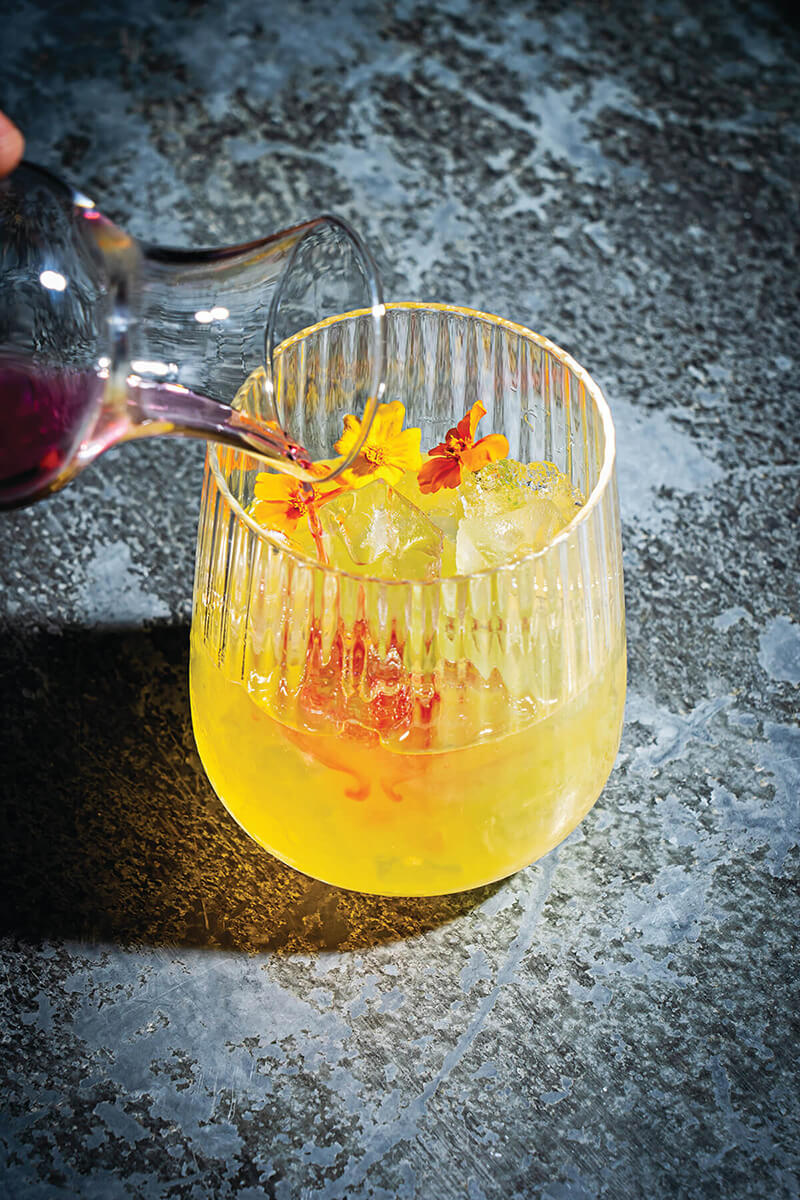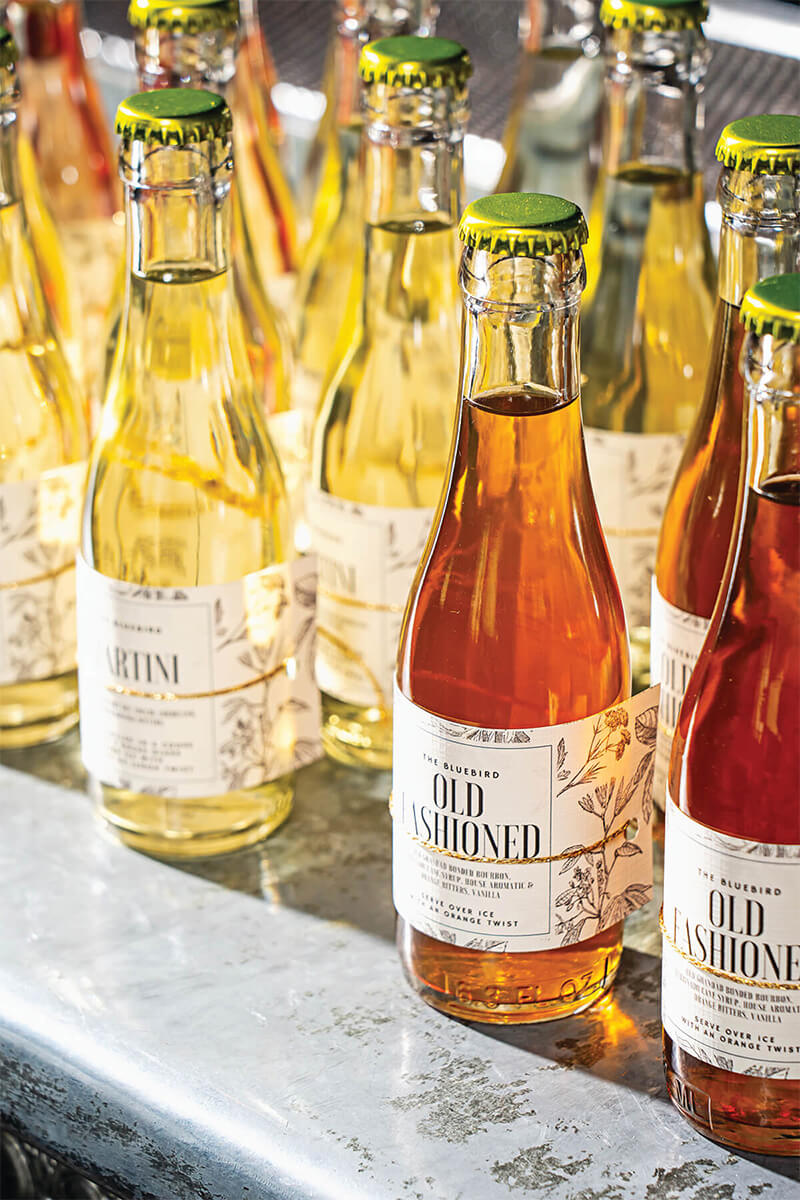 PIVOT
The Bluebird Cocktail Room's "Until Conditions Improve"
F
rom the moment this cheekily named pop-up sprang up on the Hampden sidewalk outside the swanky Bluebird Cocktail Room, we loved its let's-make-the-best-of-it attitude. Diners eating outside (or getting items to-go) at Until Conditions Improve place their orders and pay at a hostess stand out front, then are seated at one of the appropriately spaced tables (a health consideration we didn't see at all the al fresco spots last fall). The smartly pared-down menu features burgers (a 21-day dry-aged Roseda ribeye is something special), gourmet hot dogs, a smattering of sides (here's to the truffle aioli fries), and, of course, cocktails (including boozy shakes and spiked cups of cocoa). Until conditions improve, we're more than happy to while away the hours here.
---
BRAND EXPANSION
Chaps Pit Beef
We admit that we were leery when this East Baltimore mainstay began expanding for fear that the brand would somehow feel diminished. If Chaps isn't the king of our hometown style of barbecue, it's at least the most visible member of the royal family. We will always love the rugged original location, a tiny outpost in the parking lot of a strip club on Route 40, but we have to admit it's nice to have other locations around the region at which to pick up heaping pit beef sandwiches. One of the newest is in a Glen Burnie strip mall on Richie Highway. Located next to a Shoe City, the setting is predictably blander than the original, but the food—our favorite is The Gus, stuffed with corned beef, ham, and turkey—is as regal as ever.
RESTAURANT MERCH
Woodberry Kitchen's Annie Howe T-shirts
Just when we thought there was no reason to get out of our jammies, Annie Howe's artfully designed tees—emblazoned with laser-cut farm animals—helped us stay in style while helping to support both the local artist and this James Beard Award-winning restaurant.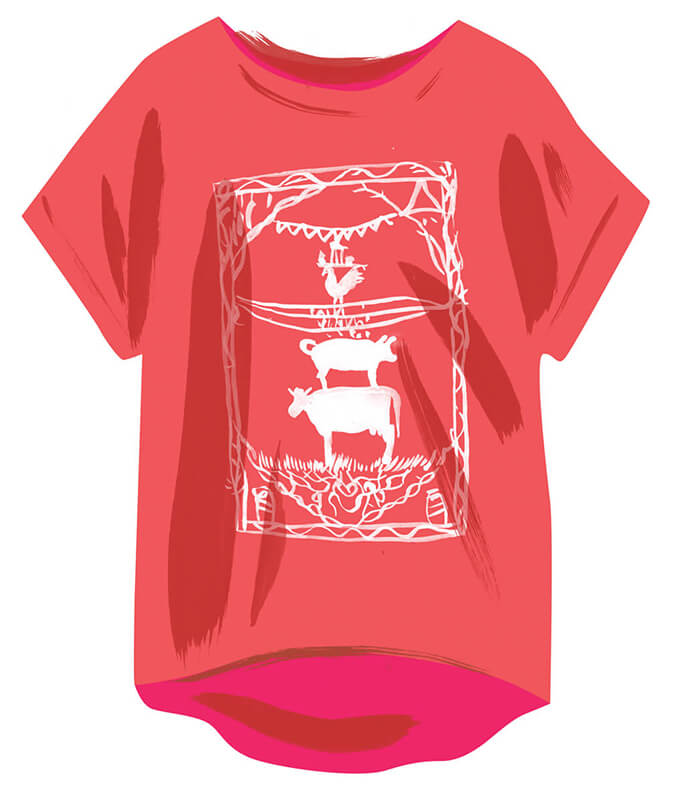 CHESAPEAKE FARE
True Chesapeake Oyster Co.
Lately, it seems, you can't toss an oyster shell without hitting a Chesapeake Bay-focused restaurant. But True Chesapeake Oyster Co., Maryland's first oyster-farm-turned-restaurant, is, as the name implies, the real deal. Executive chef Zack Mills has put together an innovative Mid-Atlantic menu—whether you eat outside or take out—that tells the narrative of our local waters. Think: subtly salty Skinny Dippers and Huckleberry oysters plucked from St. Jerome Creek in St. Mary's County, blue crab shaped into cakes or tossed into mac and cheese, and local rockfish bathed in a tomatillo-herb broth. During the pandemic, with food-supply chains upended, many restaurants have turned to local sourcing, but this Whitehall Mill restaurant—open for just a little more than a year (though closed for several months this winter)—has stayed way ahead of the curve in educating its guests about the importance of sustainable seafood and eating what's in our own backyard (and waterways).
---
COCKTAILS TO-GO
Sugarvale
As sad as it is to see that Mt. Vernon's Sugarvale—the dimly lit, subterranean spot typically buzzing on any given night—has gone dark for now, we're grateful that its team is bottling cocktails and selling them at Dooby's, the bar's sister spot just around the corner. Though nothing compares to having a drink handed to you from across a bar (especially at a dreamy spot like Sugarvale), with the right glass, garnish, and proper serving instructions, these to-go cocktails come pretty darn close to mimicking that feeling. Whether you're a whiskey person, more of a mezcal fan, or simply miss the bar's classic Negroni, the curated list, which offers eight or 16-ounce pours, has something to please all palates. Standout sips include the whiskey and rum-forward "Rye Tai," accented by pineapple, lemon, and bitters, as well as the fan-favorite "Amaro Daiquiri" with sweet Averna amaro, lime, and cane syrup.
---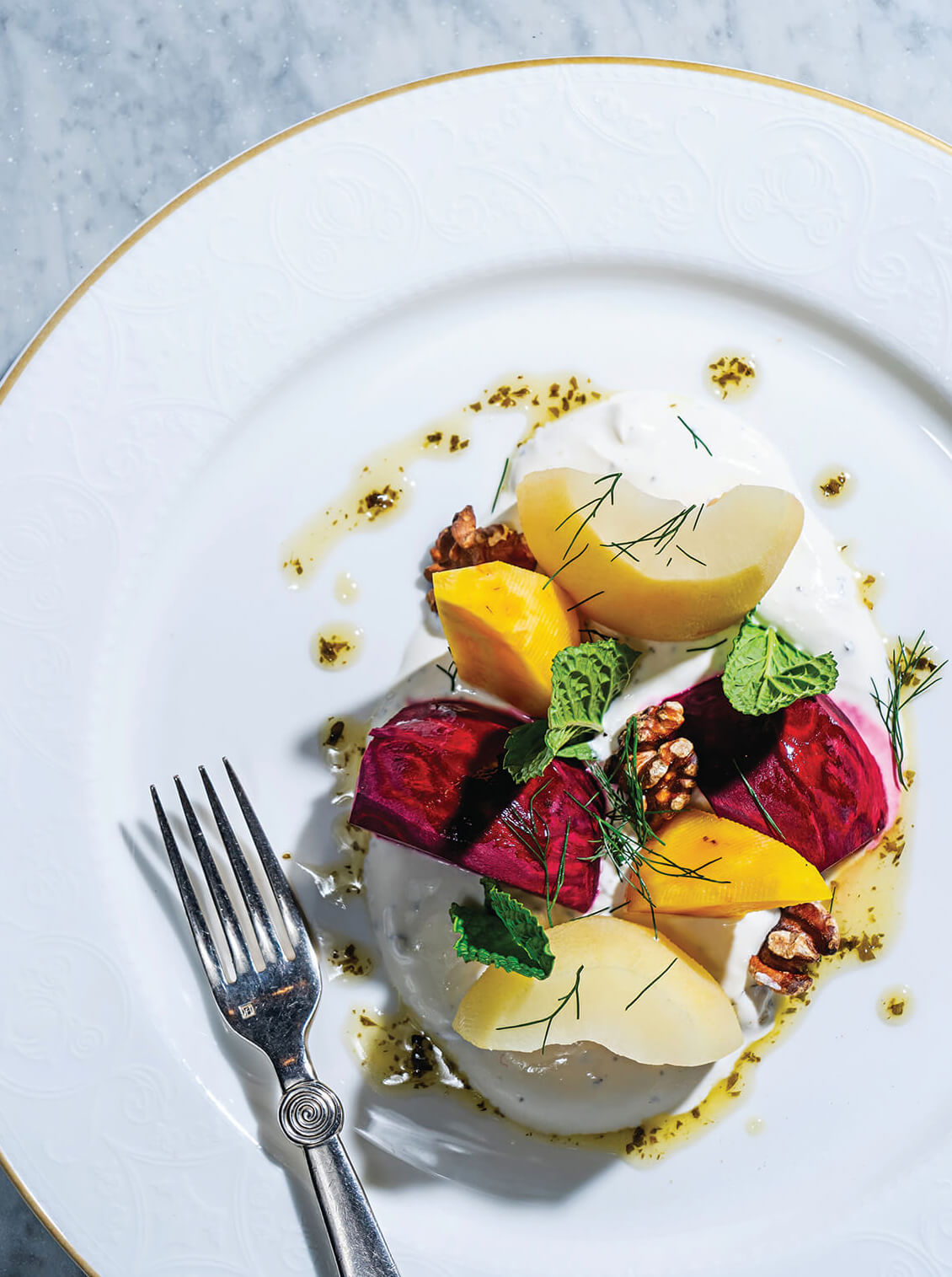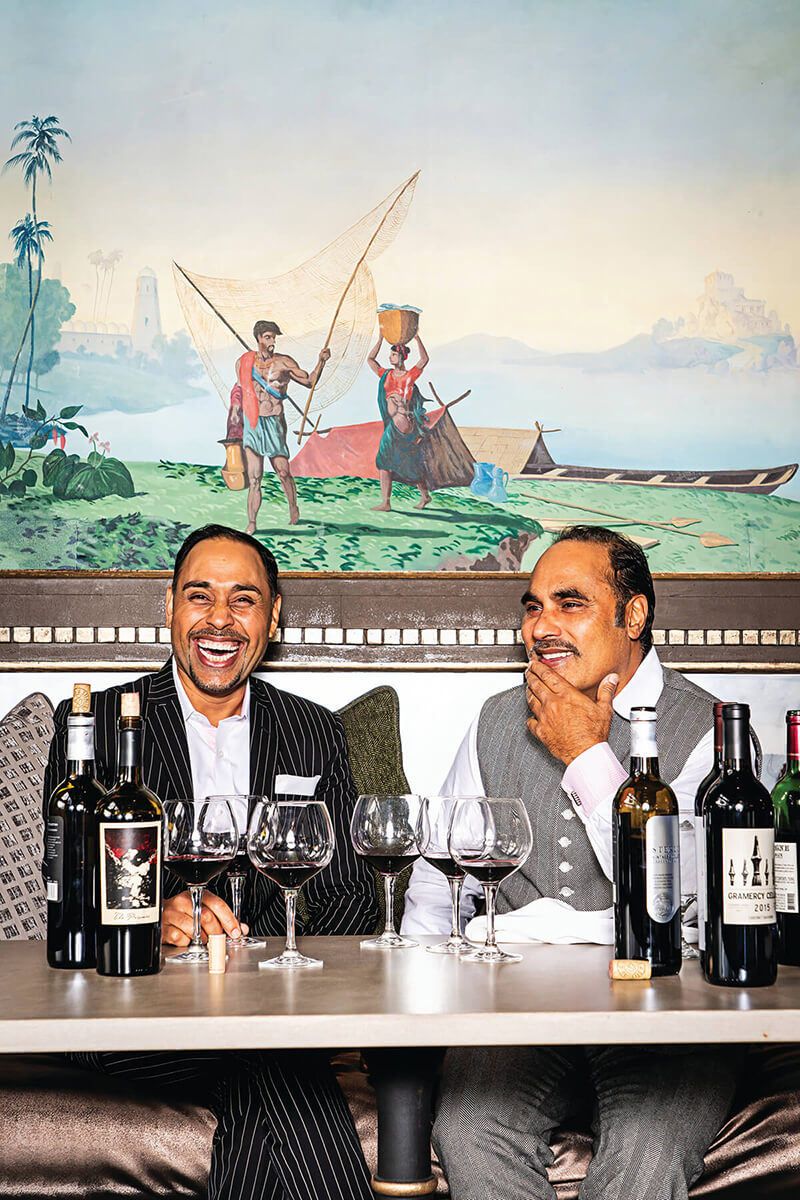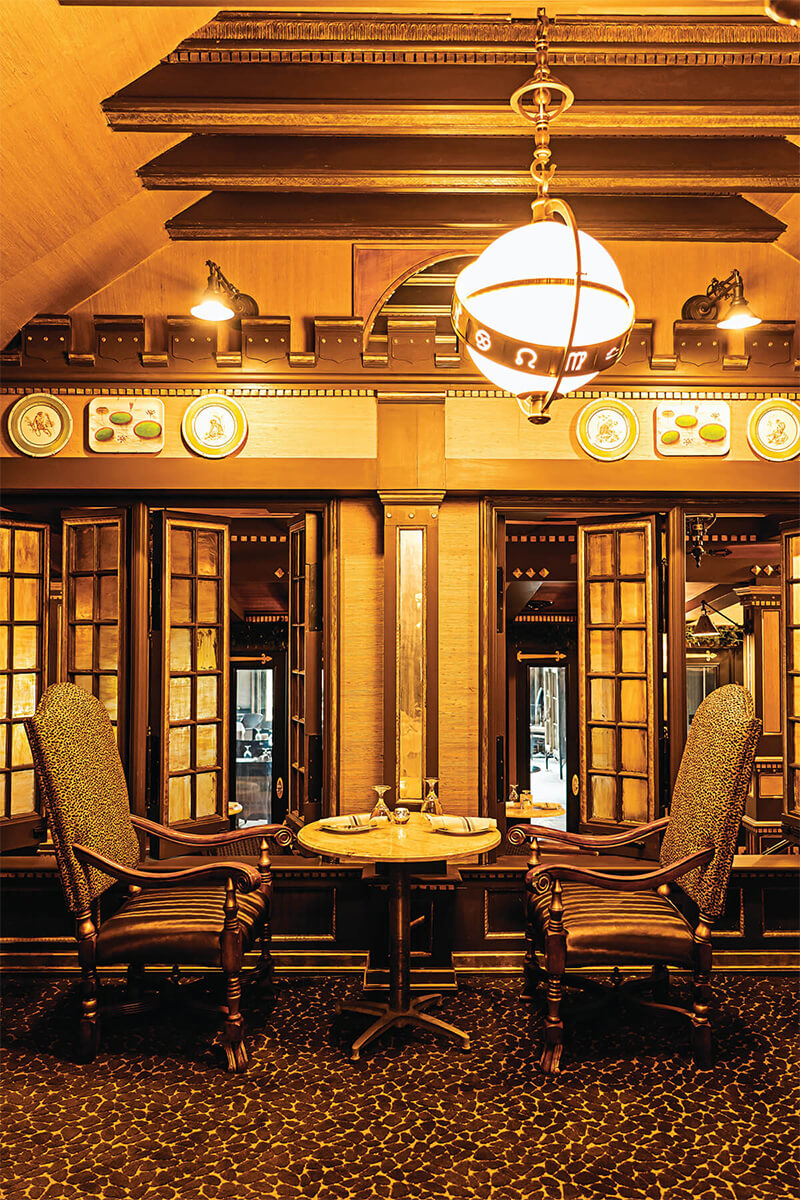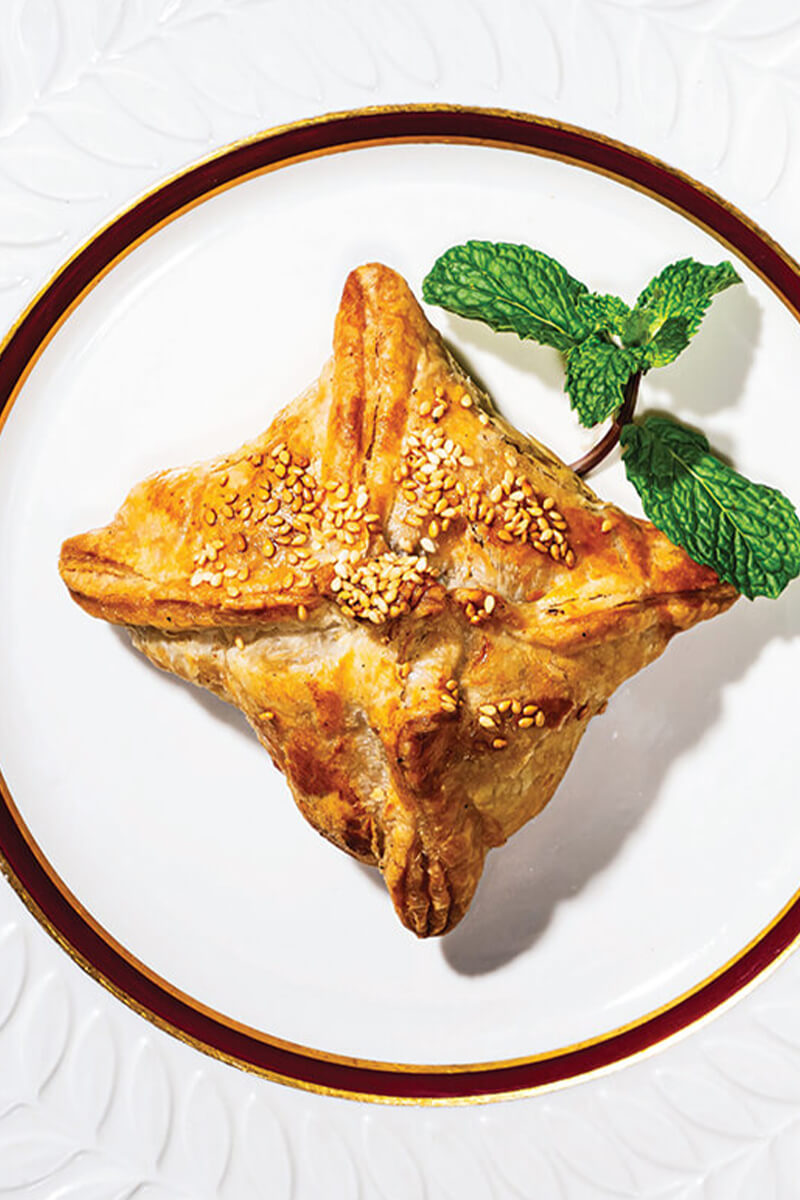 NEW RESTAURANT
Peerce's
H
ow low can you go? Temperature wise, that is. That's a question all of us who love dining out began asking ourselves as fall turned to winter and eating out—as in outside—took on a chilling new meaning. In October, November, and God help us, even the first part of December, we donned our wool socks, squeezed into our winter coats, and sat outside at restaurants around the region to dodge the virus, nourish our souls, and support places we love. And there's not a new restaurant we love more than Peerce's, the longtime Phoenix institution that was purchased and reimagined by brothers Keir and Binda Singh. "It's such a great location," Keir says. "It's only five miles and six minutes from Towson. It just feels like you're way out in the country. It's really not that far, although driving through the reservoir and the trees and nature, you feel like you've been in the car forever." The brothers, former owners of the Ambassador Dining Room and current purveyors of the fantastic Ananda in Howard County, have brought their Indian fine-dining concept north, and the results are stirring. Traditional dishes like chicken vindaloo and palak paneer shine alongside sophisticated interpretations like the halibut, a beautiful piece of fish topped with a subtle masala sauce and accompanied by vegetable biryani. On a recent visit, the best dish we had arrived first: the crab kochi appetizer, a sort of cold crab cake made with chunks of lump meat, avocado, onion, edamame, lime, chilies, and puffed lentils. Like everything at Peerce's, it's a wonderful amalgam of flavors, and diners have taken notice.
The brothers, former owners of the Ambassador, brought their Indian fine-dining concept north, and the results are stirring.
"Knock on wood, at this point business couldn't be better," Keir says three days after Christmas. Perhaps more amazing than the food itself was the fact that we so thoroughly enjoyed it on a 40-degree evening outside. Peerce's patio is the most elegant one we've experienced during the pandemic. With heaters everywhere, an outdoor fireplace, fountains to numb the noise from the road, plants that somehow still flourish, and the signature service for which the Singhs are known, the drive to Peerce's is definitely worth it, no matter how frosty the weather.
---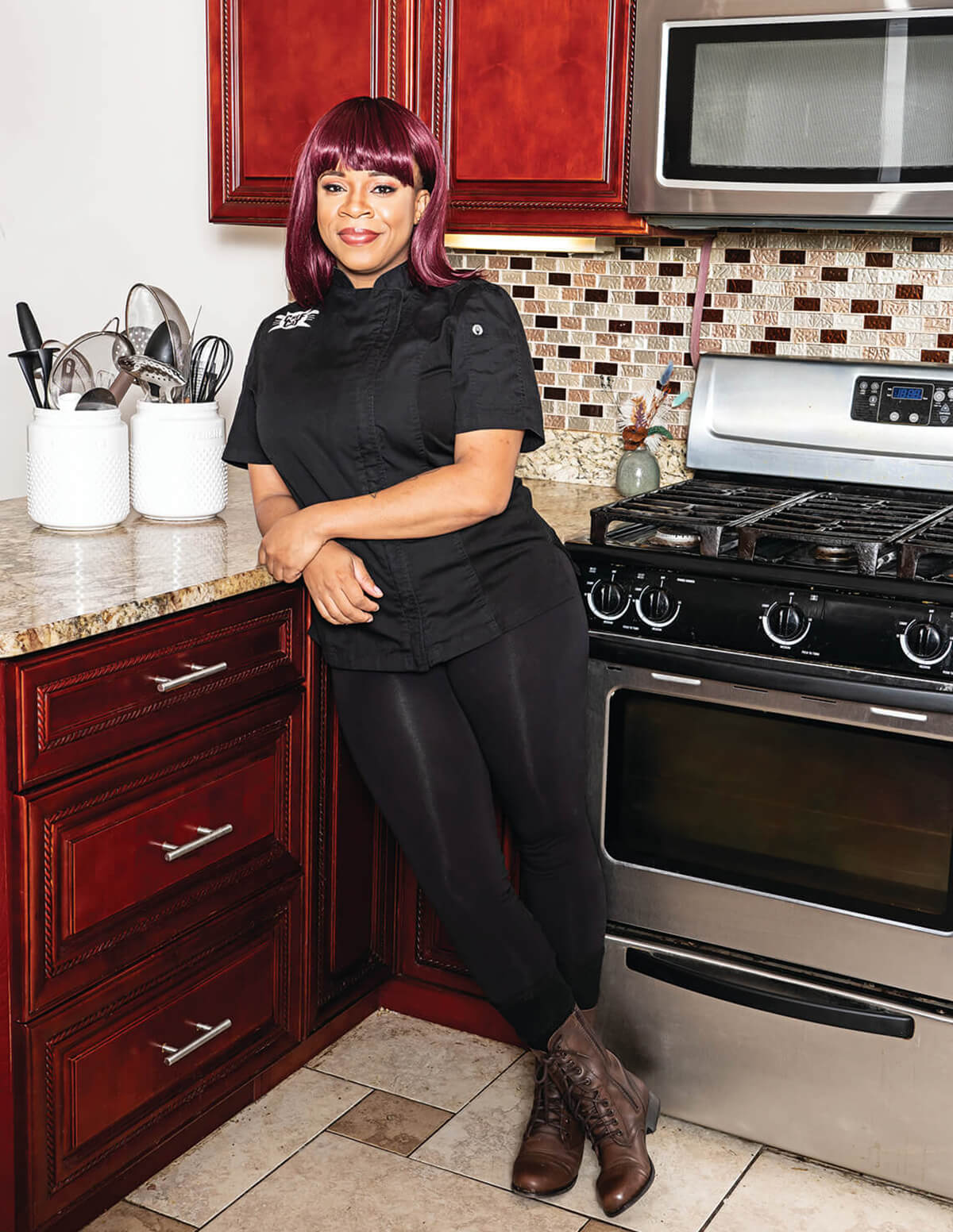 BEST CHEF
Catina Smith
O
n a snowy December morning, chef Catina Smith preps a private birthday dinner for a popular Charm City food blogger. She boils down dates with a savory spice blend to make a sauce for her fried shishito pepper appetizer, which will be followed by shrimp toast, rainbow trout, and vanilla cake. It's become a familiar routine for Smith, who has ramped up private cheffing since she was laid off from her Copper Kitchen catering gig when the pandemic hit. "It was not easy," says Smith, who was pregnant with her third child at the time, "but I'm a hustler."
She shifted to virtual cooking classes, while finding ways to support Just Call Me Chef—a group she founded in 2018 to empower female chefs of color. "We have a group chat where we could vent," Smith says, "but being able to raise money for some of my members was a proud moment." Perhaps her most fulfilling moment in the past year (aside from giving birth to her son in July and a recent shoutout from The New York Times) was securing a space for Our Time, a commercial kitchen concept that Smith has been working on with Wilde Thyme food truck owner Kiah Gibian. Slated to open in Old Goucher this fall, the kitchen will offer by-the-hour rentals and childcare to "womxn-owned" food startups. "Typically you have to sign on to use a commercial kitchen for a couple of months," Smith says, "but sometimes small businesses don't have the comfort of knowing we're even going to make it that long. Being that catalyst for businesses to blossom will be really amazing for the city."
---
CULINARY COLLABORATION
Larder and Fadensonnen
It's been said that good neighbors build good fences, but that couldn't be further from the truth when it comes to the open-spaced culinary cooperation between Larder and Fadensonnen, both situated inside the Socles Complex in Old Goucher. Helena del Pesco's Larder, with its gut-friendly fare, and Fadensonnen, Lane Harlan's sake/biergarten, share an outdoor courtyard, but also a similar spirit and synergy. During the pandemic, both businesses have fostered a deep sense of community. In the warmer months, when the courtyard was humming, patrons ordered Tempeh burgers and grilled cheese and kimchi from the one carryout window at Larder, and glasses, or bottles, of beer and sake at Fadensonnen. Fadensonnen allowed patrons to bring their own snacks while eating outside, but only on days when Larder was closed, while the BYOB Larder encouraged patrons to get drinks at Fadensonnen. The arrangement has been a win-win for both businesses.
---
DELECTABLE DELIVERY
Chesapeake Farm to Table
Last March and April, when food sourcing was an issue and many items were in short supply, the online marketplace Chesapeake Farm to Table came through, delivering the best in area produce, meat, cheese, and eggs directly to our front doors—and thus forever spoiling us from sourcing anywhere else. There were, of course, Fuji apples, Sungold cherry tomatoes, scallions, and beautiful bouquets of flowers for sale. But we particularly loved the more unusual items—Rainbow chard, pink Italian eggplant, Pioppino mushrooms, sunchokes—that sometimes made us feel like students in Intro to Agriculture. Whatever we had delivered, the sustainably sourced, highquality goods, from some 30 or so local growers, never disappointed. And it felt good to directly support Maryland's abundance of small farms at a time when we felt powerless to help.
---
DISH OF THE YEAR
Peking Duck from NiHao
Even at an establishment that was named one of the best new restaurants in the country by Esquire magazine, one dish has taken locals by storm. Sure, the menu at NiHao is loaded with delicious contemporary takes on Chinese cuisine, but at the top of that menu, both literally and figuratively, sits the Peking duck. Co-owner Lydia Chang, the daughter of famous Washington-area chef Peter Chang, brought her father's recipe to Canton when she opened NiHao last August. The birds go through a five-day preparation cycle during which they are dried; marinated with star anise, orange juice, cinnamon, clove, and ginger (among other things); baked; and then roasted. NiHao uses top-of-the-line takeout containers to ensure that the duck's skin stays crispy, while its meat remains juicy. A word to the wise: These ducks are so sought after, NiHao often sells out. If you want one, get your order in early.
CRAB CREATION
The Colossal Crabcake Egg Roll at Papi Cuisine Restaurant
The hottest trend, and rightfully so, is this new riff on the traditional egg roll. Stuffed with lump crab and mixed with cheese and a drizzle of aioli, this Instagram darling is photogenic, yes, but also downright delicious.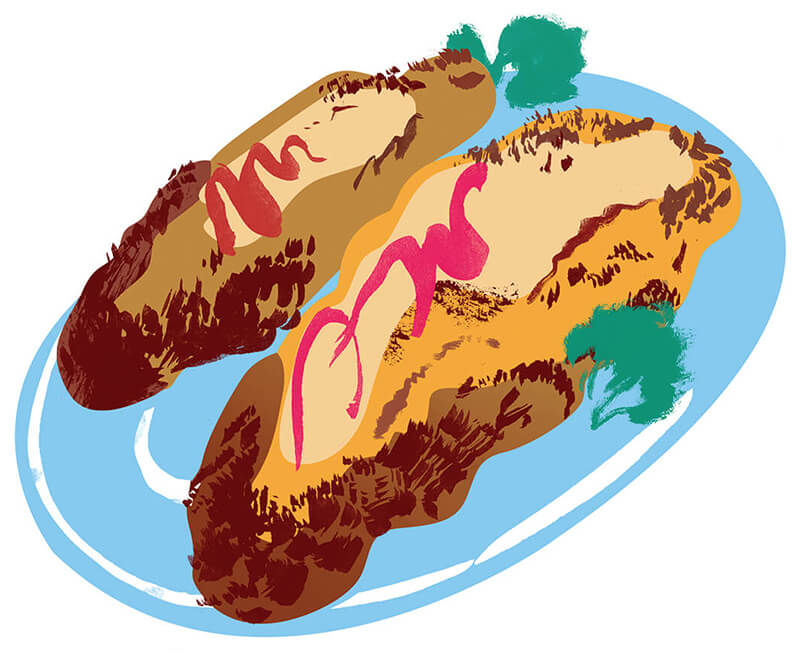 ENDURING CLASSIC
The Helmand
In trying times, our tastebuds crave the comforting flavors of yesteryear. In Baltimore, that often means The Helmand, the beloved Mt. Vernon restaurant that has been serving its authentic Afghan food for more than a quarter of a century. While so many longtime spots struggle due to COVID-19, we are ever-grateful that The Helmand is still here for us. It took us a moment to adjust to opening takeout containers of sabzy challow (sautéed spinach with beef), aushak (ravioli filled with leeks served on yogurt and topped with ground beef and mint), and, of course, the signature kaddo borwani (pan-fried and baked baby pumpkin seasoned with sugar and served on yogurt garlic sauce) at home rather than eating them in the restaurant's classy yet comfortable dining room. But the food was prepared just as perfectly as it always is in the restaurant. Just goes to show: You can take the food out of the restaurant, but you can't take the restaurant out of the food.
---
VIRTUAL MARKETPLACE
La Cuchara Market
At the height of the pandemic, when it seemed scary to venture out, resources were scarce, and lines were long, some local restaurants transformed into ad-hoc grocery stores, offering pantry staples alongside regular menu items. But La Cuchara in Hampden-Woodberry took it to the next level. The Basque Country-focused spot stepped in with their contactless online marketplace, offering a wealth of peerless products to help us excel at home cooking. From week to week, it's been hard to choose between swordfish and chorizo sausage, local produce (chanterelles, sweet peppers), and a variety of Spanish cheeses (La Peral for life!), plus a lovely selection of Spanish wines and to-go cocktails like white sangria and a well-balanced gin and tonic. And when we don't want to DIY it, we're always happy to indulge ourselves with chef Ben Lefenfeld's ever-changing lineup of prepared foods, from coconut curry to falafel, that span the globe. No matter what we brought home, it always felt like a gift to ourselves.
---
INNOVATORS
Le Comptoir du Vin
Not long after becoming the toast of the town, with Best New Restaurant imprimaturs from Bon Appétit and Esquire, the pandemic struck, bringing Comptoir owners Rosemary Liss and Will Mester back to reality and in need of a rethinking of their business model. In early spring of last year, within a week of closing their restaurant, Liss and Mester, who are partners in both business and life, were early adopters of "the pivot." Without missing a beat, they reopened as a natural-wine bottle shop and updated their menu to handle online orders, before eventually adding carryout from a miniscule menu. A few months later, by the end of summer, they pivoted once again, and reopened as a specialty shop modeled after European market-cafes, with a chalkboard menu of signature items (lentils with labneh, chicken liver pâté) and curated pantry items. The restaurateurs have served as a model for other spots to follow suit and are living proof of the old axiom that necessity is the mother of invention.
RESTAURANT REVIVAL
Foreman Wolf Saves The Milton Inn
We love a happy ending, so when we learned that the Foreman Wolf Restaurant group, along with Petit Louis chef (and now business partner) Chris Scanga, was taking over Spark's historic Milton Inn, which closed last year due to COVID-19, we couldn't have been more thrilled. We can't wait to check it out when it opens this spring.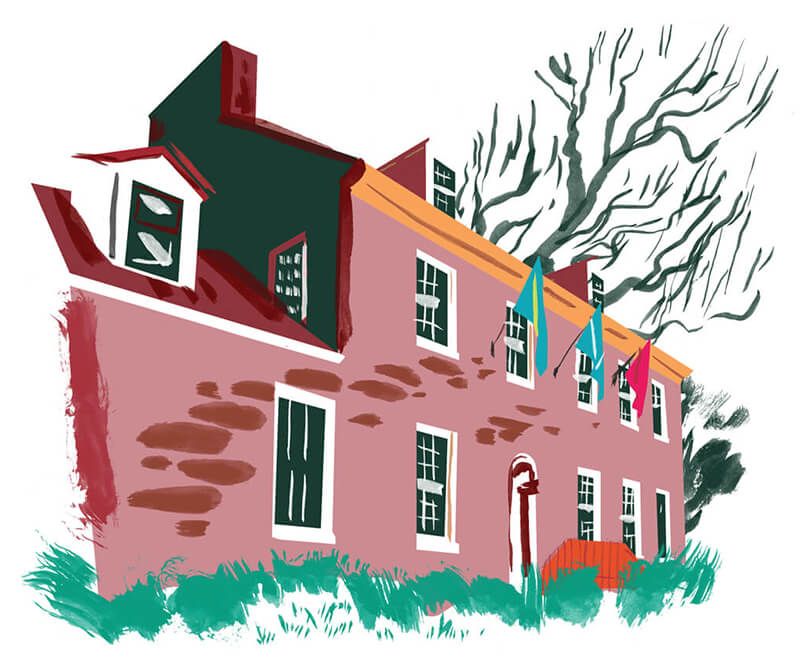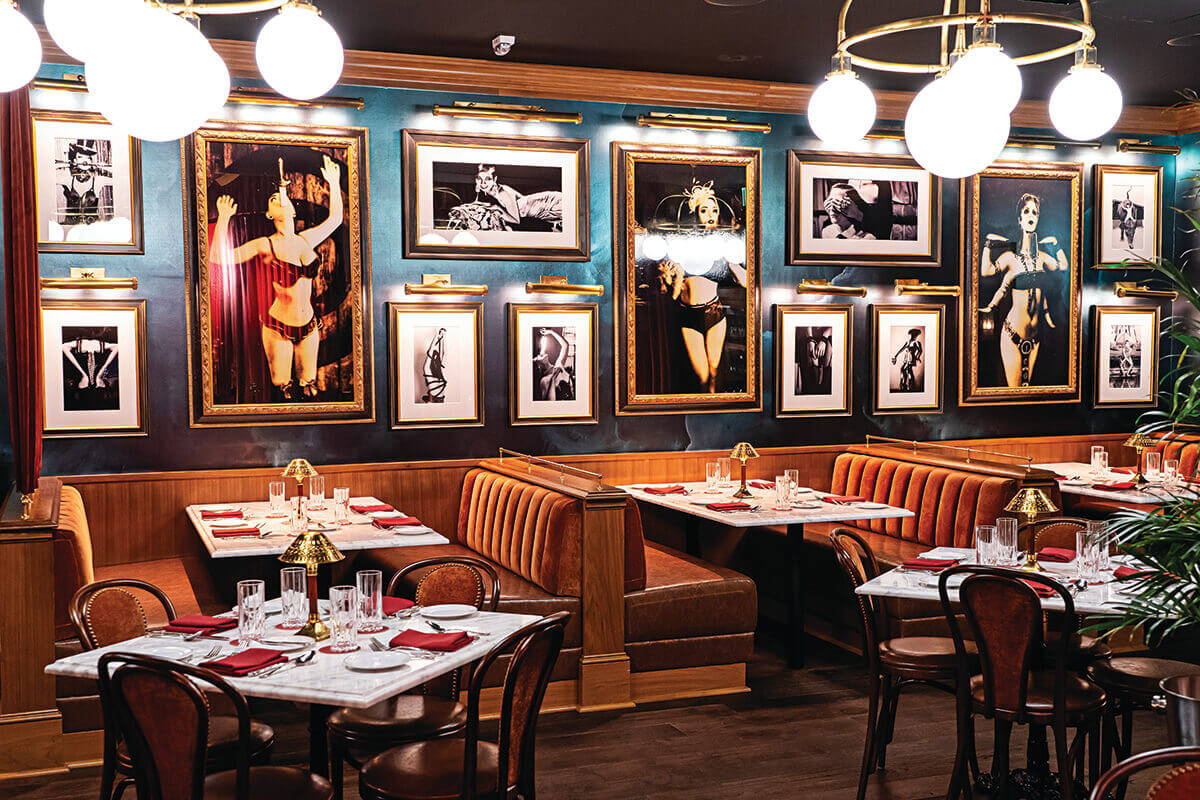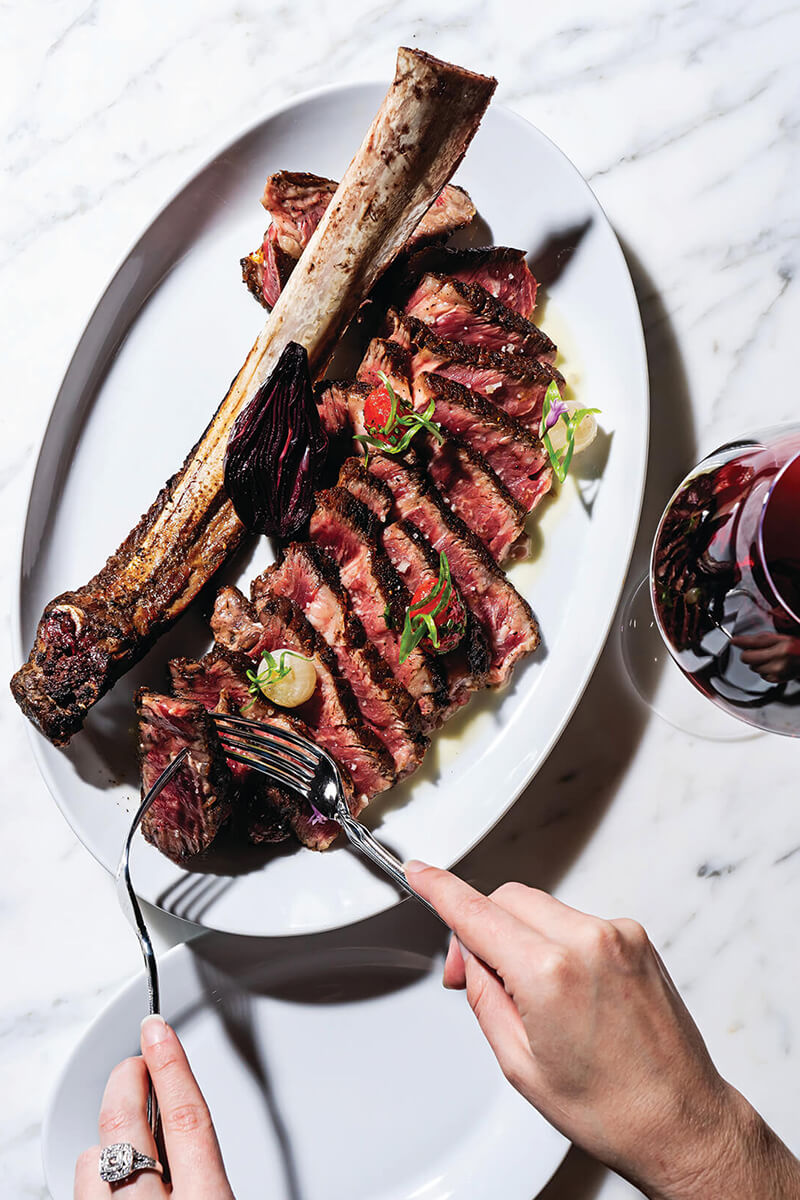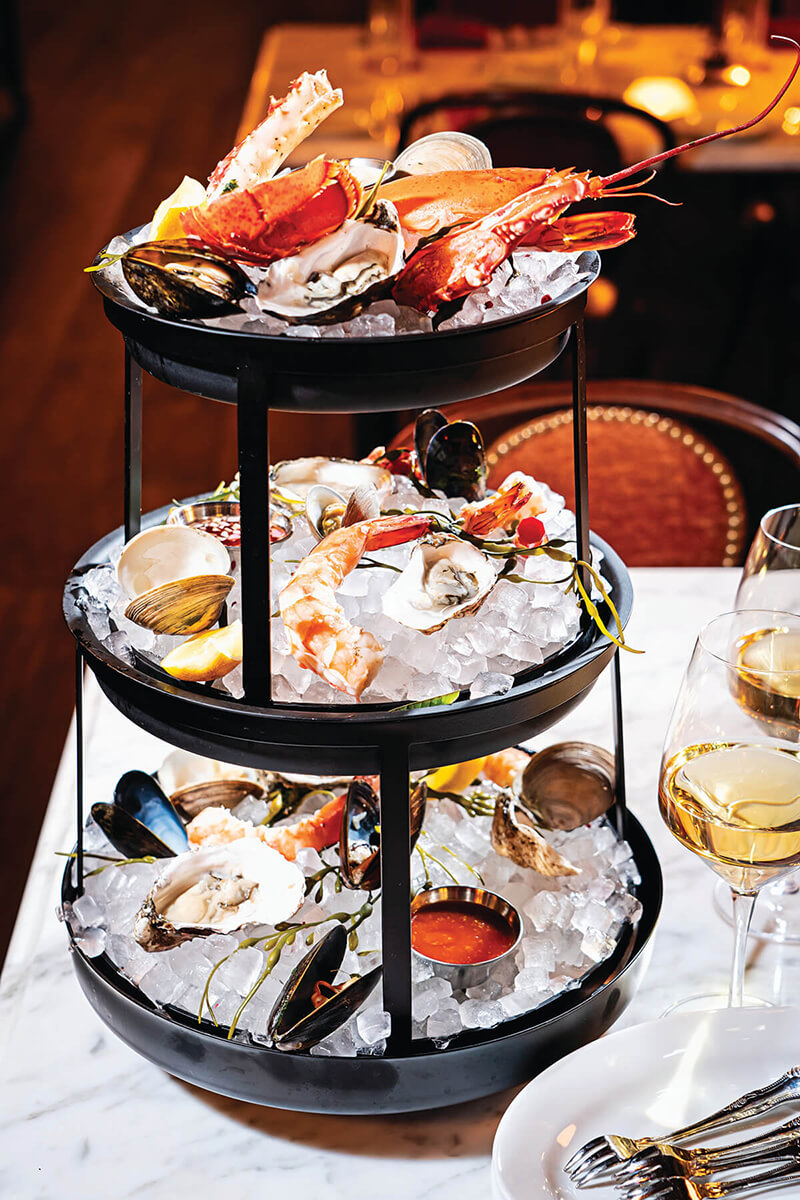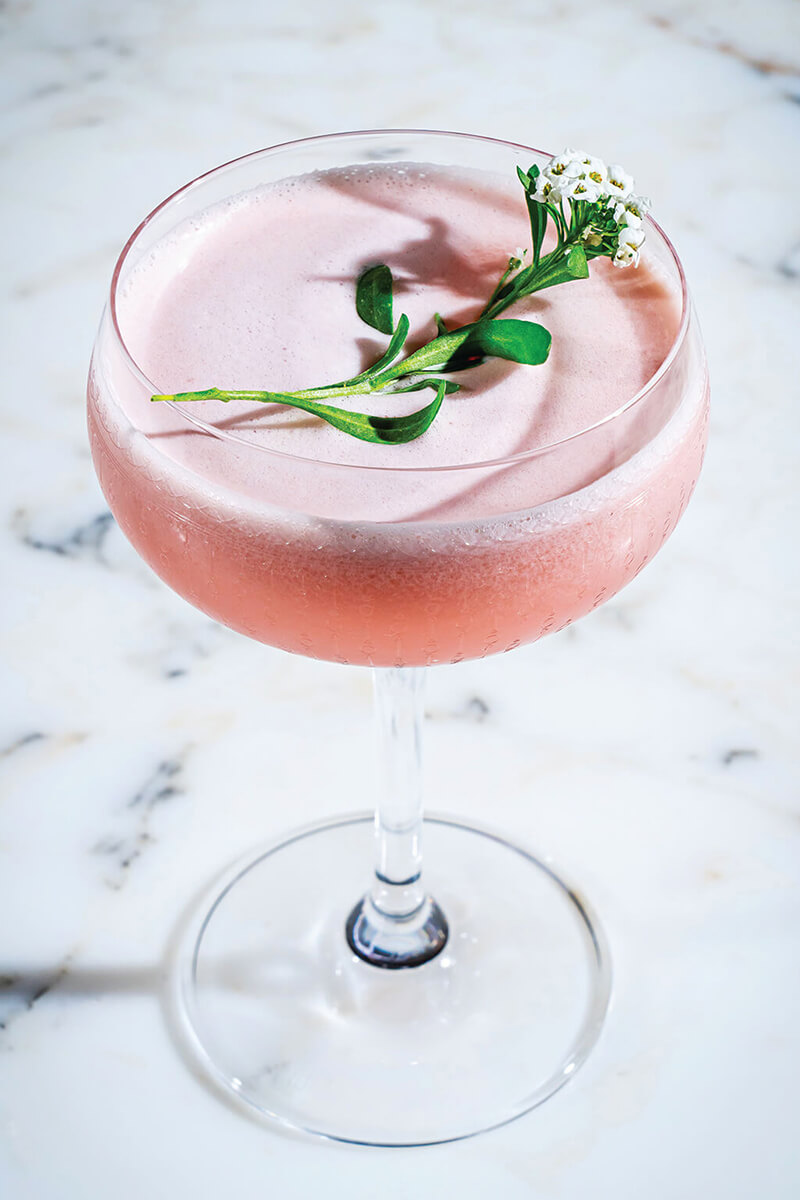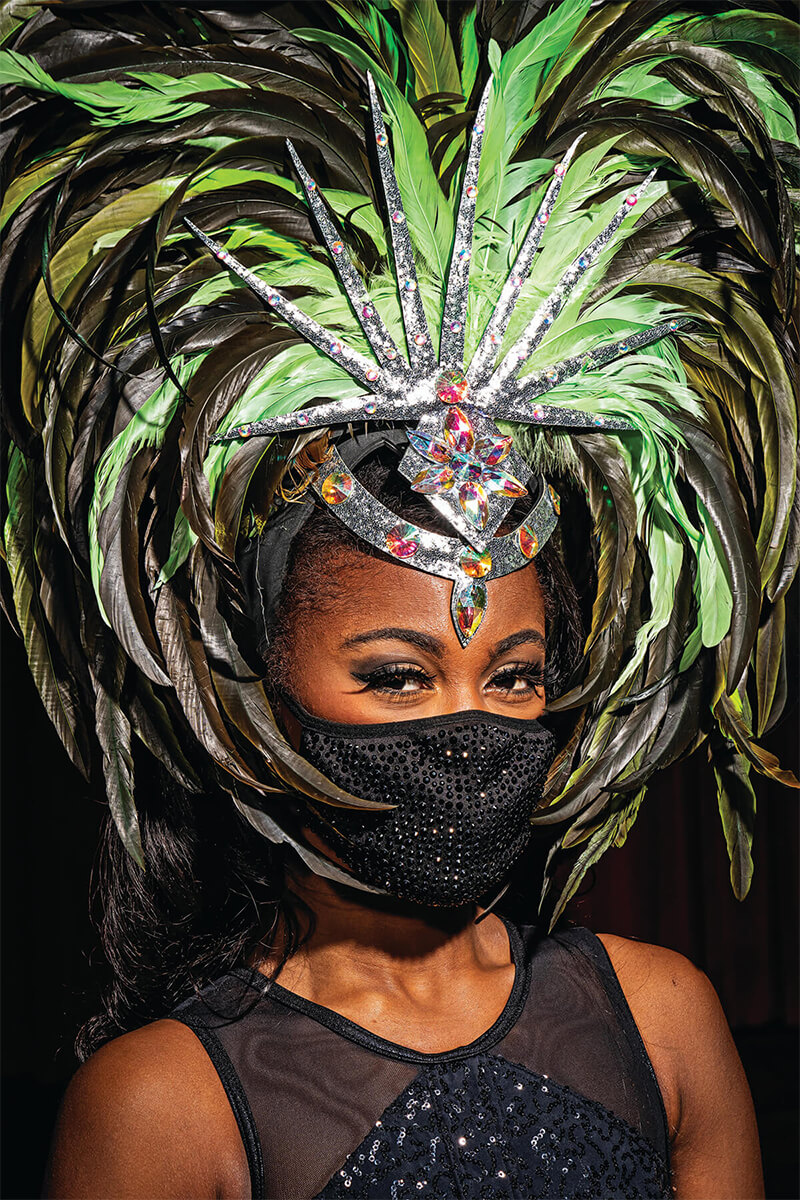 AMBIANCE
Monarque
A
t a time when we've never felt more of a need to be transported, to go somewhere, the Atlas Restaurant Group has come through with Monarque, a French steakhouse-cum-cabaret that sells the steak—and the sizzle. (Where else in the city can you find contortionists, sword swallowers, and The Monarquettes dancers putting on the ritz as you sip from a flute of Champagne?) Conceived by the visionary Patrick Sutton, the come-hither Harbor East spot, which shares a courtyard with The Elk Room, Tagliata, and Italian Disco, is an escapist fantasy. Which was exactly the point. "My whole goal in designing any restaurant is to transport someone. Here, I'm transporting you to a scene in the movie Cabaret or to The Moulin Rouge," says Sutton, who also counts New York City's famed brasserie Balthazar as a source of inspiration. "I'm taking you to a fanciful recollection of Paris in the '40s. It's all about romance and feeling like you're escaping."
Atlas restaurant group's monarque is a french steakhouse-cum-cabaret that sells the steak—and the sizzle.
To that end, Sutton's space is a luxe study in texture and tone with nubby velvets, mohair (yes, mohair) curtains, brass fixtures and fittings, and myriad mirrored surfaces—all against the backdrop of rust-hued leathers, and dark moss-hued walls adorned with blackand- white burlesque photography. The whole mood is rich and romantic with a soupçon of mystery, the perfect milieu for a place that offers a menu of mouthwatering Francophile favorites from filet mignon to foie gras. At Monarque, life is, indeed, a cabaret.
---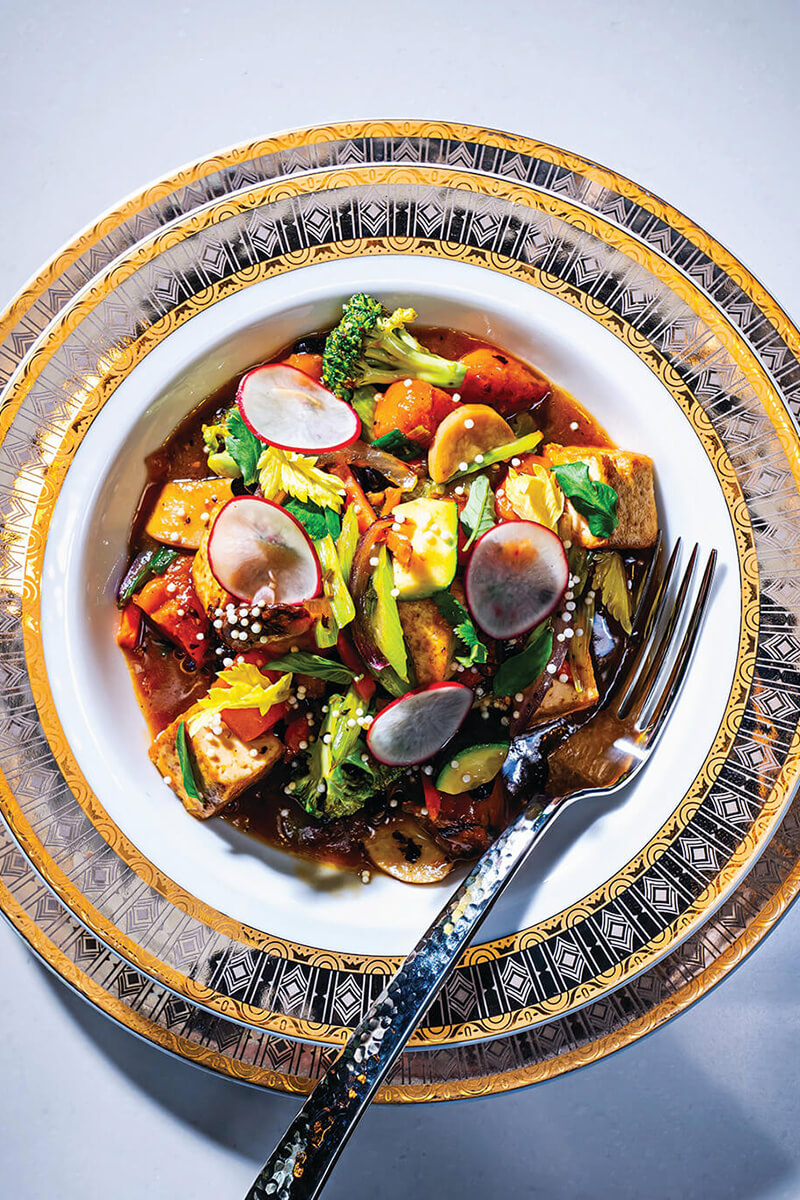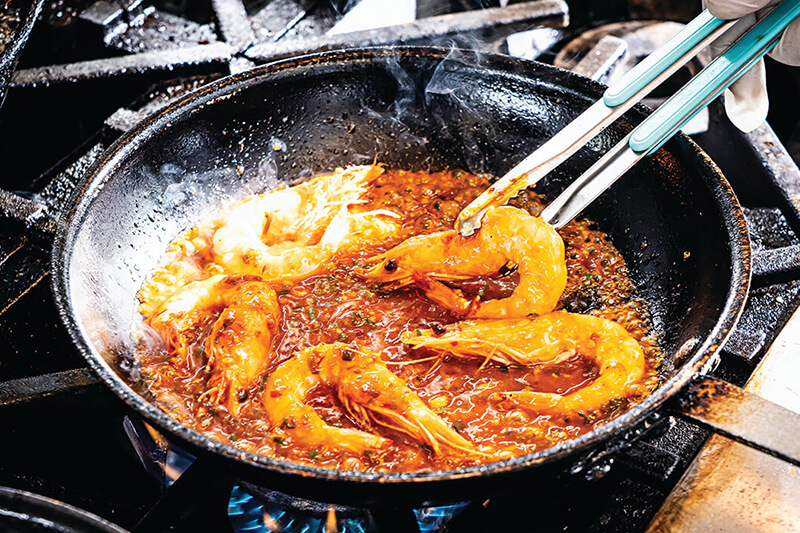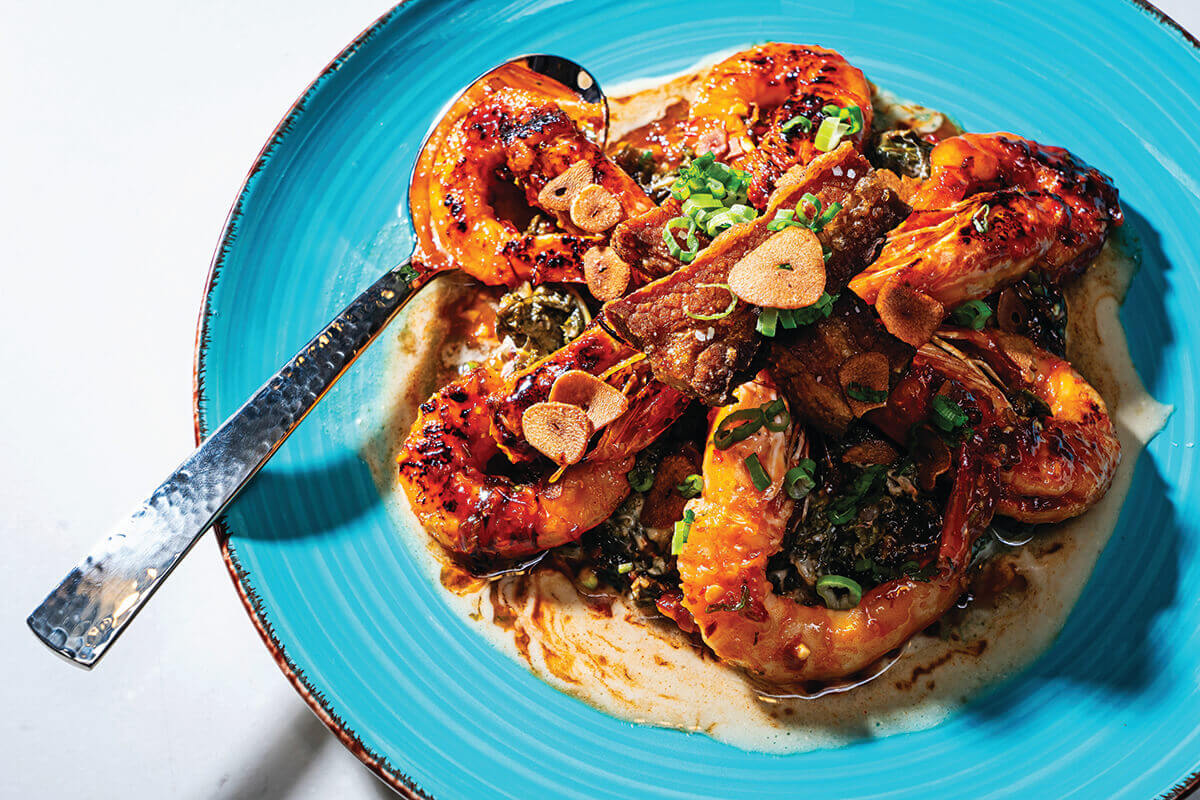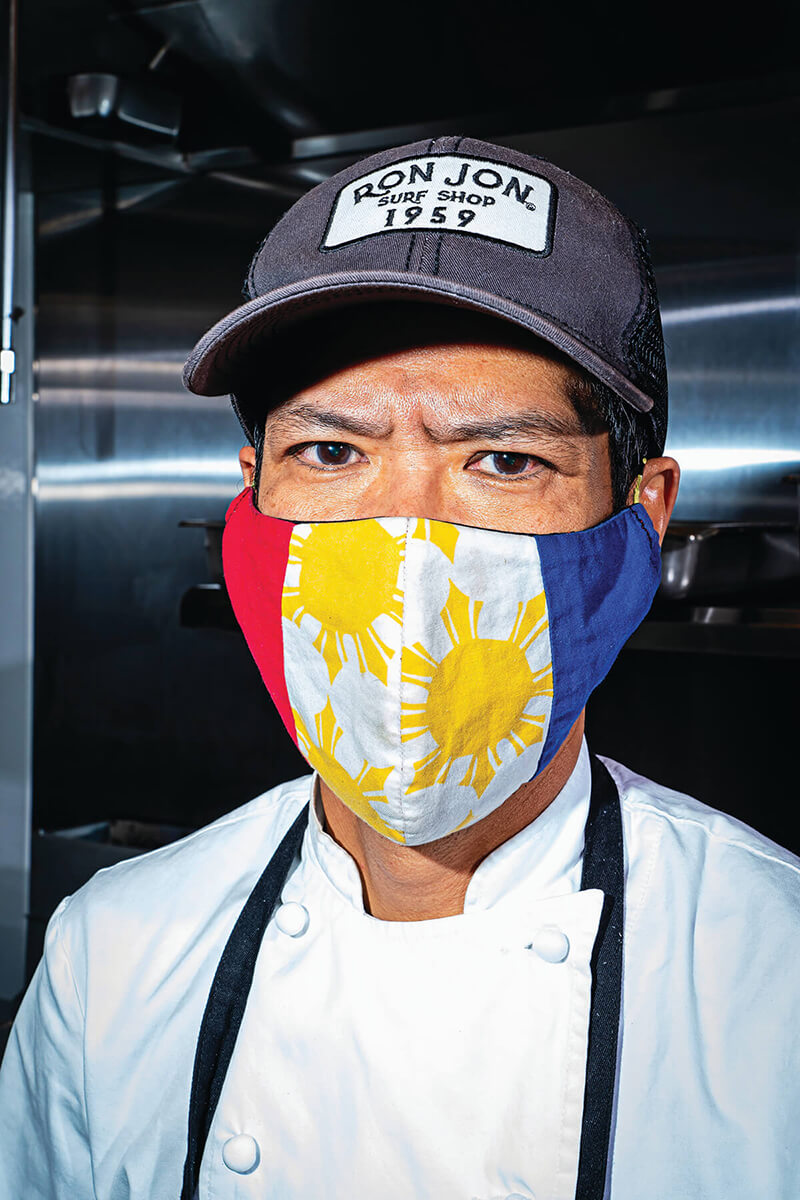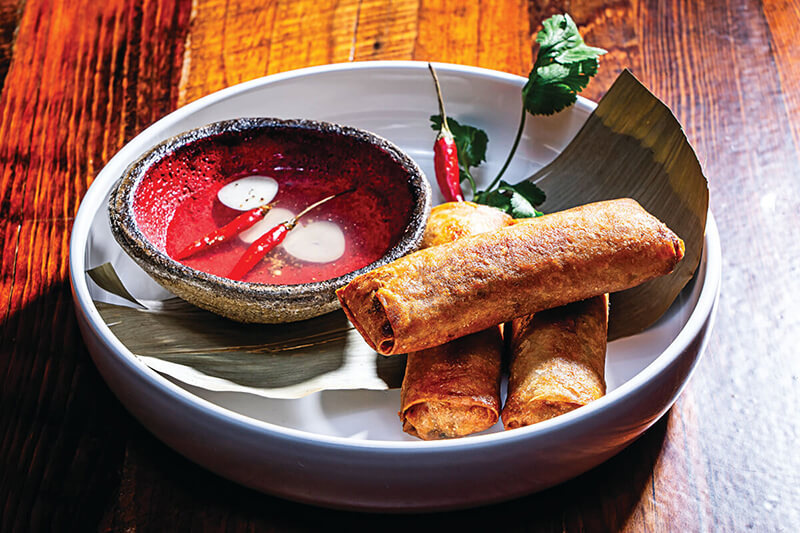 FOOD HALL STALL
Heritage Kitchen
I
n the months since Heritage Kitchen opened inside Hampden's Whitehall Food Market, fans have fallen for Filipino-born chef Rey Eugenio's signature chicken adobo, coconut crab soup, shrimp and pork belly laing, arroz caldo (chicken and tofu over ginger-scented rice), and other dishes that pay homage to his upbringing. "If you ask anyone who grew up in a Filipino household, they will tell you food and family are very important," says Rey, who cut his teeth in prestigious Florida hotel kitchens before coming to Baltimore to help reopen Roy's in Harbor East after a storm—where he later met his wife, Julie—in 2003. "When I was going to culinary school, my dad actually challenged me and said, 'If you want to open a Filipino restaurant, you gotta learn your mom's recipes.' What I'm doing is applying what I've learned throughout my career in the food I grew up eating."
"My dad challenged me and said, 'If you want to open a Filipino restaurant, you gotta learn your mom's recipes.'"
But the restaurant's fitting name wasn't only inspired by Rey's culture. He and Julie hope that, eventually, they can host collaborations where area chefs join Rey behind the line to share their own traditions. It's one of many big dreams—along with having an actual grand opening celebration with their fellow merchants—that the owners have for Heritage post-pandemic. "With COVID, it feels like we're gradually transitioning to full operation," Julie says. "Rey does a great job at making carryout look beautiful, but I'm really looking forward to the day when he can plate up a dish that's not in a to-go box. I think that's every food community's dream—to see people enjoying their meals together again."
---
RESTAURANT CHEERLEADER
Sergio Vitale
Throughout the pandemic, many hospitality vets have shown their fighting spirit by standing up for what they believe. But no one has been more outspoken than Sergio Vitale, as he fights for the survival of not only his own 23-year-old beloved Aldo's Ristorante Italiano in Little Italy, but all of the small businesses in Charm City. With his trademark sense of humor and booming laugh, "Serge" is larger than life in Baltimore—and seemingly everywhere with his bullhorn and his influence. In May, the Italian Stallion led a coalition calling on former Mayor Bernard "C." Jack Young to offer an outdoor food court in Little Italy when city restaurants were closed for indoor dining. In December, he recruited restaurateurs to sign a petition to get Congress to pass The Restaurants Act to establish a $120 billion relief fund (with personal pleas to Senator Ben Cardin) and spoke straight to the camera on WMAR-TV to ask new Mayor Brandon M. Scott to reconsider re-opening restaurants after a second shutdown. As if that's not enough, his social media posts have encouraged Baltimore denizens to wear masks and tip servers generously. Few have fought as tirelessly to keep restaurants alive. Yo, Serge, keep up the good fight!
---
INGENUITY
Dylan's Oyster Cellar and Foraged
Baltimore wouldn't be Baltimore without these dining darlings that are emblematic of oh-so-many small businesses in city. When the chips are down, against all odds, these singularly spirited spots (owned by Irene and Dylan Salmon and Chris Amendola, respectively) have shown true tenacity. That means serving top-notch nibbles without missing a beat, turning their shops into sidewalk cafes, and finding new ways to adapt, even at great personal cost (the restaurant owners have dipped heavily into their savings accounts and Amendola provided family meals to any unemployed hospitality workers when his restaurant was open). At Foraged, owner/chef Amendola offered creative DIY baskets for customers to take home. At Dylan's, the novel to-go menu included bags of Buck a Shuck oysters, a new crabcake platter, and even branded T-shirts in Orioles orange. We're duly impressed with both of these restaurants for having the smarts and spunk to find new ways to keep the lights on. There must be something in the water on Hampden's Chestnut Street, where they're both based.
FINGER LICKIN' FARE
Authentic Wings at iBar
Baltimore meets Buffalo when it comes to the rightfully named "authentic" wings at iBar in Charles Village. If you're feeling bold, go for the Devil's Blood hot sauce or downgrade the heat quotient and go for medium or mild. There's no such thing as a bad decision here.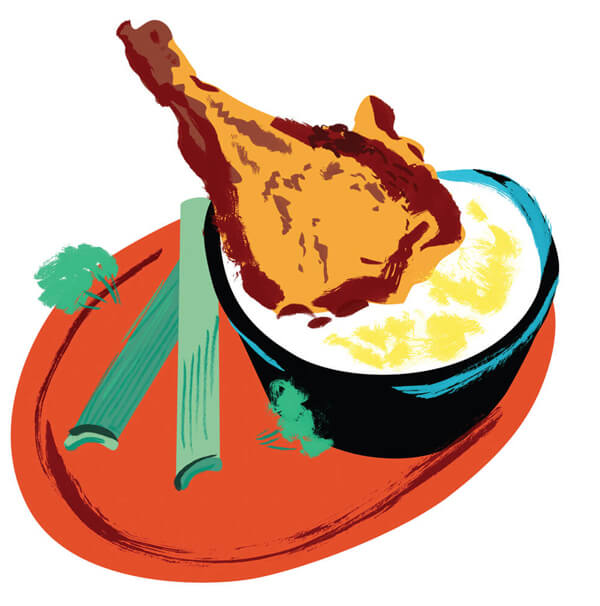 NEW BAKERY
Café Dear Leon
Let's get this out of the way: The line is worth it. Like clockwork, every weekend morning since it opened in August, throngs have gathered to wait outside this tiny shop on O'Donnell Square for so much more than just a cup of coffee. The bread, pastries, and sandwiches offered here are what keep the masses coming back. Case in point is the Tamago Sando, a Japanese-style egg salad made on milk bread that's unlike any other we've tried. On weekends, the café serves Roman-style pizza using dough it makes in-house. Smoked salmon is delivered in such creative ways here you'll never settle for it on a plain old bagel again. The menu frequently changes, but on our most recent visit in December, we ate our fish on focaccia topped with thinly sliced cucumber and onion and a plump, sliced hard-boiled egg. Dear God, it was so delightful that we almost forgot about the pandemic.
---
OUTDOOR DINING
Rye Street Tavern
One silver lining of the pandemic is that many restaurants have upped their al fresco game. Nowhere is this truer than at Andrew Carmellini's Rye Street Tavern in Port Covington, where glorious tents take center stage. Eating outside can be overrated at times, from battling the bugs to warding off the wind and other elements—but not here. Against the backdrop of the peaceful Patapsco, Rye Street has erected two massive structures with faux hardwood flooring, fresh flowers, and even sparkling chandeliers. Of course, the Chesapeake-inspired food courtesy of chef Brian Plante, from the wood-grilled Choptank oysters to blackened catfish with red pea hoppin' John, is as terrific as ever. And, in season, to add to the fun, there's cornhole, live music, and Adirondack chairs for enjoying the splendor in the grass. Throughout the past year, eating here has been a true escape and has even been known to have us asking, "What pandemic?"
---
PIZZA PALACE
Hersh's
The impossibly thin crusts at this beloved Federal Hill spot are so perfect when they emerge from the oven, they can't possibly maintain their flawlessness when they're boxed to-go. That's a compliment, not a complaint. Hersh's even seems to acknowledge this reality by posting reheating instructions on its website. It recommends preheating your oven to 500 degrees then placing your pie on a pizza stone. That sounded a bit too involved for us, so we simply threw the pizza directly on the oven rack for five minutes at 450 degrees. We're here to report that both our prosciutto and arugula with mozzarella, Parmigiano, and olive oil and our cacio e pepe, a white pizza with four cheeses and plenty of pepper, emerged as piping hot, crispy, and delicious as if we were eating them there. If we're ever stranded on a desert island—or quarantining in our homes, as it were—this is the food we want with us.
---
POP-UP
Big Softy
For any soft-shell skeptics out there, take one bite into the stacked sammies from this roving pop-up and you'll be a believer in no time. Craig Falk, who some might know best as the owner and executive chef of The Lunchbox Lady, has been serving his soft–shell crabs between perfectly charred slices of sourdough, with thick-cut tomatoes, lettuce, and a drizzle of zesty aioli, since launching the side project in 2017. Aside from the odes to our state's seafood obsession—other Big Softy favorites include succulent shrimp salad, crab dip, and shrimp and oyster po' boys—Falk likes to get creative and whip up a few curveball dishes at each location. (Who could forget greatest hits like the uni and crab toast on brioche with radish flowers at R. House?) Suffice it to say, we'll be patiently awaiting the seasonal pop-up's return this summer.
---
COMMUNITY KITCHEN
Alkimiah
It's always been apparent that the teams at Venezuelan restaurant Alma Cocina Latina and culinary co-op Mera Kitchen Collective have hearts of gold (as evidenced by their shared passion for uniting the community through food). So, it's only fitting that the name of their joint meal distribution initiative translates to "alchemy." In keeping with the spirit of transformation, the chefs—who now share a home in the former Pen & Quill space in Station North—take sustainable ingredients and turn them into healthy dishes to be donated to neighbors in need. Individual gifts and grants, as well as a partnership with José Andrés' World Central Kitchen, have allowed Alkimiah to serve more than 95,000 meals to those who are food insecure, but the team isn't stopping there. The long-term goal is to work with policy makers to ensure that affordable, nutritious food is accessible to all, even after the pandemic has passed.
---
UP-AND-COMER
LemonTopia
Don't let the name fool you. This sweet popup from 13-year-old entrepreneur Jamaria Crump is not your average lemonade stand. If you've ever spotted the yellow-themed booth at events around town, you've likely noticed that Crump's impressive menu spans well beyond the typical plastic pitcher. Frequent trips to local farmers markets connected the fledgling foodie to mentors like Dominic Nell of City Weeds and Dorian Brown of Neopol Smokery, whose products helped spark the inspiration. Since launching her business in 2016 (at the age of 9!), Crump has put her own spin on the summery sip with flavors like black cherry and a "Unicorn" blend mixed with Nerds and Pop Rocks. She also highlights baked goods like vegan doughnuts, pineapple upsidedown cake, and, of course, the requisite lemon cookies and bars. She hopes to take the business global one day, but, for now, we're happy to support one of the food scene's most promising young visionaries right in our own backyard.
FAST CASUAL
The "Fast" Food Market at The Food Market
We love the new "fast food"—it's ready within 10 minutes after you order—concept at this Hampden haunt. The well-priced menu is small but mighty, with a cheesesteak sub, two types of burgers, a chicken sandwich, old-fashioned fountain sodas, and outrageously good crinkle fries.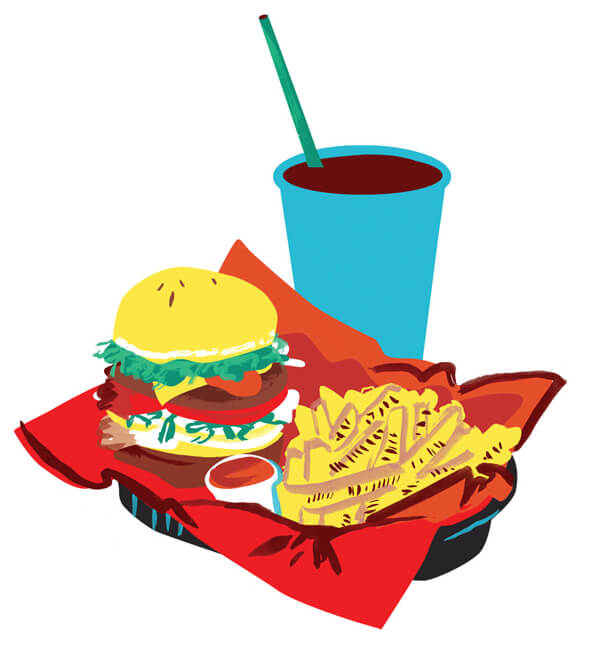 RESTAURANT SAVE
Joe Squared
It's difficult to imagine Station North without Joe Squared—the artsy pizza joint that has quelled carb cravings with its hearty risottos, fried ravioli, and namesake square pies for the past 15 years. And thanks to a newly adopted worker-owned cooperative model, we don't have to. After taking a nine-month hiatus due to the impacts of the pandemic, the neighborhood institution made a celebrated comeback in December under its new co-op system, which allows all workers to have a stake in the business and play a role in decision making. It's a community-minded approach that has proven to be successful with local pioneers such as Red Emma's, Thread Coffee, and Taharka Brothers, and we're hopeful that it will secure many more art shows, live music performances, pints of local beer, and signature square slices at Joe Squared for years to come.
---
RISING STAR
Amanda Mack
We wish we could bottle the feeling of seeing Amanda Mack's pecan pumpkin spice chocolate chip cookies grace the pages of Bon Appétit's Thanksgiving issue. Not only was it a crowning achievement for the owner of Whitehall Food Market's Crust by Mack, but it brought smiles to all of the people whose days she has brightened this past year with her scratch-made biscuits, cookies, brownies, and claim-to-fame hand pies. Despite opening in the summer of COVID—just days after demonstrations broke out in the wake of George's Floyd's death—Mack has continued to strike gold with her rotating menu and unwavering commitment to the community, whether that means donating portions of her tips to budding entrepreneurs or supporting Black-led organizations. She even landed a segment on Good Morning America to discuss her passion for improving food access in low-income neighborhoods, and we're sure that the national praise is going to keep on coming. We're lucky to say she belongs to Baltimore.
---
ROLE MODELS
Foreman Wolf
At a time when it seemed as though eating out might be hazardous to our health, chef Cindy Wolf and her business partner Tony Foreman led the way, proceeding with unerring caution and care. They remained closed for eight weeks, as they hatched a plan to reopen safely for staff and guests alike. When they finally did open their doors, they stayed ahead of the curve, setting the standard for the Baltimore area, enforcing policies and practices from the start: taking temperatures, requiring contact-tracing forms, and distancing tables even more than the requisite six feet apart. What's more, they innovated with novel solutions that never detracted from the diner's experience. Chi-chi Charleston was just as special as a sidewalk spot. Petit Louis transformed itself into a lovely en plein air boîte in Roland Park. And neighboring Johnny's offered a gourmetto-go indoor Italian market in the colder months and a Sunday market in the warmer ones, even featuring cello music by Louis server Thillman Benham and crafts made by Foreman Wolf employees. Though we would have forgiven them for being less than perfect in the midst of a pandemic, they showed everyone else how it's done.
---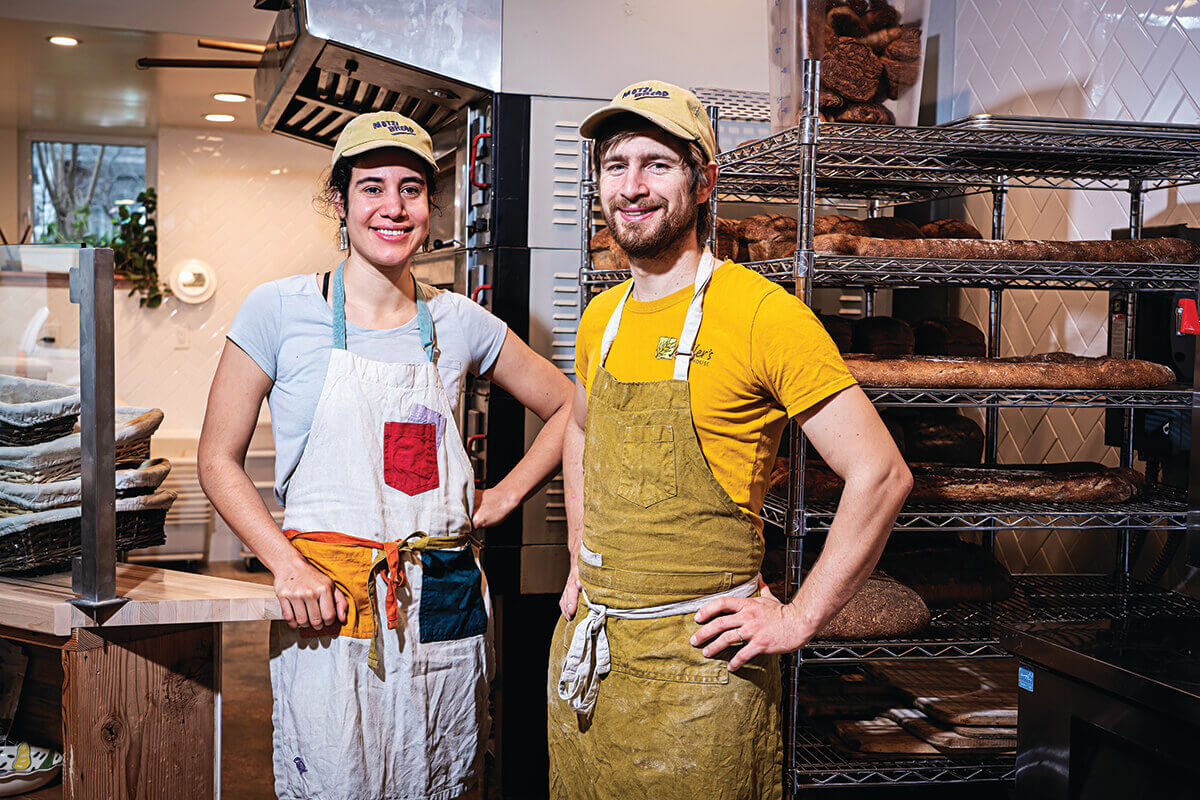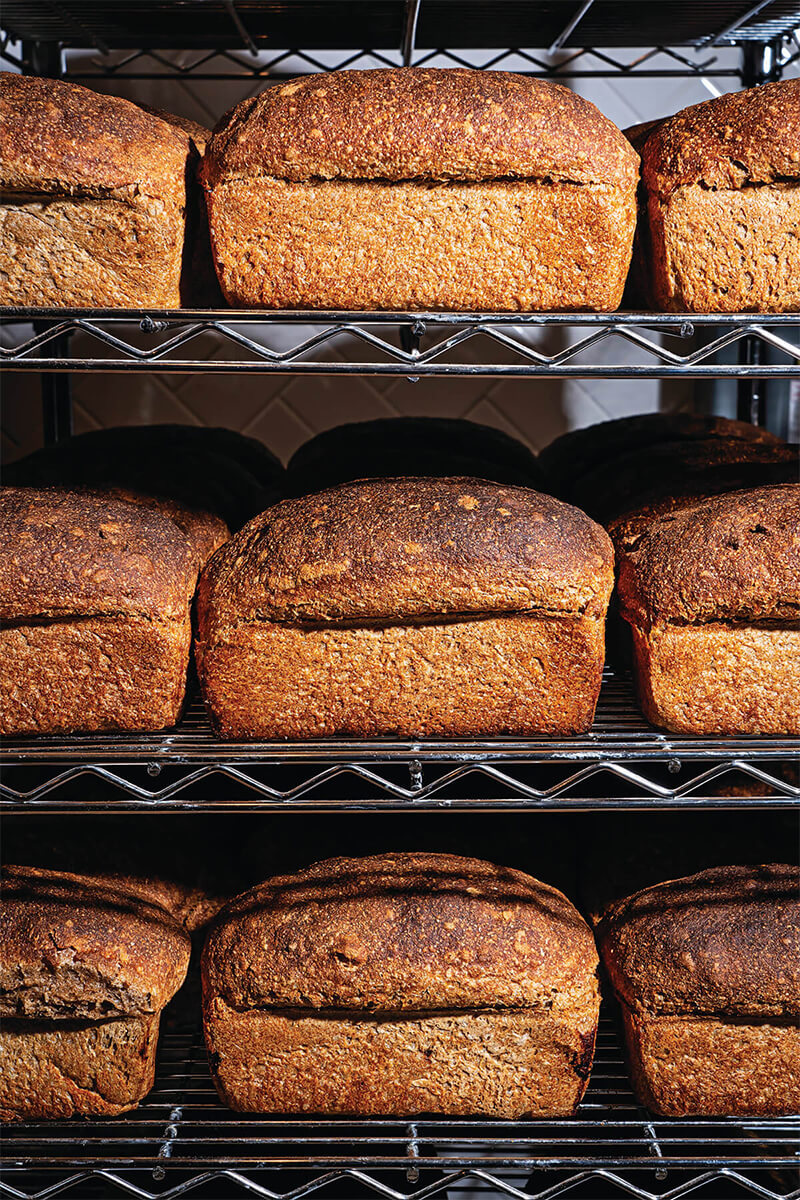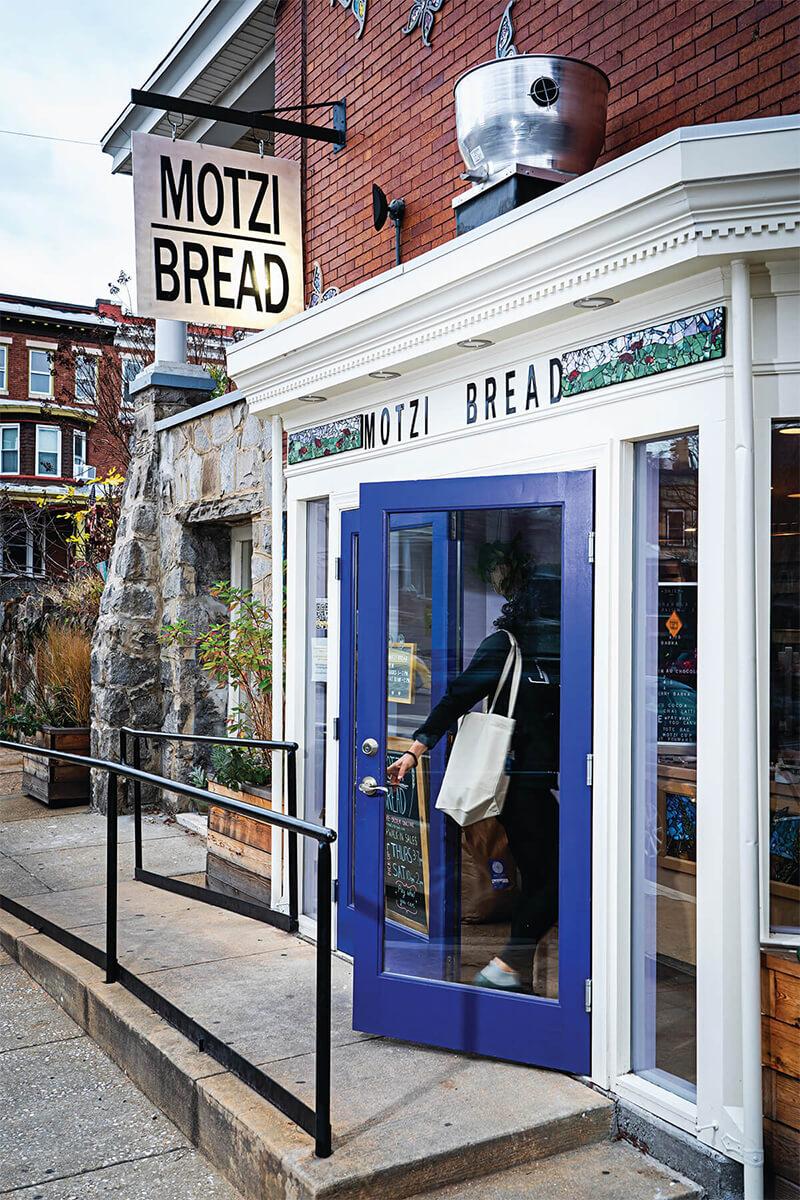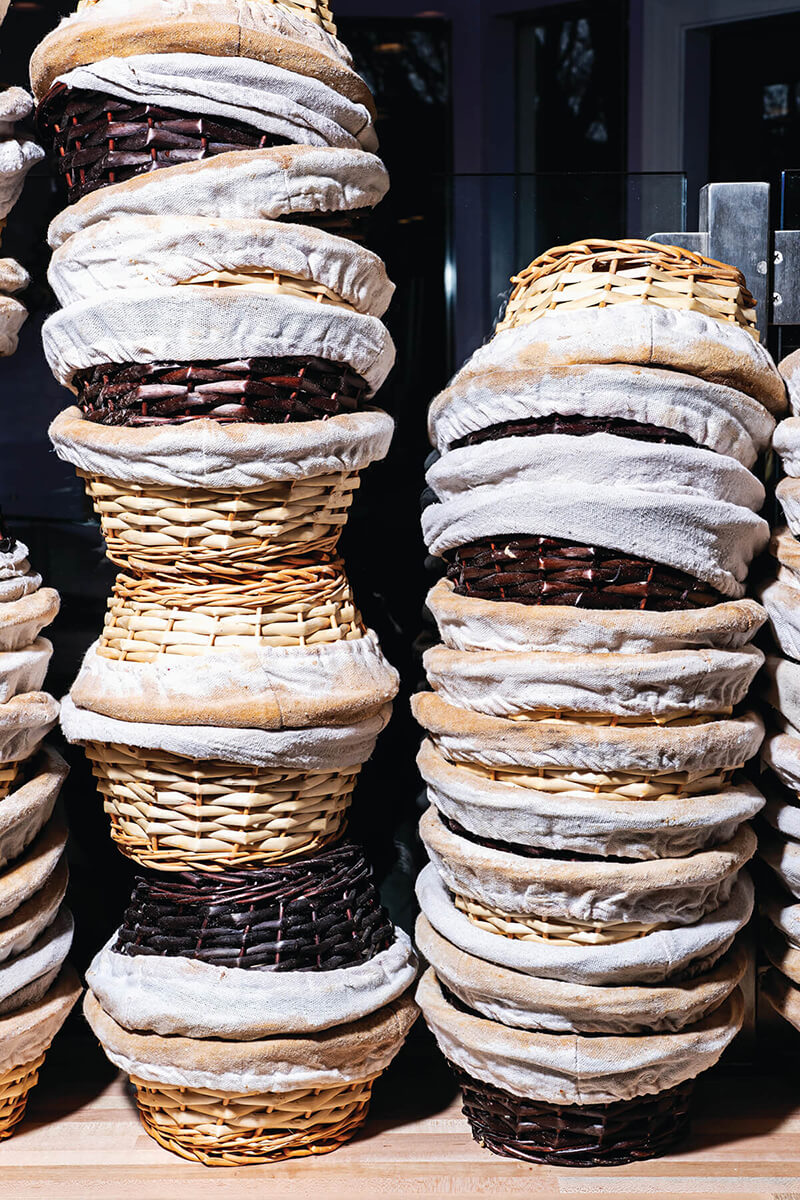 NEW BREAD SHOP
Motzi Bread
I
n the early days of the pandemic, baking bread competed with watching Tiger King for the title of "most popular quarantine activity." Yup, 2020 reached that level of bizarre. Maya Muñoz and Russell Trimmer, owners of Motzi Bread, pictured, understand why. "Baking requires a certain rhythm and patience that is not quite the same in cooking," says Trimmer, the former lead baker for Woodberry Kitchen. "Particularly with sourdough, you're working with a living being. There's that element of mystery that adds a certain satisfaction to it." The married couple, who live above the storefront, started their Harwood bakery in 2019 as a subscription and online ordering service, then opened a brick-and-mortar store on Guilford Avenue in May of last year. There's usually a line outside on Thursdays and Saturdays—the only days it's open for business.
Social responsibility is a hallmark at Motzi Bread, which takes both walk-in and online orders and operates on a pay-what-you-can model.
Just one customer is allowed inside (where the smells are otherworldly) at a time, but the ryes, focaccias, chocolate chip cookies, and pastries are so delectable that no one seems to mind waiting outside. Social responsibility is a hallmark at Motzi Bread, which takes both walk-in and online orders and operates on a pay-what-you-can model. The benne rye is particularly popular. "Benne" is the Bantu word for sesame, and the seeds were brought to the United States by enslaved West Africans. To honor that history, 50 cents of each loaf is donated to Black Yield Institute. "We wanted to ensure that anyone who comes in the store doesn't have that barrier of price point," says Muñoz, a former teacher. "We take in more in tips than we give discounts. For every four to five dollars, we make another pay-it-forward loan that goes to folks distributing food right now." Hard not to feel nourished by that.
---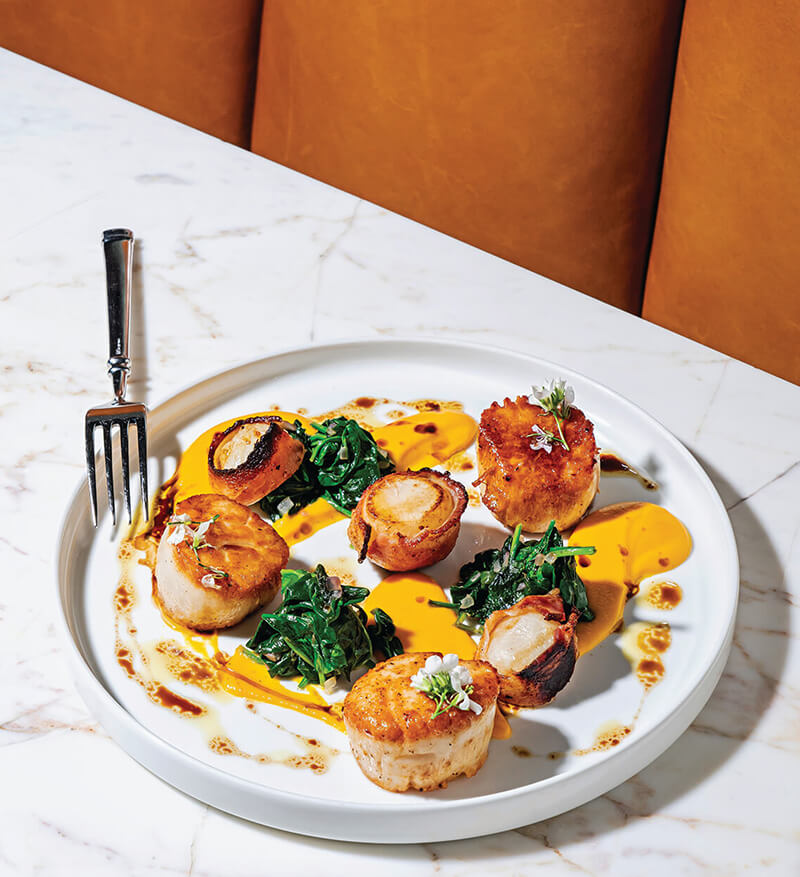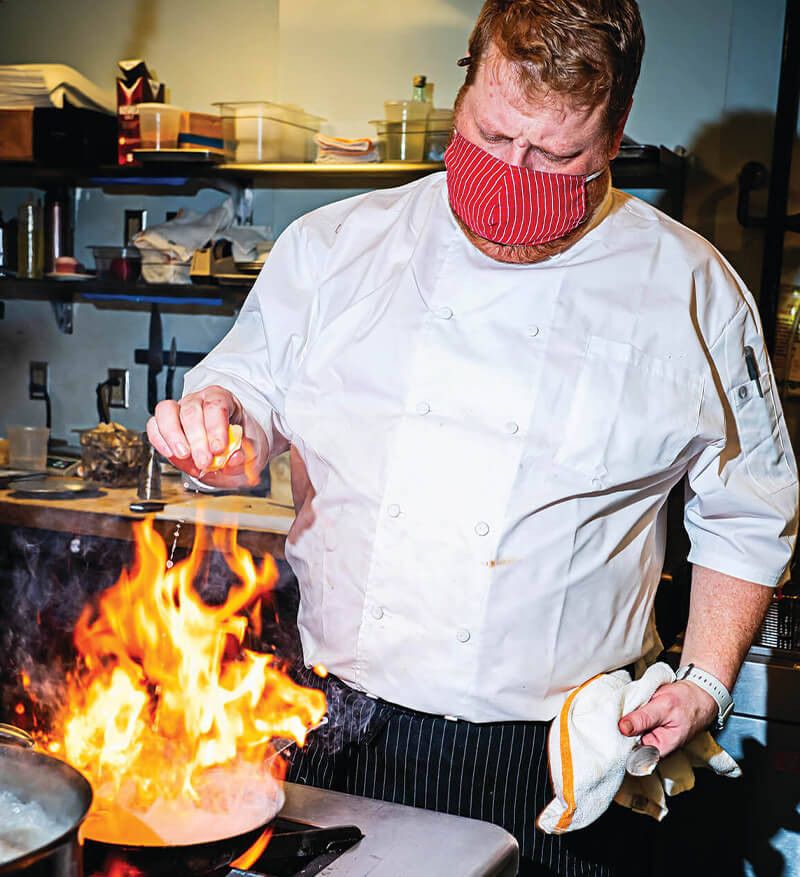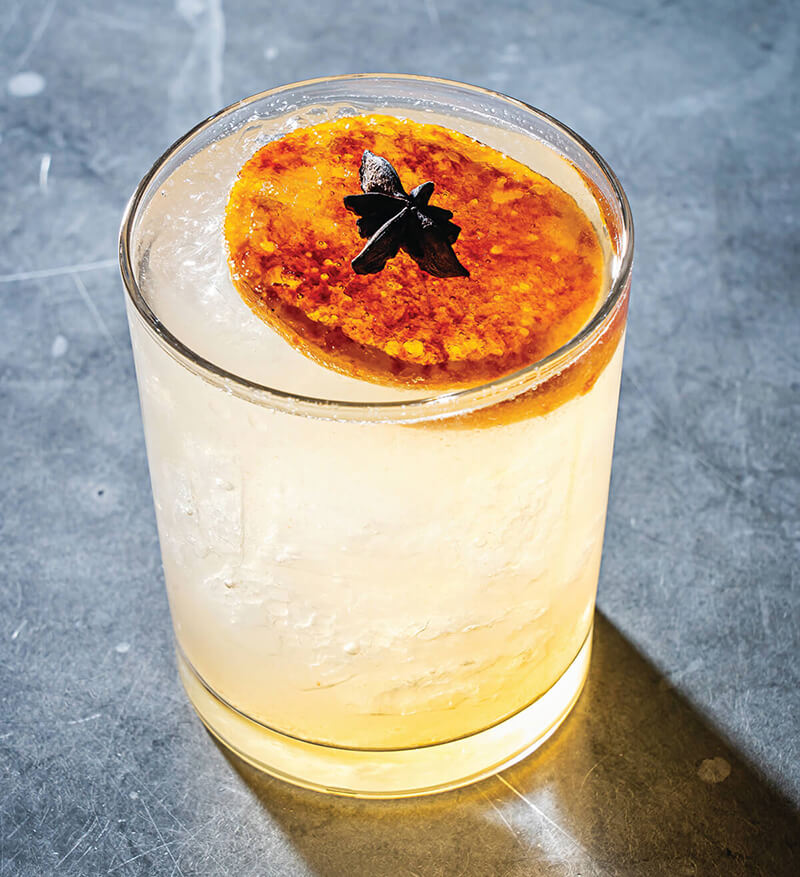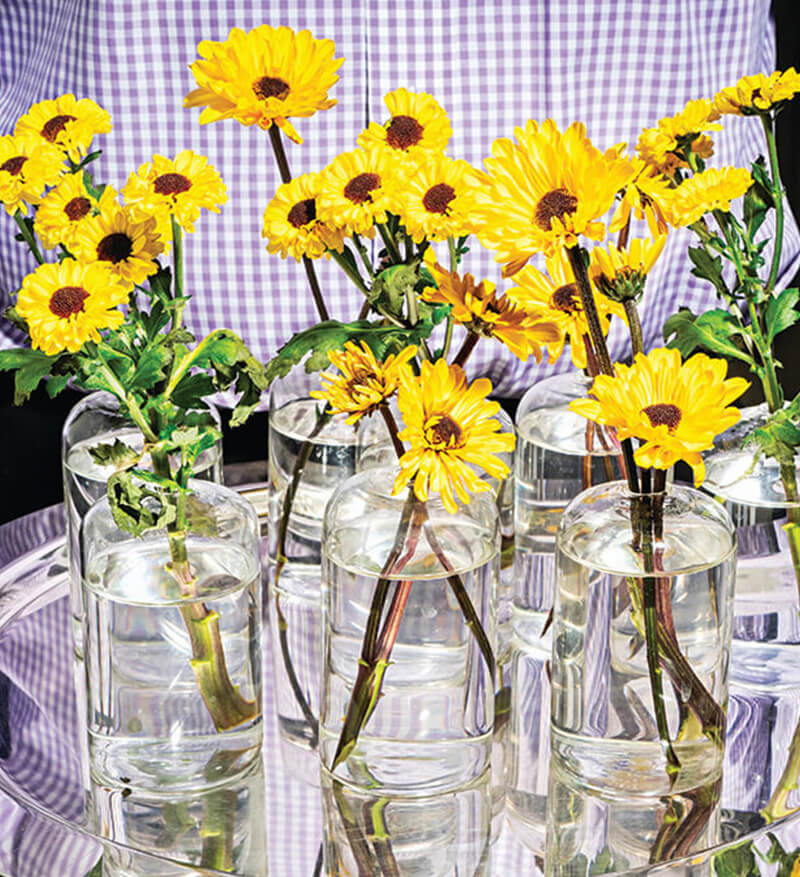 RESTAURANT REBRAND
Magdalena, a Maryland Bistro
S
et inside Mt. Vernon's Ivy Hotel, Magdalena has always been a little jewel of a spot, with its fine-dining fare, elegant décor, and impeccable service. But, alas, all good things must come to an end, as every restaurant has a natural evolution. After shuttering seven months last year, it used that time to come up with a concept that felt more in touch with the times. The result is Magdalena, a Maryland Bistro. Much of what we loved about the former spot remains: the flawless service, the delectable food, a stunning, albeit now more modern, setting. But the new menu has more of a local comfort-food focus, with dishes like a proper Maryland crabcake, Southern stuffed ham, and a knockout chicken pot pie. Have no fear: British-born Mark Levy hasn't lost his U.K. accent—the fish and chips is a surefire star, for example. And if your buds are bougie, you can still top almost any menu item with truffles or foie gras.
---
TAKEOUT
Ekiben
Takeout from Ekiben was already a thing before getting it to-go became a trend. This adorable Asian-fusion spot founded by University of Maryland Baltimore County grads Steve Chu, Ephrem Abebe, and Nick Yesupriya (who has since left the business) is best known for its signature Taiwanese fried chicken, "Neighborhood Bird" (served spicy or regular, on a steamed bun or as part of a rice bowl), as well as the spicy peanut-flavored Tofu Brah and terrific tempura broccoli. It's no surprise that Ekiben—which has been recognized by Esquire, Vogue, and Travel & Leisure—has a strong to-go game given that it launched as a street fare start-up at the Fells Point Farmers Market in 2014. Even though it has grown into a bona-fide brick-and-mortar hotspot—with two locations, in Fells and Hampden—it has stayed true to its grab-and-go roots: The staff always gets the order right, the sturdy cardboard boxes stay sealed, and the rugged, albeit mostly fried, food stands up to the drive home. While most spots have converted to carryout of late, Ekiben makes it look easy, which we know it's not.
---
TO-GO FAMILY MEAL
Linwoods
For us, the pleasure of eating at Linwoods has always been surveying the scene as a who's who of Baltimore County strides through the door, while we sip on our pineapple martinis and watch co-owner/chef Linwood Dame inspect every plate down to the last detail before it leaves the kitchen. But COVID-19 changed all that, and getting our food to-go has given us a renewed sense of gratitude for just how great this county staple is and reminded us why it endures. Even when the going has gotten rough, quality has never been sacrificed. A la carte menu items—the broiled crabcake, the steak salad—are as good as ever, but the new family meals, like the lasagna with pesto, veal and beef, or the herbes de Provence-crusted salmon in red-wine reduction, really wowed. While Linwoods is a fine-dining price point, the family meal offers great bang for the buck and gave us a night off when our kitchens made us feel like we were the ones running a restaurant.
---
INDUSTRY BOOSTER
Martha Lucius
Restaurant strategist (and former cafe owner) Martha Lucius understands that, even in the best of times, running a restaurant is no easy feat. But lately, it's next to impossible. While Lucius is generally hired by local restaurants to address best practices, healthy profits, and the importance of a work-life balance, in this past year, her tireless support has been a boon to the culinary community. Lucius' hospitality blog is filled with recipes, inspiring photographs, and common sense tips and tricks and reflections ("Your guests will notice and appreciate your business in a new way," she writes to restaurateurs. "We are becoming a new version of our former selves.") In addition, her society and culture podcast Holy Guacamole!, co-hosted by fellow consultant Dave Seel (who also deserves a huge huzzah for his tireless efforts to support the industry), covers all the basics that restaurants need to know right now, like the nuts and bolts of hiring. And for regular foodie folks, there are plenty of informative interviews with people like Kris Fulton at Sophomore Coffee and Meghan and Shane Carpenter of Hex Ferments. In these dark times, Lucius has been a guiding light.
---
DINING DESTINATION
Thacher & Rye
When we learned that Bryan Voltaggio's prix-fixe Volt was morphing into a more casual concept due to the novel coronavirus, we were concerned that the specialness of the original spot would be lost. Fortunately, the newly named Thacher (an homage to the chef's son) & Rye (a nod to Maryland's long distilling tradition) has lost none of the old razzle dazzle. From inside an elegant Frederick brownstone, the Top Chef runner-up is still wowing his legions of fans with his cooking prowess and molecular gastronomic frosts and foams. Though the chef's tasting table is on hiatus for now, the central dining room is still small enough to watch the gifted Voltaggio and his crew at work. Yes, it's a bit of a schlep from Baltimore via I-70 to get here, but this is destination dining at its best—and you won't be sorry you made the trip once you've been seated and served.
R.I.P.
With this sad growing roll call of restaurants, from fine-dining favorites to neighborhood darlings, we commemorate just some of the many spots that closed for good—most due to COVID-19—this past year.
Ahh Coffee • The Alexander Brown Restaurant • Baby's On Fire (Fells Point) • Cafe Latte da • Chez Hugo Bistro • CinéBistro • City Café • CJ's Crabhouse and Grill • Clyde's of Columbia • Fleming's Prime Steakhouse & Wine Bar • Gordon Biersch Brewery • Grand Central • Greenmount Coffee Lab • Greene Turtle (Fells Point) • Growler USA • Houlihan's (Elkridge) • James Joyce Irish Pub & Restaurant • Joanne's Grill • Lew Gambino's • Lobo • Lyfe Café • Luna Del Sea • Maisy's • Man vs. Pho • Mike's Pizza House • Jaxon Edwin Social House • The New Wyman Park Restaurant • On the Border • Osteria Da Amedeo • Peko-Peko Ramen • Pen & Quill • R&R Taqueria (Elkridge) • Razorback's Raw Bar & Grill • Roy's • Ruby Tuesday (Columbia) • Ryleigh's Oyster (Federal Hill) • The Soundry • Sofi's Crepes Belvedere • Szechuan House • Sunset Restaurant • The Sweet Shoppe • The Urban Oyster (Locust Point) • Vito's Pizza on Hooks Lane • Zoës Kitchen (Foundry Row) • Zü Coffee