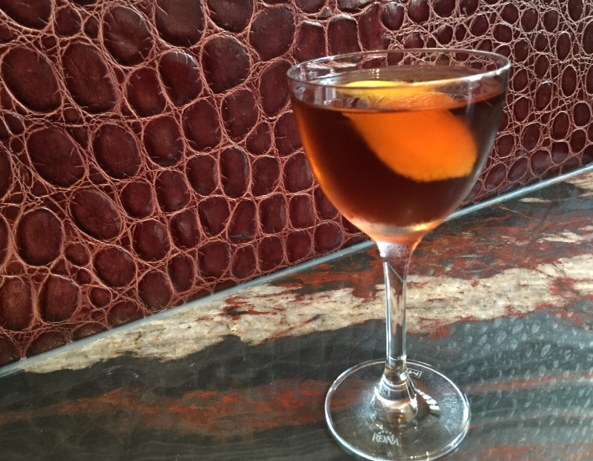 The Cadizian from B&O American Brasserie
As the leaves begin to change color, fall flavors seem to be infused into everything—including our drink preferences. It's time to say goodbye to refreshing fruity drinks of summers past and hello to autumn's spicy offerings. With that in mind, we turned to some of the town's best mixologists and beer experts for advice on fall drinks that will satisfy all seasonal cravings.
Cocktails:
Equinox: LB Tavern in the Lord Baltimore Hotel
2 oz. Canton liquor
1 oz. bourbon
1 oz. Chambord
1 oz. absinthe
½ oz. fresh lime juice
Directions: Combine all ingredients and serve chilled in a martini glass. Garnish will lime peel.
Autumn Orchard: Donna's
1 oz. Buffalo Trace Bourbon
1 oz. Pear Liqueur
1 oz. Apple Liqueur
Seasonal apple juice
Diced apples and pears to garnish
Combine bourbon, pear liqueur, and apple liqueur in a lowball glass. Fill glass with ice and apple juice. Garnish with floating diced apples and pears.
The Spiced Mule: RA Sushi
1 1/2 oz. Russian Standard Vodka
1/2 oz. Apple Cider
1 oz. sour mix
1 oz. Gosling's Ginger Beer
2 lime wheels to garnish
Shake all ingredients, except for ginger beer, in an ice filled mixing tin or glass and strain into a Double Old Fashioned or Copper Mug. Top with ginger beer and garnish with lime wheels.
The Cadizian: B&O American Brasserie
1.25 oz. Redbreast 12 yr. Old Irish Whisky
1.25 oz. Byass 1847 Sherry
.75 oz. Lillet Blanc
1 dash orange bitters
2 dashes Peychaud's Bitters
Flamed twist of orange to garnish
Stir all ingredients in an ice filled mixing glass and strain into a N&N glass. Garnish with flamed twist of orange.
Beers:
Flying Dog Dogtoberfest: This local award-winning ale is brewed with imported German ingredients. Its strong sweet caramel flavor makes it the perfect accompaniment to spicy Oktoberfest-inspired foods. (ABV: 5.6)
Southern Tier Pumking: This deep-copper colored imperial pumpkin ale is fermented with ale yeast, two types of malt, two types of hops, and­, of course, pumpkin. The smooth brew fills the senses with all of the flavors of fall with hints of vanilla, allspice, cinnamon, and nutmeg. (ABV: 8.6)
Dogfish Head Punkin Ale: A full-bodied, brown ale brewed with pumpkin meat, brown sugar, and autumn-inspired spices. Be sure to warm up with this smooth seasonal brew while it's available because it's one that's difficult to find after Thanksgiving. (ABV: 7.0)
Heavy Seas Great'ER Pumpkin: The fusion of pumpkin and bourbon within this local seasonal brew makes it a must-try for all beer lovers. Hints of cinnamon, ginger, allspice, and cloves all contribute to the intensified flavor of this bourbon-barrel-aged pumpkin ale. (ABV: 10.0)
Ciders:
Millstone Rhuberry Cider: Millstone's American Farmhouse Cidery, located in Monkton, offers a slew of in-season ciders that are crafted from pressed heirloom cider apples, oak-barrel fermented, and aged. This particular blend combines Millstone's signature oak-aged cider with locally sourced strawberries and rhubarb. (ABV: 8.0)
Woodchuck Hard Cider: Choose from a wide array of these handcrafted hard ciders this season with flavors like amber, pear, granny-smith, raspberry, and "Hopsation" which fuses Woodchuck's signature apple flavor with the pine and citrus aromas of traditional Cascade hops. (ABV: 5.0)
Harpoon Craft Cider: This all-natural, and gluten-free, craft cider is fermented with locally pressed apples and ale yeast. The straw-golden refreshing crisp taste is the perfect compliment for all autumnal adventures. (ABV: 4.8)
Eden Sparkling Dry Cider: Eden Ice Ciders, a Vermont winery, recently released its very first hard cider just in time for the fall season. This champagne-like hard cider is made with locally grown apples and undergoes a meticulous fermentation process for over a year in order to maintain its sweet taste. (ABV: 8.5)