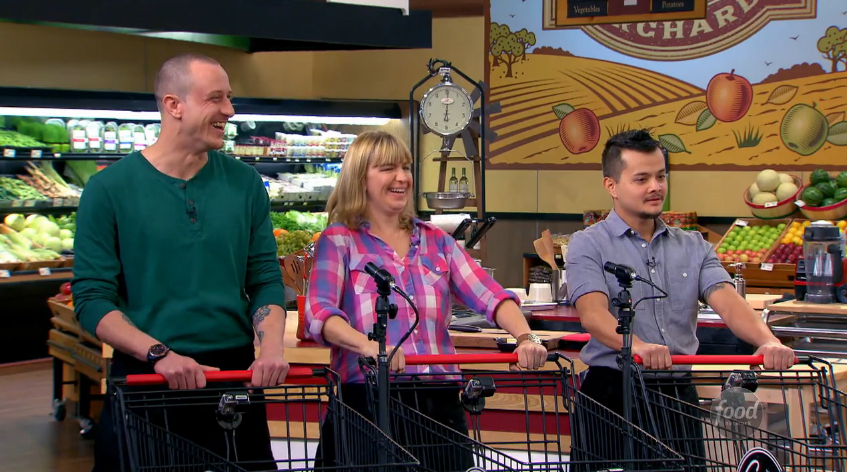 Photo Courtesy of Food Network
If you're a Food Network fanatic, you may have noticed one of Charm City's own racing up and down the aisles on Guy's Grocery Games last weekend.
In an episode that aired on July 19, Scott Hines, chef de cuisine at Farmstead Grill in Canton, went head-to-head with three other competitors and ultimately walked away with a check for $14,000.
"I want to say that I thought I would win [all along], because I'm confident in what I do, but I had had some pretty big doubts," Hines says.
After responding to a casting call on the network's website and engaging in a series of phone interviews with producers, Hines made his way to California to shoot the episode back in January.
"Food Network always names specific demographics when casting for different shows, and I saw that they were specifically looking for a chef from Baltimore, which, I'm assuming, is because Guy [Fieri] had just opened his restaurant in Horseshoe Casino."
Set in a makeshift grocery store, the weekly series pits four chefs from across the country against one another, challenging them to shop, cook, and plate a dish in 30 minutes to be judged after each round. But with the network's fun-loving spiky-haired all-star, Chef Guy Fieri, as the show's host, there's never any shortage of wildcard moments.
Some of the challenges that Hines faced included being limited to only seven ingredients in creating an international dish and only being able to shop for groceries found in even-numbered aisles. In the final round, he won over the judges with his buttermilk-fried quail stuffed with dates, roasted potatoes, and haricot verts.
"Before the show filmed they sent us a schematic of the store and a picture of our stations, so in that sense you're not going in totally blind, but the 30 minutes isn't 'stage time,' it's really only 30 minutes," Hines says. "So, especially in the first round, it was a bit nerve-wracking."
Hines says that he was excited to be able to represent Baltimore on the show, and that he plans to save his winnings for his family.
If you missed last weekend's episode, check out this clip of Chef Hines racing against the clock to prepare his international dish during round two.