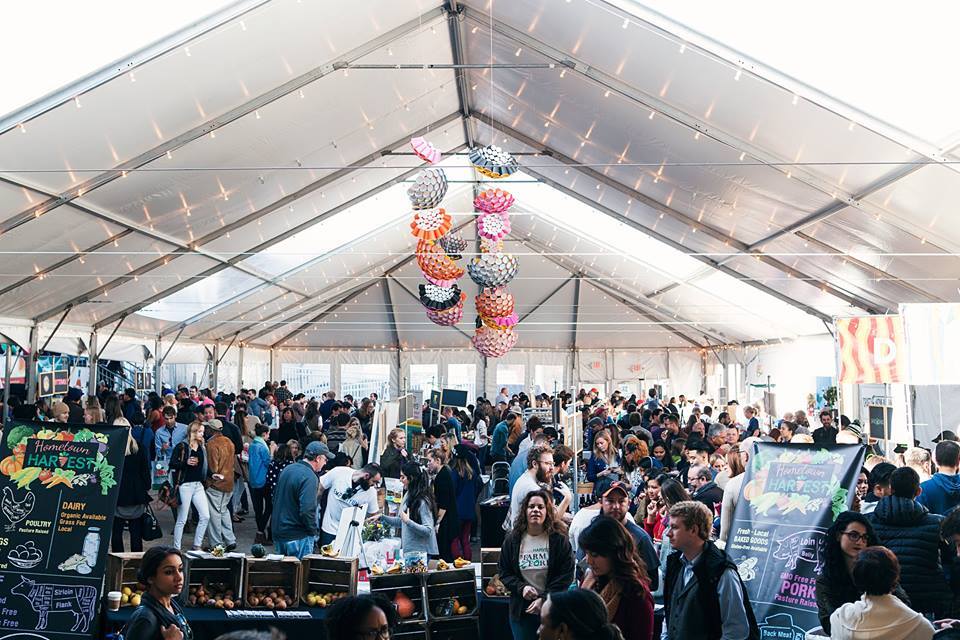 Courtesy of The Emporiyum
A diverse pop-up market showcasing everything from fruit ketchup and kombucha to bacon jam and baklava, The Emporiyum is nothing short of a food-lover's dreamland. Now celebrating its third year, the foodie fest is returning to Charm City this weekend to highlight more than 90 merchants from all over the East Coast peddling their best bites.
In keeping with the organizers' tradition of creating makeshift venues out of vacant city properties (last year's event was held in the former H&S Bakery distribution center in Harbor East), the festival will set up shop in the third-floor retail space, formerly a Best Buy, at 600 E. Pratt Street on April 16 and 17.
"It's important for the city to rally behind local food producers and also to show outside vendors the strong food community that Baltimore has," says Sue-Jean Chun, co-founder of The Emporiyum. "Our event gets bigger every year and we're so excited to bring all of the vendors together under one roof."
While browsing goodies from out-of-towners like D.C.-based sushi burrito purveyor Buredo, New York-based lobster lord Luke's Lobster, and Ocean City-based boozy beverage distillery Hoop Tea, be sure to check out local eats from the likes of Big Bean Theory, Baltimore Waffle Company, Bottoms Up Bagels, Buddhabites, Dooby's, The Local Oyster, Pinch, Charm City Meadworks, Clavel, Ekiben, HEX Ferments, KoDee Cakes, Trisha's Almond Toffee, Union Craft Brewing, and V-No Wine Bar. Among the lengthy list of local vendors are these five favorites:
Alma Cocina Latina
Caracas-born restaurateur Irena Stein delivers some of the most authentic Latin cuisine around at this hotspot, which opened in the Canton Can Company last year. This weekend's fete will mark Stein's Emporiyum debut, and she's excited to give diners a taste of what Alma is all about: "We're doing a special dish that is very representative of our craziness in the kitchen at the restaurant," she says. Stein's team will serve a Venezuelan shrimp roll topped with authentic guasacaca (think avocado salsa), green mango mustard, cilantro, lime zest, and microgreens, all piled on top of a matte-black squid ink arepa bun. If you're in search of vegetarian options at the festival, Alma will also be whipping up a special Venezuelan corn pancake with queso fresco.
8 Ball Meatball
This Fells Point newbie has been making a name for itself with its inventive meatball creations since opening in the former Tapas Adela space in February. Locals might already be familiar with the restaurant's classic, chicken, and spicy pork meatballs ladled with different sauces and served either sub or slider style. But if you haven't gotten a chance to stop in, the 8 Ball team will be posting up at the Emporiyum, serving its signature Greek meatballs with tzatziki sauce and crab balls topped with Old Bay aioli.
The Corner Pantry
European-inspired cuisine from British chef Neill Howell is the focus of the menu at this casual cafe in Mt. Washington. Savory lunch and dinner offerings—such as waffle BLT sandwiches and colorful beet salads—are plentiful, and the confections from the restaurant's claim-to-fame bakery make it easy to save room for dessert. From house-made pop tarts and scones to jumbo chocolate-chip cookies and classic crumpets, there are tons of sweets options too. The Corner Pantry will be on hand to quell sweet tooth cravings this weekend, selling its creative doughnuts that come in flavors ranging from tiramisu and vanilla matcha to lemon meringue and maple sticky bun with glazed walnuts.
Diamondback Brewing Company
What started as a couple of college friends brewing craft beer on their stovetop at the University of Maryland, College Park has now become Diamondback Brewing—a homegrown craft beer company that has already released six signature sips since launching in November 2014. Its lineup, which includes the citrusy 3:30 Amber Ale and The Bamb Black IPA, is available at a handful of beer bars around town, but if you haven't gotten a chance to try it out, swing by Diamondback's booth this weekend to sample its Omar's Oat Pale Ale and its summer seasonal Citronova Session Ale.
Cream Cruiser
There's a chance you've spotted Cream Cruiser founder Katherine O'Brien riding around on her seven-speed dessert bike to serve specialty ice cream sandwiches at various local markets. The sweet treats, which come in flavors ranging from chocolate chip and mint Oreo to double chocolate and bananas foster, sandwich a hefty scoop of Taharka Bros. ice cream between two fresh baked cookies. While strolling around The Emporiyum, swing by Cream Cruiser to try a few bite-sized sandwiches made specifically for the tasting event. Flavors on deck for this weekend include chocolate chip with pistachio, oatmeal raisin with toasted coconut, and double chocolate with raspberry cheesecake.