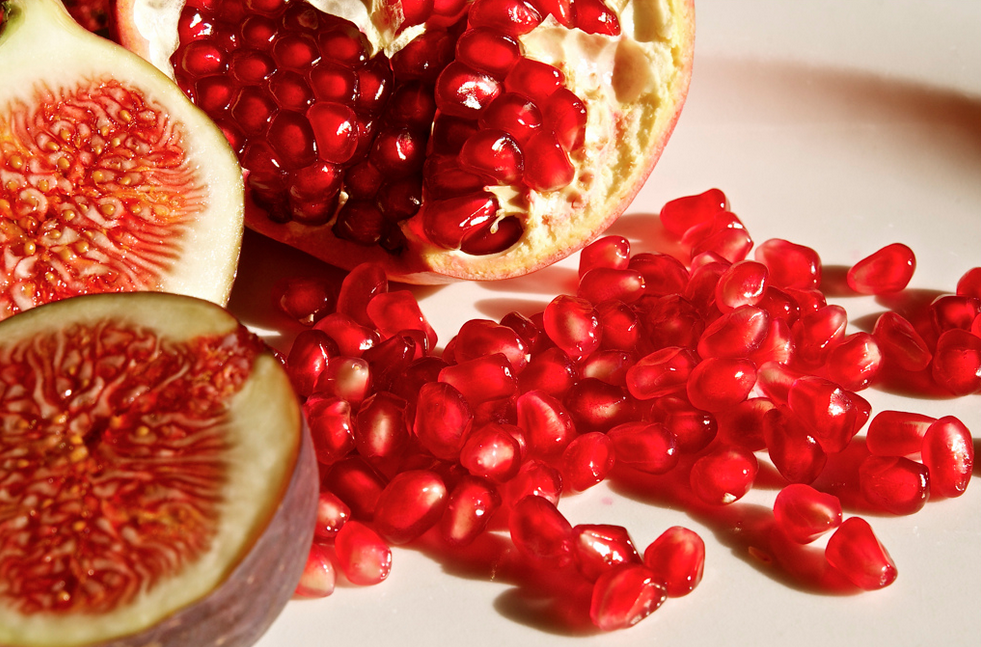 Courtesy of Flickr
Oysters seem to get all the credit for inducing amorous thoughts, but they're not the only aphrodisiac out there. As the old adage goes, the way to a person's heart is through their stomach, so spice things up by indulging in these sensuous ingredients this Valentine's Day. Cupid will approve.
Chocolate
Why It Works: This decadent treat is the most iconic symbol of Valentine's Day for a reason. The cocoa in chocolate contains the chemical phenylethylamine, which conjures feelings of comfort and puts you in the mood for romance.
Love At First Bite: Replace the generic heart-shaped candy assortment with some unique treats from the best chocolatiers in town. Stevenson's The Velvet Chocolatier offers handmade gluten-free options like chocolate bark and truffles and Pure Chocolate by Jinji in Belvedere Square has all kinds of creative treats—like a pomegranate dark chocolate truffle and salty white chocolate with coconut sugar.
Fig
Why It Works: Legend has it that this sexy fruit was Cleopatra's favorite, and the ancient Greeks always had figs on hand as they believed it symbolized fertility. Figs are also packed with potassium, which is great (kids, close your eyes) for stamina.
Love At First Bite: For a sweet after-dinner treat head over to Piedigrotta Italian Bakery and Pastry Shop in Little Italy for fig biscotti. You can also find figs on the charcuterie plate at the Other Corner Charcuterie Bar.
Honey
Why It Works: Honey has been a known aphrodisiac since the Middle Ages when mead was everyone's drink of choice because it was believed to make the Vikings fall in love. It contains boron, which regulates hormone levels, and nitric oxide, which is released in the blood during times of excitement, making it a great way to sweeten the mood.
Love At First Bite: Stop into Wit & Wisdom at the Four Seasons Baltimore to taste Pastry Chef Diana Ng's beignets made with honey, foie gras, and Nutella, then (because there's no so thing as too much of a good thing) head to Salt in Patterson Park for goat cheese donuts drizzled with lavender honey.
Hot Pepper
Why It Works: In addition to increasing your body temperature due to its spicy kick, eating a hot pepper releases pleasure-producing endorphins. Hot Peppers also contain a chemical called capsaicin, which stimulates nerve endings.
Love At First Bite: Chef Spike Gjerde's house-made "Snake Oil" hot sauce, made with fish pepper, cider, and sea salt, is a great accompaniment to the hearty dishes at his Remington restaurant Parts & Labor. Also, The Helmand in Mt. Vernon is one of the most romantic spots in town, and among its specialty Afghan cuisine is a koufta challow dish made with lamb and beef meatballs and hot green peppers.
Olive Oil
Why It Works: The monounsaturated and polyunsaturated fats in olives and their oil keep your heart healthy, while also aiding in blood flow and hormone production.
Love At First Bite: Little Italy is always a popular spot to spend the most romantic night of the year, and Aldo's features a linguine and clams dish drizzled in extra-virgin olive oil and sprinkled with chili flakes that will definitely do the trick. Just a neighborhood away in Harbor East, Bar Vasquez serves cauliflower with parmigiano and lemon-chili oil, and mashed sweet potatoes with extra-virgin olive oil and honey.
Oysters
Why They Work: Our roundup wouldn't be complete without mention of the most well-known aphrodisiac of the bunch. Oysters are great testosterone boosters because they contain a high amount of zinc.
Love At First Bite: Spots around town like Ryleigh's Oyster, Thames Street Oyster House, Mama's on the Half Shell, and The Nickel Taphouse all offer excellent raw bar options that will have you feeling the love.
Pomegranate
Why It Works: This tart fruit, frequently referenced back in the day as a symbol of love in literature and sonnets, is full of antioxidants that support blood flow, making it a definite go-to food to get your heart racing.
Love At First Bite: Roy's in Harbor East will be featuring pomegranate-glazed chicken breast on the Valentine's Day prix-fixe and Lebanese Taverna offers a fattoush salad with pomegranate-sumac dressing.
Red Wine
Why It Works: There's a reason why a nice glass of vino helps you unwind after a long day. Grape skins contain melatonin, which helps shake off the stress of the daily grind and feel more relaxed. Red wine also contains resveratrol, an antioxidant that improves circulation.
Love At First Bite (or sip): Order a classic glass of Cabernet, Merlot, or Pinot Noir at local hotspots like Vin 909 in Annapolis. If you'll be celebrating from home, stop in to The Wine Source in Hampden where the knowledgeable staff will help you pick a bottle to make Feb. 14 a night to remember.