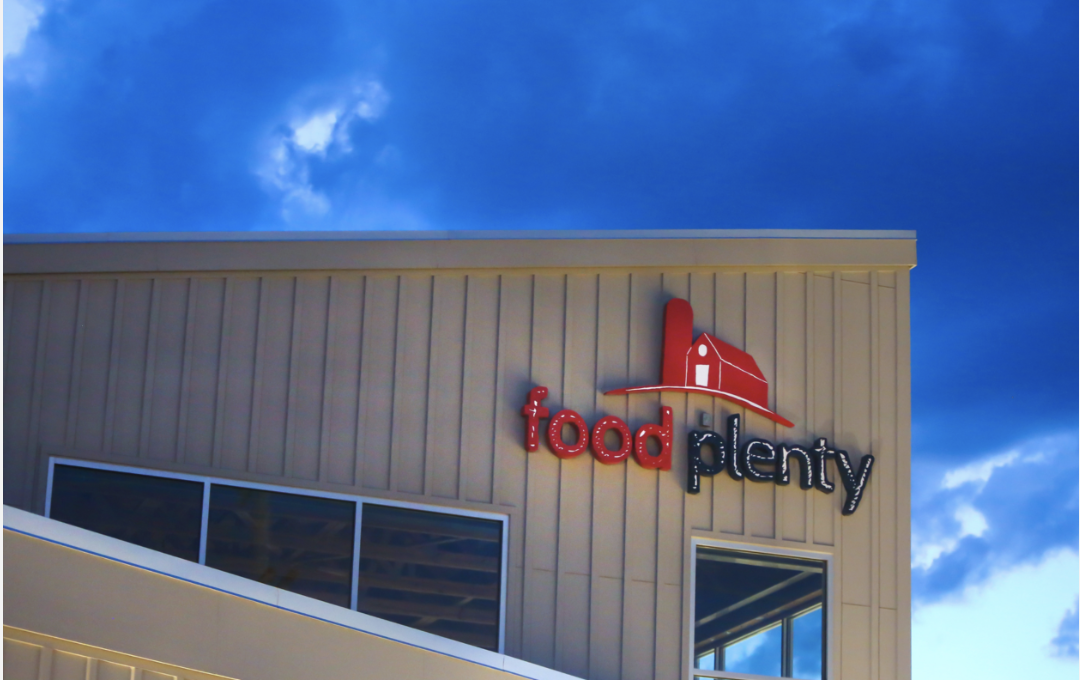 Courtesy of Food Plenty
Though Randy Marriner has looked to expand his restaurant business beyond Howard County in the past, there's just something about the tight-knit community that keeps drawing him in.
Five years ago, after opening Victoria Gastro Pub in Columbia with his wife, Mary, and daughters Rachael and Tori, Marriner started his search in the Annapolis area—but couldn't find the right spot to open a second location. Later, a real estate partner told him about the plans for Clarksville Commons, an environmentally sustainable, mixed-use center from local developers George and Holly Stone.
"I told him, 'I can't do a Victoria Gastro Pub number two in Howard County. That makes no sense,'" Marriner recalls. "And he said, 'So do something else.' That got me thinking."
In keeping with the developers' green focus (the commons feature solar panels, cisterns for rain water, and a living green wall), the Marriner family dreamed up a comfort food concept that makes use of locally sourced ingredients—some from their 54-acre working farm located 10 minutes away in Ellicott City. That property is also home to the taproom and production facility for the family's farm brewery, Manor Hill Brewing.
They decided to name the Clarksville restaurant Food Plenty, after an old Windsor Mill farm of the same name that Randy and Mary raised their daughters near. Slated to open in December, the eatery will highlight breakfast, lunch, and dinner dishes, Manor Hill brews, and an interior that is meant to pay homage to the Food Plenty property.
Local artist Linda Roberts—Marriner's former neighbor who still owns the Windsor Mill land—was commissioned to paint a six-foot-tall mural of the Food Plenty grounds that will welcome guests at the entrance of the new restaurant. To further the farm feel, the 280-seat spot will emphasize century-old reclaimed barn wood throughout the interior.
"It's going to be stunning," Marriner says of the space. "It really tells the tale."
Under the helm of corporate executive chef Chad Wells—who oversees restaurant operations for Victoria Gastro Pub and the Marriner's Ellicott City eatery Manor Hill Tavern—the kitchen will offer all-day service, as well as curbside pickup options.
"The menu won't have anything out of a bag," says Marriner, listing offerings like classic fried chicken, meatloaf and mashed potatoes, chicken noodle soup, grilled cheese, and Mary's banana cream pie. "It's going to be everyday comfort food, but all made from scratch."
Food Plenty joins other local food businesses in the mixed-use development, including DIY spot You Pizza (a spinoff of Facci Italian Restaurant in Howard County) and a second location of Elkridge bakery Kupcakes & Co. Although construction saw multiple delays with permitting and county approvals throughout the five-year process, Marriner says he is excited to "sprint toward the finish."
Next month's opening comes at a joyous time for the owners, who will celebrate Victoria Gastro Pub's 10-year anniversary on December 10. They are also planning to expand Manor Hill Brewing's facility in the coming months. Though details are still in the works, Marriner assures that the expansion will, of course, remain in Howard County.
"We've really focused our energies into this one geopolitical universe," he says of the community. "And the cool thing is, we're not finished."