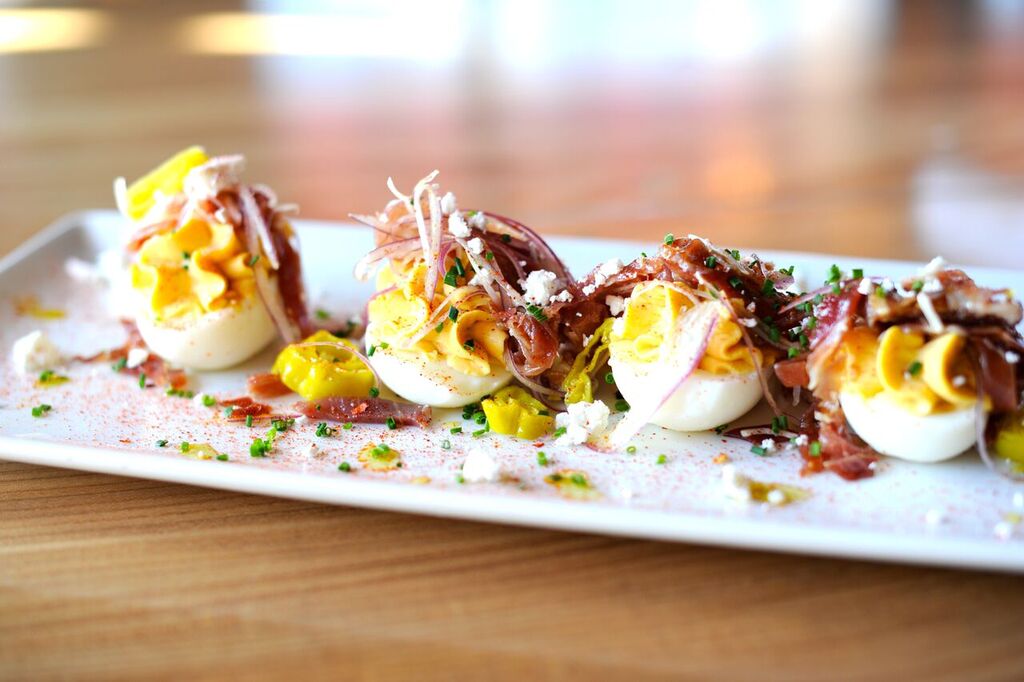 Courtesy of Mussel Bar & Grille
Fireworks and trendy red, white, and blue garb aside, the best part about the Fourth of July is the abundance of summertime snacks. From grilled to chilled, we've gathered a few recipes that will be sure to mix up the menu at this year's Independence Day cookout.
---
Eddie's North Bethany Potato Salad
Crab, corn, and Old Bay—the trifecta of emblematic Charm City ingredients—are fused into this hometown-inspired summer side dish from Eddie's of Roland Park. "This salad is the essence of summer in Baltimore and at the beach," says Eddie's chef Stan Levy. "It's a great way to use up summertime leftovers."
Ingredients:
3 tablespoons vegetable oil
2 large baking potatoes cut in wedges
1 tablespoon Season All seasoning
2 cups fresh white corn, cut from the cob
½ cup red bell pepper, diced
½ cup sweet onion, diced
1 lb. jumbo lump crabmeat
For dressing:
1 cup mayonnaise
¼ cup Dijon mustard
1 tablespoon lemon juice
2-4 tablespoons Old Bay
Directions:
1. Pre-heat oven to 350°.
2. Heat vegetable oil in large skillet over medium-high heat. Fry potatoes until golden.
3. Transfer potatoes to a sheet pan and bake for 10 minutes until fully cooked and tender.
4. When potatoes are done, sprinkle with Season All and chill.
5. When cold, cut wedges into quarters.
6. In a small bowl, whisk together mayonnaise, mustard, lemon juice, and Old Bay. Set aside.
7. In a large bowl, combine corn, bell pepper, celery, onion, and potatoes. Add dressing and mix well.
8. Fold in lump crabmeat.
Serves 8
---
Kooper's Tavern's Napoleon Salad:
Watermelon is essential for any summertime soiree. But instead of slicing up triangles or mixing chunks into a fruit salad, try this recipe from Kooper's Tavern that combines the juicy treat with fresh goat cheese. "Our Napoleon salad is light and refreshing, perfect during the sizzling Maryland summer," says Kooper's chef Tom Hawkins Sr. "The fresh goat cheese pairs perfectly with the watermelon, and it makes for a great side to go with any grilled fare."
Ingredients:
1 quart balsamic vinegar
2 cups arugula
1 teaspoon olive oil
3 1/8'' slices watermelon cut into round pieces
2 oz. fresh creamy goat cheese
1 pinch sea salt
Directions:
1. To make the balsamic reduction, cook balsamic vinegar over medium heat and reduce to approximately one cup.
2. Build arugula base by mixing arugula, sea salt, and olive oil on a small square plate.
3. In center of plate, stack melon and goat cheese to make six layers.
4. Drizzle balsamic reduction over stack.
5. Finish with pinch of sea salt on top.
Serves 1
---
Mission BBQ's Backyard Baby Back Ribs
Hamburgers and hotdogs have their perks, but the finger-licking, fall-off-the-bone kind of barbecue goodness can only be achieved by throwing some smoky ribs on the grill."Nothing makes a backyard barbecue better than ribs," says Steve Newton, co-owner of Mission BBQ. Perfect the art of the baby back just in time for the holiday with Newton's signature recipe.
Ingredients:
For rub:
1/2 cup dark brown sugar
5 tablespoons paprika
6 tablespoons kosher salt
2 tablespoons sugar
2 tablespoons garlic powder
2 tablespoons chili powder
1 tablespoon onion powder
2 tablespoons table grind black pepper
2 teaspoons cumin
2 teaspoons cayenne pepper (optional)
1 teaspoon white pepper (optional)
For mop:
1/2 c. apple juice
2 Tbsp. apple cider vinegar
1 Tbsp. of your favorite BBQ sauce
2 racks baby back ribs, each 21/2 lbs. and down
Directions:
1. In a medium bowl, mix all rub ingredients. Place in an airtight container and store inside a dark cupboard.
2. In a spray bottle, combine all mop ingredients and mix well.
3. Rinse the ribs and pat dry. Starting at one of the first bones on the thinnest side of the rack of ribs, slide the tip of a table knife under the membrane covering the back of each rack. Lift and loosen the membrane until you can grab a corner of it with a towel. Slowly pull it off removing the entire membrane.
4. Using a serrated knife, score the undersides of the rib in an "X" marks the spot pattern four times across a full rack of ribs.
5. Evenly season over the entire surface area on top, leaving a little bit of the meat visible under the rub. Season the undersides lightly. Then wrap the ribs in heavy duty plastic wrap and refrigerate overnight before cooking the ribs using your preferred method.
Mussel Bar and Grille's Deviled Hen Eggs
This appetizer always seems to be a crowd favorite, and Mussel Bar's rendition kicks things up a notch by throwing prosciutto, feta cheese, and chili flakes into the mix."Deviled eggs are one of the greatest comfort foods we know, and evoke memories of carefree lazy summers," says Mussel Bar corporate chef Brian McBride. "Our version makes use of the traditional style with some upscale ingredients to modernize the presentation. They're a perfect ice breaker for a party, or for a nice light meal."
Ingredients:
1 dozen eggs, hard boiled and peeled
2 teaspoons Dijon mustard
1/3 cup mayonnaise
2 tablespoon red onion, minced
½ teaspoon Tabasco
Salt and pepper to taste
Pastry bag
For garnish:
2 ounces prosciutto, julienned
4 pepperoncini, seeded and julienned
¼ cup red onion, finely julienned
2 ounces feta cheese, crumbled
1 tablespoon chopped chives
Pinch of chili flakes
Extra virgin olive oil
Directions:
1. Using a sharp knife, cut each egg in half, lengthwise.
2. Gently remove the yolk and place the white halves on a serving platter.
3. Using a fork, mash the yolks in a separate bowl and add mustard, mayonnaise, red onion, Tabasco, salt and pepper. Mash until you reach a creamy consistency, add more mayonnaise if necessary. Check seasoning.
4. Place mixture in a pastry bag with a star tip and pipe mixture into the white halves.
5. To make the garnish, place prosciutto, pepperoncini, and red onion in to a small bowl and drizzle with olive oil and a little salt. Mix well and sprinkle over the eggs.
6. Sprinkle feta cheese, chives, and a chili flakes over the eggs well.
7. Finish garnish with a drizzle of olive oil and serve.
Makes 24 eggs