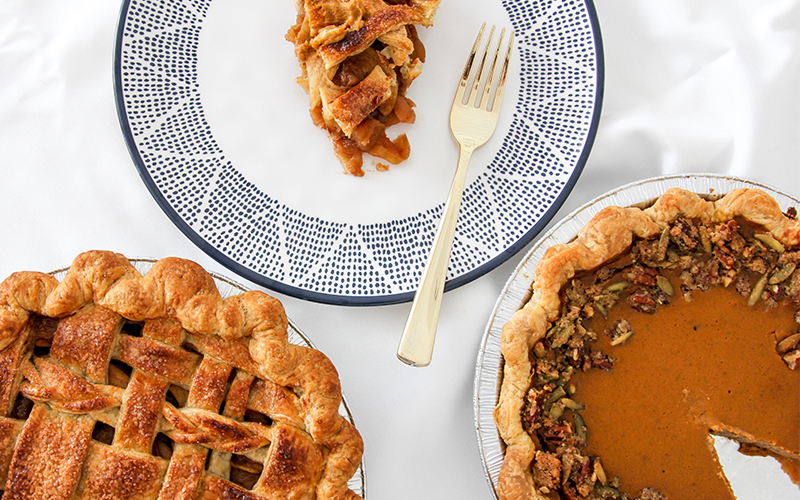 Somehow, we're already halfway through November and a week out from Thanksgiving. When it comes to the food-filled holiday, every family has its own traditions. For some, it's about gathering around the dining room table at home—and lounging on the couch after one too many slices of pumpkin pie. But others value the ease of letting a restaurant do all of the cooking and cleaning. No matter your preference, the local dining scene is offering plenty of options if you're getting a late start to planning your Turkey Day this year. Whether you're searching for last-minute pies and potluck dishes to impress loved ones, or just hoping to make a reservation somewhere, here are a few options.
POTLUCK PICKS
Bramble Baking Co.: Bramble's baking extraordinaire Allie Smith is offering a signature menu of holiday pies that are available for pre-order by Nov. 21. Cut into festive flavors such as mulled wine pear crumble, maple bourbon pecan, brown butter pumpkin streusel, apple cheddar rye, and chocolate rosemary cranberry tart. Pickups can be made from Local Color Flowers from 4-7:30 p.m. on Nov. 27.
Eddie's of Roland Park: In honor of its 75th anniversary year, this Roland Park mainstay is offering a full holiday feast that feeds six people for $75. The meal deal includes turkey and all the fixins' including stuffing, mashed potatoes, and two quarts of gravy. It also comes with two sides (think options such as green beans and butternut squash) and one of Eddie's fresh-baked pies. If you're not feeding a crew, Eddie's holiday catalogue has plenty of options for single orders. 5113 Roland Ave. 410-323-3656
The Charmery: This fan-favorite creamery is offering its signature ice cream pies this year. The $22 dollar treats come in inventive flavors such as spiced pumpkin caramel, brown sugar molasses pecan, and vegan sweet potato. Pre-order and pick-up at one of The Charmery's locations in Hampden, Towson, and Union Collective. Each of the locations will be open for a few hours on Thanksgiving Day for those in need of a last-minute crowd pleaser. 801 W 36th Street Baltimore, 410-814-0493
The Corner Pantry: If you want to spend Thanksgiving at home, but would rather someone else do the cooking, this Mt. Washington go-to is a solid bet. Tick-off takeaway items on the homestyle menu of family-sized must-haves, such as brined and roasted turkey, butternut squash soup, cheddar biscuits, and pecan pie. Orders must be submitted by Saturday November 23rd, so don't delay getting your feast in order. 6080 Falls Road, 667-308-2331
Zeke's Coffee: Make your Thanksgiving prep a little easier—and more delicious—with an apple, pecan, or pumpkin pie handmade by Zeke's Coffee on Harford Road. Pre-order an $18, nine-inch pie, and then pick it up at Zeke's flagship cafe the week of Thanksgiving, or on the big day until noon. The cafe also offers a tasty brunch Thanksgiving morning featuring comforting pumpkin waffles. 4719 Harford Rd, 410-254-0122
DINING-OUT DESTINATIONS

Chez Hugo Bistro: Chef Steve Monnier is whipping up a family-style prix-fixe menu that showcases his take on all-American staples. Enjoy options including pumpkin-bacon soup, grilled turkey leg rillettes, creamed spinach, Brussels sprouts with crispy onions, and potato gratin dauphinois. Save room for signature sweets including a French apple tart and Pumpkin Pavlova with chocolate meringue and candied pecans. 206 E. Redwood St. 443-438-3002. $50.
Charleston: If you're looking for a fine-dining selection, this award-winning restaurant offers a choice between turkey, beef short ribs, and pan-roasted wild rockfish. Bring the family for savory entrees with family style sides—including collard greens slow-cooked in ham hock broth—followed by decadent desserts. The prix-fixe menu is $85 per person. 1000 Lancaster Street, 410-332-7373
Citron: For an elegant Turkey Day option, Citron in Pikesville is offering a three-course meal with dishes such as maine lobster bisque, filet mignon, turkey, and pumpkin cheesecake. Additions include a Thanksgiving wine pairing, a simplified children's menu, and family-style appetizers. Seatings take place from 12 p.m.-7 p.m. and the fixed menu is priced at $59 for adults and $24 for children. 2605 Quarry Lake Drive, 410-363-0900
Rusty Scupper: Pair your Thanksgiving feast with beautiful waterfront views at this Inner Harbor seafood spot. The restaurant's annual feast will run from 11 a.m. to 6 p.m. offering all of the classics, but with a seafood twist. Step up to the buffet to pile on options such as mussels marinara, scallop mac and cheese, and oyster stuffing. Reservations are required for the all-you-can-eat meal, which is $58.95 per adult and $29.95 for children 10 and under. 402 Key Highway, 410-727-3678
Rye Street Tavern: This Port Covington hotspot is featuring an elevated meal of Thanksgiving staples. Guests choose an appetizer, main course, and dessert from a mouthwatering list of options. Start things off with crispy barbecue prawns or striped bass ceviche before getting to more traditional fare and finishing off with indulgent desserts including dutch apple pie. The restaurant will open from 2 p.m.- 8 p.m. with fixed menus at $70 for adults and $35 for children 10 and under. 225 E Cromwell St. 443-662-8000
Tersiguel's: For a magnifique holiday, Tersiguel's French Country Restaurant in Ellicott City is crafting a $60 prix-fixe featuring hearty Alsace Potato Soup, farm-fresh salads, beef beaujolais, and roast turkey leg with stuffing and gravy. 8293 Main St., Ellicott City. 410-465-4004
Topside: Overlooking historic Mt. Vernon, this stylish rooftop restaurant will highlight a special menu complete with holiday favorites from 5-9 p.m. Each meal will include cornbread with cranberry-orange relish, alongside a choice of a classic appetizer, entree, two sides, and a dessert. (Don't miss out on the famous Pimlico Pie.) The special menu is priced at $45 per person. 101 W. Monument St. 410-727-0065