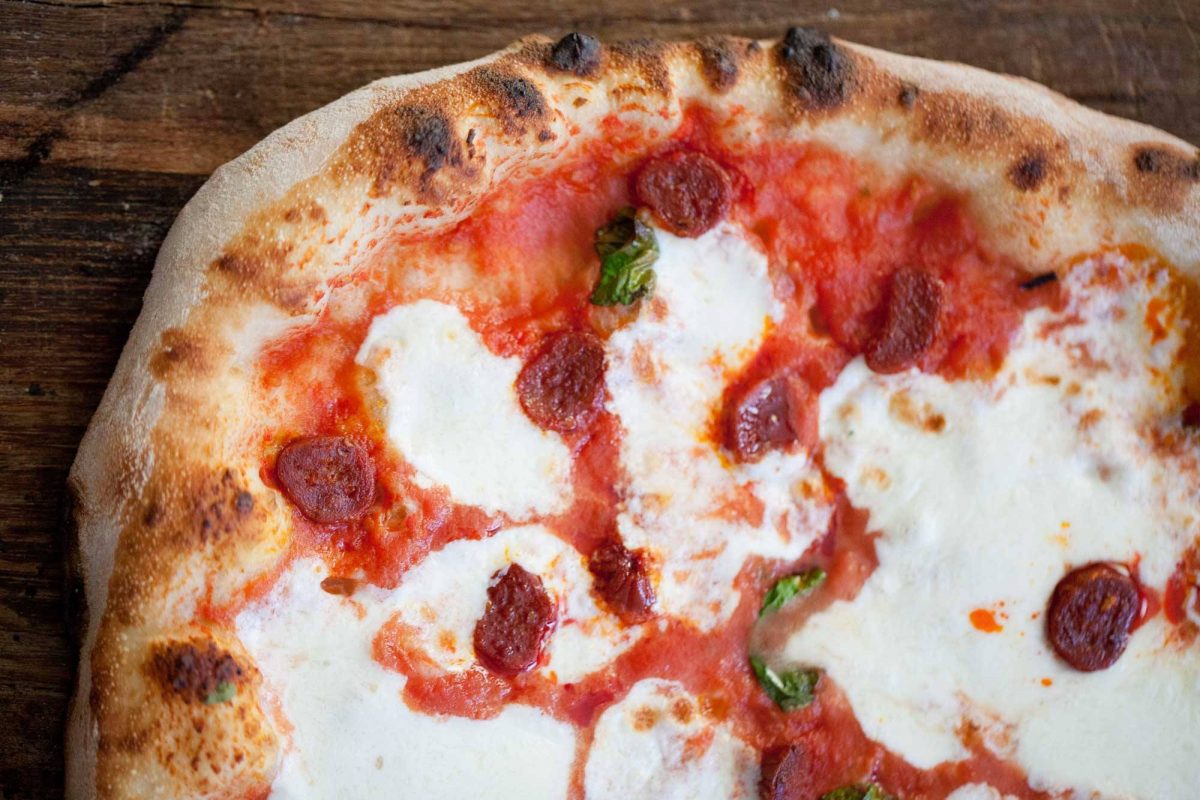 Courtesy of Well Crafted Pizza
Since its debut in November 2014, the reoccurring Light Up Lexington series has been a showcase for the city's top artists, musicians, and chefs.
Now, Lexington Market and The Bromo Tower Arts & Entertainment District are teaming up once again to host the event's fifth installment on Wednesday, May 4 from 5-9 p.m., which will feature its signature chef mash-ups while also throwing a few budding food startups and a new wave of performers into the mix.
"When we first started, we really wanted to introduce the market to folks who may have never ventured over during evening hours, and the fact that it has caught on so well is really exciting," says Lexington Market manager Stacey Pack. "In the past we've always had more established and well-known restaurants participate, and this time around we're excited to bring a couple of places that are new to the food scene on board."
In keeping with its tradition of pairing the market's vendors with restauarant chefs, the foodie get-together will feature collaborative dishes from the likes of Faidley's Seafood, Mem Sahib Restaurant, Sausage Master, Ejji Ramen, Neopol Smokery, Bookmakers, and The Local Fry. The latest installment will also include local food startups such as Waverly-based pop-up Bottoms Up Bagels and vintage wood-fired pizza truck Well Crafted Pizza.
"Participating in Light Up Lexington is super exciting because of the market's history," says local wedding photographer Liz Bower, who co-owns Well Crafted Pizza with her husband, Ryan, and college friends Laura and Tom Wagner. "We like the idea of getting back to the roots, not only with the food that we serve but also with our community."
The event will mark the first public sale for Well Crafted Pizza, whose revamped 1949 Dodge pickup truck will be parked outside to serve up its locally sourced pizzas, like a margherita, chorizo-spinach, purple pesto, and a dessert version with apples and Mouth Party Caramel sauce.
Other food offerings will include collaborative dishes like French fries smothered in hearty toppings from The Local Fry and Park's Hamburgers, crispy pork belly with slaw and fried veggies from Bookmakers and Dudley's Fries, and corned beef and shrimp salad sandwiches from Bottoms up Bagels and Mary Mervis Delicatessen. As in previous months, Union Craft Brewing will be slinging $4 beers from 6-9 p.m.
"The market is doing a lot of work to revitalize and diversify its options," says Michelle Bond, co-owner of Bottoms Up Bagels. "And in some ways it epitomizes the larger story of Baltimore's food scene, where we're trying to build on what's there and expand the circle so that everybody can see themselves in it."
Highlighting local musicians is also a fundamental part of Light Up Lexington's mission. The evening's live entertainment lineup will feature the New Orleans-inspired sounds of Rufus Roundtree and Da B'More Brass Factory and music spun by 9-year-old DJ Kool Flash of Silver Spring, who recently dropped her first mixtape.
The event comes in the midst of Lexington Market's major remodel and rebranding, which will yield increased seating, extended evening hours, regularly scheduled live music performances, a designated stall for rotating pop-ups, and an outdoor farmers' market. The space has remained open during construction, and changes are expected to start being implemented by the end of 2016.
Pack says that Light Up Lexington is a great preview for the community to see what the proposed plans will offer.
"Lexington Market truly is the city's market," Pack says. "Some of the comments that really stick to my mind are from one of the [Light Up Lexington] events last June, which we had to postpone after the uprising, where people said, 'This feels so good, this feels like we're healing.'"