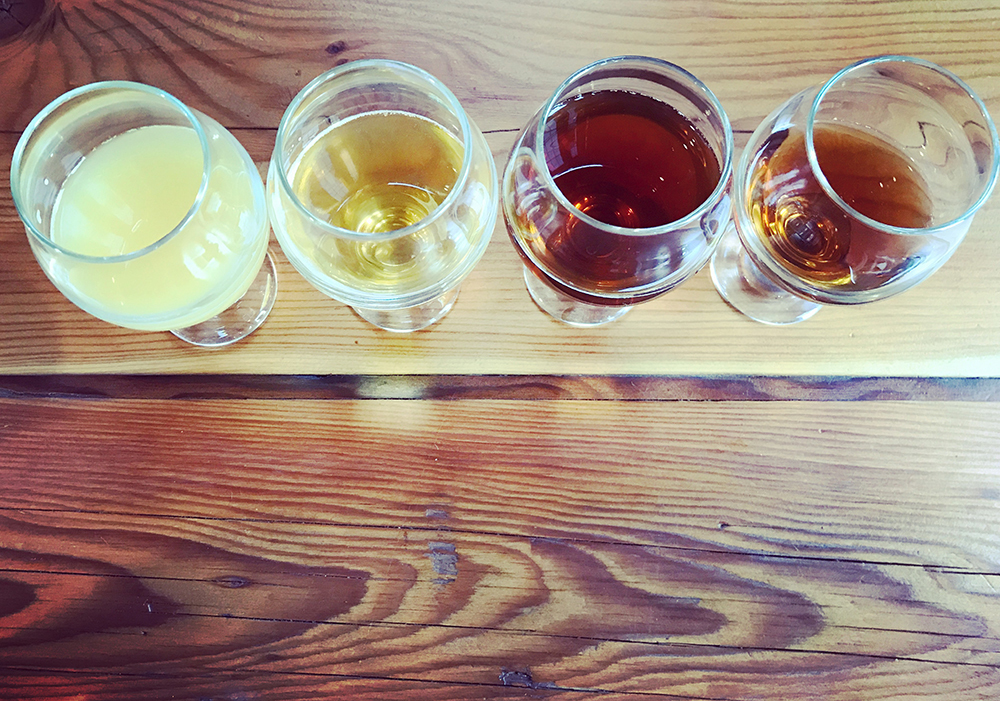 Jess Mayhugh
The fall season might conjure up thoughts about the start of school or football season, but for us this time of year is all about beer. Many local breweries are thinking of creative ways to celebrate the season, including rye barrel-aged options and flavors like peach cobbler. But there's nothing wrong with keeping it simple and offering tried-and-true IPAs, brown lagers, and Oktoberfest beers.
"Brown beers may not be the sexiest thing to brew, but for us it's something great for the season," says Monument City Brewing co-owner Ken Praay. "They're not fancy, but it's something we would want to drink."
Monument City currently has two varieties of its brown lager on tap—First Cup brewed with Charm City Roasters coffee, and Last Cup with slight notes of caramel and chocolate. They will both be available on Saturday at Monument's pig and oyster roast featuring eats from Blue Pit BBQ and The Nickel Taphouse. At the event, the brewery will also be debuting its limited release Nobo, a hazy, double dry-hopped IPA.
Thankfully, this is just the start of fall and we have all season to enjoy some of these heartier brews. Here are just a few of our other favorites around town.
Flying Dog Brewery: Maryland's largest brewery, which is gearing up to open a 150,000-square-foot space at Frederick's Bowman Farm, releases a new beer practically every day. For fall, we like the Peach Cobbler Ale, a part of the Brewhouse Rarities series, and the Laces Out India Pale Lager, which was specifically brewed for the Ravens game in London and will be released this Sunday.
Diamondback Brewing Company: Diamondback Brewing in Locust Point will be releasing its stellar Oktoberfest Marzen-style beer at an event on October 25. For now, you can try the brewery's Cherry Wack, a dark kettle sour with coriander, sea salt, and tart cherries.
Jailbreak Brewing: Jailbreak likes to have think outside the box down in Laurel and its fall releases are no exception. There's The Big Lebowski-inspired White Russian coffee-cream ale and the spicy Welcome to Scoville Jalapeño IPA , which will be back on draft and in cans on September 29.
Union Craft Brewing: We mainly get excited for fall because we know that Foxy Red IPA is coming back into our lives. This seasonal offering is fruity and piny and hits all the right notes for this time of year. Another good option for fall is the cleverly named Royal Farmhouse Belgian-style Double IPA. Pairs well with a chicken box.
The Brewer's Art: Hard to believe (aka we feel old), but The Brewer's Art just turned 21. To celebrate the fact that its of legal drinking age, the brewpub released 21—a version of its Maryland rye beer 7 Beauties that was aged in a Sagamore Rye barrel. 
Heavy Seas: This grandaddy of Baltimore brewers has one of our favorite year-round IPAs in Loose Cannon, but come fall we can't get enough of Greater Pumpkin Imperial Ale aged in bourbon barrels. This weekend, the Halethorpe brewery will be pouring both at Federal Hill Oktoberfest.
Black Flag Brewing: This Columbia brewery had a good time poking fun at the pumpkin-spice trend with its Basic Bee Pumpkin Pie Ale brewed with maple syrup, honey, and spices. This fall brew, along with Black Flag's Oktoberfest, will be available on tap and in cans at a taproom event this weekend.
Milkhouse Brewery: This Mt. Airy farm brewery always has some of the freshest products in the state and, because peaches are at their peak, we recommend the Peach Farmhouse Ale, a Belgian-style ale with local hops, wildflower honey, and notes of peach and spice. The farmhouse ale is a great way to transition from summer to fall.