This recipe collection was inspired by a simple question: What do chefs cook once they've doffed their toques?
For the men and women in white, it turns out that there's no such thing as leaving work at the office. Whether they're assisted by sous chefs and line cooks over an eight-burner Vulcan range or feeding family and friends from the comfort of their home range, they cook because it fuels them.
We've asked five beloved Baltimore chefs to design menus that reflect the way they like to eat at home, then photographed them in their own kitchens, from Michel Tersiguel's cozy space in Ellicott City (his Great Dane named Gale kept at bay during the mouthwatering photo shoot) to Cindy Wolf's gleaming new personal (yet highly professional) kitchen in Sparks. (Her scrambled eggs were the best we've ever eaten.)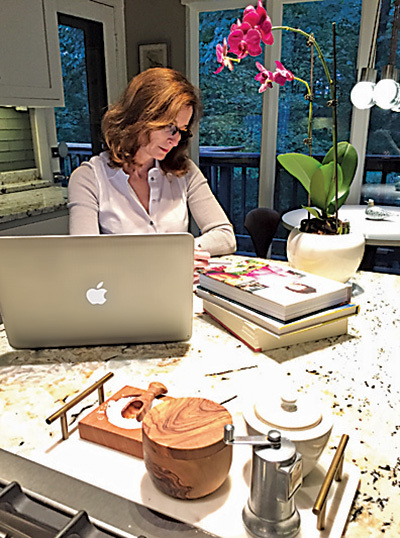 We watched as they blowtorched meringue, pounded chicken breasts, and braised a pork shoulder. And we were wowed as they showed incredible grace under pressure, whipping up gorgeous, multi-course meals in a matter of minutes, despite the crowding—as is often the case in every home's heart—in their kitchens.
So whether you mull these menus for fun, or decide to throw an impromptu party, we hope these pages inspire you to roll up your sleeves, preheat the oven, and pull out those pots and pans. No matter how great our ever-expanding food scene, there's still nothing like a meal that's cooked in your own kitchen.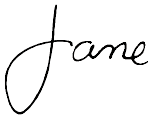 Jane Marion
Managing Editor
---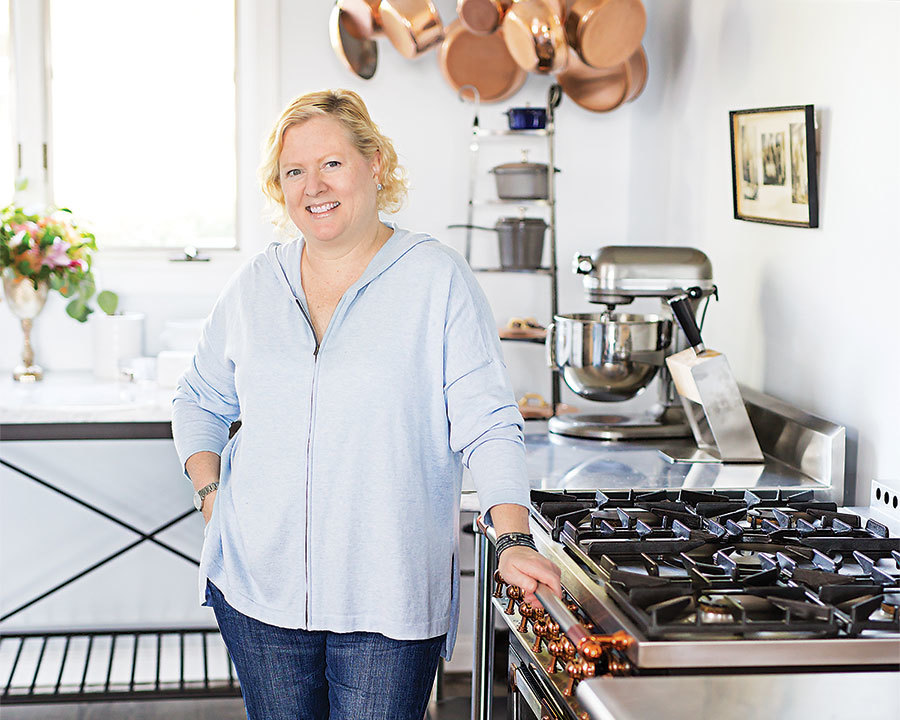 Cindy Wolf
Co-Owner, chef / Charleston
Cindy Wolf fell hard for the four-bedroom ranch-style home on a picturesque 15-acre parcel of land in Sparks. It had a long allée of trees and rolling farmland reminiscent of the French countryside. When she moved in last October, the James-Beard-Award-nominated chef and co-owner of Charleston and five other restaurants welcomed the opportunity to renovate the kitchen and realize her design dreams. With a set of copper pots swinging from a wrought-iron pot rack on the ceiling, a stainless steel La Cornue range with copper fittings, and an industrial sink good for both gardening and washing her French porcelain plates, the kitchen is what Wolf desired for decades. "I wanted this to be as much like work as possible," explains Wolf. "In fact, I've always wanted for all my kitchens to be that way, but this is the first one that really is. There are no cabinets at all and everything is very open, with plenty of workspace."
Even when she's not at work, Wolf is most content cooking for others and throwing dinner parties. "I've always cooked pretty similarly at home as the restaurant," she says, "but it's very different cooking for four people than between 60 and 150. That means I can do a whole chicken—I'm not serving portion by portion. I'm cooking for one group and no one after that—and that's what I love."
Another dream come true? Wolf built vegetable and herb gardens filled with squash, tomatoes, tarragon, and more. "As a chef, I've always dreamed of having gardens on the property," she says. "To have a farm and a small garden to pick from and have that inspiration each day as I do a daily menu is incredible."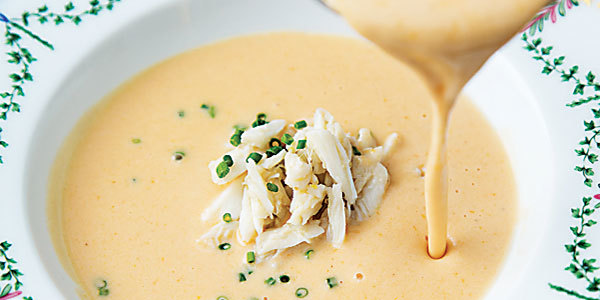 She-Crab Soup
INGREDIENTS
1 ¼ cups crab stock
6 tablespoons unsalted butter
½ Spanish or Vidalia onion, small dice
2 shallots, small dice
1 rib celery, small dice
1 carrot, small dice
6 tablespoons flour
3 cups heavy cream
1 tablespoon tomato paste
Freshly ground black pepper to taste
1 pinch cayenne pepper
1 pinch freshly ground nutmeg
½ cup Manzanilla sherry
Kosher salt to taste
4 ounces jumbo lump picked crab meat (traditionally using female crabs, prized for their flavor)
4 tablespoons finely chopped fresh chives
INSTRUCTIONS
In a small saucepan, bring 1 cup stock to a boil and cook until reduced by half, about 10 minutes. In a large, heavy soup pot, melt butter over medium heat. Add onion and shallots and cook until soft, about 4 minutes. Add the celery and carrot and sauté 1 minute. Sprinkle in flour and stir the flour-butter mixture until it turns a light golden brown (this is called a blond roux), about 4 minutes. Whisk in the reduced stock, cream, tomato paste, both types of pepper, and the nutmeg. Simmer, stirring frequently, until the soup is thick and has lost any floury taste, about 30 minutes. Add sherry (you needn't use it all——just as much as you like). If soup is too thick, thin with a little of the remaining stock. Salt to taste. To serve, spoon 1 ounce crabmeat into each of 4 bowls. Pour in hot soup. Scatter with chives.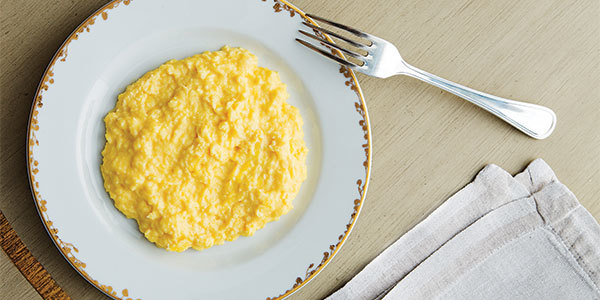 Scrambled Eggs
INGREDIENTS
1 tablespoon unsalted butter
3 large fresh eggs
Kosher salt
Freshly ground black pepper
1 teaspoon heavy cream
1 teaspoon grated Gruyère
INSTRUCTIONS
Heat a stainless steel sauté pan on high, then turn down to low before adding butter. Whisk eggs with salt and pepper, then pour into pan, moving and shaking the pan the entire time and using a fork to help break up the curd. Just before eggs are cooked through, add cream and Gruyère. Spoon onto plate. Eat right away, preferably with brioche toast.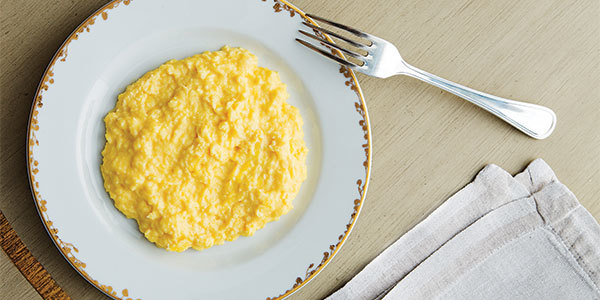 ---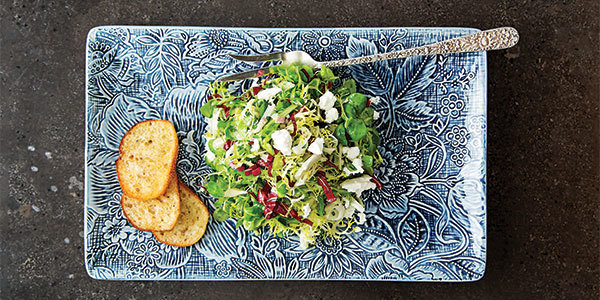 Goat Cheese & Mâche Salad
INGREDIENTS
1 tablespoon unsalted butter
8 round slices cut from a baguette, each ½-inch-thick
2 tablespoons high-quality red-wine vinegar
1 teaspoon creamy Dijon mustard, preferably Maille
½ cup high-quality, extra-virgin olive oil
Kosher salt to taste
Freshly ground black pepper to taste
2 bunches of mâche (aka lamb's leaf lettuce) washed and dried
1 head radicchio, leaves stacked and sliced
1 head frisée, tough leaves and stems discarded, tender leaves washed and dried ½ cup Vermont goat cheese, crumbled
¼ cup (total) coarsely chopped fresh basil, mint, tarragon, and chervil
INSTRUCTIONS
In a medium sauté pan, melt butter over medium heat. Add the bread and toast golden brown, about 2 minutes per side. Drain on paper towels. To make dressing, in a small bowl whisk together vinegar and mustard. Drizzle in olive oil, whisking constantly. Season with salt and pepper. Toss all the greens with dressing. (You may not need all the dressing.) Divide salad onto 4 plates. Scatter each with goat cheese and 1 tablespoon herbs. Set 2 toasts on each plate.
---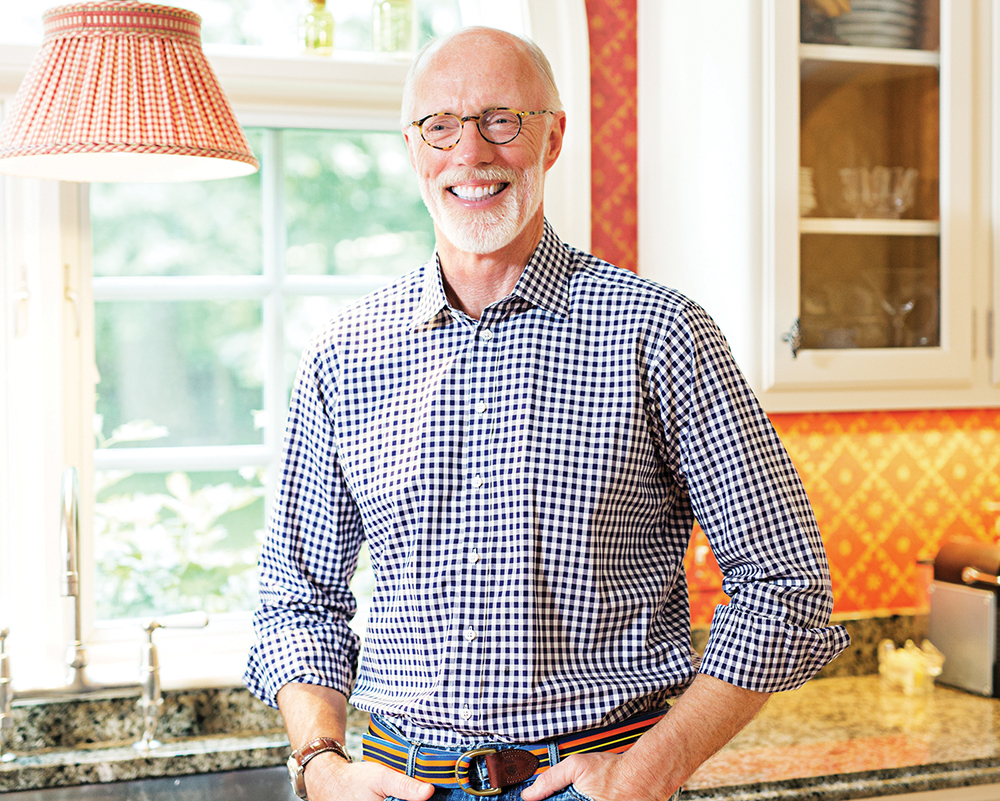 Linwood Dame
Co-Owner, chef / Linwood's
Linwood Dame is a big believer in practice makes perfect. "One of the golden rules when it comes to entertaining is to practice the dish before you serve it to a crowd," says Dame. "Don't try something new when you're having a dinner party."
When he's not working at his fine-dining restaurant in Owings Mills, Linwood is fond of throwing gatherings in his Cockeysville home—though his dining directive is to keep things easy. "When we entertain, it's never over-the-top," he says. "It's always about simplicity. The product is always good, but I don't want to spend a ton of time in the kitchen."
Dame's dinner party menu was inspired by a spontaneous get-together he had while on a vacation visit to his Nantucket cottage last summer. "We were out that day and ran into some people," he recalls. "And I said, 'Hey, what are you doing tonight? Come on over, let's have dinner.' But by the time I was done inviting a few couples, I was like, 'Oh boy, now I have to whip up dinner on the fly. And I only have a few hours to shop, prep, and cook.'
So I whipped up this whole meal in two hours, and although I have a recipe for lemon pound cake here, I bought a pound cake from the farm bakery that looked pretty good, sliced it, buttered it, toasted it under the broiler, and served it with warm berries and ice cream."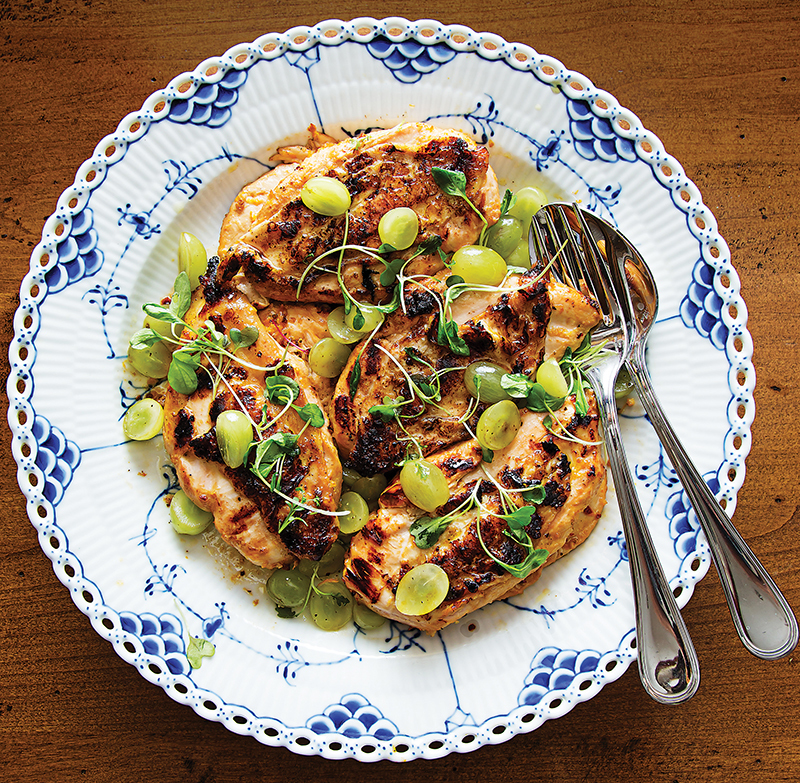 Citrus Chicken
INGREDIENTS
6 skin-on boneless chicken breasts (½- to ¾-inch thick)
3 lemons
2 oranges
½ cup olive oil
5 tablespoons crushed red pepper flakes
Sweet and savory grapes (recipe below)
FOR GRAPES2 tablespoons mustard seed
1 cup white-wine vinegar
½ cup freshly squeezed lemon juice
¼ cup freshly squeezed orange juice
¼ cup sugar
2 tablespoons finely grated orange zest
2 tablespoons ground chipotle chili pepper
½ pound green (or green and red) seedless grapes
INSTRUCTIONS
Place 1 chicken breast on a cutting board. Cover with plastic wrap. Use a kitchen mallet to pound to an even thickness. Repeat with remaining chicken. Zest and juice lemons and oranges. Choose a wide pan (such as a 13-x-9-inch baking pan) to marinate chicken. Alternatively, you can pour marinade into 2 gallon sized zip-top bags.
Combine oil, red pepper flakes, both kinds of zest and both kinds of juice. Add chicken. Cover (or zip) and chill. Let marinate 1 to 5 hours, turning chicken (or bag) once. Heat grill to medium-hot. Grill chicken over direct heat, skin-side down, until skin is crispy, about 6 minutes. Flip and cook over indirect heat until internal temperature reaches 165 degrees, about 8 minutes. Garnish with grapes.
For grapes: Add mustard seed to a medium saucepan. Set over medium heat and toast, shaking pan now and then, until darkened and fragrant, about 2 minutes. Add all remaining ingredients except grapes. Bring to a boil. Stir until sugar dissolves, about 1 minute. Let this pickling brine cool. Cut grapes in half and add to the brine. Let rest 30 minutes to 3 hours. Drain. Discard brine. Garnish citrus chicken with grapes before serving.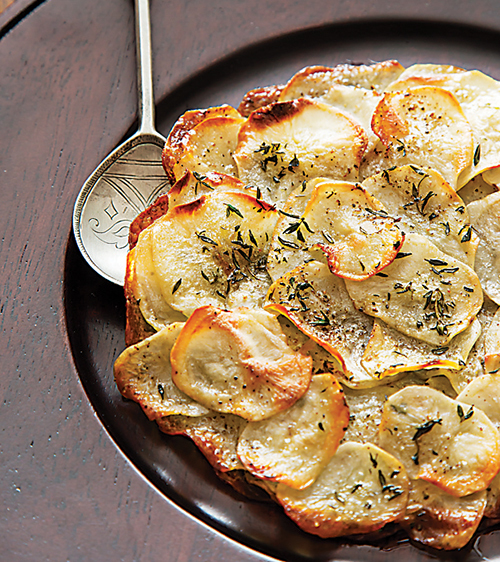 Potato Tart
INGREDIENTS
½ cup (1 stick) butter, melted
1 tablespoon fresh thyme leaves
3 Idaho potatoes, peeled
Salt and pepper
INSTRUCTIONS
Stir together butter and thyme. Brush a little across the bottom and sides of a 9- or 10-inch round Pyrex pie plate. Using a mandoline or food processor fitted with a slicing disc, slice potatoes thinly (¼-inch thick).
Fan out potato slices, overlapping just a little, across the bottom of the pie plate in a single layer. Sprinkle with salt and pepper. Brush with thyme butter. Repeat, building layers of seasoned potatoes and butter, using all the potatoes, and finishing with the butter. Cover with plastic wrap. Place another pie plate on top to press layers together. Refrigerate for 30 minutes. Lift off top plate and plastic. Bake 375 degrees for 1 hour or until a knife inserted in the center comes out easily.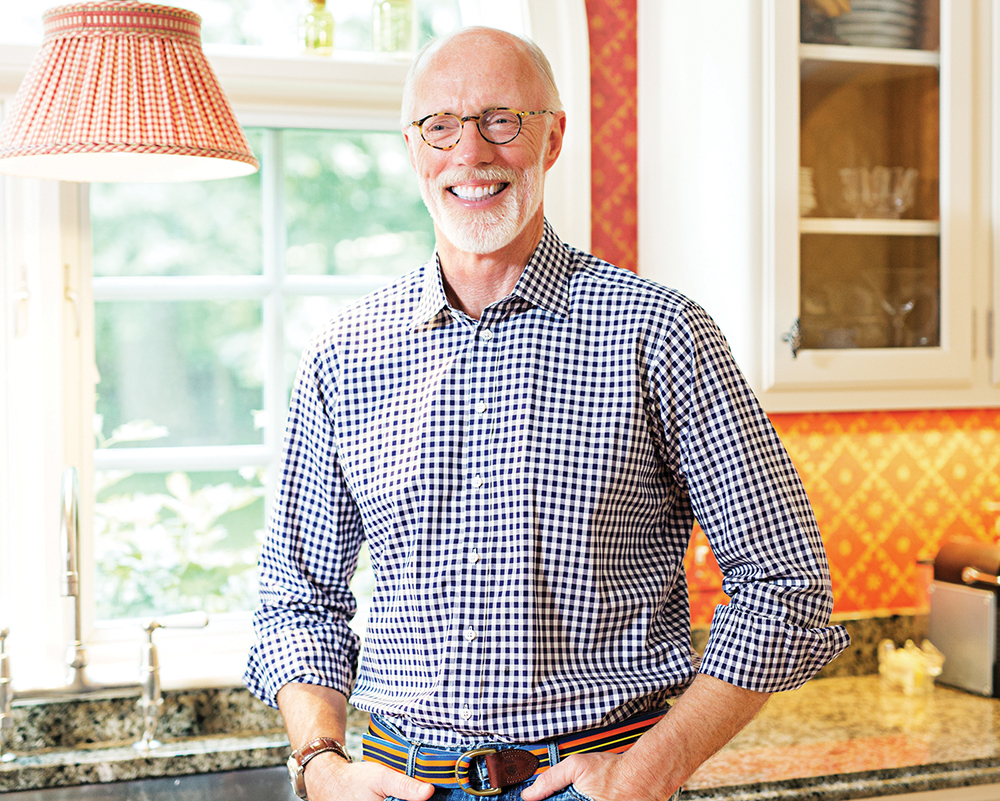 ---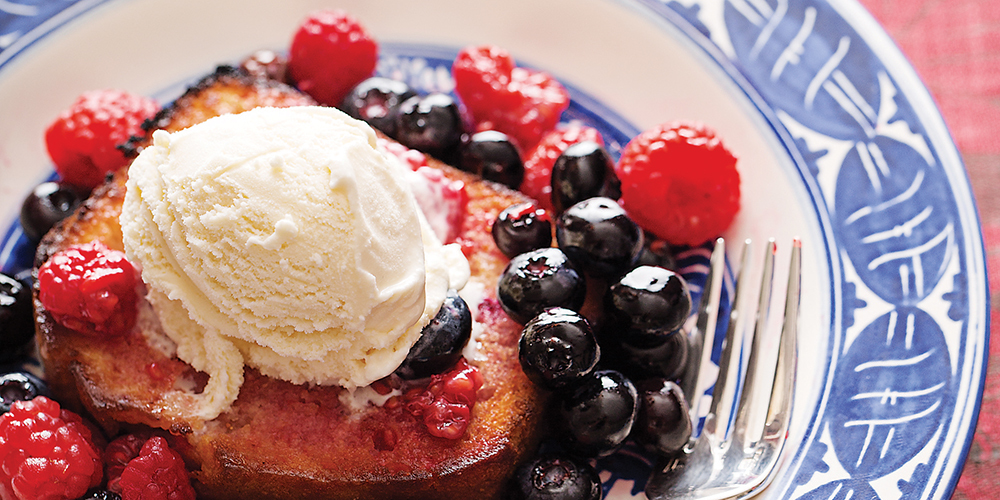 Lemon Pound Cake
INGREDIENTS FOR CAKE
½ cup butter, softened
¼ cup vegetable oil
1½ cups sugar
3 eggs
1½ cups flour
½ cup milk
2 lemons, zested and juiced
FOR LEMON GLAZE
½ cup fresh lemon juice
¼ cup confectioners' sugar
¼ cup water
FOR FRESH FRUIT SYRUP
½ cup sugar
½ cup water
5 ounces fresh raspberries
1 pint blueberries (or plums, strawberries, or just about any summer fruit)
INSTRUCTIONS
For cake: Butter a 9-inch loaf pan. Line with parchment paper, leaving some overhang. Set aside. Using a stand mixer fitted with the paddle attachment (or standard mixer), beat butter until soft and fluffy. Gradually pour in oil, beating until blended. Add sugar and continue beating, stopping to scrape down sides of bowl. Beat in eggs, 1 at a time, scraping down sides of bowl. Add flour to butter mixture alternately with milk, beginning and ending with flour. Add zest and juice, beating until combined. Pour batter into prepared pan.
Bake at 300 degrees in convection oven for 25 minutes (325 for a standard oven). Reduce temperature to 275 (300 for a standard oven) and continue baking until a wooden skewer inserted in the center comes out clean, about 20 more minutes. Cool cake in pan for 15 minutes. Pull cake out of pan (use the parchment overhang as handles). Set on rack.
For lemon glaze: Combine glaze ingredients, stirring until sugar dissolves. Brush glaze over top and sides of the loaf. Cool.
For fruit syrup: Bring sugar and water to boil. Remove from heat. Stir in fruit. Set aside.
---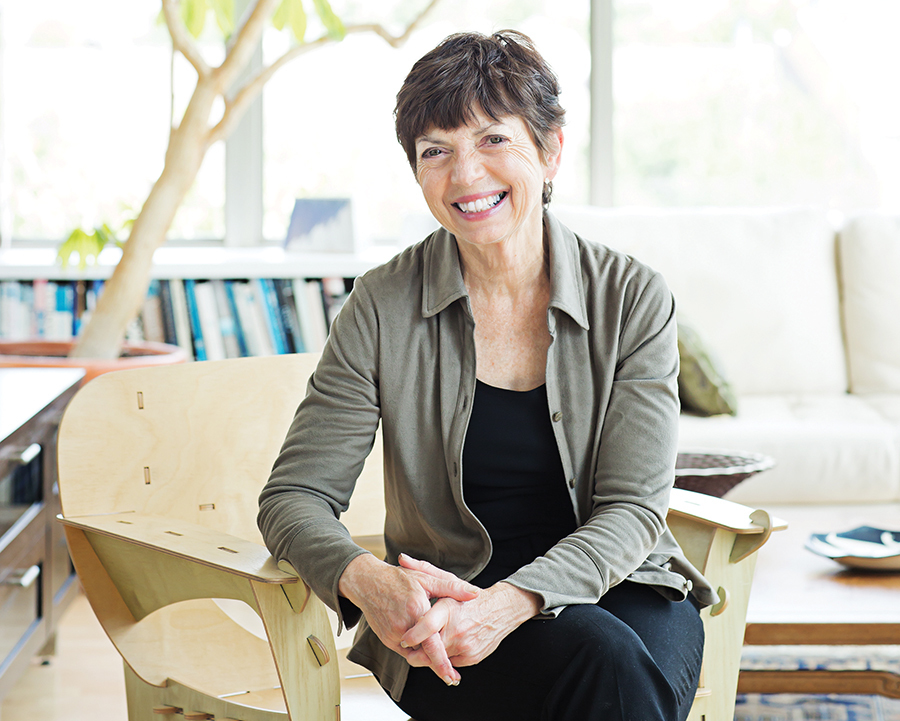 Donna Crivello
Concept Director, Cosima / Former chef and co-owner, Donna's
Though there are chefs who prefer to go it alone when entertaining at home, Donna Crivello loves company in the kitchen. Her "more-the-merrier" philosophy stems not only from her Sicilian roots (making large batches of ravioli and cannoli was a family affair), but from teaching cooking classes throughout her 25-year career. "It's always good to have an extra hand to stir or ladle something in, and, for me, it really enhances the experience," says Crivello, the concept director at Cosima who ran the beloved Donna's Cafe in Cross Keys for 19 years before it closed in 2018. "Especially if you're around people you don't get to see often, it's great to chat about the food and share stories together."
One of Crivello's favorite stories is the tale behind her saffron risotto, a recipe inspired by many trips to Venice with her husband, Peter. "That's where I really got the risotto down," she says. "It's a great foundation for vegetables and seafood, and I love the idea of transforming it from such a basic stage. It's just a little bag of raw rice, but once you add stock and saffron it changes color and volume. I love how it's transformed into a rich, creamy dish."
Whether preparing for dinner service at the restaurants or hosting a get-together at home, Crivello says that the key to success is staying organized. "When I'm cooking at home for family, it's definitely a different pace, but I still have a lot of that same energy."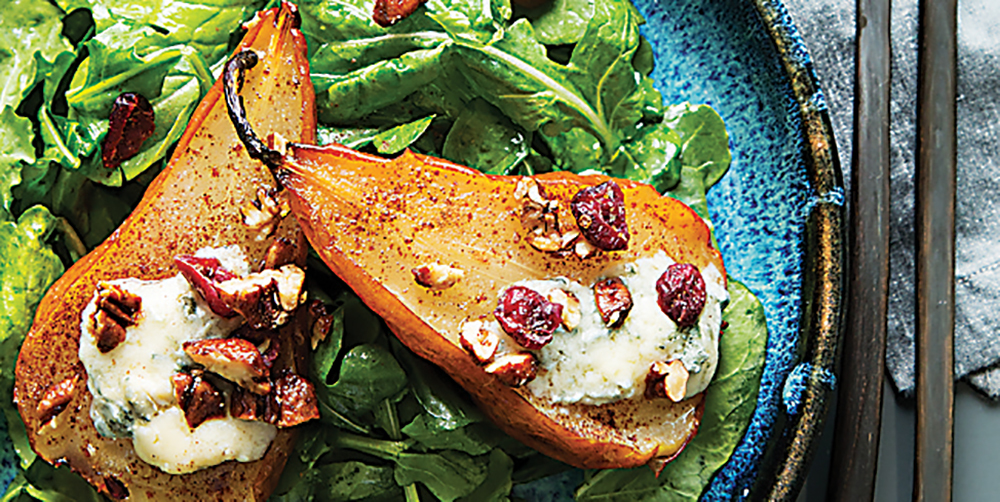 Roasted Pear and Gorgonzola Salad
INGREDIENTS
Canola oil
3 firm pears
½ teaspoon ground cinnamon
¼ teaspoon ground allspice
3 cups greens (a mix of baby kale, arugula, and spinach)
Apple-cider vinaigrette (recipe follows)
6 ounces Gorgonzola cheese
¼ cup toasted (or candied) walnuts or pecans
2 tablespoons dried cherries or cranberries
FOR APPLE-CIDER VINAIGRETTE
6 tablespoons light olive oil
3 tablespoons apple-cider vinegar
1 teaspoon Dijon mustard
1 teaspoon honey
INSTRUCTIONS
Lightly oil a sheet pan. Heat oven to 400 degrees. Halve the pears the long way, but leave core, seeds, and stem intact. Sprinkle cut sides of fruit with cinnamon and allspice. Place pears, cut side down, on the prepared pan. Bake until just tender, about 15 minutes. Let cool. Use a small scoop or teaspoon to carve out (and discard) core and seeds. Toss greens with vinaigrette. (You may not need all the vinaigrette.)
Divide greens on to 6 salad plates. Return pears to pan, cut side up. Crumble Gorgonzola on to pears. Set pan under broiler just until cheese melts, about 2 minutes. Set 1 pear on each salad plate. Sprinkle the pears and greens with the nuts and dried fruit. For vinaigrette: Place all ingredients in a jar. Seal tightly. Shake.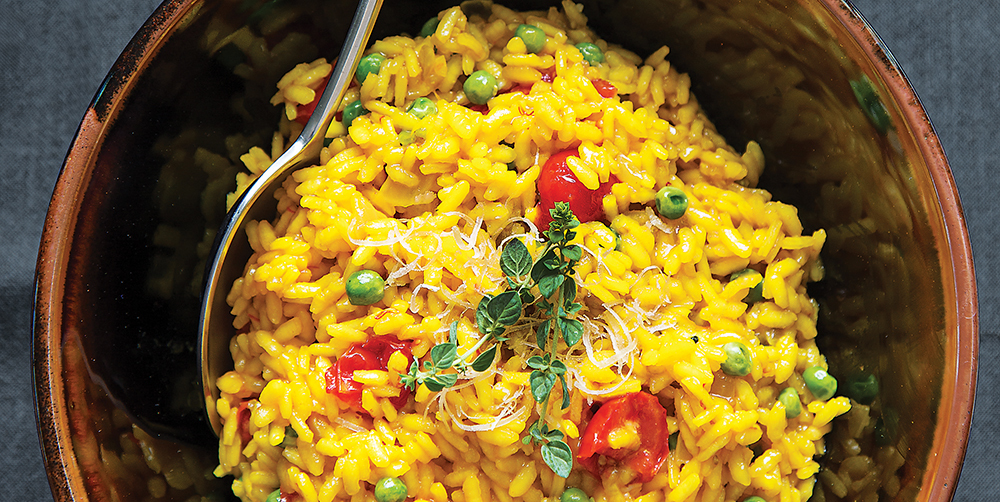 Saffron Risotto
INGREDIENTS
8 cups vegetable broth
2 tablespoons olive oil
3 tablespoons butter
1 small onion, diced
1 small stalk leek, washed, dried, and thinly sliced
2 cups Arborio rice
¼ teaspoon crumbled saffron
1 cup dry white wine
1 cup fresh peas (or substitute diced zucchini, diagonally cut asparagus, or cooked and sliced artichoke hearts)
⅔ cup halved cherry or grape tomatoes
½ cup grated Parmesan cheese
3 tablespoons butter, cut into small cubes
¼ cup chopped fresh basil
INSTRUCTIONS
Prepare broth (if making your own). Pour finished broth into a saucepan and keep hot over low heat. Pour the oil into a wide skillet with high sides. Set over medium high heat. Add the 3 tablespoons butter. When the butter begins to bubble, add the onion and leek. Cook until just tender, about 8 minutes. Turn down heat under skillet to medium. Add rice and stir to coat. Add saffron and wine. Stir until rice absorbs all the liquid, about 5 minutes. Ladle about ½ cup hot broth into rice.
Stir until rice has absorbed the liquid. Keep adding broth, ½ cup at a time, and stirring until it has been absorbed, until rice is nearly done, about 20 to 25 minutes (taste to check). Add the peas, stir until just cooked, about 3 minutes. Add tomatoes. Add more broth if needed. Stir until everything is hot. Stir in the cheese, butter cubes, and basil.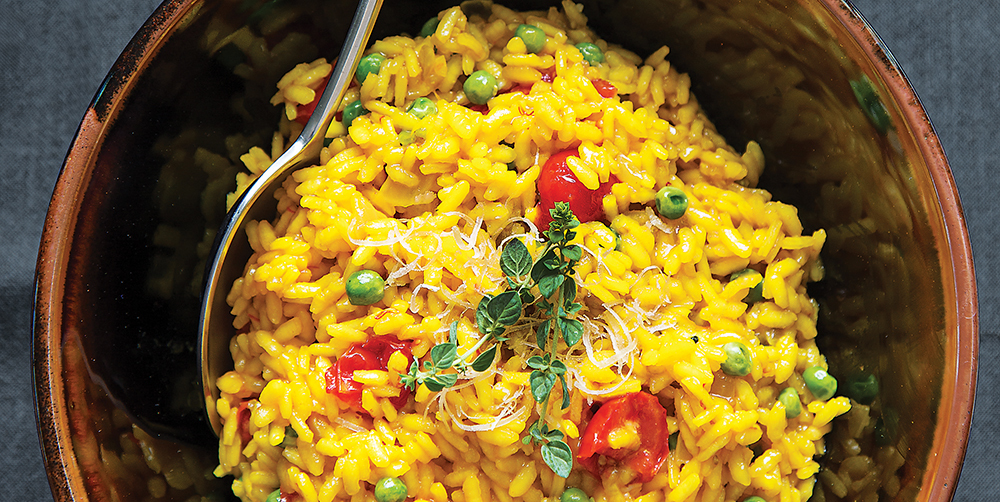 ---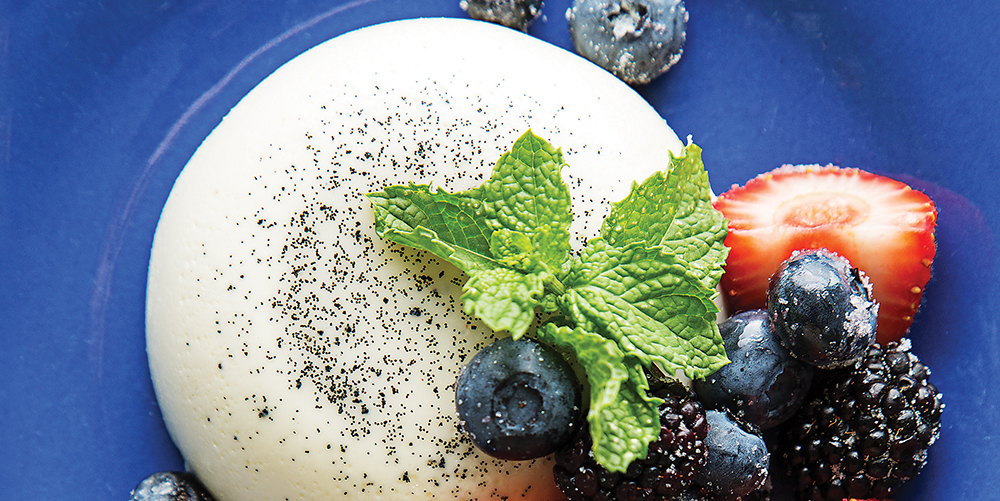 Panna Cotta
INGREDIENTS
Pan coating spray
1 envelope unflavored gelatin
2 tablespoons cold water
3 cups heavy cream
⅓ cup plus 4 tablespoons sugar
1½ teaspoons vanilla extract
2 cups fresh berries (raspberries, blueberries, strawberries)
1 tablespoon Sicilian Moscato Passito wine
Optional: 6 mint leaves, ground vanilla bean (or seeds scraped from 1 vanilla bean)
INSTRUCTIONS
Spray 6 ramekins with pan coating. Set on sheet pan. In a saucepan, sprinkle gelatin over water. Let stand 1 minute to soften. Heat over low heat until gelatin has dissolved. Remove pan from heat. In large saucepan set over medium heat, bring cream and ⅓ cup sugar just to a boil. Remove pan from heat. Stir in gelatin mixture and vanilla. Pour into ramekins.
Let panna cottas cool to room temperature. Press some plastic wrap against each panna cotta. Refrigerate 4 to 24 hours. One hour before serving, prepare fruit: Leave raspberries and blueberries whole. Hull and slice strawberries. Toss all fruit with 2 tablespoons sugar and the wine. Cover. Let rest.
To unmold panna cottas, dip ramekins, 1 at a time, into bowl of warm water for 3 seconds. Run a thin knife around edge of each ramekin. Cover ramekin with a plate and, holding tightly together, invert—dropping panna cotta neatly on to plate. Stir fruit and juices. Scoop fruit on to each plate. Scoop remaining two tablespoons of sugar into a sieve and tapping on the side of the sieve, sprinkle sugar on to fruit. Garnish each plate with a mint leaf and vanilla seeds, if you like.
---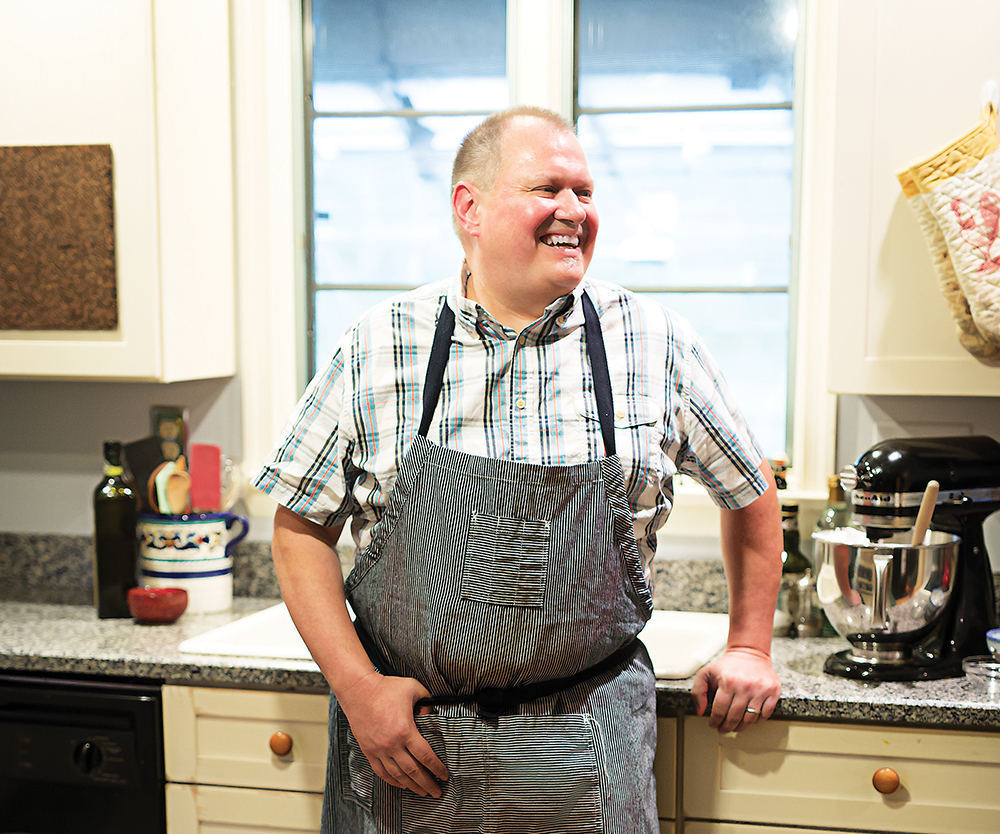 Michel Tersiguel
Owner, chef / Tersiguel's French Country Restaurant
Just before dinnertime at his Ellicott City home, Michel Tersiguel takes a blowtorch to a hulled-out pineapple filled with peaks of meringue. "This was the first dish I ever made when I was 12 years old," recalls Tersiguel, executive chef and second-generation-owner of Tersiguel's French Country Restaurant in Ellicott City—which recently reopened after sustaining damage in the historic flood that devastated Main Street last July.
The Culinary Institute of America grad was introduced to
the pineapple dessert on a childhood trip to his parents' native Brittany, France. "I remember coming home and making it on the third floor of my parents' restaurant for my father to sell to special tables," he recalls. "We had a tiny, old-fashioned oven up there and a little hand mixer, and we had to bake it because, back then, there were no blowtorches. But I just remember it being such a proud moment."
Though he once dreamed of becoming a professional soccer player, ultimately the pull of the family business was too strong. For Tersiguel, whether cooking at the restaurant or whipping up a meal for wife Angie and their two young sons, food is all about the memories that it evokes. "Cooking is such a large part of us all," he says. "It was always a connection that I had with my parents, getting stuff from the garden and cooking at home with them. And I love serving dishes that bring people back to that happy place from when they were younger. It's what I like to call 'the Ratatouille moment.' It's very emotional."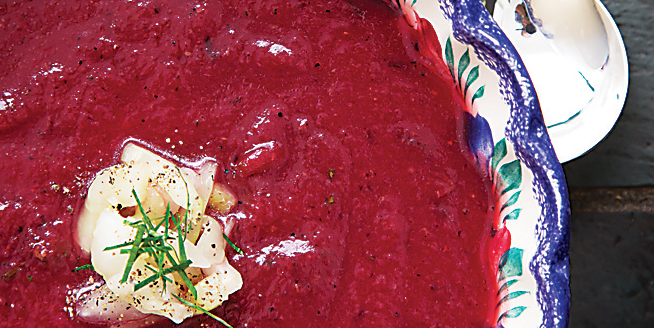 Beet Soup
INGREDIENTS
6 large beets
¼ cup mild cooking oil (olive or canola)
1 stalk celery, medium dice
½ leek, white part only, medium dice
½ cup diced yellow onions
½ cup carrots, medium dice
4 cups vegetable broth (homemade or purchased)
¼ cup extra-virgin olive oil 1 tablespoon red-wine vinegar (or fresh lemon juice)
4 tablespoons finely chopped cilantro leaves
Salt and pepper
Optional garnishes: cucumber, seeds discarded, finely diced; goat cheese, crumbled
INSTRUCTIONS
Scrub beets. Trim away all but 1 inch of stems. Leave roots intact. Place beets in large pot. Fill with cold water to cover by 1 inch. Bring to a boil, lower to a simmer, and cook until beets are tender when poked with a knife, about 45 minutes. Allow beets to cool in water, then peel and dice. Heat cooking oil in a large pot over medium heat. Add diced celery, leek, onion, and carrot. Cook until onion looks transparent, about 5 to 7 minutes.
Add diced beets and vegetable broth. Bring to a boil, lower heat, and simmer 30 minutes. Use a stick blender to purée the soup smooth (or let soup cool, then use standard blender). Strain soup through a large-holed sieve. Allow soup to cool to room temperature, then cover and chill. To finish, stir in extra-virgin olive oil, vinegar, and cilantro. Season with salt and pepper. To serve, leave soup cold or reheat over low heat. Ladle into bowls. Garnish.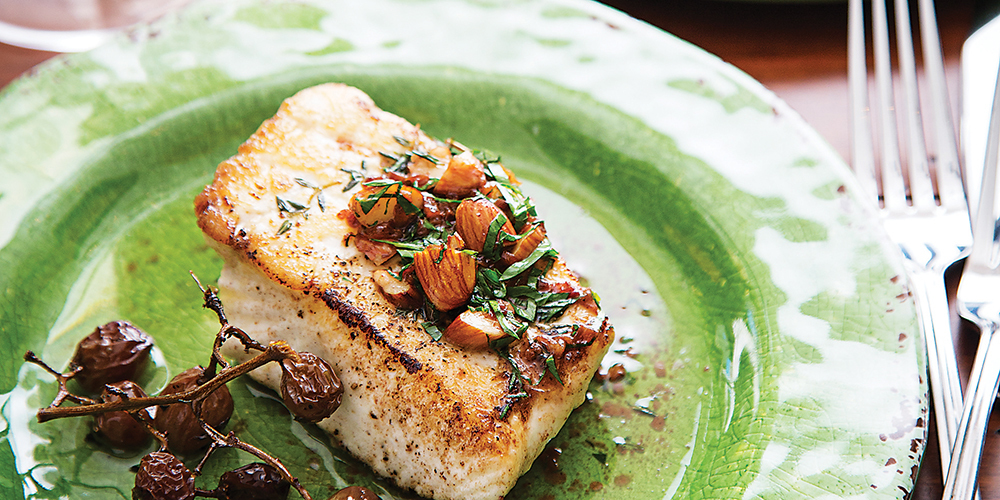 Halibut with Oven-Dried Grapes
INGREDIENTS
4 6-ounce halibut fillets, about 2 inches thick, bones and skins removed
Kosher salt
Freshly ground black pepper
Extra-virgin olive oil
6 tablespoons butter
1 tablespoon chopped shallots
¼ cup whole almonds, roughly chopped
½ teaspoon finely chopped fresh thyme leaves
2 teaspoons verjus (or Champagne vinegar or lemon juice)
¼ cup vegetable broth (homemade or store-bought)
2 tablespoons finely chopped parsley
28 oven-dried grapes (recipe below)
FOR OVEN-DRIED GRAPES
28 red seedless grapes
2 tablespoons extra-virgin olive oil
1 tablespoon balsamic vinegar
Kosher salt
Freshly ground black pepper
INSTRUCTIONS
Heat oven to 400 degrees. Pat fillets dry and sprinkle both sides with salt and pepper. Choose an oven-safe sauté pan big enough to hold fillets in single layer with at least ½ inch space between them. You may need 2 pans. Heat pan(s) over high heat. Add enough olive oil (about 1 tablespoon per pan) to slick bottom. Place halibut in pan(s), flesh side down. Brown for 2 minutes on flesh side only. Move pan to oven and roast until fish is just done, about 10 minutes. Remove pan(s) from oven. Cover the pan(s) loosely with foil to keep fish warm while preparing sauce. Place butter in a sauté pan, melt over medium heat. Add shallots. Cook until golden brown, about 10 minutes. As shallots cook, butter should brown. Add almonds and thyme. Thyme should "pop" in the pan. Carefully add verjus, scraping pan and then add vegetable broth. Bring to boil. Add parsley and grapes. Remove from heat. Lift fish onto plates, turning brown side up. Ladle sauce on fish. Serve immediately.
For oven-dried grapes: Heat oven to 200 degrees. Toss grapes with oil, vinegar, salt, and pepper. Spread grapes on rimmed sheet pan and bake until shriveled, checking every hour. It can take up to 4 hours.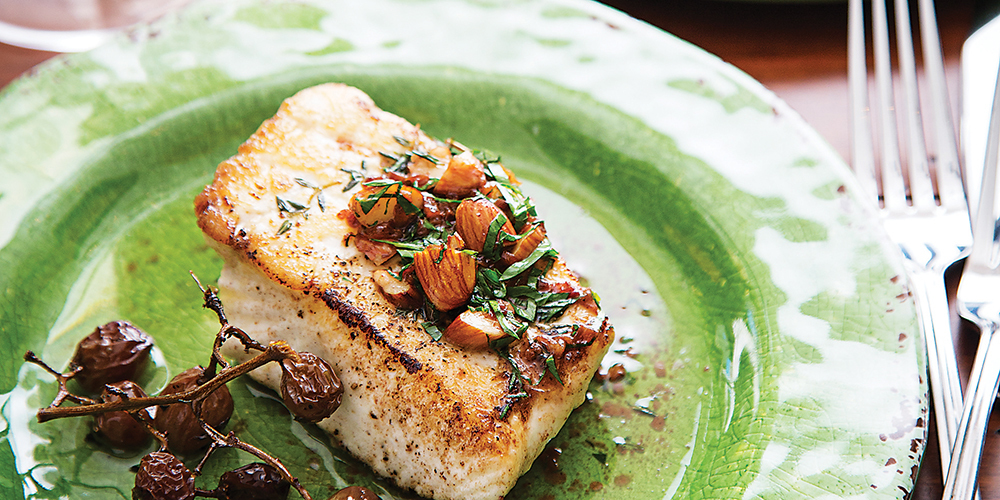 ---

Pineapple Surprise
INGREDIENTS
1 whole fresh ripe pineapple
1 tablespoon kirsch
1 quart vanilla ice cream (or blackberry sorbet)
6 egg whites
1 pinch cream of tartar (optional)
6 tablespoons sugar
INSTRUCTIONS
Halve the pineapple the long way, leaving the stem attached. Using a melon baller, carve out the tough core and discard. Carve out the pineapple flesh, reserving it in a bowl. Now you've got 2 hollow pineapple boats and a bowl of pineapple flesh. Toss kirsch with pineapple flesh and set aside. Set pineapple boats on a sheet pan. Fill each with 3 scoops of ice cream. Spoon pineapple flesh over ice cream. Freeze filled boats at least 30 minutes. To make meringue, set egg whites in the bowl of an electric mixer. Add cream of tartar, if using. (It helps the meringue keep its shape.) Whip with the whisk attachment to soft peaks. Slowly add sugar, 1 tablespoon at a time. Continue whipping until meringue forms sturdy peaks.
Use a soft spatula to pile the meringue into a pastry bag (if you've got one) or a gallonsized zip-top plastic bag. Snip 1 corner of plastic bag. Heat oven to 400 degrees. Remove pineapple boats from freezer. (If you took them off sheet pan to freeze, put them back on sheet pan.) Pipe meringue to cover the surface of pineapple. Set the pan in the oven and let the meringue turn golden brown (or use blowtorch to brown, if you have one on hand), about 5 minutes.
---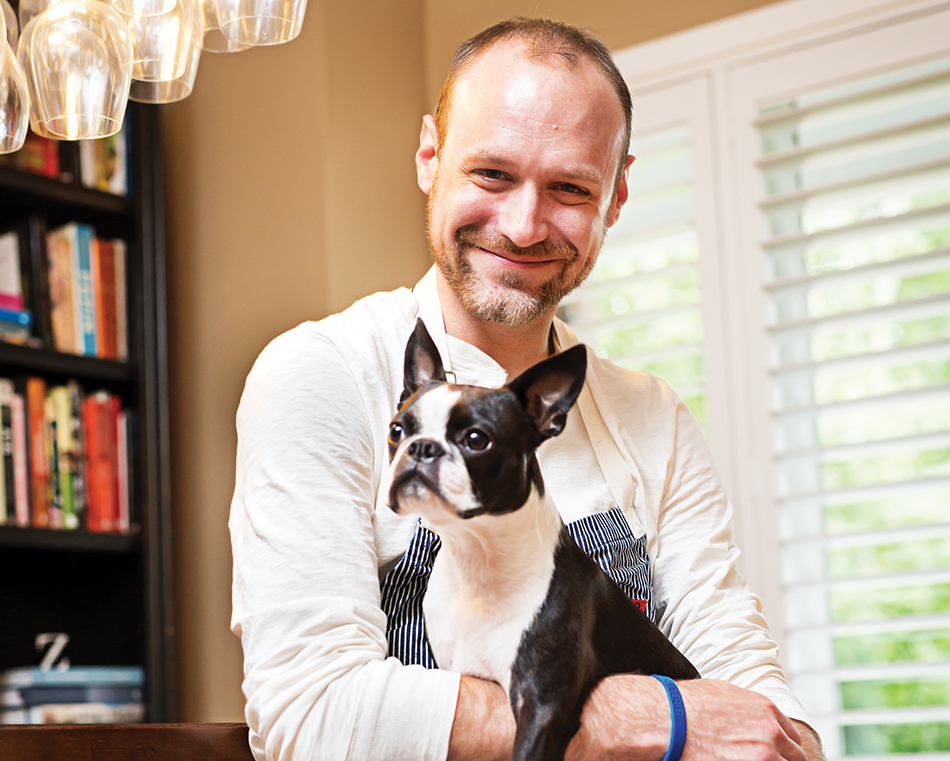 Zack Mills
Executive chef / True Chesapeake Oyster Co.
When Zack Mills landed the executive chef gig at Wit & Wisdom in 2013, he and his wife, Alexandra, ditched their D.C. digs and started house hunting in Maryland. Mill's only requirement: a gas stove. "I can't cook on electric," he says with a laugh. "If I walked into a house and saw an electric stove, I just turned around and walked out."
In addition to a gas stove, his Annapolis kitchen is equipped with all of the essentials, including blenders, food processors, scales, and an impressive collection of cookbooks penned by the likes of the late Michel Richard and his mentor, Michael Mina. "Our house is very food-centric and it always will be," says Mills, who also shares his space with his Boston Terrier, Pickles. "Whenever I get ideas in my head, if I can't wait to work on them at the restaurant, I like to play around at home. I have to make sure that I have enough tools so I can almost treat it like a commercial kitchen."
Mills's love of experimentation comes in handy when it's his turn to prepare Sunday dinner, a family tradition that has stuck since childhood. "All family gatherings revolved around food, so as far back as I can remember, the two things have always gone hand in hand," he says. "I remember my grandmother used to say, 'If you don't have an appetite, you must not be happy.'" Though choosing one menu to satisfy upward of 14 people can be tricky, Mills says that these dishes are definite crowd-pleasers. "There has to be an hors d'oeuvre, that's just a thing in my house," he says. "The soup is as traditional as it gets, and the braised pork pasta is a really comforting, easy, one-pot thing."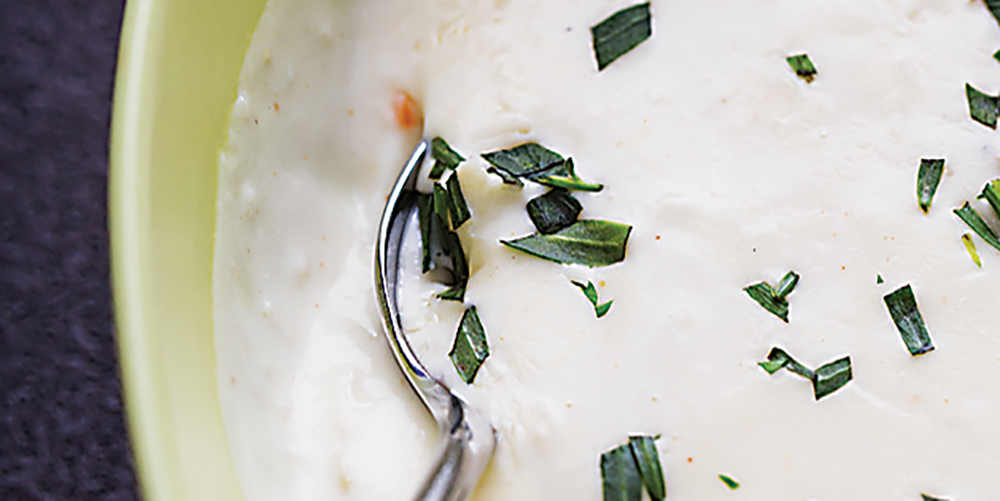 Cream of Crab Soup
INGREDIENTS
½ cup butter (1 stick) butter
¾ cup flour, sifted
2 cups whole milk
2 cups heavy cream
1/3 cup sherry, plus a bit extra for the side
1 pound picked crab meat
1 ½ tablespoons Old Bay seasoning
2 teaspoons salt
INSTRUCTIONS
Melt butter in a large saucepan set over medium-low heat. Sprinkle in flour, whisking constantly, to a thick paste, called a roux. Switch to a wooden spoon. Cook roux, stirring constantly, until it gives off a nutty fragrance, about 3 minutes. Slowly whisk in milk and heavy cream until smooth and thick. Simmer for about 15 minutes (more if you like your soup thicker). Add sherry, crab meat, Old Bay, and salt. Cook until crab is warmed and flavors meld, about 5 minutes. Serve with extra sherry on the side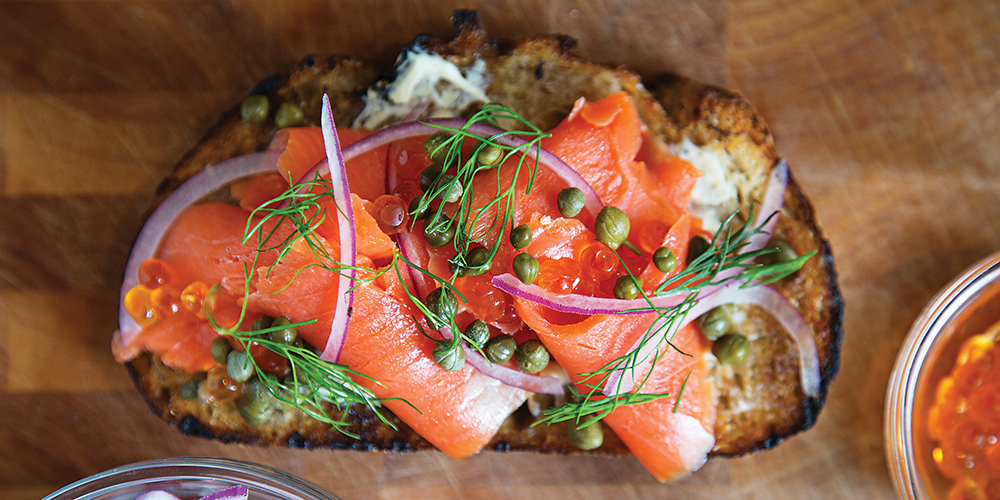 Smoked Salmon Crostini
INGREDIENTS
1 red onion, thinly shaved
6 slices crusty country bread, ¼-inch-thick
Olive oil
Salt and pepper
1 cup crème fraîche
Juice and zest of 1 lemon
½ pound smoked salmon
¼ cup capers, drained and patted dry
1 bunch dill sprigs
3 tablespoons salmon roe
INSTRUCTIONS
Cover onion slices with ice water. Let soak 30 minutes. Drain. Pat dry. Brush each bread slice with olive oil. Season with salt and pepper. Grill bread directly over a medium-hot fire (or under the boiler) until grill marks (or a nice golden brown) appear, about 1 to 2 minutes per side. Let cool to room temperature. Whisk together crème fraîche, juice, and zest. Spread each slice of grilled and cooled bread with lemon crème fraîche. Top with (in order): smoked salmon, capers, dill sprigs, red onion, and salmon roe.
---

Pappardelle & Braised Pork
INGREDIENTS
1 pound boneless pork shoulder cut into 1-inch cubes
Salt and freshly ground black pepper
½ cup plus 1 tablespoon canola oil
½ cup finely chopped yellow onion
¼ cup finely chopped carrots
¼ cup finely chopped celery
¼ cup finely chopped fennel
1 clove garlic, finely chopped
¾ cup red wine
1 14-ounce can whole tomatoes in juice
1 sprig rosemary
1 sprig oregano
1 bay leaf
5 tablespoons butter, divided
¼ pound assorted wild mushrooms
1 bunch lacinato "dinosaur" kale, stems removed, cut into 1-inch-wide strips
1 pound pappardelle pasta
½ cup finely chopped fresh parsley
3 tablespoons finely chopped fresh rosemary
3 tablespoons finely chopped fresh chives
¾ cup freshly grated Parmesan cheese, plus about 6 tablespoons for serving
INSTRUCTIONS
Season pork with salt and pepper. Heat ½ cup canola oil in a Dutch oven set over medium-high heat. Add pork cubes and sear on all sides until golden brown, about 7 minutes. Drain on paper towels. Reduce heat under pot to medium. Add onion, carrots, celery, fennel. Season with salt and pepper and cook until vegetables begin to brown, about 10 minutes. Add garlic and continue to cook, 1 minute. Deglaze pot with wine, scraping up browned bits. Add tomatoes (along with their juices) and crush with a spoon.
Add pork back to pot. Wrap rosemary, oregano, and bay leaf in cheesecloth, tie with twine and add to pot. Add enough water to just cover pork and bring to a simmer. Place a lid on pot and place pot in a 375-degree oven. Cook until meat is falling apart, about 2 hours. Remove from oven, remove lid, and place back on stove over medium heat. Using a spoon, break up pork until a thick ragu sauce forms. Heat remaining 1 tablespoon canola oil and 1 tablespoon of the butter in sauté pan set over medium heat. Add mushrooms. Season with salt and pepper and cook mushrooms until they are golden brown, about 10 minutes.
Add mushrooms to the pork ragu. Add kale to the ragu. Bring a pot of heavily salted water to a boil. Drop in pasta and cook until al dente. Scoop out 1 cup pasta cooking water and set aside. Drain pasta and add to ragu. Add some cooking water, if needed. Add remaining 4 tablespoons butter, chopped herbs, and ¾ cup Parmesan cheese. Scoop pasta into serving bowls. Sprinkle with additional cheese.
---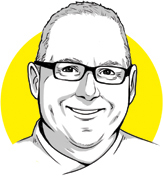 Illustration by Danielle Dernoga
Whether preparing a dinner for two, or a holiday feast for the masses, it's important to have a carefully curated cupboard. To find out which ingredients are absolutely essential, we turned to chef Jerry Pellegrino, co-owner of Schola cooking school in Mount Vernon. "A smartly stocked pantry allows you the ability to whip up meals without much planning on any given night, add some excitement to standard recipes, or just make a quick snack in between meals," says Pellegrino. Salt and pepper aside, here are the items that no home cook should go without.
Spice Blend
"Choose one depending on what you like or try a new one each month," says Pellegrino. "But whether it's herbes de Provence, garam masala, Creole Seasoning, or Italian herbs, having one of these in the cupboard allows you to add instant excitement to any dish."
---
Garlic and Onion Powder
"So many dishes start out with onions and garlic," says Pellegrino, "but keeping the fresh ones around can be a challenge. Although not as good, these two powders get you pretty close to the real thing."
---
Honey
"Vinaigrettes, stocks, soups, stews—they all can benefit from a little sweetness to balance them out," says Pellegrino. "You could just keep sugar on hand, but honey provides an added complexity to foods. And since it is the only natural product that never goes bad, it's perfect for the pantry."
---
Extra-Virgin Olive Oil
"We pour this on everything," says Pellegrino. "Although it's not the ideal oil to cook with, buying a price-conscious brand like our local Pompeian makes you feel good about it. Drizzle it on bread, cheeses, and salads, or sauté anything to make a quick meal."
---
Dried Pasta
"One big and one small shape—pasta is the perfect foil for anything you have left in the fridge; chop it up, sauté it, and toss with cooked pasta—easy meal," says Pellegrino. "For the big version, we prefer bucatini or penne. For the little version, it is hard to beat the delicious taste and texture of Israeli couscous."
Yellow Cornmeal
"Maybe you're not in the mood for pasta but need to get rid of leftovers," says Pellegrino. "Making polenta can fix that. But cornmeal has other uses. Make a batch of skillet cornbread, [or make a] cornmeal crust and fry anything from oysters to onion rings."
---
Balsamic Vinegar
"Vinegars are good to have on hand, but balsamic is king," says Pellegrino. "It adds dimension to sauces, makes the perfect vinaigrette, and can be reduced to a syrup served with fruit and whipped cream."
---
Canned Fish
"Use these in a pinch to add protein to salad or pasta, puréed to make dip, or mix with simple ingredients for a sandwich," says Pellegrino. "There's tuna, King Oscar sardines, Double 'Q' wild caught Alaskan salmon, and Trader Joe's has a great proprietary smoked canned trout."
---
Dijon Mustard
"Dijon's acidic, sharp taste adds great flavor," says Pellegrino. "Start with honey and Dijon mustard vinaigrette, then move onto using it to glaze hams, add it to pan sauces, mix it into potato dishes, and rub it on lamb as the 'glue' to hold on an herb crust."
---
Your Favorite Hot Sauce
"Whether it's Tabasco or Sriracha or Louisiana, there's always the need to provide heat to certain dishes," says Pellegrino. "They also provide heat to sauces where pepper just won't work; hollandaise, cheese sauces, béchamel. We also stir them with mashed potatoes and add them to marinades."