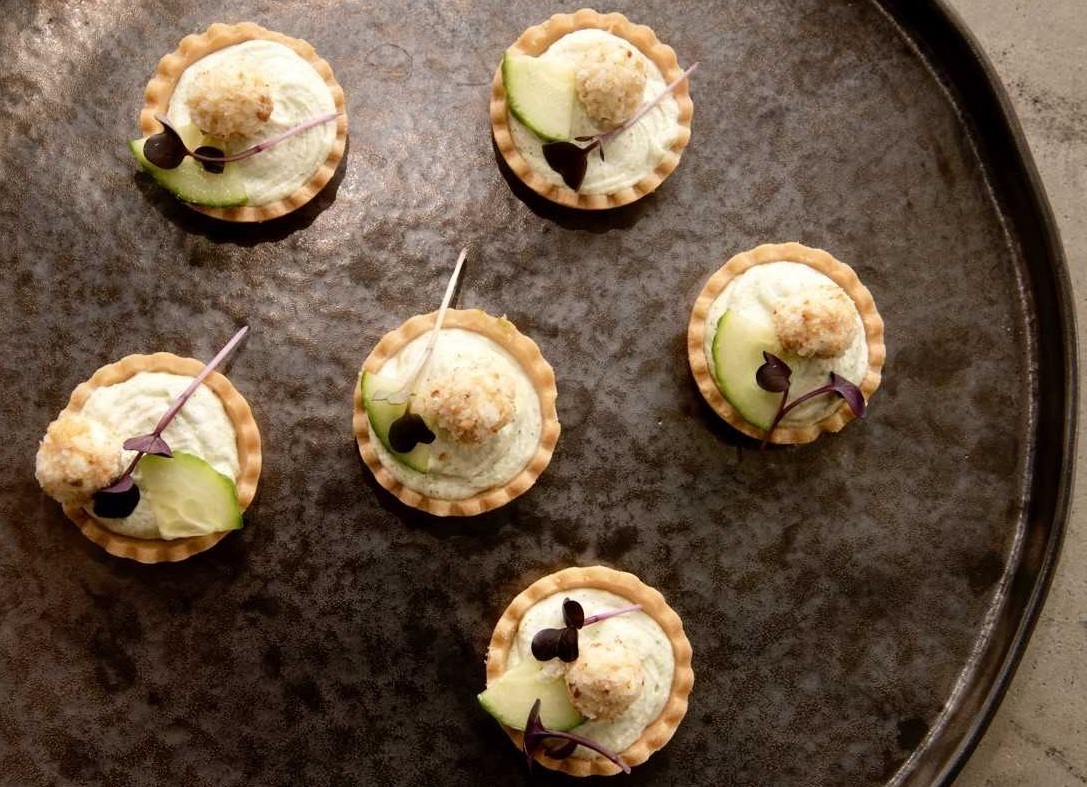 Courtesy of Eleven Courses Catering and Event Co.
It's not every day that an American marries into the royal family. The world will be watching this Saturday as Prince Harry exchanges vows with Los Angeles-born actress and philanthropist Meghan Markle—who joins Baltimore's Wallis Simpson and Elizabeth Bonaparte on the list of yankees who have married a royal.
Locally, there are plenty of businesses getting in on the hype, including Eleven Courses Catering & Event Co. headquartered in Owings Mills. Husband-and-wife owners Melissa and Jim Benson are so inspired by the upcoming nuptials, that they have come up with a list of menu predictions for the entire affair.
"We thought, if they were our clients, how would we guide them and give them suggestions?" Melissa says. "We took a look at what each of their food styles and preferences are. We planned it so it took some favorites of theirs, but still did it in an elegant and refined way."
Though a lot of their decisions were based on research of the bride and groom's tastes, Melissa says that she also drew inspiration from a culinary trip that she and Jim took to England a few years back. She says that her first time tasting authentic coronation chicken—a British delicacy similar to a curried chicken salad—was a clear highlight of the trip.
"A lot of people don't really think of curry as a British thing, but it's actually quite popular," she says. "I researched a little more about it, and apparently curries and other comfort foods are some of Prince Harry's favorite dishes."
The caterers' list of predictions includes canapes such as mini egg and avocado toast points, Tuscan white bean puree crostini, asparagus mousse and cucumber tarts, and a roasted chicken and local root vegetable dish served on a teardrop spoon to pay homage to the couple's intimate engagement dinner.
For the seated portion, Melissa and Jim predict three courses including lump crab-stuffed roasted red peppers, Windsor Estate filet of beef, and a lemon elderflower cake with buttercream icing—one prediction that has already been confirmed. (The cake will be made by famed bakeshop Violet Cakes London.)
"I actually didn't know this at first, but the Queen has to approve every item on the menu," Melissa says. "So it has to be something elegant, but still fun and a little bit different that shows their personalities well."
The Bensons predicted everything down to the late-night snacks, which Melissa says were inspired by Markle's California roots. Their mock menu features angus beef sliders, blackened fish tacos, and a French fry station with sriracha ketchup, malt vinegar, and garlic rosemary aioli.
"With Megan being American and coming into the royal family, it definitely seemed like she would pull from that heritage," Melissa says. "She also used to have a lifestyle blog called The Tig, so I know that she's really into food and cooking."
Though they will be busy catering local weddings this Saturday, the owners are looking forward to catching recaps of the royal wedding festivities to see how their predictions play out.
"We're excited to take a look as soon as that information comes in," Melissa says. "I'm interested to see what parallels, and if there are any surprises in there."
For everyone else looking to tune into the spectacle on the telly this Saturday, there are plenty of local bars and restaurants getting in on the fun with posh viewing parties and regal food and drink deals. Put your pinkies up at these area spots:
B&O American Brasserie: The team at this bar inside the Hotel Monaco is always down to get creative with its cocktails. In honor of the world event, the spot will be offering "The Royal Fizz," which combines Jensen's London dry gin, Royal Combier liqueur, lemon, egg white, and brut champagne. 2 N. Charles St., 443-692-6172
The Corner Pantry: British-born chef Neill Howell has dreamed up a special brunch menu to celebrate the big day. Stop by his Mt. Washington restaurant to enjoy high tea (think scones, tea sandwiches, clotted cream, petit fours, and the works) and a Prince Harry-themed bacon and white pudding butty sandwich topped with the United Kingdom's famous HP sauce (a vinegary ketchup named after the House of Parliament). Howell is also offering a special Royal Wedding Tea Latte featuring Harney and Sons Royal Wedding Tea with rosebuds, as well as a special elderflower and lemon wedding donut inspired by the couple's cake flavor. 6080 Falls Road, 667-308-2331
Emma's Tea Spot: Throw on a bowler hat and head to this Hamilton tea room owned by Emma Canoles, a native of Surrey, England. The authentic spot, which even features its own replica of a British telephone booth, is opening bright and early at 6 a.m. for locals hoping to tune in to the wedding at 7 a.m. The viewing party will also double as a launch for Emmas' new menu of breakfast sandwiches. The party will be BYOB with a $5 corking fee per party. 5500 Harford Road, 410-444-1718.
The Ivy Hotel: Fun fact: long before this 19th-century mansion became a boutique hotel, it was a private hangout for socialites like Wallis Simpson, a Mt. Vernon local who went on to become the Duchess of Windsor. To celebrate the property's roots—and its British-born chef Mark Levy—The Ivy is offering a special "Rest Like a Royal" package throughout the month including one night in a luxe suite, welcome champagne, a 24-carat gold spa mask, afternoon English cream tea, and a full gourmet breakfast. 205 E. Biddle St. 410-514-6500