That's The Spirit
Distilleries are popping up all over Maryland, everywhere from Under Armour to the Eastern Shore.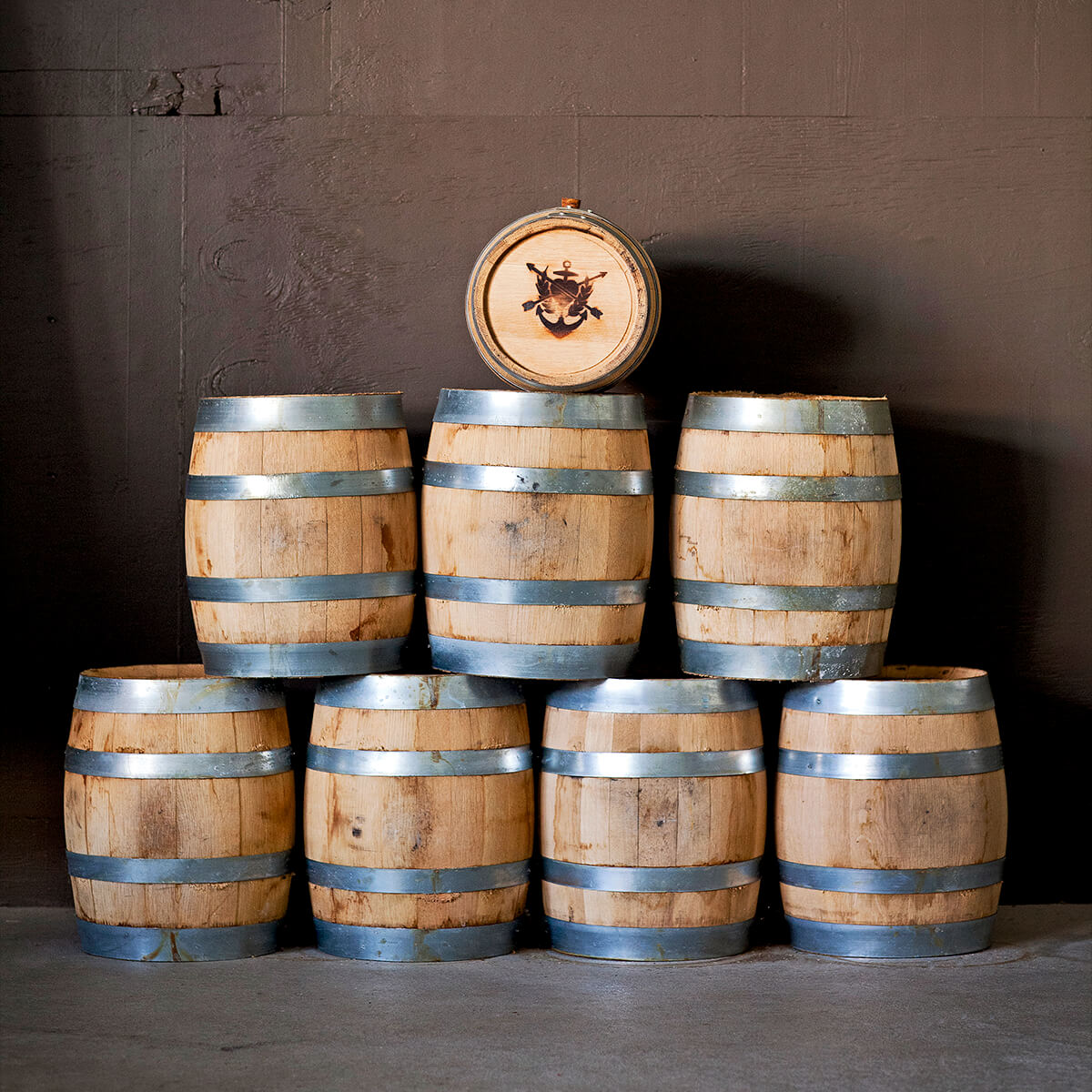 Have you heard this one before? A guy walks into a bar and orders three shots: Baltimore whiskey, St. Michaels rum, and vodka infused with a dash of Eastern Shore honey.
Wait—this isn't actually a joke. Generations after what appeared to be last call for Maryland distilling, a spirit-making tsunami is sweeping the state. With seven registered distilleries, at least another seven poised to fire up stills, and one major player set to build and protect his house of rye, drinkers with a thirst for locally made liquor are toasting their luck.
"Whiskey is my drink of choice. It's my truth serum as well," says Under Armour CEO Kevin Plank, who is soberingly direct about his aspirations for his latest venture, Sagamore Spirit. "The goal for us is to make rye famous again."
If the father of Under Armour succeeds, he might one day stand with Jack, Jim, and the other old granddads of American whiskey lore. But as his company prepares to bottle and sell its first batch of Maryland-style rye whiskey early next year—and plows ahead with plans to open the state's largest distillery in Port Covington by the end of 2016—he insists that the brand's strength will stem from its quality and sense of place.
"I'm not trying to create some ode to myself," he says. "It's important to have a whiskey that's local and authentic and real. It's something that can make our city and our state proud. We really wanted to own rye whiskey."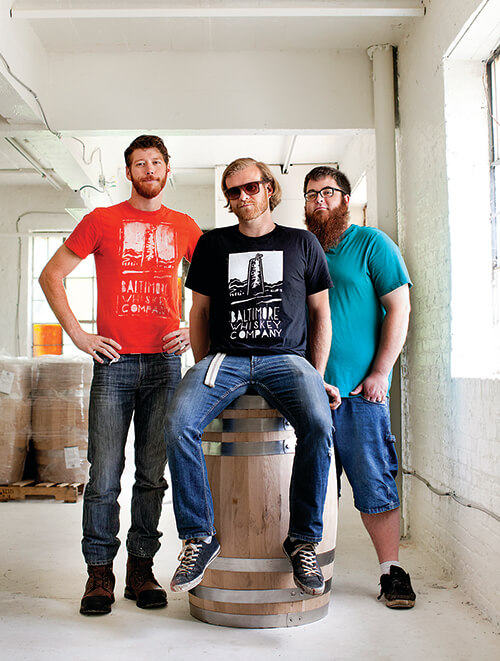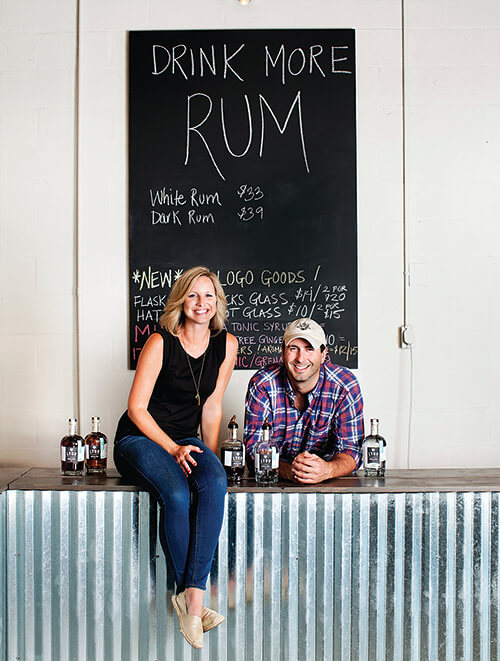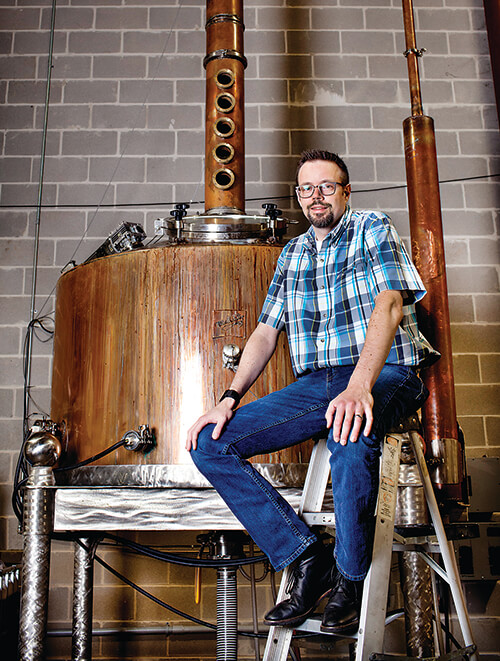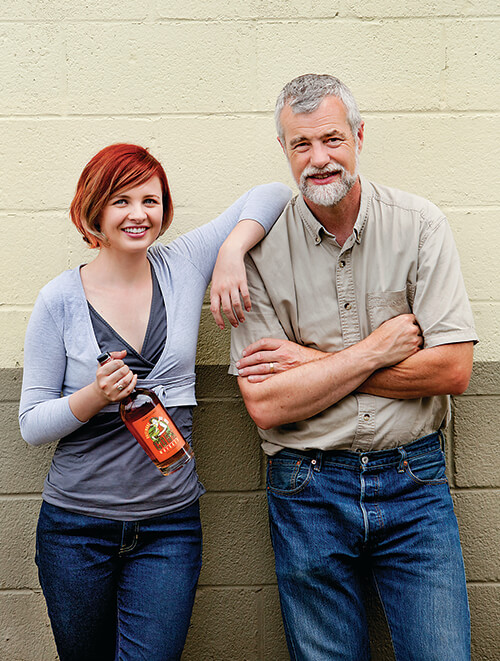 Sagamore may be the biggest (by at least a few furlongs) spirit-only distiller to enter Maryland's once-thriving market, but it's not the first. That title goes to Blackwater Distilling, which bottled its first batch of Sloop Betty vodka in Stevensville in 2011. Next came Lyon Distilling, a two-person, grain-to-glass craft distillery that's making rum and whiskey in a charming old St. Michaels mill. Last year, father-daughter duo Len and Kelsey Louthan started their own nano-distillery using a homemade still in a 400-square-foot corner of a Lauraville warehouse. Jars of corn whiskey, which they age with shaved local oak chips, sit on shelves until they're bottled by hand using a funnel. They're on track to produce 700 proof gallons (standard industry measurement) this year.
"The industry is just fascinating as a whole," Kelsey says. "We're drinking the stuff we make. How much more can you ask for from a job?"
Obviously, Lauraville isn't Lexington, but this bender of booze-making might just one day return Maryland to its pre-Prohibition glory days, when, between 1865 and 1917, it stood third nationally in whiskey manufacturing and sales, behind only Kentucky and Pennsylvania.
"I think it's a product that can employ a lot of people and bring a great sense of pride back to Baltimore," Plank says. "We're lucky enough to have a lot of resources, but there's nothing God-given or guaranteed for us either. Those who have the best products, who do the best job telling their story, are going to win. That's an incredibly American idea, and that's what I love about bourbon and rye and dark whiskeys as a whole."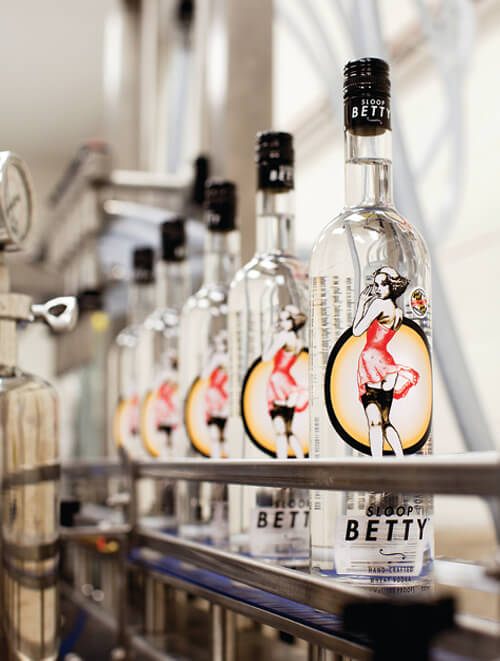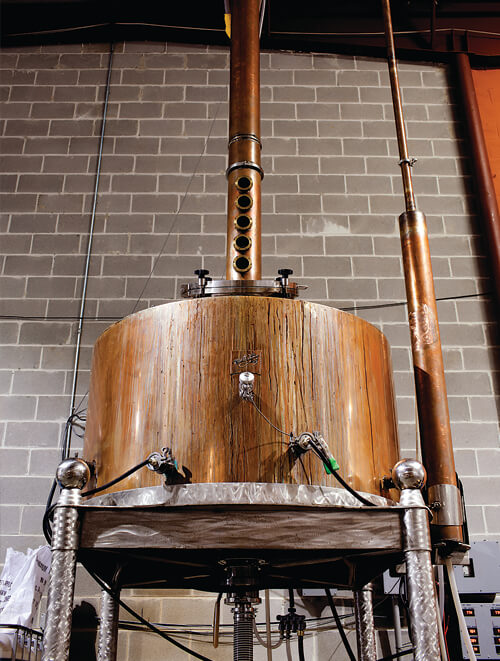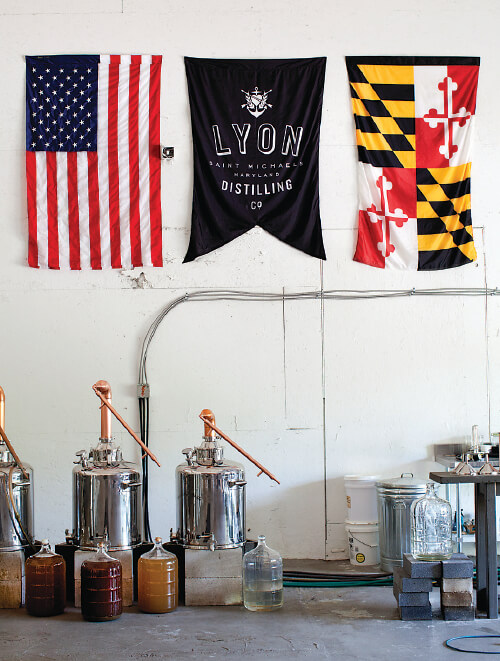 It's the kind of perfect-for-anything April Saturday in St. Michaels that inspires everyone who's visiting town to describe it as "idyllic." Streams of people flow into Lyon Distilling for a tour and a taste.
Wearing blue jeans and a broken-in baseball cap, Ben Lyon looks overworked. (And he is—he was up until 3 a.m. distilling.) But his mood soars the moment he starts explaining how the copper pot stills produce each and every drop of liquor this group of tourists is about to taste. A New Hampshire native, who once worked in public relations but whose heart has always been in craft brewing and distilling, Lyon takes the term "hand-crafted" quite literally. He executes every step of the process from fermentation to distilling to aging, approaching spirit-making with an almost Walter White-like respect for the scientific principles involved.
"Spirits marketers have taught us that older is always better," he tells the group while holding a three-gallon oak barrel. (Standard barrels are 53 gallons.) "We want the 23-year-old Pappy Van Winkle, the 25-year-old Scotch. But aging is really a function of how much surface area of the wood the alcohol is exposed to. Because of the smaller surface area, we're getting a more rapid aging process, so you literally can't leave the spirit in these barrels for a long period of time, or else it will taste like you're drinking an oak tree."
Thus, Lyon's small-batch rye whiskey ages less than a year, his corn whiskey just a few days. For his rum, he uses a mix of molasses and sugar cane, resulting in a more flavorful and full-bodied spirit. Sitting at a table just a few feet away, his business partner and co-founder, Jaime Windon, bottles some by hand. They started the company in 2012.
"The world of liquor needed more options," says Windon, a photographer by trade, who runs all operations aside from the actual distilling. "Up until a few years ago, almost every bottle on the shelf at the liquor store was owned by one of three or four booze conglomerates. Everyone wants to eat farm-to-table, drink local wine and beer, and liquor was that last missing component."
Much like its alcohol brethren, craft distilleries gained a foothold on the West Coast. Their popularity has flowed east, and there are now more than 600 nationwide, with another 200 in the works, according to the American Distilling Institute. Last year, 1,600 people went to the organization's conference in Louisville, KY, and attendance has been growing by roughly 30 percent a year.
Why the skyrocketing interest?
"We have the magic," says Bill Owens, the organization's founder and president. "You want to produce something that you're proud of. Working in an insurance office doesn't make it. There's a comraderie that's unparalleled."
That spirit of cooperation can be found in the Maryland Distillers Guild, formed earlier this year by four distilleries, three wineries that also distill spirits, and two companies with pending licenses. Its charge is to grow both awareness of and the market for local spirits, and to lobby for legislative and regulatory changes at the state level. Current law
allows distilleries to sell up to three bottles per person on site, but they're prohibited from offering tastings at events like farmers' markets, or from sampling their products in a mixed drink.
One question the guild won't tackle, at least not at first, is what constitutes a craft distillery. In a world where words like "artisan" and "handmade" intoxicate customers, it's a touchy subject.
TASTE TEST
We all know the swirl-and-sip routine for wine, but what about the harder stuff? Ben Lyon from Lyon Distilling gives us a step-by-step approach for tasting craft spirits.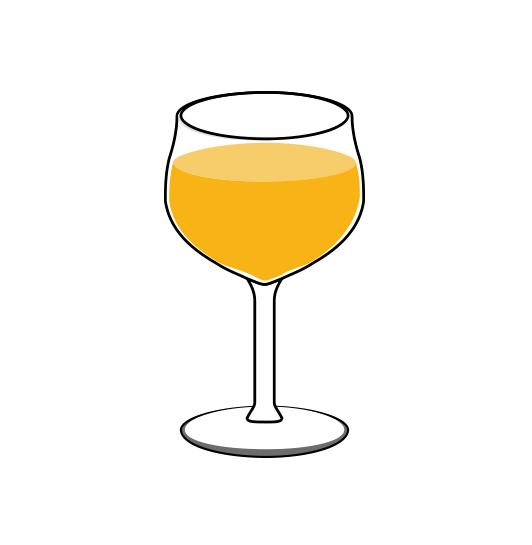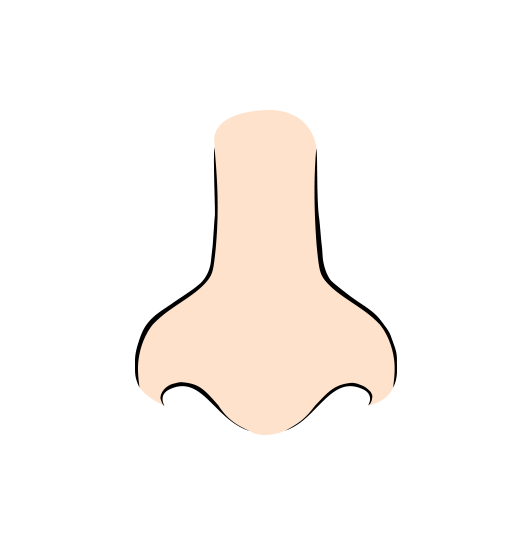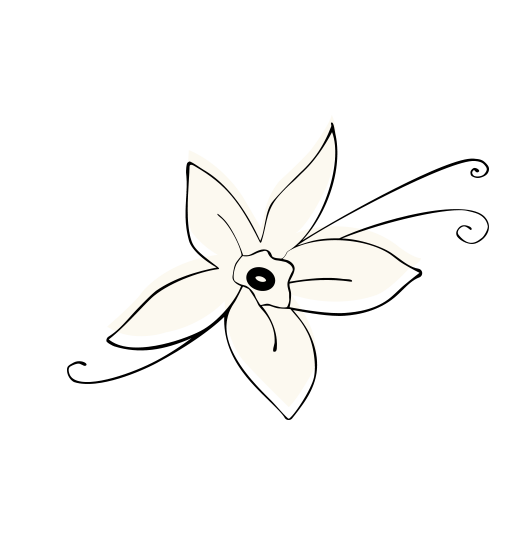 "Craft is a term of reverence that defines not just the size of your distillery, but the manner in which you do things," says Windon, the guild's president. "For us, what defines craft is taking a raw ingredient to a finished product every step of the way."
Many distilleries opt to contract out part of the spirit-making process, especially when they're new. Blackwater, for example, has companies overseas produce portions of its vodka. Even though it doesn't make 100 percent of its vodka on-site, cofounders Chris and Jon Cook consider Blackwater a craft distillery.
"We bring that in and blend the distillate here," says Jon, the company's COO. "We're introducing our water here, we're doing filtration here. We treat everything with the vodka like an ingredient. We might not run it through [a] still, but we do absolutely everything else."
Blackwater CEO Chris, Jon's brother, was instrumental in lobbying for a 2012 law that allows distilleries to offer tours and sell their products on-site. Housed in a business park near the Bay Bridge, the company now has 500- and 100-gallon stills, which it used to make its Picaroon rum, released in April. It hopes to make Maryland rye whiskey on site in the future.
It's been a long, tough road for the pair, who were the first back in the spirits-only game (Fiore Winery began making limoncello in 2005) since Pikesville Rye moved production to Kentucky in the early 1970s.
"The landscape was dotted with mom-and-pop distilleries before Prohibition," Chris says. "A lot of people also don't realize that Maryland was the only state [not to pass an enforcement law of the Prohibition]. My favorite part of this business is being able to connect the dots with Maryland culture and heritage."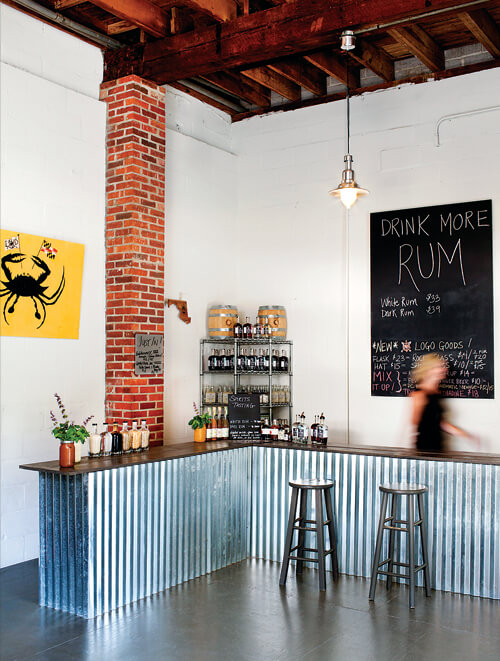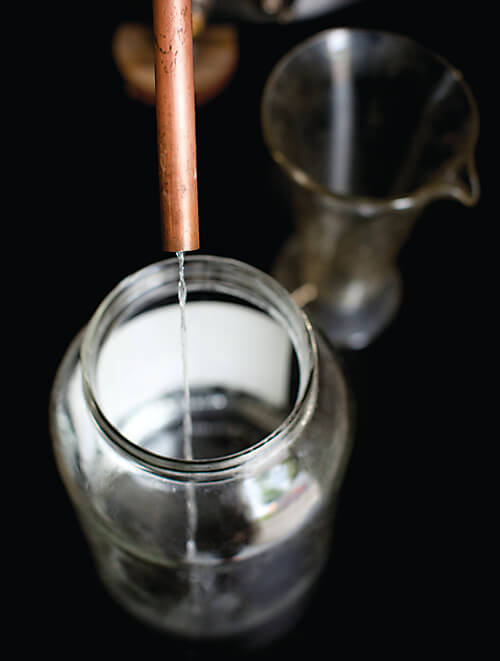 At Blackwater's tasting bar, guests sample the popular vodka in what Jon calls a "lift-your-kimono moment."
"We do this at room temperature, so there's nowhere for it to hide," he says. "Freezing or chilling the vodka is going to mask a lot of the flavor profiles."
Customers must like how it tastes, since Blackwater sold about 12,000 bottles of its vodkas last year. That may sound like a lot, but in comparison, Jack Daniel's moved 11 million cases of its Black Label Tennessee Whiskey in fiscal year 2013, according to the Associated Press.
"There are more Maryland offerings and people are buying them," says Michael Fishman, buyer for Canton Crossing Wine & Spirits. "They're very good because they're all such small-barrel, handcrafted products."
Louthan Distilling held a tasting at the store in April, during which it sold three cases in three hours. While Sagamore hasn't cemented its production estimates yet, it will be aggressive. With an estimated net worth of more than $3 billion, Plank could invest in just about anything, but he decided on the whiskey business when water from two springs at his Sagamore Farm in Baltimore County tested free of iron and low in other contaminants. That's ideal for making his favorite spirit, which he likes on the rocks.
"We're not looking to be some little craft [distillery]," Plank says. "It's going to be an amazing distillery experience, teaching people about the history of Maryland rye. This will be a piece of the story that's coming together. We're going to put an Under Armour building there, and as we continue to grow as a company, there are other things that we'll be in a position to keep building and giving people a reason to visit that side of the harbor."
While Sagamore's ultimate plan is to produce its rye entirely at the Port Covington facility, its first batch was made at LDI (now known as MGP Ingredients), an industrial-sized distillery in Indiana. It has been aging for years there and in Kentucky.
"It will be shipped here, finish aging here, cut and bottled here with Sagamore Farm water," says Tom Geddes, managing partner of Plank Industries. "It will be essentially indistinguishable from the product once it's coming off our own still because it's our same mash bill, same recipe, same water, same process."
Geddes won't say how much capital Plank is pouring into this project, but he answers "yes" quickly when asked if it's seven figures.
For Max Lents of The Baltimore Whiskey Company, that's an almost incomprehensibly stiff bankroll. He and two partners pulled together about $250,000 in financing to launch their line of barrel-rested gin, apple brandy, and ginger-apple liqueur, which they hope to have on shelves by the end of the year.
"Give it 10 years and I think there'll be 10 more of us in Baltimore, but we're very happy to be in front," he says. "There's always been a bit of an intellectual aspect to drinking spirits. There's a higher barrier to entry in terms of the taste acquired, but there's so much depth to it. You can go as deep as you want."
These days, Marylanders don't have to go far to go deep.
---
---