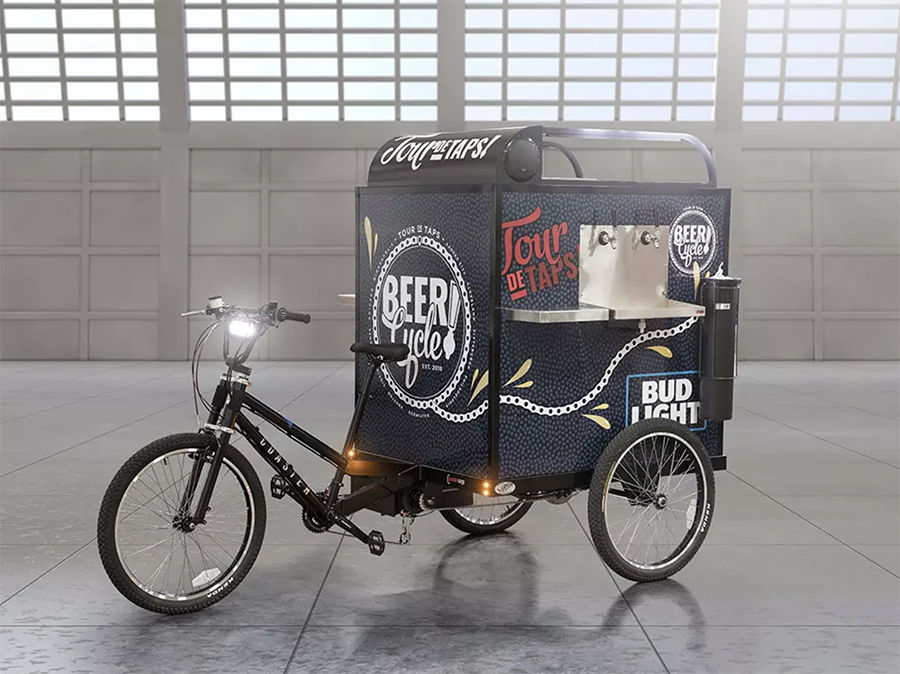 Aramark
One of the best things about tailgating is there is no wait for that next beer. Now Ravens fans can avoid lines inside the stadium, too—thanks to a new fleet of BeerCycles that Aramark is debuting at M&T Bank Stadium this season.
Lovingly dubbed "Tour de Taps," the three wheeled bikes will offer Anheuser-Busch products out of two draft lines and be able to carry up to three half-kegs at a time.
With mobile pay options, the bikes will each be operated by one staff member and be strategically stationed at popular fan areas around the stadium. The whole idea is to speed up lines and transaction times so that fans spend more time actually enjoying the time, according to Aramark.
Nine other teams in the NFL will have BeerCycles at their stadiums—including the Philadelphia Eagles, Houston Texas, Tampa Bay Buccaneers, Pittsburgh Steelers, Kansas City Chiefs, Cleveland Browns, Cincinnati Bears, and Minnesota Vikings. But the Ravens bikes will be adorned with purple and gold paint.
"We believe this is the first time BeerCycles have been deployed inside a sports venue," Aramark spokesman David Freireich told the Baltimore Business Journal. "The introduction of the BeerCycles is keeping in line with our effort to create more portable stations that can go where the fans are."
The jury is still out on whether or not the trikes will be able to transport fans out of the stadium after they've had one too many beers.