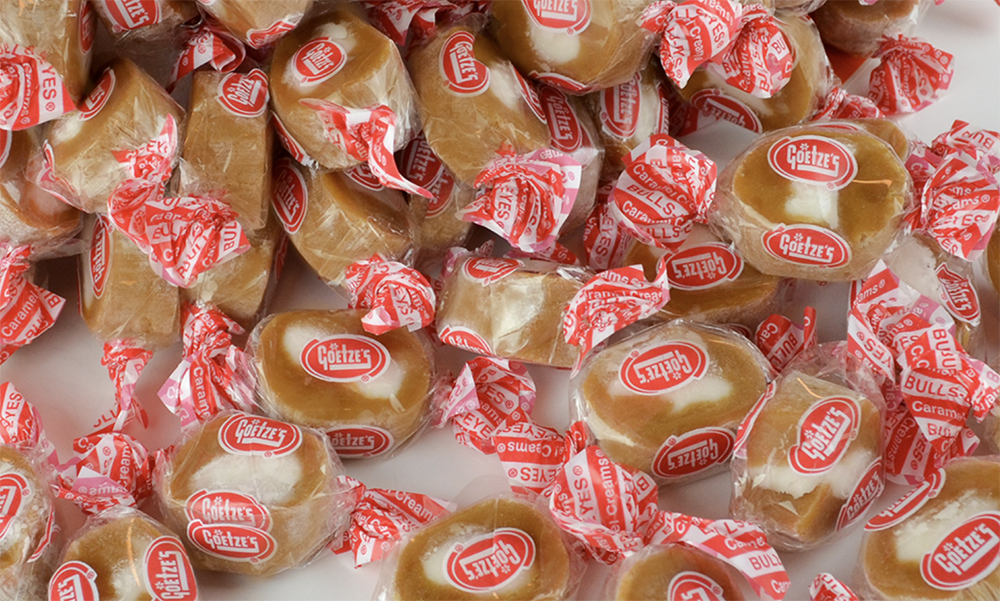 Courtesy of Goetze's Candy Company
Mitchell Goetze of Goetze's Candy Company and brothers Ken and Matt Praay of Monument City Brewing knew they wanted to work together before they ever even met.
Last winter, Goetze had been sampling some of Monument City's beer over the holiday break when the thought of collaborating with the brewery initially crossed his mind. Around the same time, Rob Goss of Whitey's Liquors in Linthicum Heights was eating a handful of Goetze's caramel creams when he texted Praay to throw out the idea of brewing a beer using the iconic candies.
"Oddly enough, three days later I got a call from Mitchell who introduced himself and mentioned that he was going to stop by the brewery," says Ken of Monument City. "We were super stoked about how it all just kind of came together."
Even more serendipitously, Goetze's, a fifth-generation business that was established in 1895, was coming up on the 100th anniversary year of its classic caramel creams. And given that the two businesses sit less than a mile away from one another in Highlandtown, the partnership seemed like a perfect fit.
This Friday, October 26, Goetze's and Monument City will officially debut the Bulls-Eyes Caramel Creams Milk Stout—an homage to the 100-year-old sweets which was brewed in collaboration with Whitey's and Goonda Beersmiths. Clocking in at a 5.7-percent ABV, the stout combines dark malts, lactose for sweetness, and the actual caramel creams to play up the caramel and vanilla notes.
"We always have the caramel creams around the brewery—Matt eats most of them," Ken says with a laugh. "They're such a staple and so iconic to Baltimore, so we really wanted to design a beer that was complementary to the candy itself."
On the Goetze's end, the collaboration beer is a great way to highlight how the candies have stood the test of time. Meghan Brody, the company's director of marketing, mentions how the product has continued to differentiate itself from others on the market.
"It is unique in its own right," she says. "The caramel is a wheat-based caramel and what that creates is a soft, chewy caramel that really doesn't stick to your teeth. And with the combination of the creamy center, the whole eating experience is one that has not been duplicated by anyone."
Monument City is hosting a launch party in its taproom this Friday night featuring pints of the stout, food truck eats by Mexican on the Run, and acoustic tunes by Lazy Jane. All attendees who bring a winter coat to donate to the Maryland Center for Veterans Education and Training (MCVET) will receive $1 off of all drinks.
The Goetzes, along with Praay and others from the Monument City team, went to tour the MCVET facility recently and were moved by the work that the organization is doing for displaced veterans in the city.
"It's certainly a charity that is close to our hearts," Brody says. "Some of the past generations of the Goetze family are veterans, and we have quite a few that work for us in the company, so it's something that we've always supported."
The limited-release stout will be sold on draft and in cans at Monument City starting Friday, and will be available at local liquor stores, including Whitey's, starting Wednesday, October 31. Aside from seeing beer-lovers sample the brew, Praay says he is looking forward to continuing the connection he's made with a long-time Baltimore business.
"For Matt and I, working with another family-owned business that has been around 123 years is something pretty special," he says. "Getting to know them and all the hard work they've put in over the years is really inspiring for us as we think about how we want to grow Monument City in in the future."