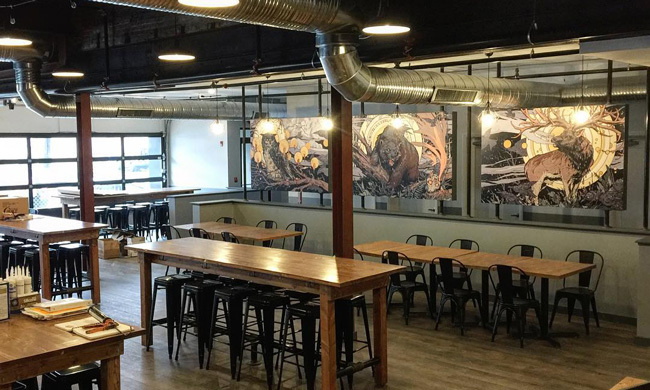 Standing near the front windows of his new facility Nepenthe Brewing Co. in Hampden, Brian Arnold acknowledges a group of pedestrians strolling past the building on Falls Road. "I just got a thumbs up," he says with a smile.
The excitement from the community means everything to Arnold, his wife Jill Antos, and their business partner Brendan Kirlin—who have all spent the past year and a half working tirelessly to get the brewpub up and running.
"A year ago, this building was a full-blown horror movie," Arnold says, scrolling through old photos of dark corridors and dripping water. "There were times when I would walk friends through and they would just be completely shell shocked."
But the owners always saw potential in the combined property, which formerly housed David's 1st and 10 Sports Bar and multiple meatpacking operations. Now, after months of delays with demolition, permitting, construction, and installation, the space is finally opening as Nepenthe Brewing Co. on Friday, January 25 at 4 p.m.
The redesigned complex marks a new chapter for Nepenthe Homebrew, Arnold and Antos' beer-making supply store that originated in Woodberry's Meadow Mill complex in 2013. The concept of working from the ground up is familiar to the husband-and-wife duo, who were forced to rebuild their shop twice after it was severely damaged by Jones Falls flooding in the spring of 2014 and again in July of 2016.
"About 14 months after we opened, things were going well enough that Jill and I wrote ourselves our first paychecks," Arnold remembers. "And then two days later, we flooded. I remember standing there on the banks of the river and we just despaired."
In its new digs on higher ground, Nepenthe has grown to include a 10-barrel brew house with four fermenters, a taproom with 16 draft lines, a full tavern menu to pair with the beers, and an attached retail shop to sell the company's signature home-brewing kits and supplies.
In the back of the building, there's also an indoor-outdoor space that the owners are hoping to bring to life with lawn games and a second bar during the warmer months.
"People have been telling us that Hampden doesn't really have a space close to the Avenue that can accommodate this many people, but still feel kind of homey," says Kirlin, a former partner at the now-closed Le Garage on the Avenue. "We really wanted to create a more casual environment that fits both our style and the community here."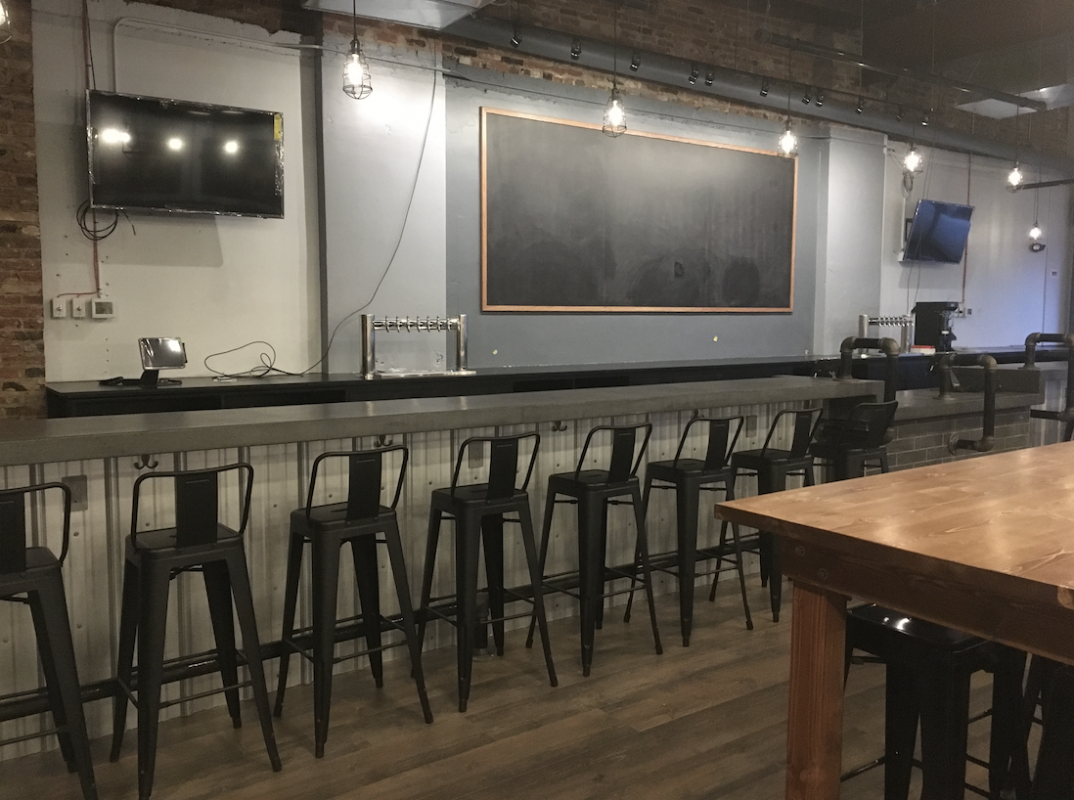 In keeping with the homey feel, many of the taproom touches—including the wooden flight trays and communal tables—were handmade by the owners themselves. The 160-seat hangout also boasts two flat screens, a 24-seat bar, a garage-style door that opens up to Falls Road, and custom works by Columbus illustrator Mike Moses that were printed by Hampden's own Alpha Graphics.
An elevated seating area off of the taproom features an open kitchen, where guests can sip beers while watching chef Matt Heaton, formerly of Birroteca and The Nickel Taphouse, prepare dishes such as beer cheese croquettes, pit bacon sandwiches, a triple-decker brioche grilled cheese, and a Thai-inspired hot dog topped with coconut-lime slaw.
The service model will be mostly pub-style where patrons order at the bar, but Arnold says he's looking forward to collaborating with Heaton to host special seated beer-pairing dinners, as well.
"The way I write beer recipes is sort of culinary," he says of his experimental styles. "The most recent thing I brewed was a sour IPA with hibiscus, vanilla, sugar, pineapple, and cherry, so there's definitely some opportunities for crossover there."
In fact, the goal is for the entire space to be multi-purpose, whether visitors want to tour the brew house and then sip releases in the taproom, or attend a hop-tasting class before purchasing their own ingredients in the shop.
"There are a lot of different components," Kirlin says of the L-shaped facility. "Luckily, we were able to find a space where everything flows together really nicely."
The homebrew shop is a particular point of pride for Arnold and Antos, who managed to salvage some of the shelving and furniture from their old location. The duo looking forward to reconnecting with their former patrons, many of whom organized cleanups and crowdfunding campaigns after the devastating floods.
"We wouldn't exist without them having done that," Arnold says. "After all of this, one of my very favorite things is showing it to people. I have a feeling a lot of our first customers are going to be people we know, and I'm excited to see their reactions."
Adds Kirlin: "It's always fun to open the door and just be like, 'Damn, we did it.'"