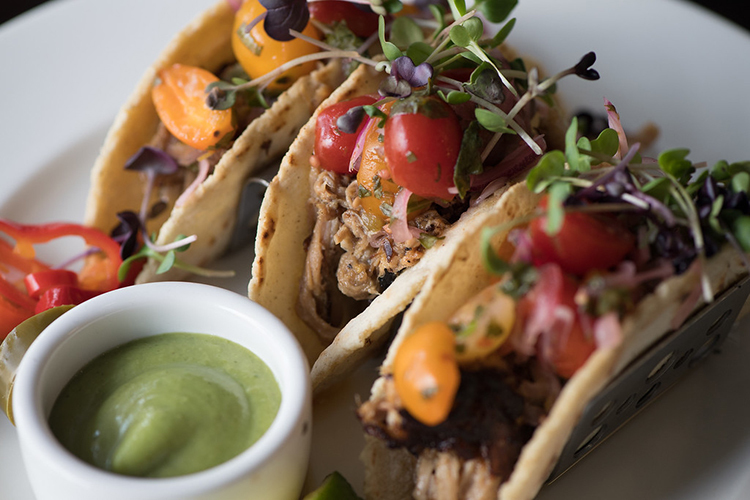 Dave McIntosh Photographics
When chef Audiel Vera developed the opening menu for Avenue Kitchen & Bar in Hampden last summer, he knew he wanted to create a special section dedicated to authentic Mexican tacos.
"They ended up being really popular," says Vera, whose family hails from Puebla near Mexico City. "Now we want to expand on that concept a little bit more."
Next week, the team from Avenue Kitchen & Bar will unveil a spinoff called Taco Noche—a freestanding kiosk in The Rotunda development in Hampden that will serve up tacos, salads, guacamole, and other snacks from lunchtime until 3 a.m.
The late-night stand, which will debut with a Taco Tuesday bash on September 11, is somewhat of a passion project for Vera—who moved from New York City to Houston when he was 14. While living there, he became familiar with the Northern Mexican-style of cooking.
"Hanging out in Houston was a big culture shock for me," Vera says. "I was always used to the classic Southern Mexican dishes like corn tortillas, moles, and tacos with just onion and cilantro. And then all of the sudden I went to Texas and the food was very different than what I had been exposed to."
The menu at Taco Noche will play up the Tex-Mex vibe, featuring flour tortillas stuffed with smoked beef brisket, barbacoa, pork carnitas, and jerk chicken. Other highlights will include traditional street corn, nachos topped with sour cream and cheese sauce, a classic burrito with refried beans and lettuce, and a "Kitchen Sink" salad—which tops arugula, with avocado, pico de gallo, cotija cheese, pickled peppers, and lemon vinaigrette.
"It's just something different," says Vera, who previously headed up Bmore Cocina in Upper Fells Point. (His sister, Rosalyn, now runs Cocina Luchadoras in the space.) "Everybody is doing corn tortillas now, which I'm very familiar with because those are the flavors that I grew up with. But no one is really exploring that real Northern Mexican vibe."
Avenue Kitchen co-founder Bill Irvin says that he hopes Taco Noche will introduce more variety for late-night diners in Hampden and Charles Village, who are used to either grabbing Korean barbecue at Jong Kak or fried chicken at Royal Farms after last call.
"Years and years ago, there was late-night dining," Irvin says. "You could go to Sabatino's at 2 or 3 a.m., but now that's all stopped. The marketplace for late-night now is basically convenience because it's difficult to keep a kitchen open that late."
Taco Noche will mark Irvin's third freestanding concept in the center of the mixed-use development. He also runs the Rotunda's Tiny Wine Shoppe and Garden Party—a European-influenced bar featuring charcuterie boards, sandwiches, and salads for diners to enjoy al fresco.
Irvin says he is looking forward to hosting fun pop-up events at the kiosks throughout the year, mentioning snowball fights with hot cocoa in the winter and a holiday celebration with wine pairings in December. Once the taco spot opens next week, its dishes will be available for carry-out or delivery using apps like Grubhub and Ubereats.
When it comes to Taco Noche, the team is most excited to introduce their unique spin on classic Mexican flavors.
"We want it to be approachable and not too extreme," Vera says. "It will be fun to take people on a little more of a journey around Mexico that isn't just cheese and meat."