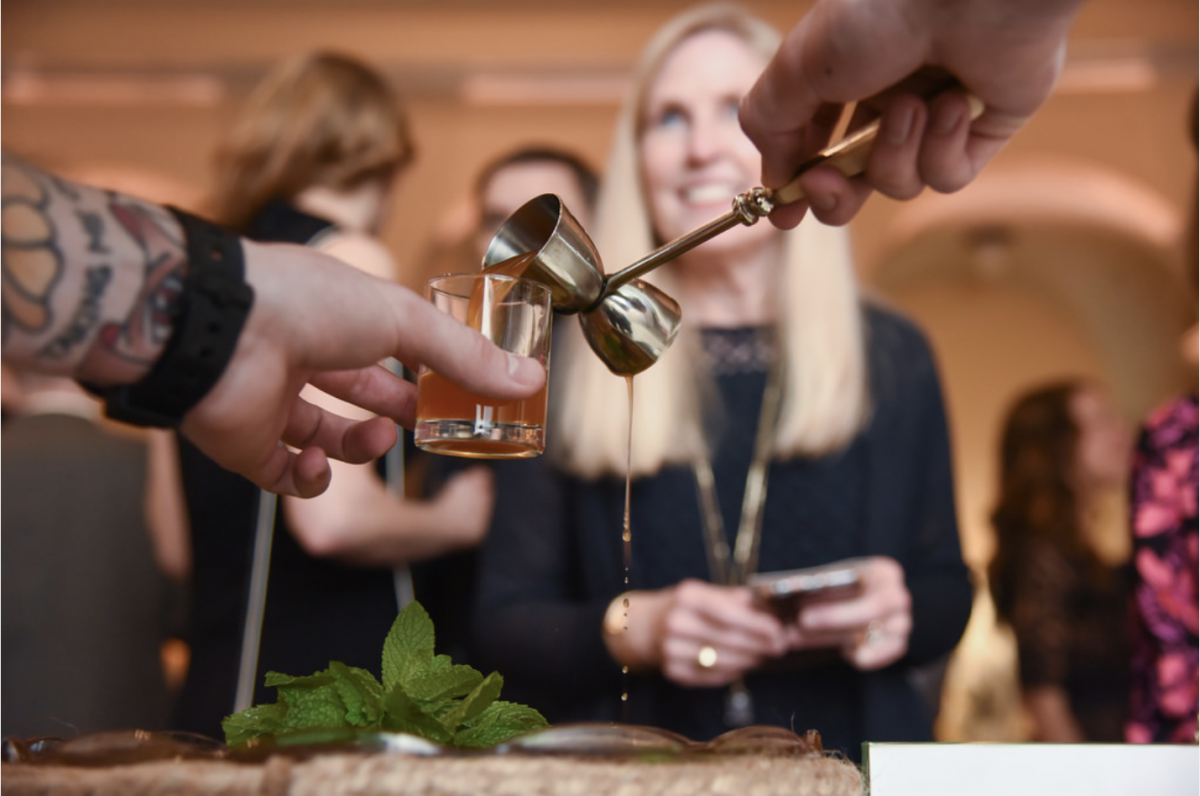 Photography by Max Franz
Since 2015, local cocktail enthusiasts and art lovers alike have packed into the sculpture court at the Walters Art Museum for its annual Rye Rocks event. There, a handful of bartenders from the Baltimore Bartenders' Guild (BBG) served various rye whiskey cocktails for guests to imbibe while perusing the museum's collections.
On Saturday, December 9 from 7-10 p.m., the event is returning to the museum—but with a new twist. Instead of highlighting regional rye, organizers with the Women's Committee of the Walters Art Museum have decided to feature vodka and other international spirits in celebration of the museum's new exhibition Fabergé and the Russian Crafts Tradition: An Empire's Legacy.
"It's interesting to see a vodka event because people have moved away from vodka over the past few years," says BBG president Brendan Dorr. "It's still very popular, but whiskey has overtaken vodka as the number-one spirit right now. It will be interesting to see what everyone comes up with."
Now named On the Rocks, the evening will offer an array of Russian-influenced cocktails from a dozen BBG bartenders, hearty fare from Catering by Uptown, and an up-close look at the new Fabergé galleries.
The exhibit, which opened earlier this month and runs throughout June 2018, centers around two imperial eggs that were designed by famed goldsmith Peter Carl Fabergé, and given to Russian czars as Easter gifts during the early 1900s. In addition to the rare eggs (the museum estimates that only 50 were ever made), the show displays more than 70 other art objects including lavish jewelry and carved stones.
"This is the first time that the Walters has put all of its Russian stuff in one place like this," says co-curator Jo Briggs, the museum's associate curator of 18th and 19th century art. "We're trying to put the eggs in a much broader context of Russian decorative arts—more than just Fabergé and the czars."
Even more specifically related to the On The Rocks event is the exhibition's array of silver and gold drinking vessels, as well as two shot glasses, and an antique vodka carafe in the form of a gryphon with an inscribed Slavonic proverb that reads: "Drinking is not a hindrance, but youth's diversion."
"A lot of these luxury drinking objects were used to show off wealth when people would have guests over at their house or palace," Briggs says. "When you think about Russia, there's no way you can't think about vodka."
In keeping with the theme, On the Rocks will offer plenty of vodkas for sampling. Guild members including Verde's Christian Stoddart, R. Bar's Josiah Dells, freelancer Aaron Joseph, and Alex Dang of Ida B's Table have all chosen from a diverse list of international and domestic spirits to incorporate into their cocktail recipes.
Dorr mentions Cathead vodka, Stoli Elit, Bar Hill gin, Filibuster Bourbon, and St. George's Spirit vodka as examples of what guests can expect. To add to the fun, there will be a people's choice competition to see which bartender's cocktail reigns supreme.
"Vodka is a little more of a white wall," Dorr says. "You can paint it with any color you want, and therefore it makes it a little more difficult to feature the spirit. But that's what gets the bartenders thinking outside of the box."
Proceeds from the party will aid in funding transportation to the Walters for students at Maryland's Title I Schools. Aside from introducing the exhibition to additional eyes, Briggs says she's excited to see how art can influence its surrounding community.
"One of the nicest things about working in a museum is you can inspire people," she says. "That's always really rewarding—to put it out there and see where they take it."