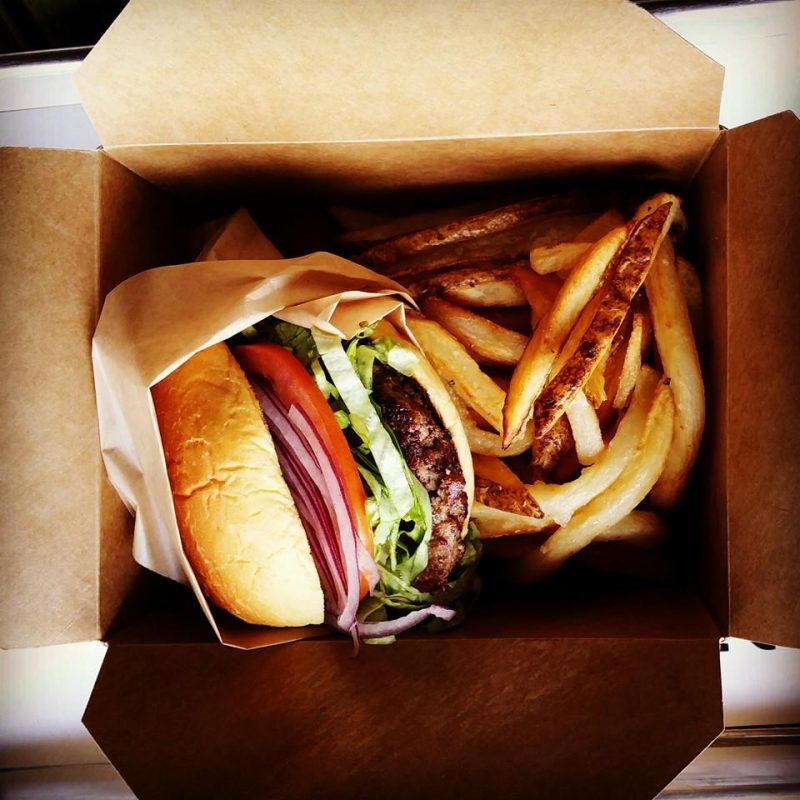 Courtesy of Clark Burger
For every restaurant that closes, another one opens. Here's the recent restaurant buzz that you need to know.

OPEN:
Nalley Fresh: This popular build-your-own lunch bar has locations all over town, and the newest one will soon be stationed in the historic Canton Can Company. With options like wraps, salads, and bowls that can be piled high with your choice of organic proteins, fruits, and veggies, this spot is great for grazers. 2400 Boston St.
Alma Cocina Latina: This new Venezuelan restaurant from local restaurateur Irena Stein will soon be opening in the Canton Can Company, as well. The concept of this trendy eatery will center on a partially open kitchen serving up small plates of arepas, ceviches, stews, salads, and other regional specialties. The 90-seat space will also feature a community bar with a menu full of Central and South American-inspired cocktails. This spot is slated for a spring opening. 2400 Boston St.
Arômes: This quaint BYOB restaurant, featuring sophisticated French cuisine, is slated to open in Hampden on Feb. 1. Chef Steve Monnier has an extensive culinary repertoire that includes experience from Paris to Southern California. Now, he's bringing his vision for farm-to-table dishes with French influences to Baltimore. Offerings on the upscale menu will include roasted turnips with vanilla oil, shrimp Chicarrone with Old Bay mayo and cauliflower risotto, and grilled hanger steak with coffee rub and celery and sorrel jus. 3520 Chesnut Ave., 410-235-0035.
Clark Burger: Step aside popcorn—this recently opened eatery is mixing things up when it comes to movie-theater snacks. Conveniently adjoined with The Senator Theatre, moviegoers can now chow down on burgers and fries purchased at Clark Burger while watching the drama unfold on the silver screen. Owner (and native Canadian) James Clark highlights unique burgers on the menu, while also featuring poutine—a traditional Canadian dish topping French fries with gravy and cheese curds. The new eatery also features a full bar with cocktails, beer, and wine that can be carried inside the cozy theater. 5906 York Road, 410-323-2356.
SHUT:
Chazz: A Bronx Original: It was announced last week that this popular Harbor East space has closed as one of the restaurant's vendors filed a lawsuit seeking judgement over unpaid bills. Chazz will be missed, but at least we know that we can always head to Little Italy to satisfy similar cravings from its sister restaurant, Aldo's.
Craig's: Undergraduate students all over town are taking to Twitter to mourn the loss of this popular college dive-bar on York Road. It's been under the watchful eye of police officers and public safety officials for a while now, but after a unanimous vote at a Baltimore City Liquor Board hearing last week, Craig's has closed for good. Testimony from police officers, community members, and Loyola University public safety officials revealed that the bar had been caught serving alcohol to minors on multiple occasions and served as the source of many alcohol-related incidents on Loyola's campus last year. There's no word yet on what will become of the space or whether or not the owners will appeal the liquor board's decision. Sorry Greyhounds.
Talara: This Harbor East Latin restaurant will serve its final meals on Feb. 7. Talara's closing follows the shuttering of Chazz last week. No word yet on what will take Talara's space at 615 President Street.