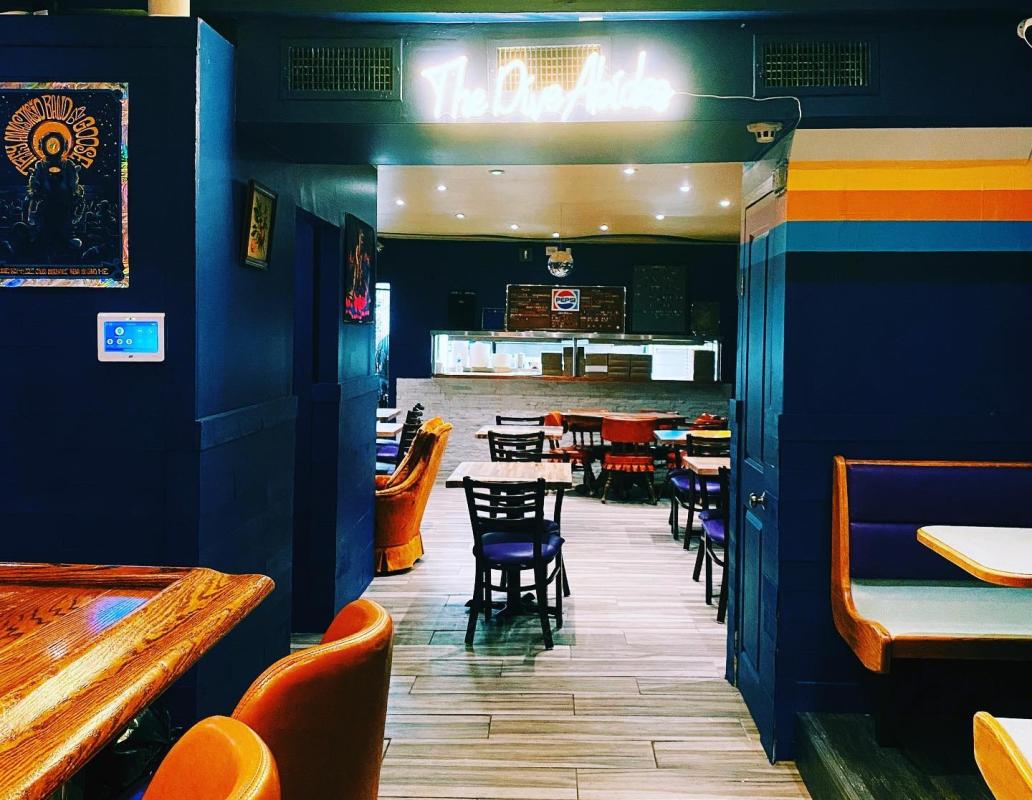 —Courtesy of The Dive via Instagram
OPEN
The Dive: A new concept from Sally O's owner Jesse Sandlin has taken over the space most recently home to Fuisine (and Regal Beagle before that) at 3123 Elliott St. in Canton. Featuring a can't-miss mural out front by local artist Kait Kluse, The Dive is a casual neighborhood bar offering plenty of throwback vibes—from its spin on a Long Island iced tea to Ms. Pac-Man and Galaga games. Sandlin says the building also used to house Jack's Bistro, where she worked for a time with chef/owner Ted Stelzenmuller.
"I was familiar with this space and always really liked it," she tells us. "It was a great opportunity, so we went for it."
The menu offers bar fare favorites like garlic butter Buffalo chicken wings, a double pepperoni pizza, mac and cheese, and a smashburger. Expect '70s-inspired drinks like the aforementioned Long Island infused with black tea (which makes it "quite dangerously delicious," Sandlin says), plus the melon ball-meets-gin fizz "Pinball Wizard," and a dirty martini with vodka that's been olive oil fat-washed. Beers on tap include varieties from Checkerspot, Sierra Nevada, and (to perfectly pair with those pies) Dewey Beer Co.'s Pizzetta pilsner. And more are on the way.
Sandlin says she and her partners in the bar, Peter Enny and Brian Acquavella, wanted to do something, "totally different from Sally O's, but also totally different from anything in the neighborhood."
"We wanted to do something that was more static," she says. "This is such a neighborhood place. We want people to be able to come by, relax, hang out, play a game, eat a pizza—and drink too many beers," she adds with a laugh.
Wico Street Beer Co.: Just in time for the second half of the NFL season, this new Pigtown brewery has officially made its debut. Wico Street Beer Co.—which is only about a 10-minute walk from M&T Bank Stadium—opened inside the 1100 Wicomico building on Nov. 18, offering plenty of sour beers to awaken those taste buds. Those headed to a Ravens game, though, are sure to enjoy the brewery's easy-drinking American lager, Steez.
"We want to focus on sour beer, spontaneous mixed culture beer, and aging beer—whether it's in wine barrels or different spirit barrels," co-owner Mike Richardson told us earlier this year. "We just want to do something different."
First-timers can also expect a tricked-out space with graffiti artwork and a stellar lighting installation of the brewery's name on one of the walls. There's plenty of nostalgic vibes, too—including two tables with setups to play classic Nintendo 64 games like GoldenEye 007. When we stopped by, a food truck (our pals at Royal Sauce) was parked out front.
Yes Chef!: This homegrown meal delivery service and caterer has reopened at McHenry Row, after being closed since October for expansion renovations. According to SouthBmore.com, Yes Chef!'s new marketplace has taken over the former Clean Juice space next door and now operates a total of 2,904 square feet (up from 1,700). The expanded storefront, which originally debuted in November 2021, now offers made-to-order paninis, sandwiches, and salads; fresh homemade soups and chilis; hand-scooped Taharka Bros. ice cream (including hot chocolate floats); smoothies; and more. There's also all-day breakfast on Saturdays. And for those in need of stocking stuffers this season, the store also sells products from 18 local small businesses, including Southeastern Roastery, Stone Row Apothecary, Popsations Popcorn, and Michele's Granola.
COMING SOON
Mama's On the Half Shell Owings Mills: Canton Square stalwart Mama's on the Half Shell is headed to the county. The bar and restaurant shared on social media this week that it plans to open a second location this spring or summer at Foundry Row in Owings Mills. "It has been a dream for us to grow our brand," owner Jackie McCusker wrote on Instagram. "Mama's Canton just celebrated its 19th anniversary this past week. What better time to celebrate this news? We chose Foundry Row as our location because it is a spectacular property that offers an abundance of retail, multi-use, and restaurants. We are excited to be part of such a wonderful community." The new spot—which will undoubtedly be a go-to for oysters, steamed mussels, and crab cakes—marks the second Baltimore County venture for McCusker and her team, who also expanded sister-spot Nacho Mama's to Towson in 2016.
Mission BBQ Hunt Valley: Speaking of Baltimore County, local chain Mission BBQ will open its 17th location on Dec. 13 at 128 Shawan Rd. in Hunt Valley. For an early sneak peek, patrons can pop in on Dec. 9 from 6-9 p.m. for Military Appreciation Night, where all sales will go to the Global War on Terrorism Memorial Foundation. Bill Kraus and Steve "Newt" Newton launched Mission in 2011 on the 10th anniversary of 9/11, which fit their patriotic mission of serving first-responders of all kinds. The fast-casual locations are known for their brisket, pulled pork, turkey, chicken, sausage, ribs, and requisite sides.
EPICUREAN EVENTS
12/1-12/31: GINgle Bells at Dutch Courage
Love gin and Christmas? Then get ready, because Old Goucher gin bar Dutch Courage has totally transformed its space and menu for the holiday season. Its month-long GINgle Bells celebration brings jolly decorations and libations fit for any festive fête. (The bar's tent on the expansive patio is even decked out with more than 6,000 lights.) Get in the spirit (and into the spirits) with new menu items like the "D.C. Eggnog" with Two James Doctor Bird Rum. There's also the "Sippin' on Gin-gle Juice," made with Martin Miller's Gin, The Wine Collective's Vermú, carrot, persimmon, turmeric tonic tea, ginger, lemon, and cinnamon tincture. Be on the lookout for new winter-inspired food, too, including a chicken pot pie and a winter kale salad. Reservations are recommended.
12/1-12/23: Big Softy Holiday Pop-Up at Treehouse Cafe
Until Dec. 23, Big Softy (our own purveyor of soft-shell crab sammies and Detroit-style pizza) will be posting up at Treehouse Cafe in Hampden from Thursdays to Sundays for a holiday pop-up—perfect for those looking for a quick bite before or after they take in the dazzling Christmas lights of Miracle on 34th Street. Expect grab-and-go pizza, paninis, sandwiches, and holiday-themed drinks.
12/6: Rum Tasting at Sugarvale
Baltimore Cane Society, a club dedicated to cane spirit education and appreciation, will hold its next rum club event at Mt. Vernon cocktail bar Sugarvale on Tuesday, Dec. 6 at 5 p.m. For $30, guests can enjoy a guided tasting of four Single Farm Origin rums from Renegade Cane Rum, which hails from Grenada. The pours will be from the unaged pre-cask series. Renegade's emphasis is on terroir. "Each Single Farm Origin rum is made from one single species of cane from one single plot of farmland," Baltimore Cane Society shared on Instagram. "The cane is pressed within a few hours of harvesting, then fermented and distilled entirely from the fresh juice. Believe me when I tell you they are funky!"