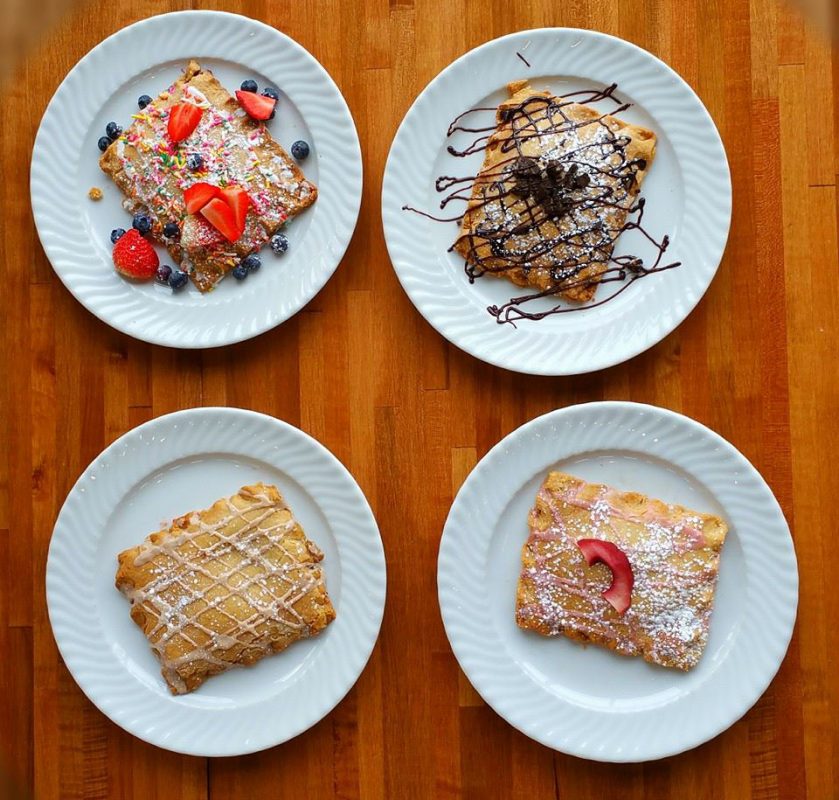 Courtesy of Iron Rooster
OPEN
B'more Chicken & Donuts: Horseshoe Casino celebrated the arrival of this new dining concept earlier this week with a donut-eating contest that awarded one lucky foodie with $1000 cash and free eats for a year. B'more Chicken & Donuts, the latest spot to join the casino's food court-style Baltimore Marketplace, puts a new spin on the traditional chicken and waffles combo by pairing fried-to-order chicken tenders with an array of donuts baked in house. Flavors range from glazed and cinnamon sugar to maple bacon and caramel-cream espresso. The eatery is situated in the stall that formerly operated as Tark's at the 'Shoe, adjacent to Heavy Seas Burger Bar on the casino's bottom floor. 1525 Russell St.
Samos Greek Island Grill: We've been waiting to move this one up to the "open" category for a while now. Last week, Samos Greek Island Grill—the modernized spinoff of Samos Restaurant in Highlandtown—debuted a highly-anticipated second location at McHenry Row in Locust Point. The 65-seat spot, which features a canopied patio outside, specializes in old-world classics such as spanakopita, salads topped with blocks of feta, souvlaki skewers, and overstuffed gyro wraps. The restaurant joins other dining destinations including World of Beer and Ruby 8 Noodles & Sushi in Mark Sapperstein's mixed-use development, which will also house Diamondback Brewing Company's new taproom when it opens later this fall. 1703 Whetstone Way, 410-276-0165
Culinary Architecture Market & Kitchen: South Baltimore locals and Pigtown Main Street officials gathered to cut the ribbon at this new mixed-use market on Washington Boulevard last weekend. The 20,000-square-foot shop—which boasts a commercial kitchen, retail market, and outdoor events space—is the brainchild of locals Sylva Lin and Piper Booher. In addition to catering and private dining services, the duo offers an array of made-from-scratch products like baked goods, sandwiches, and prepped meal kits. The market's menu of prepared foods rotates weekly, and features everything from ready-made taco kits with pork belly and pineapple salsa to Harissa chicken topped with beet caviar. 767 Washington Blvd., 443-708-8482
Starlite Diner: Though the tall façade that towers over the corner building in Belvedere Square has boasted many different logos over the past few years, owners are hoping that this new diner concept will be in it for the long haul. The restaurant from former Red Maple owner Leonard Clarke officially opened its doors last week for lunch and dinner service. Executive chef Arim Isabel's pages-long menu showcases breakfast fare like pancakes, DIY omelets, and steak and eggs, as well as diner classics including club sandwiches, chopped salads, and cheeseburgers.510 E. Belvedere Ave., 410-878-0069
COMING SOON
BLK//Sugar & Little Baby's Ice Cream: Local pie princess Krystal Mack, who is best known for peddling her signature sweets from a seven-speed dessert bike, recently announced that she will be joining the lineup of small batch makers at R. House— Remington's new communal food incubator slated to premiere in October. Mack has partnered with Philadelphia-based Little Baby's Ice Cream to launch the new micro-restaurant, which will specialize in locally sourced baked goods paired with unique ice cream flavors. (Think along the lines of Earl Grey Sriracha, Vanilla Cardamom Cream, everything bagel, and sweet potato marshmallow.) Menu items will include cookies, whole pies, honey cake, caramel apple cobbler, and an array of hot teas. 301 W. 29th St.
Iron Rooster: Come 2017, Baltimore County locals will no longer have to venture to Canton or Annapolis to get their fix of housemade pop tarts and free bacon from Iron Rooster. The breakfast-all-day spot, which also highlights a selection of sandwiches and burgers, recently announced plans to open its third location in the building that formerly housed Joe's Crab Shack at Hunt Valley Towne Centre. At nearly 9,000 square feet, the new location will be the brand's largest yet, boasting more than 250 seats. 50 Shawan Road, Cockeysville
BRUNCH BULLETIN
Bookmakers: On the heels of celebrating its two-year anniversary, Bookmakers is launching Sunday brunch service. The speakeasy-style spot in Federal Hill will open its doors in the daylight for the first time ever on Sunday, October 2 at 11 a.m., offering a new mid-morning menu with unique takes on classics like French toast, steak and eggs, and shrimp and grits. Executive chef Nelson Morton will also highlight a breakfast burger, housemade scrapple and sausage, and a smoked salmon dip that serves as a riff on bagels and lox. It should come as no surprise that beverage director Ryan Sparks has come up with a new line of creative brunch cocktails in honor of the launch, which includes a Bloody Mary that combines Akvavit (a spicy spirit from Scandinavia) with his own mix made in-house. 31 East Cross St. 443-438-4039
Ouzo Bay: This Greek go-to in Harbor East will also begin serving lunch and brunch this month. The restaurant will kick-off weekday lunch service on Monday, October 17, with a new menu highlighting more than 20 Mediterranean-influenced salads and sandwiches. Weekend brunch service will debut on October 23, in conjunction with a new Sunday happy hour from 3-7 p.m. featuring $2 ouzo shots, $3 beers, $6 appetizers, and $7 glasses of wine. 1000 Lancaster St., 443-708-5818