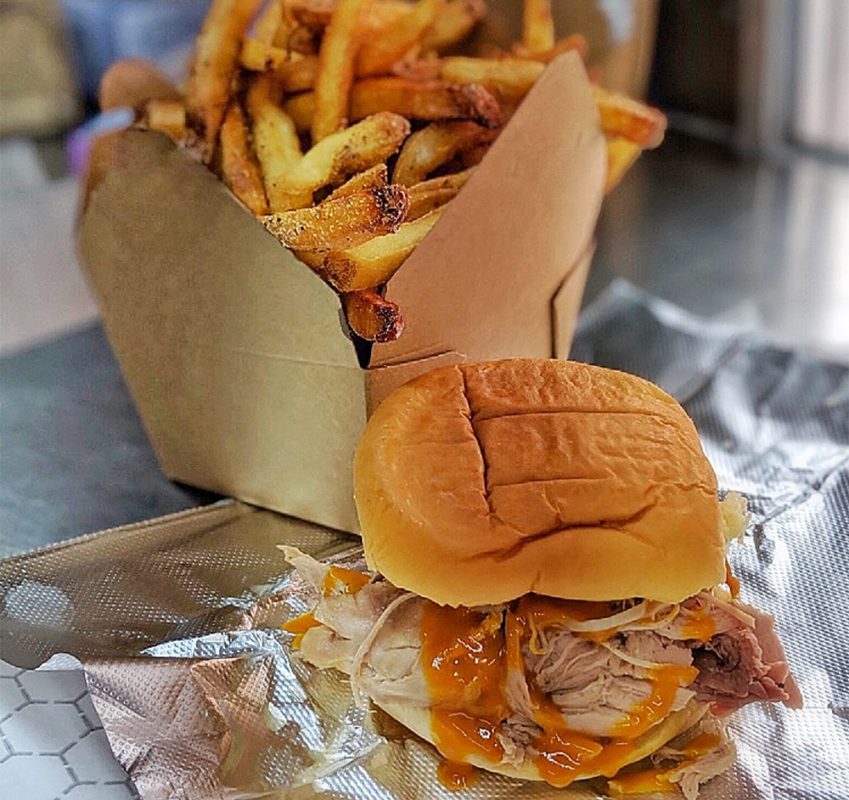 COMING SOON
Bullhead Pit Beef: A new spot to grab pit beef sandwiches on the way to Camden Yards is expected to open inside Cross Street Market before Opening Day. The operation that Bullhead owner Larry Jackson started with a grill and a pickup truck in 2010 has grown to become one of Howard County's favorite food trucks—frequently stationed at Hysteria Brewing Company in Columbia. Now, Jackson is opening his first brick-and-mortar pit palace inside the newly renovated market in Federal Hill. Expect sandwiches stuffed with classic pit beef, turkey, and requisite horseradish sauce, as well as garlic fries and mac and cheese. Bullhead will add to the Maryland favorites offered at the market, which also features Berger cookies at The Sweet Shoppe, local corn and tomatoes at Rooster & Hen, Taharka Bros. ice cream, and, of course, Royal Farms fried chicken.
Gourmet Girls: Despite the similar names, Owings Mills cafe Gourmet Girls and now-closed Pikesville market Gourmet Again are, in fact, two separate entities. But they will soon share a connection as Gourmet Girls owners Barbara Collurafici and Lisa Honick prepare to take over the former Gourmet Again space on Old Court Road. The expansion will allow for the popular lunch spot to add to its menu, offer customized catering, and restore the neighborhood gathering space that locals frequented before Gourmet Again closed last spring. "It is our hope that we reconnect with old friends, welcome new ones, and host our neighborhood and community," the owners wrote in a post to Facebook. "We are so grateful to our customers who encouraged growth and always provide support."
(RE)OPEN
L.P. Steamers: PSA for seafood lovers in Locust Point—this neighborhood landmark is expected to reopen today after being closed for renovations the past two weeks. According to a notice posted on the restaurant's website, the project ran into a few "unforseen hiccups," but management has been assured by contractors that they will be cleared to reopen on Thursday, February 20. With warmer weather (hopefully) on the horizon, we're happy to hear that the go-to for crabs and Crushes is resuming normal business hours.
EPICUREAN EVENTS
2/24: Ambrosia Dinner Series
Ever wonder about the healing properties of mushrooms? At the latest installment of this wellness-focused dinner series—which aims to nourish the mind and body—chef Chris Amendola will prepare plates featuring Lion's Mane, Oyster, and Shitake mushrooms at his restaurant Foraged in Hampden. While sampling the bites, hear from guest speakers including herbalist Mae Wright of Mission Dispensary Baltimore, Charlotte James of The Sabina Project, and mycologist William Padilla-Brown—who is featured in the new film Fantastic Fungi. The $45 ticket price includes small plates, non-alcoholic herbal beverages, and the chance to win door prizes.
2/26: Origins Speaker Series with Jinji Fraser
It's only fitting that this recurring food event would focus on chocolate to celebrate the month of love. Cozy up at Artifact Coffee for a post-Valentine's Day panel discussion in which local chocolate connoisseur Jinji Fraser will chat with Spike Gjerde about the raw cacao products she uses at Pure Chocolate by Jinji in Belvedere Square. As always, the event will feature drinks, appetizers, conversation, and a family-style dinner—which will feature plenty of chocolate this time around.
SHUT
Food Plenty: In a heartfelt message posted online earlier this week, the Marriner family—which operates Victoria Gastro Pub, Manor Hill Brewing, and Manor Hill Tavern in Howard County—announced that they had closed their comfort food concept in Clarksville. The decision came after CFO Rachael Marriner was diagnosed with colon cancer two and a half years ago. Luckily, Rachael has defeated the disease, but the family has shuttered the restaurant in an effort to take a step back: "At the end of Rachael's two-year fight, we as a family gained a new perspective on life, and more specifically, a need to reduce stress in her and our lives," the post reads. Though Food Plenty has closed, fans can still savor the Marriners' dishes at Manor Hill Tavern or Victoria Gastro Pub—which are both going strong.