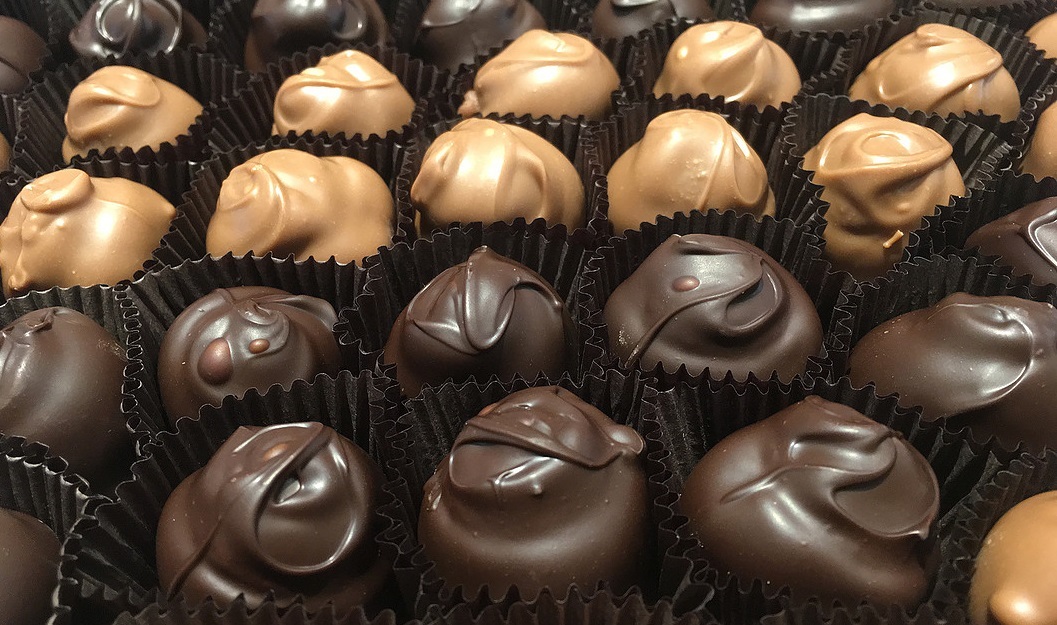 Courtesy of Charm City Chocolate
OPEN:
Charm City Chocolate: Just in time for Valentine's Day, husband-and-wife duo Todd and Michelle Zimmerman celebrated the grand opening of this new sweets shop on the Avenue in Hampden. The store—which the owners describe as colorful, retro, and adorned with vintage touches—officially opened earlier this week, showcasing a plethora of chocolates, bonbons, truffles, gummy candies, fudge, and old-fashioned sweets. Specialty offerings for V-Day will include love-themed gift baskets and hand-dipped chocolate covered strawberries. 809 W. 36th St., 443-449-5164

COMING SOON:
Chicken Rico: Soon after cutting the ribbon at its newest location near Power Plant Live, this Virginia-based chain announced that it will also be expanding into Dundalk in the coming months. The fast-casual Peruvian palace emphasizes marinated rotisserie chicken as well as stir-fry, ceviche, chicken sandwiches, and burritos. The new spot will mark the chain's third storefront in Baltimore. 1245 Merritt Blvd, Dundalk
Ekiben: Fells Point Farmers Market regulars will be happy to hear that this fan-favorite stall is gearing up to reveal its permanent digs in March. Ekiben owners Nick Yesupriya, Steve Chu, and Ephram Abebe are setting up shop in a cozy spot on Eastern Avenue, where they will serve up the brand's signature Asian comfort food and offer late-night eats on the weekends. Be on the lookout for Ekiben's signature steamed buns with fillings ranging from spicy lamb meatballs to braised pork shoulder. 1622 Eastern Ave.
Gunther & Co.: Former Washington, D.C.-area restaurateurs Jerry Trice and Nancy Hart Mola are readying this new spot for an April debut. Situated in the century-old boil room of Gunther Brewing Company in Brewers Hill, the 7,000-square foot restaurant will highlight an open kitchen, 150-seat main dining room, front bar and den, and a mezzanine level with floor-to-ceiling windows. The internationally influenced menu will offer diners everything from roasted Amish chicken to coffee-orange-glazed duck breast. 3650 Toone St.
Habaneros Mexican Kitchen & Tequileria: The Carroll County dining scene is welcoming this new cantina, which will open in the former home of Parks Landing Seafood Restaurant on Feb. 11. In true Tex-Mex fashion, the menu will list classics such as fajitas, empanadas, pollo en mole, and tamales, and the 30-seat bar will feature 15 varieties of tequila. 33140 Village Road, Westminster, 410-848-1755
Sajhoma Restaurant: This new eatery is slated to open in Fells Point later this month, filling the void of Dominican restaurants in the neighborhood. Located just off of the corner of Fleet and Broadway, the 37-seat breakfast, lunch, and dinner spot will serve authentic specialties like rotisserie chicken, mofongo (mashed plantains), and rice and beans. 1708 Fleet St.
Surf House Island Cantina: In keeping with the of-the-moment tiki craze, this new Frederick hangout will focus on beach-inspired coastal cuisine. Slated to open later this month, diners can look forward to chowing down on California comfort food like burgers, sushi, and fish tacos, while kicking back on the outdoor deck. 8925 Fingerboard Rd., Urbana, 240-483-8475
EXPANSIONS:
Ouzo Bay: If you're ever looking for a little taste of home while enjoying the sunny skies in Florida, an Ouzo Bay spinoff is opening in Boca Raton. Atlas Restaurant Group, the team behind Harbor East fixtures Ouzo Bay, Azumi, and yet-to-open Loch Bar, recently announced plans to open Ouzo Bay Boca Raton, its first restaurant outside of the Baltimore area. The new location—expected to open this summer—will mirror the style of its flagship spot, offering diners Mediterranean eats, Greek wines, and an outdoor patio.