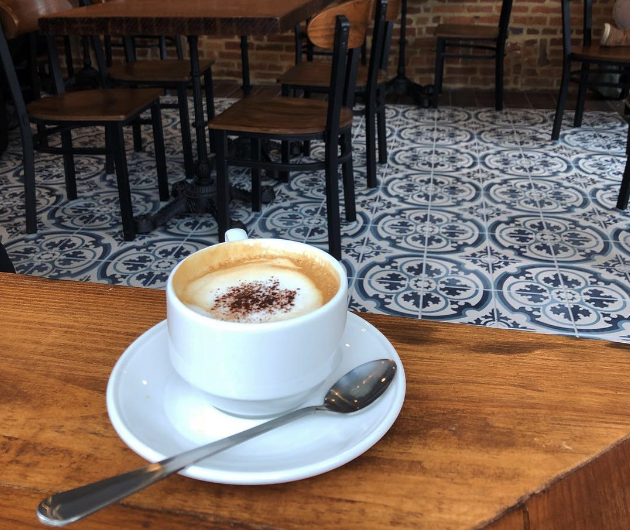 @jocelyn.heather via Instagram
OPEN
Charmed Kitchen: Early risers in Butchers Hill are in for a treat this week as this new community cafe officially opened its doors for breakfast service starting at 6:30 a.m. The community spot from longtime neighborhood residents Lindsay and Andrew Crummey debuted with an opening menu of coffee, pastries, and breakfast sandwiches on fresh-baked breads. The plan is for executive chef Christa Bruno to roll out dinner service in the coming weeks, featuring dishes that reflect her Italian roots. (Think pasta, risotto, meats, and fish cooked with local produce.) Until then, the shop will offer a variety of coffee drinks, as well as breakfast and lunch fare, during the day. 123 S. Chester St. 443-627-8369
COMING SOON
Saffron Grill: The dining options in Fells Point are becoming increasingly diverse, with new restaurants opening along the waterfront, an array of vendors preparing to open inside Broadway Market, and now, this new Indian and Pakistani concept opening in the area. Slated to debut in February 2019, Saffron Grill will focus on Middle Eastern staples including authentic kebabs, lamb chops, and gyros. "We look forward to adding a different option to the standard American fare in Fells Point," said owner Syed Zaidis in a statement. The spot will neighbor new women's boutique Mint & Major in the mixed-use Marketplace at Fells Point on South Broadway. 616 S. Broadway.
NEWS
The Bluebird and Little Bird Welcome New Chefs: A new chef duo is at the helm of Hampden's Bluebird Cocktail Room, as well as its subterranean sister-spot Little Bird Coffee Bar. Newly appointed executive chef Chance Jones and sous chef Bri White met Bluebird owners Paul and Caroline Benkert in their former roles at Woodberry Kitchen. At Bluebird, diners can expect to see more locally sourced ingredients incorporated into the dishes and drinks. Downstairs at Little Bird, Jones and White are hoping to introduce special pairing dinners that showcase seasonal ingredients from regional purveyors such as Caputo Bros. Creamery in Southern Pennsylvania. 3600 Hickory Ave. 667-303-3263

Baby's on Fire Joins Retail Coffee Market: Be on the lookout for a new signature coffee blend at record store-cafe Baby's on Fire in Mt. Vernon. Husband-and-wife owners David and Shirlé Koslowski recently partnered with Bryce Roszell of Open Seas Coffee Roasters on Kent Island to create their own blend, which incorporates grinds from Brazil, Sumatra, and Guatemala. Used in espresso and drip drinks, the coffee features notes of cinnamon, vanilla, almond, and earthy cedar with a hint of citrus. For every 12-oz. bag of Baby's On Fire Blend purchased, 10 percent of the profits are invested back into sustainable coffee farming projects and communities. 1010 Morton St. 443-885-9892
The Red Star Bar & Grill Debuts New Winter Menu: If you haven't had a chance to visit the new Red Star location in Charles Village since its grand opening last summer, stop in this season to sample eats off of a brand-new winter menu. Executive chef Francisco Lopez—formerly of Ryleigh's Oyster in Federal Hill—debuted a selection of comforting dishes at the new location in Charles Village, as well as the Red Star flagship in Fells Point, earlier this week. Among them are a pot roast French dip with horseradish sauce and a $10 "Red Star" burger stacked with American cheese. Equipped with warm woods and dim lighting, the cozy Charles Village space also hosts beer-and-burger specials on Mondays, half-priced wine for neighborhood locals on Tuesdays, and other nightly specials. 3224 St. Paul St. 443-948-5539
EPICUREAN EVENTS
12/8: Diamondback and Order & Chaos Coffee Stout Launch Party
For the third year in a row, South Baltimore neighbors Diamondback Beer and Order & Chaos are teaming up to unveil a limited-edition coffee stout. Order & Chaos general manager Rachel Harris worked alongside Diamondback head brewer Tom Foster to dream up the beer, which is brewed with dark specialty malts and cold brew coffee. This Saturday, pair the specialty brew—which has notes of chocolate, dark fruit, and roasted almonds—with Order & Chaos' signature Belgian waffles at an official launch party at Diamondback from 12-4 p.m. If you can't make it to the event, the beer will be available in the taproom throughout the beginning of January. 1215 E Fort Ave. Ste. 008
SHUT (FOR NOW)
Stang of Siam: For the time being, Stang of Siam regulars are going to have to get their Thai fix elsewhere in Mt. Vernon. A sign posted to the front door of the restaurant on North Calvert Street indicates that the eatery closed, but will reopen under new management in the coming weeks. "We expect all of you will still be pleased with the quality of food and service," the sign reads. The statement goes on to explain that the new owners operate multiple Thai restaurants in Washington, D.C., and plan to do some renovating before reopening with a new name. 1301 N. Calvert St.