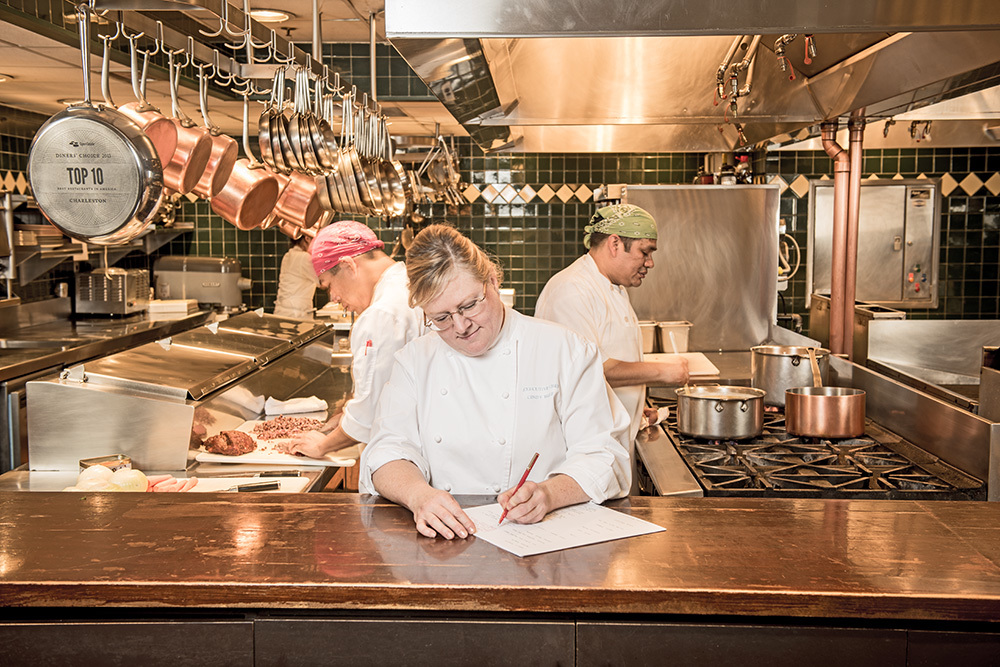 Photography by Mike Morgan
NEWS:
James Beard Awards Semifinalists Announced: Chef Cindy Wolf has once again been named a semifinalist for the 2016 James Beard Awards. The list of contenders, which was released earlier this week, lists Wolf as a nominee in Best Chef Mid-Atlantic category. Wolf's low-country Harbor East fixture Charleston has also been recognized, snagging a nod in the Outstanding Wine Program category. Both Wolf and Charleston were the only Maryland chefs or restaurants to make the cut this year. Stay tuned for updates, as the finalists will be revealed in March and the winners will be announced in May.
OPEN:
Colette: Last week, Bottega owner Adrien Aeschilman launched this brand new bistro in Station North. Complete with gold accents, dim lighting, and a marble-top bar, the 80-seat spot is officially up and running, highlighting upscale French fare and an expansive selection of pre-Prohibition cocktails.Diners can look forward to chef Stefano Porcile's rotating menus, listing inventive dishes such as seared scallops with cauliflower and blood orange, grilled tuna belly with arugula and sherry vinegar, and roasted pear honey cake with lemon curd and lavender. 1709 N. Charles St., 443-835-2945
Cosima: This long-awaited spinoff from Donna's owner Donna Crivello finally opened last weekend in Woodberry's Mill No. 1. The rustic, multi-level space boasts a circular bar, an open kitchen with a wood-fired pizza oven, and reclaimed furniture. Crivello's Sicilian heritage is reflected in the menu, which features staples such as arancini (crispy rice fritters with smoked mozzarella and pesto), pasta alla Norma with roasted eggplant and charred tomatoes, and house made pizza topped with figs, gorgonzola, and broccoli rabe. 3000 Falls Road, 443-708-7352
Grotto Pizza: Known for its strong beach-town presence, this Delaware-based pie chain boasts several locations scattered everywhere from Ocean City to Rehoboth. Last week, Grotto expanded into the area with a new shop in Columbia. The 8,000-square-foot eatery, which features a full bar and plenty of high-top and booth seating, serves the brand's signature pizzas, salads, wings, and pastas. 7075 Minstrel Way, Columbia, 443-538-8200
COMING SOON:
8 Ball Meatball: The grand opening of this new meatball shop from longtime Fells Point resident Paul Weitz is set for this Sunday, February 21.Situated in the former home of Tapas Adela on Broadway, the recently rehabbed space now highlights locally inspired interior features, like a wall mural by Baltimore artist Kelly Walker and custom light fixtures by designer Michael Metcalf. The menu at 8 Ball lists beef, chicken, pork, and vegetarian varieties paired with five different sauces, as well as side dishes like cheesy polenta. The restaurant will offer daily lunch and dinner service, and late-night eats on the weekends. 814 S. Broadway, 443-759-5315
Ground & Griddled: In a video announcement released this morning, yet-to-open Remington food incubator R. House revealed that this new concept will be the first to move in. The eggs-and-coffee startup is the brainchild of Café Cito owner/executive chef Dave Sherman, and will emphasize made-to-order breakfast sandwiches and next-level coffee drinks when the space debuts in September. 301 W. 29th St., 443-347-3570
CH-CH CHANGES:
The Ivy Hotel: The ultra-exclusive Ivy Hotel in Mt. Vernon recently announced that it will begin to offer high tea service to the public starting in April. Since the hotel opened in June 2015, all of its amenities (with the exception of its spa and its restaurant, Magdalena) have been offered to guests only. The Ivy will serve high tea, complete with light bites and optional champagne pairings, Friday through Sunday. Stay tuned for more details. 205 E. Biddle St., 410-514-6500.
SHUT:
The Mallow Bar: After failing to find investors to secure the future of her business, local food entrepreneur Nikki Lewis is halting production of her signature marshmallow treats to pursue other ventures. The Mallow Bar's White Marsh factory and café closed earlier this week, and now, Lewis plans to offer consulting services for other local food startups. Before opening in White Marsh, The Mallow Bar operated a location at Horseshoe Casino, which closed after six months. 11620-H Crossroads Circle, White Marsh
Silo.5% Wine Bar: A message posted to Silo.5% Wine Bar's website last week revealed that the Locust Point hangout had shuttered its doors for good after five years in business. The spot—a spinoff of 13.5% Wine Bar in Hampden—specialized in upscale tavern fare and an expansive list of international wines. 1200 Steuart St., 443-438-4044