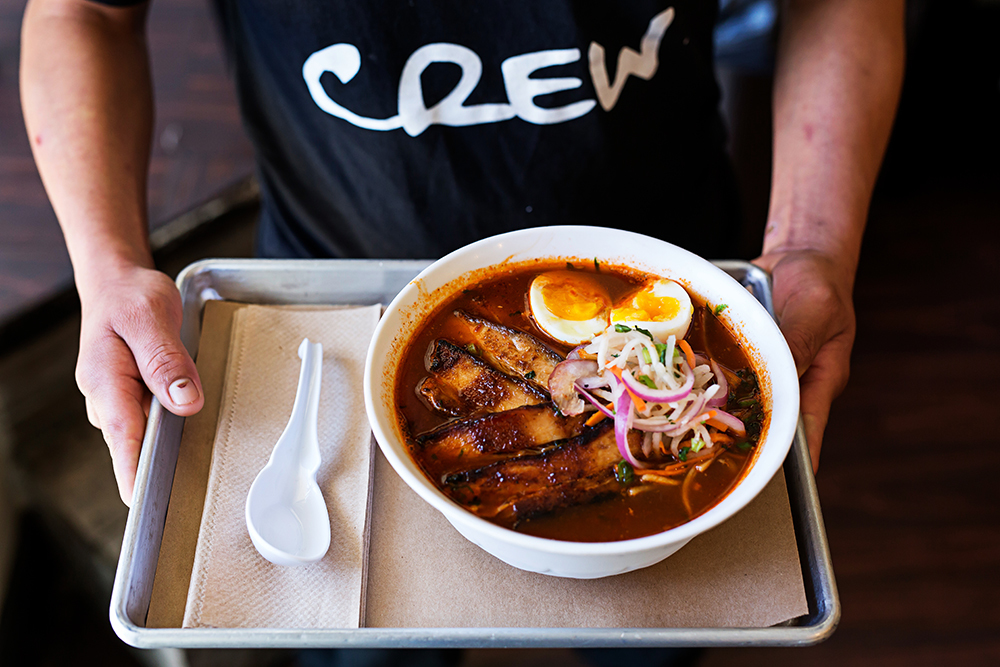 Photography by Scott Suchman
OPEN:
Lotsa Pizza: The Towson dining scene welcomed a new late-night option earlier this week with the debut of this fast-casual pizza destination. Situated in the former home of The Orient on York Road, the national college-town chain (other targeted locations include Purdue and West Virginia universities) serves 11-inch, wood-fired pizzas, which diners can either customize themselves or order from a menu that lists flavor combinations like barbecue chicken, Hawaiian, and shrimp Old Bay. Towson University students will be happy to hear that the eatery, which is offering daily specials to celebrate its launch this week, will be open until 3 a.m. on weekends. 319 York Road, 410-705-4400
Insomnia Cookies: Speaking of late-night eats, this University of Pennsylvania-founded bakery is opening not one, but two locations in Charm City this week. Known for its fresh-baked cookie flavors like snickerdoodle, chocolate peanut butter cup, and s'mores deluxe, the new shops in Fells Point and Federal Hill will offer a showcase full of goodies in-store, as well as neighborhood delivery service offered as late as 3 a.m. Cookie cakes, ice cream sandwiches, and requisite pints of cold milk will also be available. 3301 N. Charles St. and 812 S. Broadway, 877-632-6654 and 877-632-6654
COMING SOON:
Arba: R. House, Remington's yet-to-open communal food incubator, has recently announced the third of 10 micro-restaurants that will set up shop inside the 50,000-square-foot converted automobile showroom when it opens next fall. The latest tenant is Farid Saloum, who will be opening Arba, a spinoff of his South Baltimore restaurant Baba's Mediterranean Kitchen. Fusing both old-world and new-age cuisine, the stall will feature house-made falafel, schwarma (carved meat cooked on a spit), and hummus alongside creative dishes like grilled octopus salad and eggplant fries. 301 W. 29th St., 443-347-3570
Cooper's Hawk Winery & Restaurant: A
grand opening date for an Annapolis location of this Chicago-based
restaurant is scheduled for Monday, May 16. The two-story, 300 seat
space boasts a Napa-style tasting room and a gift shop on the lower
level, as well as a full-service bar and restaurant upstairs. The menu,
which keeps the brand's handcrafted wines in mind, lists global dishes
such as red wine-braised short ribs, soy-ginger salmon, Asian pork belly
tostadas, and Mexican drunken shrimp. The Annapolis location marks the
23rd Cooper's Hawk restaurant in the country.
1906 Town Center Blvd Ste 238,
Annapolis, 443-837-9989
Five and Dime Ale House: Come summer, Hampden locals
won't need to venture far to down some of Pratt Street Ale House's
signature beers from Oliver Brewing Company. The owners, who also
operate restaurants in Columbia and Severna Park, are opening a spinoff
in the old G.C. Murphy five-and-dime antique store on the 900 block of
The Avenue. Co-owner Justin Dvorkin recently told us that he plans to
preserve the space's heritage in the restaurant's interior design, and
that the food menu will mirror the eats at the Columbia location—which
features a wide array of burgers, sandwiches, salads, and tacos.
Naturally, the beer list will highlight Oliver Brewing Company's
releases, but Dvorkin says that the bar will also feature guest draft
lines from the likes of Union, DuClaw, and Jailbreak breweries.
901 W. 36th St.
LB Skybar: Although it
might not seem like it this week, rooftop lounge season is finally upon
us, and the historic Lord Baltimore Hotel is re-opening its 60-seat
skybar on Thursday, May 19. The debut will feature upgrades such as a
state-of-the-art sound system, new furniture, and an expanded menu
including new options like sushi and antipasti. Guests can look forward
to taking in the sweeping views while sipping drinks from a specialty
summer cocktail menu.
20 W. Baltimore St., 855-539-1928
Mi & Yu Noodle Bar: In addition to dumplings, cupcakes, charcuterie, and oysters, foodies will soon be able to get their fix of ramen at Mt. Vernon Marketplace. The communal food hall—which houses the likes of The Local Oyster, Big Bean Theory, Edible Favors, and Ful Café—will welcome Mi & Yu Noodle Bar to its lineup in early July. The Federal Hill Asian-fusion restaurant will set up shop in an 800-square-foot stall and serve its signature steamed bun sandwiches and DIY bowls full of ramen, pho, or udon noodles. 520 Park Ave. 888-897-8859
Modern Cook Shop: This long-awaited restaurant and marketplace is slated to open on the first floor of the Union Wharf apartment building across from The Red Star in Fells Point this summer. Co-owners Andy Gruver and Jason Sanchez, the duo behind Fork & Wrench in Canton, have been hard at work readying the 125-seat space, which will feature dine-in service focusing on Mediterranean and Middle Eastern flavors, as well as a plethora of comestibles available to-go. Among them are charcuterie, canned and pickled ingredients, baked goods, and fresh produce. The 4,500-square-foot dining destination will also feature a traditional bar with craft beer and barrel-aged cocktails. 901 S. Wolfe St.
CH-CH CHANGES:
The Corner Pantry: As working parents themselves, husband and wife owners Neill and Emily Howell recently unveiled a new dinnertime cold bar at the The Corner Pantry as a remedy for busy professionals who want to grab a wholesome meal on-the-go. The new bar, offered weekdays from 5-7 p.m., highlights a rotating menu of dishes such as salmon cakes, roasted cauliflower salad, and arancini (stuffed rice balls) with brown rice and sausage. 6080 Falls Road, 667-308-2331
SHUT:
Smashburger: After just a year in business, this Denver-based burger chain shuttered its doors in Fells Point last week due to a lack of business. The fast-casual restaurant, known for its signature seared burger technique, offered made-to-order burgers, chicken sandwiches, haystack onion rings, and handspun milkshakes. The eatery boasts other locations in Ellicott City, Gaithersburg, and Rockville, and has signed a lease to open a fourth restaurant inside the yet-to-open Foundry Row project in Owings Mills. 616 S. Broadway