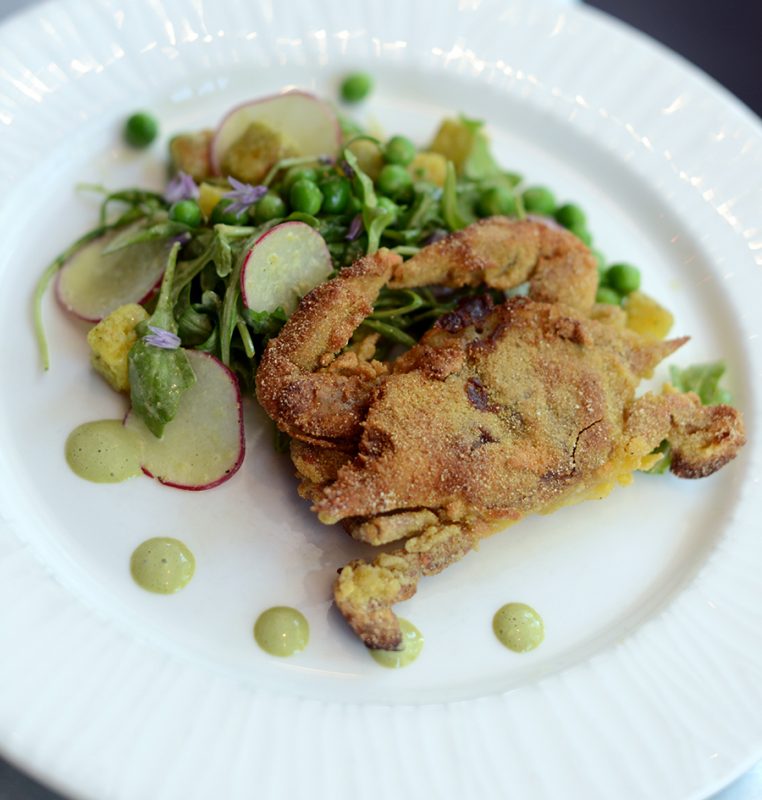 Courtesy of Foreman Wolf
CH-CH CHANGES
Johnny's: Changes are on the horizon at this Roland Park mainstay, which has been serving up its signature comfort food with West Coast flair since it debuted in 2012. Inspired by co-owner Tony Foreman's fond memories of family dinners at seafood restaurants as a kid, the restaurant has recently revamped its menu to focus on oceanic offerings. Executive chef Shane Freeland—formerly of Johnny's sister-spot, Cinghiale—now presents dishes including Maryland crab soup, peel-and-eat shrimp, soft-shell crab, and pan-fried crab cakes with carrot coleslaw. Aside from the seafood specialties, the menu also lists a "Landfood" category with eats such as Maryland fried chicken, smoked baby back ribs, and an angus burger. Despite the menu overhaul, the restaurant's signature coffee, espresso, and pastry program will remain a staple. 4800 Roland Ave., 410-773-0777
Arômes: This quaint Hampden BYOB has become known for its multi-course tasting menus crafted by French-born chef/owner Steve Monnier. But next week the restaurant will be switching gears, foregoing its prix-fixe formula in favor of a la carte offerings. Starting on May 25, Monnier will debut a classic bistro menu featuring dishes such as a market salad with oyster vinaigrette, onion soup with a sourdough crouton, monkfish with crème fraiche, and lavender-glazed duck breast. Desserts of note include classics like a chocolate tart and strawberry Napoleon. 3520 Chestnut Ave., 410-235-0035
Mad River Baltimore: It's the end of an era for Federal Hill revelers who have made this South Charles Street staple their go-to hangout over the past decade. Earlier this week, operation partners Andrew Wheeler and David Yike announced that the multi-level lounge would be undergoing a large-scale rebrand in the coming months. "It's all good things," Wheeler tells us. "We're not walking away from the building, but we feel it's just time to go in a different direction." Although the partners are keeping details about the new concept under wraps, they say that they're excited to give Mad River a proper sendoff this weekend. This Saturday night after Preakness, head to the bar for one last blowout featuring guest bartenders, drink specials, and DJ entertainment. 1110 S. Charles St., 410-727-2333
RegionAle: Just in time for summer, this new Ellicott City sandwich shop has added a lineup of refreshing wine slushies to its menu. Kick back on the eatery's newly opened outdoor patio while sipping varieties like strawberry-lemon with Pinot Grigio and coconut-lime blended with basil and ice. To celebrate National Wine Day on May 25, the discounted drinks will run for $4 throughout Memorial Day Weekend. Aside from the slushies, the shop has also added a summer-inspired Maine Lobster Roll to its list of seasonal offerings. 5705 Richards Valley Road, Ellicott City, 410-465-0505
COMING SOON
Haenyo: This new pop-up from local industry veterans Irvin Seo and Collin Morstein will begin hosting one-night Korean street food dinners throughout the city beginning on Memorial Day. The inaugural event held at Holy Crepe Cafe in Canton on May 29 will feature a lineup of authentic eats handcrafted by Seo—who recently returned from a month-long trip to Korea. The casual, counter-service dinner will be BYOB, and showcase items like banchan (small dishes served over rice), lettuce wraps, and Korean-style pancakes including "haemulpajeon"—a seafood iteration dedicated to the haenyo (female divers) of Korea's Jeju Island. 2929 O'Donnell St., 5-10 p.m.
The Chasseur: Be on the lookout for a brand new top-level space debuting at this Canton favorite in late July. Management has added an entire third floor to the building, which will act as an indoor-outdoor space with retractable garage-style doors that lead out to a patio boasting high-top tables, television screens, and a fully-stocked bar. The spot—which features burgers, salads, and hearty New American entrees—will also roll out a full raw bar menu in conjunction with the debut of the patio. 3328 Foster Ave., 410-327-6984
NEWS
Gnocco Chef Recognized by Zagat: Gnocco executive/chef owner Brian Lavin received some national love last week when he was recognized as a semi-finalist for Zagat's acclaimed 30-Under-30 list. Lavin is best known for preparing forward-thinking Mediterranean cuisine at his Highlandtown restaurant, which celebrates its one-year anniversary next month. The list recognizes exceptional talent in hospitality markets across the country and will be narrowed down to 45 finalists in June with the winners being announced in September. 3734 Fleet St., 443-449-6540
Lobster Roll Fridays Return to The Corner Pantry: As temperatures rise, this Mt. Washington community spot is bringing back its Maine lobster roll special on Fridays throughout the summer. Starting on May 26, chef/owner Neill Howell will be serving up five ounces of warm lobster meat tucked inside a toasted brioche bun with fries and a pickle for $28. 6080 Falls Road, 667-308-2331
BREWERY BUZZ
Dogfish Head Brewings & Eats: It's been a big year for Dogfish Head Brewing co-owner Sam Calagione, who recently clinched a James Beard Award for Outstanding Wine, Spirits or Beer Professional. On top of the national acclaim, Calagione recently announced that Dogfish Head's flagship brewpub in Rehoboth would be relocating to expanded digs next door. Dogfish Head Brewings & Eats—the new 6,300-square-foot space on Rehoboth Avenue—will feature the brand's signature craft beers, pub grub, and live music in a revamped space complete with soaring walls, cozy booths, and oversized fishbowl glass windows that allow for lots of natural light.  The space, which opens on May 19, will pair cocktails and Dogfish beers (think SeaQuench Ale and the 90-Minute IPA) with bites like seafood tacos, Buffalo chicken mac and cheese, and pizza out of a hearth oven. 320 Rehoboth Ave., Rehoboth, DE, 302-226-2739
Nepenthe Homebrew: This home-brewing supply shop in Woodberry's Meadow Mill complex is making moves to a larger home in 2018. After experiencing two floods in the store's current location, husband-and-wife owners Brian Arnold and Jill Antos have decided to relocate Nepenthe to an expanded 11,000-square-foot property nearby on Falls Road. Aside from selling the brand's signature beer-making tools, the new space will also house a brewpub with a full kitchen and its own 10-barrel brewhouse.  3622 Falls Road
Union Craft Brewing: In yet another expansion, Nepenthe's neighbors Union Craft Brewing also recently announced that they would be moving to a larger facility in the neighborhood. The beloved brewery, whose logo has become a ubiquitous Baltimore symbol, will set up shop in a 138,000-square-foot Medfield warehouse that is expected to be up and running by spring 2018. Aside from providing additional production areas, the new digs will also make way for Union Collective—an 87,000-square-foot makerspace adjacent to the brewery that will allow local creatives, nonprofits, and small businesses to produce and sell their products on site. 1700 W. 41st St.
EPICUREAN EVENTS
Crabs and Crushes at Wit & Wisdom: To complement the harborfront views at Wit on the Water—the trendy outdoor patio at Wit & Wisdom inside the Four Seasons Hotel—executive chef Zack Mills has crafted a special crab feast menu to be offered throughout the summer season. Snag one of the patio's new picnic tables—which come complete with plenty of mallets and other crab-picking tools—to crack steamed crabs and sip signature cocktails (including a house frozen Orange Crush) while soaking up some sun this summer. In addition to the requisite Old Bay-steamed blue crabs, the new menu also includes spicy peel-and-eat shrimp, crispy soft shell crabs, and an array of seasonal sides. 200 International Drive. 410-576-5800
Origins: A Speakers Series: This monthly sustainability series returns to Artifact Coffee on Thursday, May 25 with a roundtable discussion on preserving, pickling, and fermenting. Cozy up in the restaurant's private space to hear insight from Gordy's Pickle Jar co-owners Sheila Fain and Sarah Gordon, Hex Ferments co-owners Meaghan and Shane Carpenter, and Lauren Sandler—the director of preservation at Foodshed. Following the panel, stick around for a family-style meal inspired by the evening's topic of discussion. 1500 Union Ave., 410-235-1881, $60