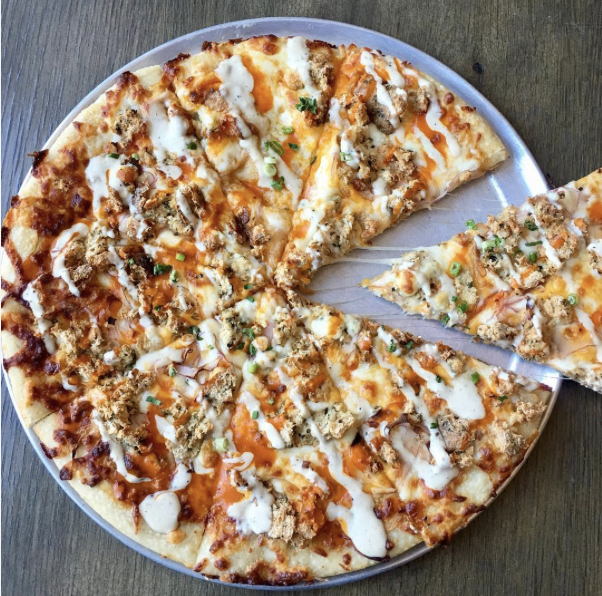 @8ballbargrill via Instagram
NEWS
NuBohemia Cafe: The days are numbered for this celebrated coffee and arts venue, which has been a staple in the Mt. Vernon community for the past five years. Earlier this week, owner Jay Rags took to Facebook to announce that the cafe would be closing this summer. "The reason for us closing without a new home is a simple one," the post reads. "We 'settled' for the location we are in now, and made the best of it. We do not want to continue with that philosophy moving forward. Until we find a location that makes sense to us, we will take a break." Though this isn't the last we'll be seeing of NuBohemia, an official closing date for the shop in Mt. Vernon has been set for June 1. In the meantime, be sure to stop in to browse the cafe's collection of local artwork while sipping fresh-brewed coffees and teas. 42 W. Biddle St., 919-408-7723
Camden Yards Announces New Vendor Lineup: Orioles fans should be on the lookout for some familiar food concepts while backing the birds at Camden Yards this season. Among the new local eateries setting up shop inside the stadium include Corned Beef Row mainstay Attman's Deli, Ocean City-based Boardwalk Fries, Mount Vernon Marketplace favorite Pinch Dumplings, and longtime Baltimore County pizza purveyor Pizza John's. Beer lovers will also be happy to hear that Free State Pub, known for its hyper-local craft beer lineup, has expanded its presence in the park. 333 W. Camden St.
COMING SOON
B.C. Brewery: A grand opening date has finally been set for this family-friendly taproom in Hunt Valley, which was formerly referred to as at Balt County Brewing. (Owner Rich Mak recently decided to shorten the name to avoid possible legal issues with other local breweries that use similar monikers.) The 12,000-square-foot facility and taproom will officially open its doors on Saturday, April 14, boasting warm woods, strung lights, group games like corn hole and bocce, a serve-yourself beer wall, and even its own food truck parked outside. Head brewer Jim Wagner will offer 25 taps filled with signature releases including the M2 Imperial New England Pale Ale, End of Summer Dark Mexican lager, Soul Reed Chocolate Double Rye porter, and the Paw Paw New England India pale ale. 10950 Gilroy Ave., Ste F., Hunt Valley, 443-391-3847
The Common Kitchen: Come summer, Howard County residents won't have to make their way to Baltimore to experience the communal food market concept at hotspots like the Mount Vernon Marketplace or R. House in Remington. The county's first-ever food hall is slated to debut inside Clarksville Commons—the new sustainable, mixed-use project from local developers George and Holly Stone—in the coming months. Though the vendor lineup has yet to be solidified, the 6,000-square-foot space will feature 10 stalls, as well as a bar selling coffee and cocktails. The market is expected to seat 50 guests inside, and feature garage-style doors for al fresco dining throughout the warmer months. Stay tuned for more details. 12240 Clarksville Pike, Clarksville.
POP-UP PRESS

TO 4/1: The Local Fry at R. House
There's still time to catch this fan-favorite Federal Hill fry shop at R. House. Throughout the weekend, husband-and-wife duo Kevin and Elizabeth Irish will be serving up a special menu of their signature loaded fries, banh mi sandwiches, and rice bowls for foodies grazing at the market. You can't go wrong with eats like honey Old Bay tofu bites, a bulgogi banh mi loaded with pickled daikon and carrots, or the classic Local Fry basket topped with taco beef, shredded cheddar, and a spicy sauce. 301 W. 29th St.
4/2: Haenyo at Forno
It's only fitting that this Korean-fusion pop-up would partner with Everyman Theatre to celebrate the company's current run of Aubergine—a play that chronicles the life of a Korean chef and his ailing father. To honor the story, Haenyo chefs Collin Morstein and Irvin Seo are transforming Italian restaurant Forno (Everyman's neighbor) into a Korean kitchen for one night only. The evening's menu will include authentic offerings commonly served in Korean-American homes, such as a traditional muguk dish with dumplings and roasted fish. 17 N Eutaw St., 5-10 p.m., $8-25, 443-873-9427
SHUT
8 Ball Bar & Grill: Fells Point locals are going to have a tough time saying goodbye to this neighborhood favorite, which opened in the former home of Tapas Adela on Broadway just two years ago. Earlier this week, management announced that the Italian eatery would be closing its doors for good on Monday, April 2. "It is with heavy hearts that we announce we have accepted another offer on our location and this week will be our last," reads a statement posted to Facebook. "We love Baltimore and Fells Point, and we truly believe we are leaving you all in good hands with the next group." There's no word yet on who has taken over the space. Throughout its short-but-sweet run, 8 Ball became a destination for craft cocktails, Detroit-style square pizzas, and a variety of meatballs in savory sauces. 814 S. Broadway, 443-759-5315