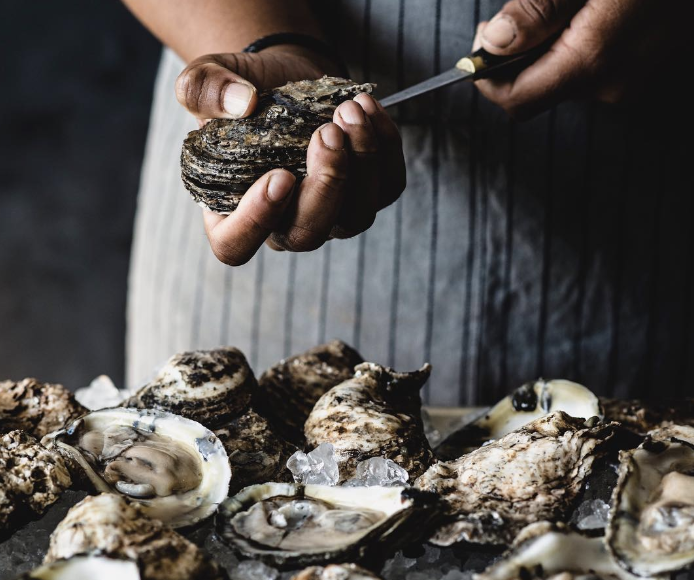 @theurbanoyster via Instagram
OPEN
Patterson Public House: Patterson Park locals may have noticed fresh signage at the corner spot that formerly housed BistroRx. Last week, new owners Tanya Gralto and Scott Lanphear reopened the space as Patterson Public House—a neighborhood tavern serving seasonal pub fare. Highlights on the summer menu include a cherry salad with whipped goat cheese, Cape May tilefish with chanterelle mushrooms, and a soon-to-be signature Public House burger topped with local tomato and Amish cheddar. Patterson Public also features an expansive list of house cocktails and local draft beers from the likes of Monument City and The Brewer's Art. 2901 E. Baltimore St., 443-388-9887
COMING SOON
1817: Although the brand new Guinness Open Gate Brewery & Barrel House in Halethorpe will officially debut to the public on Friday, August 3, patrons are going to have to wait a bit longer for its third-floor restaurant to officially open for business. Named after the year that Guinness was first brewed, 1817 will offer a menu of Maryland classics alongside Irish staples. Expected to open next month, the beer bar will feature a Dublin-inspired pub feel and overlook the property's pint-glass landscaped lawn. 5001 Washington Blvd., Halethorpe.
Poulet: Lutherville locals will be happy to hear that Poulet, the popular take-out spot off of Falls Road, will be opening a second location in the former Famous Dave's space in Timonium this fall. Owner Jonathan Soudry recently told the Baltimore Business Journal that the new eatery will maintain its cafeteria-style service and offer nearly 200 seats. Diners can look forward to Poulet's signature meats (think rotisserie chicken pulled pork), sides, and housemade ice cream, as well as beer, wine, and cocktail offerings. 2235 York Rd. Timonium.

True Chesapeake Oyster House: Earlier this week, partners Nick Schauman of The Local Oyster and Patrick Hudson of True Chesapeake Oyster Co. announced that they would be teaming up with chef Zack Mills to open a new restaurant at Whitehall Mill next year. Mills—who left his longtime post at Wit & Wisdom inside the Four Seasons in June—says that the Chesapeake fare will continue his passion for regional cuisine. "We really want to showcase what Maryland is doing for us," he says. "That's something that has always been near and dear to my heart." Slated to open in early 2019, the 100-seat restaurant will feature an Americana vibe with a full bar and 50-seat patio. 3300 Clipper Mill Rd.
NATIONAL OYSTER DAY SPECIALS
8/5: National Oyster Day at Mt. Washington Tavern
This Sunday, head to Mt. Washington Tavern for an afternoon event supporting the Oyster Recovery Partnership. For every oyster sold from 2-5 p.m., 10 spats (baby oysters) will be planted in the Chesapeake Bay. Enjoy the beloved bivalves raw, grilled, or shooter style while sipping discounted Heavy Seas and Manor Hill beers. 5700 Newbury St. 2-5 p.m., 410-367-6903

8/5: Oyster Day Patio Party at Gunther & Co.
Gunther & Co. in Brewers Hill is hosting another fundraiser for the Oyster Recovery Partnership this weekend. Soak up some sun on the patio while slurping oysters every which way—raw, roasted, and fried—and sipping beers from Oliver Brewing Co. There will also be live music spun by DJ Impulse, and guests will have a chance to mingle with visiting oystermen from Virginia's Sapidus Farms. Admission is $45 with $5 of every ticket being donated to the Oyster Recovery Partnership. 3650 Toone St. 3-5 p.m. $45, 443-869-6874
TO 8/19: Urban Oyster Pop-Up at R. House
Swing by the rotating pop-up stall at R. House in Remington to visit Urban Oyster owner chef Jasmine Norton, who will be slinging her signature 'sters. Whether you like them chargrilled, on the half shell, or bundled into a po' boy, the ongoing pop-up provides plenty of ways to celebrate the foodie holiday in style. 301 W. 29th St.
SHUT
Parts & Labor: Since the news broke that Spike and Amy Gjerde's meat-focused restaurant in Remington would be closing its doors on August 5, neighbors have been flocking to the spot for one last steak and a final beer around the fire pit out front. Gjerde, who calls the project "a deep dive into local meat," says that there was a struggle to stay profitable due to the high costs of practicing whole-seam animal butchery. "We probably held on a lot longer than most people would have," he told us earlier this week. "We realized we were having trouble paying the growers—and that's not why we are here. We were in major arrears, but at this point it's a break-even scenario."
Although this weekend will be the last for locals to order from the regular menu, the Parts & Labor team will be operating a pop-up bar in the space for the next 60 days beginning on Wednesday, August 8. Open Wednesdays-Sundays from 4-10 p.m., the kitchen will feature daily culinary specials ranging from burgers and porchetta sandwiches to a fish fry and a whole pig roast. Of course, there will also be plenty of spirits and beers to go around. 2600 N. Howard St. 443-873-8887