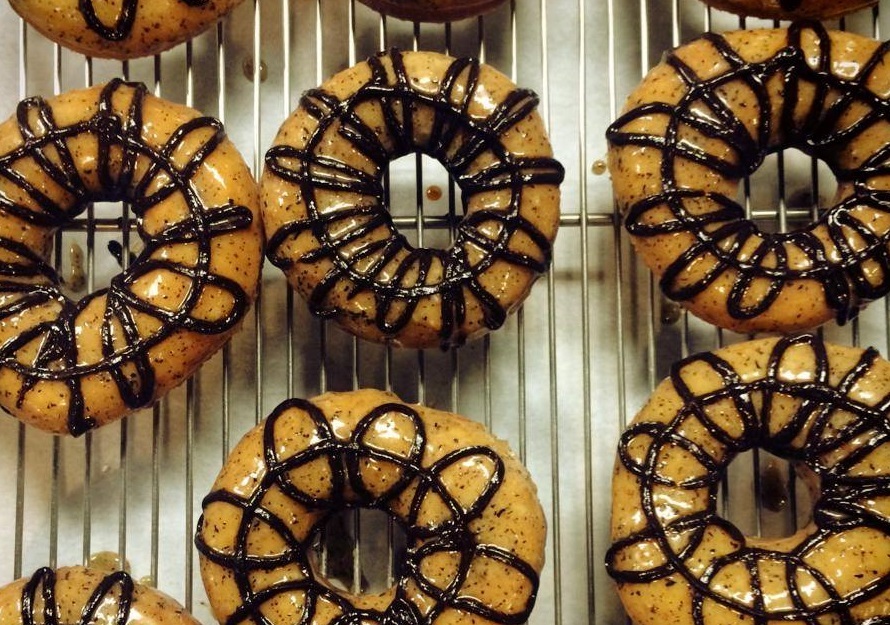 Courtesy of The Bun Shop
(RE)OPEN:
Bottega: After a six-month hiatus, this cozy BYOB is back up and running in Station North. Last spring, owner Adrien Aeschliman announced plans to move his 20-seat restaurant to a bigger space with a liquor license in Hampden, but due to unforeseen financial issues he ultimately decided to stay put. Bottega re-opened earlier this month, serving its rotating menu of Tuscan-inspired crostinis, pastas, entrees, and desserts. 1729 Maryland Ave., 443-708-5709
OPEN:
Pie Five: It seems like customizable pizza shops are cropping up left and right, and the newest one made its way onto the scene in Ellicott City earlier this month. This fast-casual eatery allows diners to choose from a variety of crusts (whole grain, artisan thin, gluten-free, and classic pan), sauces, cheeses, meats, and veggies, and—as its name indicates—ensures that each pie is baked in less than five minutes. 9525 Baltimore National Pike, Suite 100, Ellicott City, 443-420-7700
Primanti Bros.: Thanks to a new location that opened in Hagerstown last week, foodies no longer need to trek to Pittsburgh to satisfy cravings for an overstuffed Primanti Bros. sandwich. The Steelers fan favorite hoagies topped with French fries and hearty meats appear on the expansive menu alongside game-day fare like pizza, wings, chili, and nachos.17301 Valley Mall, Hagerstown, 301- 228-0933
Sweetgreen: This D.C.-based salad shop got off to a good start in Harbor East yesterday by donating 100 percent of its opening day proceeds to the Living Classrooms Foundation. Sweetgreen's menu offers DIY options as well as signature salad combinations like curry cauliflower with quinoa and roasted turkey with Brussels sprouts. The chain also specializes in refreshing teas and seasonal soups. 1306 Fleet St, 410-537-5006
COMING SOON:
Cosima: Be on the lookout for this new spot from local restaurateur Donna Crivello opening in Mill No. 1. Slated for a January debut, the Donna's Café sister-restaurant will highlight rustic décor and focus on authentic Sicilian dishes such as rice fritters, fried fish, stuffed calamari, and Italian donuts. 3000 Falls Road, 443-708-7352
Das Bier Haus: The former home of Langermann's on Light has sat vacant since September 2014, but will soon be transformed into this authentic German pub. Owners Scott Bauer and Nathan McKinney plan to serve classics like bratwurst, kielbasa, soft pretzels, and brisket along with German and local craft beers by the stein. Expected to open in Federal Hill the second week in December, the space will feature a revamped look and tons of communal seating. 1542 Light St.
CH-CH CHANGES:
The Bun Shop: This artsy Mt. Vernon cafe, known for its wide array of sweet and savory pastries, is expected to launch its second location at the end of November. The new Inner Harbor spot will feature an expanded kitchen and offer The Bun Shop's signature tarts, puffs, empanadas, donuts, coffees, and teas.32 Light St.
Nacho Mama's: Not only will Nacho Mama's be staying in its Canton digs, but the restaurant is also expanding to Towson in 2016. Shortly after reaching a consensus in a drawn-out lease dispute with their landlord, owners Jackie McCusker and Phil Gelso announced plans to open a second Nacho Mama's location on the corner of York Road and Pennsylvania Avenue. Pending liquor board approval, the 6,700-square-foot spinoff will debut in the spring, highlighting the haunt's signature Tex-Mex classics and Elvis-themed décor. 2 W Pennsylvania Ave., Towson
SHUT:
Poncabird Pub: Located at the intersection of Ponca Avenue and Holabird Street, this Dundalk pub has been a destination for burgers and beer for more than 30 years. In a message posted to Facebook last week, owners announced that Poncabird Pub would be closing its doors on November 15. No word yet on the reasons for the closure or what will become of the space in the months ahead. 1719 Poncabird Pass, 410-631-7530