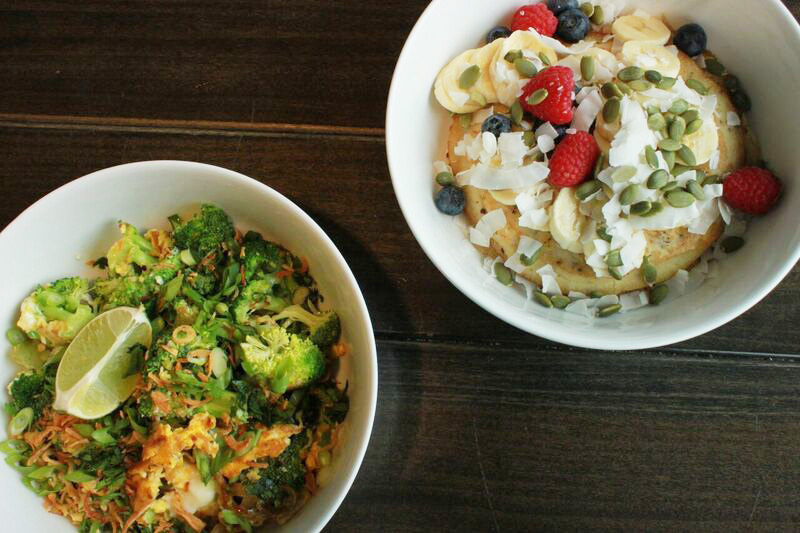 Photography by Stephanie Hsu
EPICUREAN EVENTS
R. House Brunch: Just when we thought Remington's new communal food hall couldn't get any more enticing, the marketplace is launching a brand-new weekend brunch program.  Starting this Saturday, April 22, five of the market's stalls will introduce mid-morning menus to be offered from 10 to 11:30 a.m. Dishes will include updated breakfast sandwiches from Ground & Griddled; traditional sabah pita filled with hard-boiled egg, eggplant fries, and hummus at Arba; over-easy eggs atop yucca hash browns at White Envelope; authentic Hawaiian loco moco and sushi breakfast burritos at Hilo; and vegan donuts and smoothie bowls from Stall 11. R. Bar will also unveil a brunch cocktail list featuring a house Bloody Mary with mezcal and Old Bay olives, and a sangria rosé that uses Mobtown Fermentation's Wild Kombucha. 301 W. 29th St., 443-347-3570
Harbor Market: Instead of brown bagging-it at your desk, make your way to McKeldin Square to get some fresh air during lunch this season. Waterfront Partnership's pop-up market will return on Wednesdays and Fridays from 11 a.m. to 2 p.m. starting May 5, with options like mac and cheese from Smoking Swine, crab cones from Gypsy Queen Cafe, bowls from Dooby's, steamed buns from Ekiben, and ice cream sandwiches from Cream Cruiser. Plus, make the most of your lunch hour by challenging a co-worker to a round of cornhole, ladder toss, Bearpong, or Jenga. McKeldin Square, Inner Harbor, Wednesdays and Fridays throughout October from 11 a.m. to 2 p.m. starting May 5.
International Dipping Cabinet at The Charmery: This go-to ice cream parlor on The Avenue in Hampden is all about using its unique flavors as a tool for community outreach. Next week, husband-and-wife owners David and Laura Alima are hosting an event celebrating the city's culturally diverse dining scene. On Wednesday, April 26 from 6-10 p.m., the shop will feature signature scoops inspired by local restaurants like Greek mainstay Souvlaki, Senegalese favorite Nailah's Kitchen, and Italian outpost Hersh's. With input from the partnering spots, The Charmery has crafted flavors such as Matcha with Azuki Bean Swirl as a nod to the Japanese heritage of Ekiben, and a variety fusing pistachio, rosewater, almonds, and dates to honor Afghani destination The Helmand. Ten percent of all of the evening's proceeds will be donated to the local chapter of the International Rescue Committee. 801 W. 36th St., 410-814-0493
OPEN
Charm City Cakes: Baltimore boy-turned-big name baker Duff Goldman has returned to his old stomping grounds to cut the ribbon at his new bakeshop in Harbor East. Charm City Cakes—Goldman's Remington bakery best-known as the subject of Food Network's Ace of Cakes—unveiled the new storefront at 618 South President Street in between Roy's and James Joyce earlier today. The shop will serve as a retail arm to peddle the bakery's signature brownies, cake jars, macarons, and cupcakes. 618 S. President St.
COMING SOON
Atlas Restaurant Group Expands at the Four Seasons: Atlas Restaurant Group founder Alex Smith tightened his grip on the Harbor East's dining scene earlier this month, with the announcement that he will be opening a new rooftop concept at the Four Seasons Baltimore. Slated to debut this fall, the 10,000-square-foot restaurant will seat 250 people, include three outdoor spaces, and offer killer views of the Baltimore skyline. Smith also operates Loch Bar and Azumi in the Four Seasons, as well as other community destinations Ouzo Bay, Harbor East Deli, and soon-to-open Tagliata. 200 International Drive.
Batch Bake Shop: Hamilton-Lauraville locals, who are still lamenting the loss of Hamilton Bakery on Harford Road, will be happy to hear that a new bakeshop will soon take its place. Expected to debut this spring, the remodeled shop will feature wooden furniture, modern exposed-bulb lighting, and large display cases filled with sweet treats. 5414 Harford Road.
The DockBar: The Boathouse Canton is preparing to once again unveil its adjoining outdoor patio just in time for al fresco dining season. DockBar, the dog-friendly pavilion ideal for summer sipping, will open on April 21. Guests are invited to enjoy the waterfront views while listening to live music, indulging in Bloody Marys, tipping back Orange Crushes, and sampling "frosé"—the bar's new offering that fuses rosé with frozen strawberry purée. Seasonal dishes to look out for range from cocktail shrimp and oysters on the half shell to Baja tacos and pulled pork sandwiches. 2809 Boston St., 410-773-9795
Wit on the Water: Another al fresco option is Wit & Wisdom's picturesque patio at the Four Seasons Baltimore. The outdoor concept will make its return for the season at a grand opening event on April 26, which will feature live music, cornhole, frozen cocktails, local beer, and crab dishes by executive chef Zack Mills. If you can't make it to the premiere, the 85-seat spot will be open throug October with a menu of specialty cocktails, Eastern Shore-inspired plates, and desserts by pastry chef Dyan Ng. 200 International Drive., 410-576-5800
NEWS
Mayor's Office Adds New Food Truck Zones: Mobile kitchens were granted more flexibility last week as Mayor Pugh designated 10 new food truck zones in high-pedestrian areas throughout the city. The zones—which sit at least 300 feet away from restaurants selling similar products and now include areas around Penn Station, Sinai Hospital, and Coppin State University—were first introduced in 2014 as a way to reduce competition between food trucks and surrounding brick-and-mortar businesses. Though the hope is that the additions will give trucks more room to grow, a lawsuit spearheaded by the owners of Pizza di Joey and Madame BBQ to revoke the 300-foot rule is still working its way through the city court system.
SHUT:
Lenny's Delicatessen: This weekend will be the last for regulars to get their fix of overstuffed reubens and jumbo hot dogs at Lenny's Deli on Corned Beef Row. After 26 years, owner Alan Smith has decided to turn over the lease at the Lombard Street staple. "It's just time," Smith tells us. Following its last service, the deli will be transformed into a temporary headquarters for the nearby Helping Up Mission, which provides assistance for locals struggling with homelessness and addiction. Smith has vowed to donate all of the eatery's existing furniture and equipment to the nonprofit while a $2 million renovation project is completed at its existing property around the corner. Two other Lenny's locations—the Owings Mills flagship and a storefront at the Baltimore Marketplace inside Horseshoe Casino—are still going strong.  "Whenever something is in your life for this amount of time and it goes away, there's definitely a feeling of loss," says Smith, who worked at Lennys' predecessor, Jack's of Lombard Street, for four years before taking over the space. "But it's not an unhappy situation. It feels good that I can do something positive."
Ware House 518: Owners Ezra Tilaye and Tegist Ayalew said goodbye to their contemporary restaurant in Mt. Vernon earlier this month, after managing the space for nearly seven years. Tilaye cites Ayalew's impending retirement as the primary reason for the closure, and says that he will now focus his efforts on the duo's D.C. concept, Creme. New owners Joshua Persing and Robert Gay have since gotten to work to transform the space into a new gay bar. Expected to debut April 28, the club will feature a West Coast vibe with small plates, sleek furniture, and live entertainment including drag brunches on weekends.