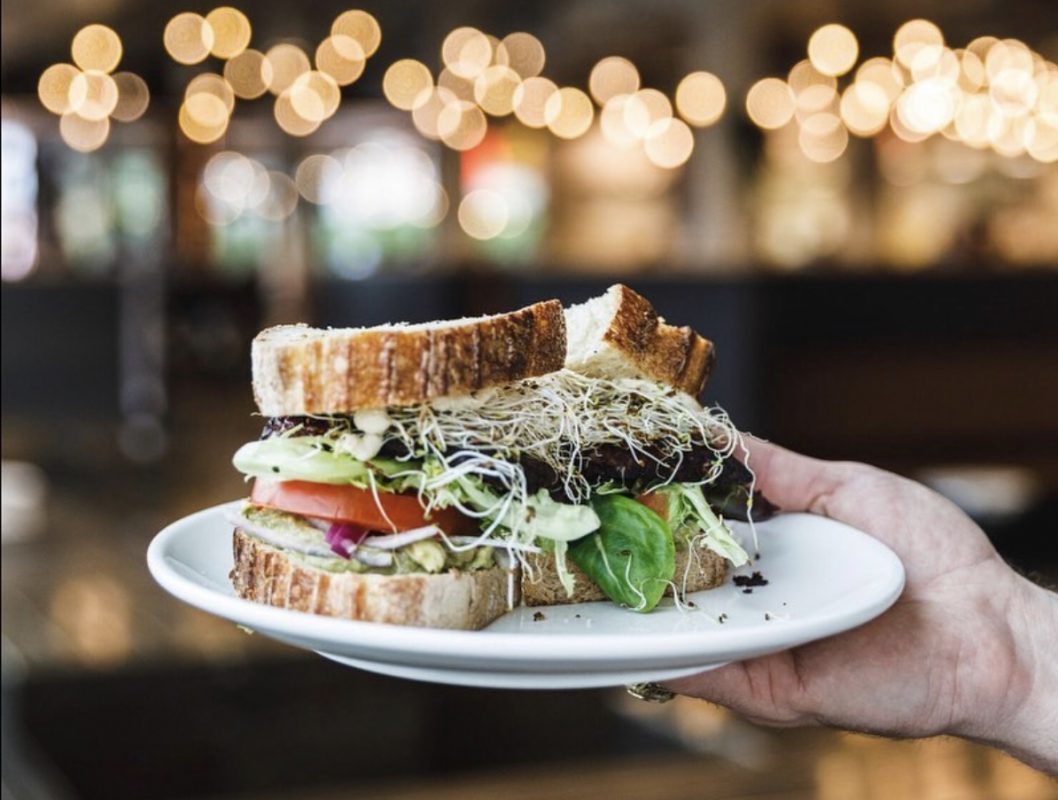 CH-CH CHANGES
STEM: It's going to be a big year for Urban Pastoral—the local development firm that specializes in high-tech urban farming. In the coming months, founders J.J. Reidy and Christian De Paco are planning to unveil 3,000 square feet of hydroponic greenhouse space inside a new learning center at Green Street Academy in West Baltimore. Once it's up and running, the project will not only serve as an educational tool for students, but it will also provide an estimated 25,000 pounds of leafy greens per year to local restaurants. The produce will certainly come in handy for STEM, the newly rebranded iteration of Reidy and De Paco's Stall 11 inside R. House in Remington.
Beginning this Sunday, January 12, the plant-based eatery will feature a redesigned counter experience, DIY bowls and salads, and a rotating roster of seasonal items. Although there will be many new options, Stall 11 regulars will be happy to hear that favorites including the Korean barbecue cauliflower, vegan mac and cheese, and avocado BLT will remain on the menu. "R. House was created as a launchpad for food entrepreneurs, and this is the evolution of our business and vision," Reidy said in a statement. "After three amazing years with Stall 11 at R. House, it was time for a change in concept. . .We can't wait for Baltimore to meet STEM and to share more of the delicious plant-based dishes that we know will become new favorites."
Friends and Family: Speaking of rebrands—and vegan and vegetarian options—Fells Point mainstay Sticky Rice is closing its doors on Tuesday, January 21 with plans to reopen as Friends and Family in March. Known for its sushi, tater tots, and wide array of plant-based options, the restaurant will soon transition into a breakfast-all-day concept that maintains its emphasis on vegan and vegetarian dishes. "As we settled into our tenth year of business, we have determined it is time to retire the current concept and expand on our core principles," managing partner Ginny Lawhorn, who will remain at the helm of the bar program, said in a statement.
Slated construction plans include renovated bathrooms, the removal of the large sushi bar to make way for more communal seating, and Lawhorn's curated installation of artwork by—you guessed it—friends and family of the business. The new name was also inspired by the building's former inhabitant, Friends—which Lawhorn and her husband, owner Ronnie Pasztor, describe as a cozy neighborhood dive bar. "Friends was a local favorite driven by comradery," Lawhorn says. "Sticky Rice built on that comradery with an inclusive menu and welcoming team. We are looking forward to expanding on these pillars and cultivating our place in the community."
Cunningham's: Yet another dining destination starting the decade with a refresh is this Towson hotspot, which closed its doors earlier this week. The farm-to-table restaurant will reopen this spring after a major redesign by Patrick Sutton and the expansion of its downstairs cafe. Executive chef Jay Rohlfing tells us that the decision was influenced, in part, by all of the retail and residential development happening in Towson. "We figured it was time to be part of that renaissance," he says. Though details about the new concept are still in the works, Rohlfing confirms that the locally sourced menu will emphasize American classics and the dining space will be downsized to include more bar seating. Read more here.
OPEN
Rooster & Hen: Just when we thought Cross Street Market had everything we could ever want (from pizza and beer to pho and Haitian cuisine), the newly renovated Federal Hill staple now boasts its own mini grocery store. Located just off of the Light Street entrance, the new "market within the market" offers a selection of produce, flowers, dairy, snacks, baked goods, and prepared foods for diners to grab on the go. Husband-and-wife owners Joe McRedmond and Allison Smith, who started Rooster & Hen in Catonsville in 2016, will also use their new space to continue Lucky Pantry—the store's home meal kit program that now offers pick-up at the market every Monday. The new space also features a full kitchen for the owners to host food pop-ups, cooking classes, and other programs that contribute to their community-focused mantra.
The Veranda at The Milton Inn: Executive chef Brian Boston has launched an extension of this fine-dining den in Sparks. What was previously the outdoor patio is now The Veranda, an enclosed lounge highlighting a stone fireplace and retractable roof for the warmer months. It will also be a venue for live jazz and feature its own menu of drinks and small plates including crabmeat cocktail, charcuterie samples, and deconstructed s'mores that diners can roast at their tables.