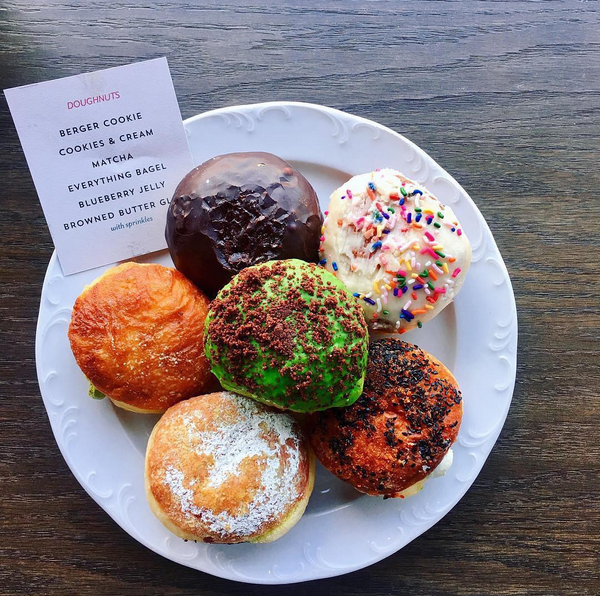 Courtesy of @sundaysbakhouse via Instagram
COMING SOON
Sundays Bakehouse: It's no secret that the doughnut trend is on the rise, and the team behind Dooby's in Mt. Vernon will soon unveil a new shop to satisfy sweet tooth cravings. Before Sundays Bakehouse cuts the ribbon on the Avenue in Hampden later this month, pastry chef Courtney Fix—who previously worked at B. Doughnut and Cunningham's—is taking her fluffy favorites on a pop-up tour around Charm City. At each stop, Fix will feature an off-menu pairing that meshes with the corresponding host (think doughnuts paired with cocktails at Rye on April 6, sausage-filled options at Snake Hill on April 13, and Japanese-inspired varieties to highlight the new brunch menu at Peko Peko Ramen on April 16.) The doughnuts will also be featured at Dooby's Wednesday through Sunday leading up to the grand opening date, which will be announced in the coming weeks. 802 N. Charles St., 410-609-3162
Iron Rooster: The adjoining properties that formerly operated as The Greene Turtle and Piaza Fresh at McHenry Row in Locust Point will soon house this beloved breakfast-all-day spot. Iron Rooster, which debuted in Annapolis three years ago and quickly expanded with locations in Canton and Hunt Valley, is expected to open its fourth location in the 20-acre mixed-use development this summer. The restaurant's menu highlighting house-made pop tarts, chicken and waffles, farm-to fork burgers, and colorful salads, will carry over into the new space—which neighbors other local eateries Samos Greek Island Grille and Ruby 8 Noodles & Sushi. 1606 Whetstone Way
LB Skybar: Though it might not seem like it today, rooftop deck season is officially upon us and the Lord Baltimore Hotel is gearing up to reopen its 19-story-high patio on April 21. The swanky space showcases lounge furniture, sweeping skyline views, and occasional live music and DJ entertainment. Plus, the bar will be home to a new menu of seasonal bites (think shrimp salad sliders and charcuterie plates) and cocktails including a classic mint julep and the "Harbor Breeze," fusing vodka, pineapple juice, and passionfruit juice. 20 W. Baltimore St., 855-539-1928
OPEN
Greenmount Coffee Lab: Last month, Open Works—the new 34,000-square-foot incubator space for local artists in Station North—welcomed this new cafe from the worker-owned cooperative behind Red Emma's Bookstore. The eatery is now officially open to the public, offering a full coffee and tea bar paired with vegan pastries, locally sourced salads, and other light snacks. In keeping with Open Works' mission to support the local maker movement, the space is also equipped with its own roasting facility, which will help further operations for the collective's wholesale business Thread Coffee. 1400 Greenmount Ave.,
JBee's Jamaican Me Crazy: Remington's new communal food hall R. House has put its designated pop-up stall to good use lately, hosting vendors ranging from D.C.-based soup purveyor Prescription Chicken to an Asian fusion concept from the dudes behind Ekiben in Fells Point. Now, R. House is adding Jamaican fare to its list of options, as this local food truck settles in the stall until April 16. Foodies are invited to sample dishes including chicken curry, Jamaican jerk chicken, and jerk fish platters over rice while strolling around the modern food hub. 301 W. 29th St.
Philly Pretzel Factory: Charm City locals no longer have to trek to up north to snack on authentic soft pretzels, thanks to this new eatery that recently landed in Harborplace's Light Street Pavilion. The first Baltimore location of the Philadelphia-based chain peddles varieties like cinnamon pretzel twists and bite-sized nuggets, as well as specialty items such as pretzel-wrapped hot dogs and pretzel-stuffed cheesesteaks. Plans to expand throughout the area with other locations in Bel Air and White Marsh are in the works. 301 Light St., Ste. 626, 410-230-0063
CH-CH CHANGES:
Holy Crepe Cafe: Under new ownership, this Canton Square destination now offers late-night hours and additional menu items. Since taking over the business last year, recent UMBC graduate Matthew Berry has gotten to work expanding the shop's offerings to include crepe flavors like pizza, buffalo chicken, and black bean burger, as well as sweet options like s'mores and the "Reese's Witherspoon." The multi-level BYOB spot, which also focuses on high-end coffees, is now open from 9 p.m. to 3 a.m. on weekends to cater to Canton's late-night crowd. 2929 O'Donnell St., 443-438-5510
EPICUREAN EVENTS
April in Paris: Gather with friends and neighbors at this annual outdoor event hosted by Petit Louis Bistro in Roland Park. The springtime festival in the parking lot out front features live music, an all-inclusive brunch menu, requisite glasses of wine, and even its own Eiffel Tower perfect for snapping pictures. 4800 Roland Ave., 410-366-9393, $29-49
Hello Kitty Cafe Truck: Fans of pop-culture phenomenon Hello Kitty will be excited to hear that the franchise's food truck will be popping up at The Avenue in White Marsh next weekend. Head to the parking lot in between AMC Theatres and Barnes and Noble on Saturday, April 15 to enjoy treats including cookies, macarons, and mini cakes. The truck also sells goodies like mugs, tee-shirts, and the cat cartoon's signature pink bow headband. 8125 Honeygo Blvd., White Marsh
SHUT
Camden Pub: Opening Day didn't feel the same without this Ridgley's Delight staple, which quietly shuttered its doors in February after more than 25 years in business. Second-generation owner Pat Liberto told The Sun that a decline in revenue, especially after the Baltimore Uprising in 2015, led to his decision to close. Regulars have been taking to social media to lament the loss of the sports bar, which was best known for its game-day watch parties, karaoke nights, and signature pub grub. 647 W. Pratt St.
Two Boots Pizza: This funky pizza parlor named after the geographical shapes of Italy and Louisiana closed its doors on Mt. Royal Avenue in Midtown last weekend. A sign posted to the front door announced the closure, though the reasons behind the decision still remain unclear. "We've had a great six years at this location and it's been a true joy to feed the MICA, UB, Bolton Hill and Mount Vernon communities," the sign reads. The restaurant has long been a favorite for students and locals alike to enjoy inventive vegan pizzas named after pop culture icons. Though management considered expanding with a location on the bottom-floor of a student-housing residence near Johns Hopkins Hospital last summer, that project never came to fruition. 1203 W. Mt. Royal Ave.