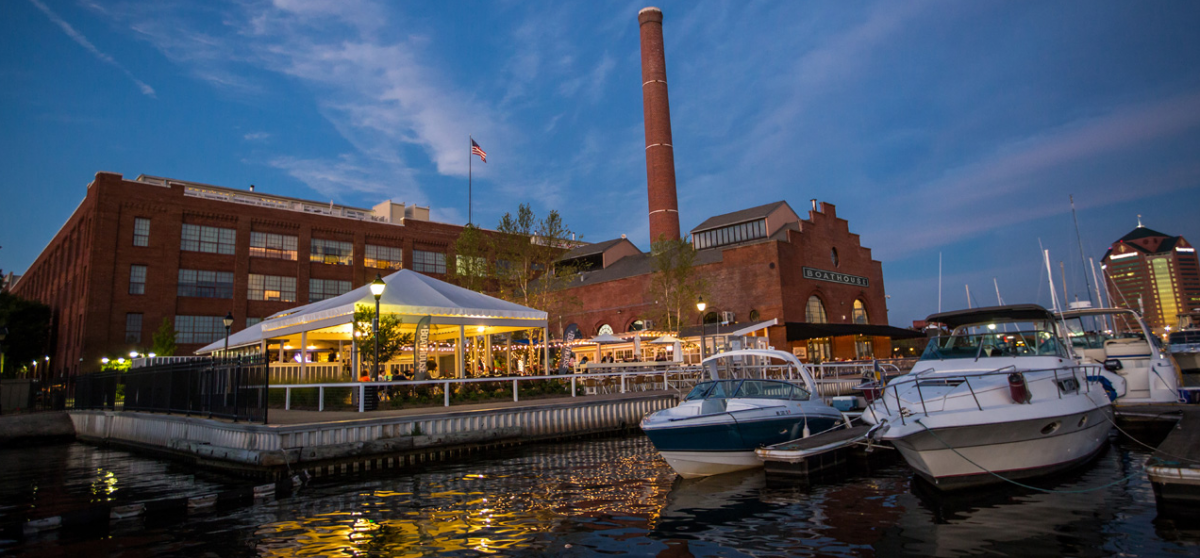 Courtesy of The Boathouse Canton
OPEN:
The Bun Shop: Known for its wide array of sweet and savory pastries, this artsy Mt. Vernon cafe recently expanded with a bigger location downtown. Owners Minh Vo and Andrew Bui opened their second shop—which features a 75-seat interior with comfy couches, marble floors, and gold accents—at 22 Light Street last week. From Paraguayan empanadas to Vietnamese coffee, the cafe specializes in fusing international flavors into its signature puffs, pastries, donuts, coffees, and teas. 22 Light St.
The DockBar: Just in time for the return of outdoor happy hour weather, The Boathouse Canton unveiled a new menu to be served on its attached patio, The DockBar, which opened for the season last week. Guests are invited to take in the sweeping waterfront views while sipping the restaurant's signature Crushes and snacking on shared plates like crispy chicken sliders, prosciutto and fig flatbread, jerk chicken nachos, and grilled honey Old Bay wings. 2809 Boston St., 410-773-9795
Sammy's Enoteca: Fans of Sammy's Trattoria on N. Charles Street will be happy to hear that this spinoff from owner Samuel Curreri rolled out with a soft opening on the 600 block of S. Broadway in Fells Point last week. Decorated with intricate hanging lamps and sleek dark wood furniture, the restaurant will offer Boot Country specialties with a focus on small plates such as duck ravioli and squid-ink pasta. 623 S. Broadway
COMING SOON:
B-More Kitchen: A few months ago we told you about this new incubator that is slated to open in Govans this summer, providing budding food businesses with the space and tools to mass-produce their gourmet goods. Founders Eben Altmann and Jonathan Fishman recently announced B-More Kitchen's first wave of tenants, which will include local producers Bottoms up Bagels, Happiest Little Baker, Pie Time, Wholesome Nibbles, and Trisha's Almond Toffee, as well as Spike Gjerde's restaurant group Foodshed, which will utilize the space to enhance its canning and baking operations. The facilities—which include a 10,000-square-foot shared commercial kitchen, a bakery, cold and dry storage, office space, and a receiving area—can accommodate upwards of 60 members at full capacity. Stay tuned for more updates. 5604 York Road
La Food Marketa: After searching far and wide in hopes of expanding, Chad Gauss has finally landed the perfect space to build a new restaurant. The acclaimed chef and co-owner of The Food Market in Hampden signed a lease to open La Food Marketa in the 3,500-square-foot space that formerly housed Bella Vista in Quarry Lake at Greenspring, a mixed-use development in Pikesville. Gauss's new Spanglish-inspired spot will serve his takes on classic Central and South American cuisine. Come fall, the 105-seat space will see a revamped interior with custom banquettes, unique light fixtures, and a 10-seat counter facing an open kitchen. 2620 Quarry Lake Drive, Pikesville.
Smoothie King: While it might stand out like a sore thumb in the pack of locally owned restaurants that line the streets of Fells Point, this national smoothie chain will open a cozy 800-square-foot storefront on Thames Street this summer.The grab-and-go shop, which won't have any seating, will feature all of the brand's energy-enhancing flavors ranging from Greek Yogurt Pineapple Mango to Carrot Kale Dream. 1716 Thames St.
Stall 11: Yet-to-open Remington food hall R. House recently announced the second of 10 micro-restaurants that will set up shop in the 50,000-square-foot space when it opens its doors next fall. Chef Melanie Molinaro, formerly of Encantada, is set to open Stall 11, an upscale vegetarian concept that will serve plant-based dishes such as Korean cauliflower, sweet corn polenta with a smoked ragu, baby kale and black garlic Caesar salad, black bean brownies, and vegan cookies. Molinaro will also partner with the urban agriculture experts at Urban Pastoral to set up an on-the-go case with fresh greens and herbs, non-pasteurized tonics, and live culture yogurts. 301 W. 29th St., 443-347-3570
SHUT:
Playoff Sports Bar & Grill: This Reisterstown dive bar, which was known for its pub grub, weekly drink specials, and trivia nights, shuttered its doors last week for reasons that are still unknown. Multiple calls to the restaurant were not immediately returned. 11706 Reisterstown Road, Reisterstown