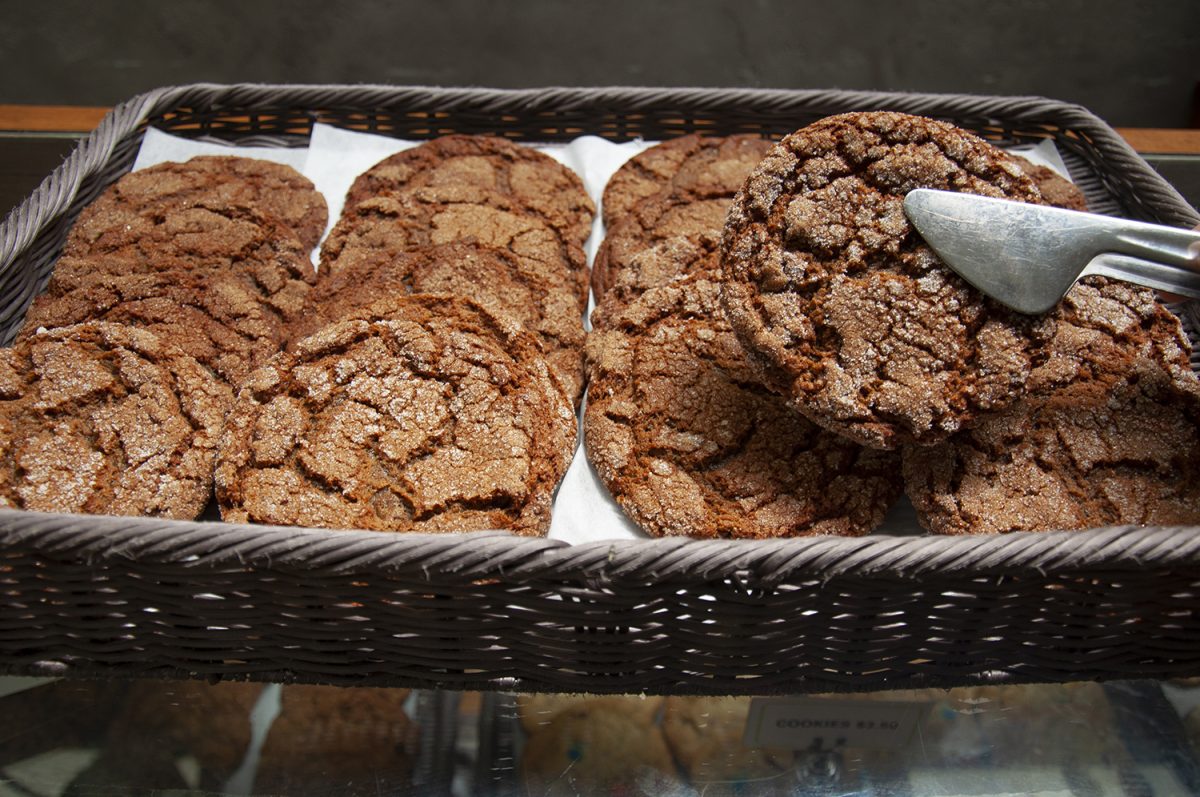 Courtesy of Johnny's
If there's ever a time to really flex your baking skills and resist the urge to buy pre-made cookie dough, it's the holiday season. It's tough to beat a spicy gingerbread or a classic chocolate chip this time of year, but if you're looking to add something different to the dessert spread at your holiday celebration—or impress friends and co-workers at your annual cookie exchange—these recipes from local pastry chefs are great alternatives.
Before rolling up your sleeves, make sure all ingredients are pre-measured, advises LaTosha Williams of Dessert Fantasies in Locust Point. Another pro tip? "Parchment paper is your friend," Williams says. "It keeps cookies from over-spreading and makes clean up easy."
After letting your fresh-baked beauties cool, Williams suggests storing them in an air-tight container at room temperature. If you're baking in advance of a party, consider sugar, butter, and gingerbread cookies—which she estimates typically keep for about three weeks. Now crank up the Christmas tunes, roll up your sleeves, and get baking with these festive favorites.
The Corner Pantry's Chocolate Crinkle Cookies

If the thought of baking treats from scratch seems daunting, this recipe from The Corner Pantry in Mt. Washington is great for getting your feet wet. "It's pretty full proof, even for a novice baker," says The Corner Pantry's pastry manager Lisa Hillring. "The added powdered sugar gives a nice finished touch without having to refine any skills or invest in any unique tools or ingredients. Plus, they melt in your mouth so win, win."
Ingredients:
1 cup all purpose flour
1/2 cup cocoa powder
1 tablespoon baking powder
1/2 teaspoon baking soda
2 oz. butter
4 oz. chocolate
1.5 cup brown sugar
3 eggs
1 tablespoon vanilla
granulated and powdered sugar, for rolling
Instructions:
1. Combine dry ingredients in large mixing bowl.
2. Melt butter, remove from heat and add chocolate. Return to low heat if it does not melt all of the way, stir continuously until melted. Set aside to cool.
3. In mixing bowl with whisk attachment combine brown sugar, eggs, vanilla and mix on medium speed for one minute.
4. With mixer running slowly, add melted chocolate.
5. Carefully fold wet and dry ingredients together.
6. Scoop dough to desired size, roll in granulated sugar, then powdered sugar.
7. Bake at 325 degrees for 10-12 minutes.
Crust by Mack's Almond Raspberry Shortbread Wreath Cookies

When it comes to holiday baking, local pastry chef Amanda Mack has one motto: "Go big or go home." Mack, who is popping-up at Whitehall Mill on weekends until Christmas in advance of the communal market's grand opening next year, says that her Almond Raspberry Shortbread Wreaths are perfect for swaps and gifting. "They're beautiful, buttery, and over the top with holiday cheer," she adds.
Ingredients:
3/4 cup (170 grams) Irish butter, salted and softened
1/2 cup (60 grams) confectioners' sugar
1/4 teaspoon (1 gram) vanilla extract
1 ½ cups + 2 tbsp (214 grams) all-purpose flour
1/4 teaspoon (1 gram) almond extract
2 tablespoons (24 grams) granulated sugar
1 egg white lightly beaten
2 oz. sliced almonds
1/2 cup of frozen raspberries
sparkling sugar for decoration
Instructions:
1. In the bowl of a stand mixer fitted with the paddle attachment, beat butter, confectioners' sugar, and vanilla at medium speed until creamy, three to four minutes, stopping to scrape sides of bowl.
2. Sift flour in a medium bowl. Reduce mixer speed to low. Gradually add flour mixture to butter mixture, beating until combined. Divide dough in half, and wrap in plastic wrap. Refrigerate for two hours up to overnight.
3. Preheat oven to 350°F (180°C). Line two baking sheets with parchment paper.
4. On a lightly floured surface, roll dough to 1/4-inch thickness. Using a three-inch fluted round cutter, cut dough into 12 cookies, rerolling scraps only once. Repeat with remaining dough.
5. Using a one-inch fluted round cutter, cut centers from cookies. Place cookies one-inch apart on prepared pans.
6. Using a pastry brush, lightly spread egg wash on cookies to decorate. Place sliced almonds and raspberries on cookies to simulate a wreath. Sprinkle generously with sparkling sugar.
7. Place baking sheets in the freezer to chill 10 minutes. This allows the butter and decorations to set and prevents over-spreading.
8. Bake 12 to 14 minutes until just lightly golden. Let cool completely on pans. Serve or store in an airtight container at room temperature for up to five days.
Flavor Tip: Sprinkle dried rosemary over cookies after decorating (before baking) for a beautiful flavor and scent. Yields one dozen.
Johnny's Ginger Molasses Cookies

This month, Roland Park mainstay Johnny's is once again transforming its cafe bar into a full-blown winter wonderland. Among the themed sweets that diners can look forward to in the decked-out space are the restaurant's famous Ginger Molasses cookies. "They have a wonderful holiday flavor, thanks to the ginger and a touch of pepper, but it's really the texture that takes these to the next level," says Johnny's pastry chef Clara Wesson. "They are unbelievably chewy and the cinnamon-sugar we roll them in is the finishing touch."
Ingredients:
8 oz. soft butter (two sticks)
2 cups brown sugar
1/2 cup molasses
2 eggs
1 1/2 teaspoons vanilla extract
4 1/3 cups all-purpose flour
2 teaspoons baking soda
1/2 teaspoon salt
1 1/2 teaspoons cinnamon
2 1/2 teaspoons ground ginger
1 teaspoon cloves
1 teaspoon black pepper (optional)
Instructions:
1. Cream the butter sugar and molasses together until light and fluffy.
2. Add eggs and vanilla until fully incorporated. Scrape down bowl after.
3. Add in dry ingredients in two additions.
4. Scrape down bowl again and mix until fully incorporated.
5. Scoop onto tray and roll in cinnamon sugar before baking.
Yields two to three dozen.