Light Lunch
Café Andamiro shines in Midtown.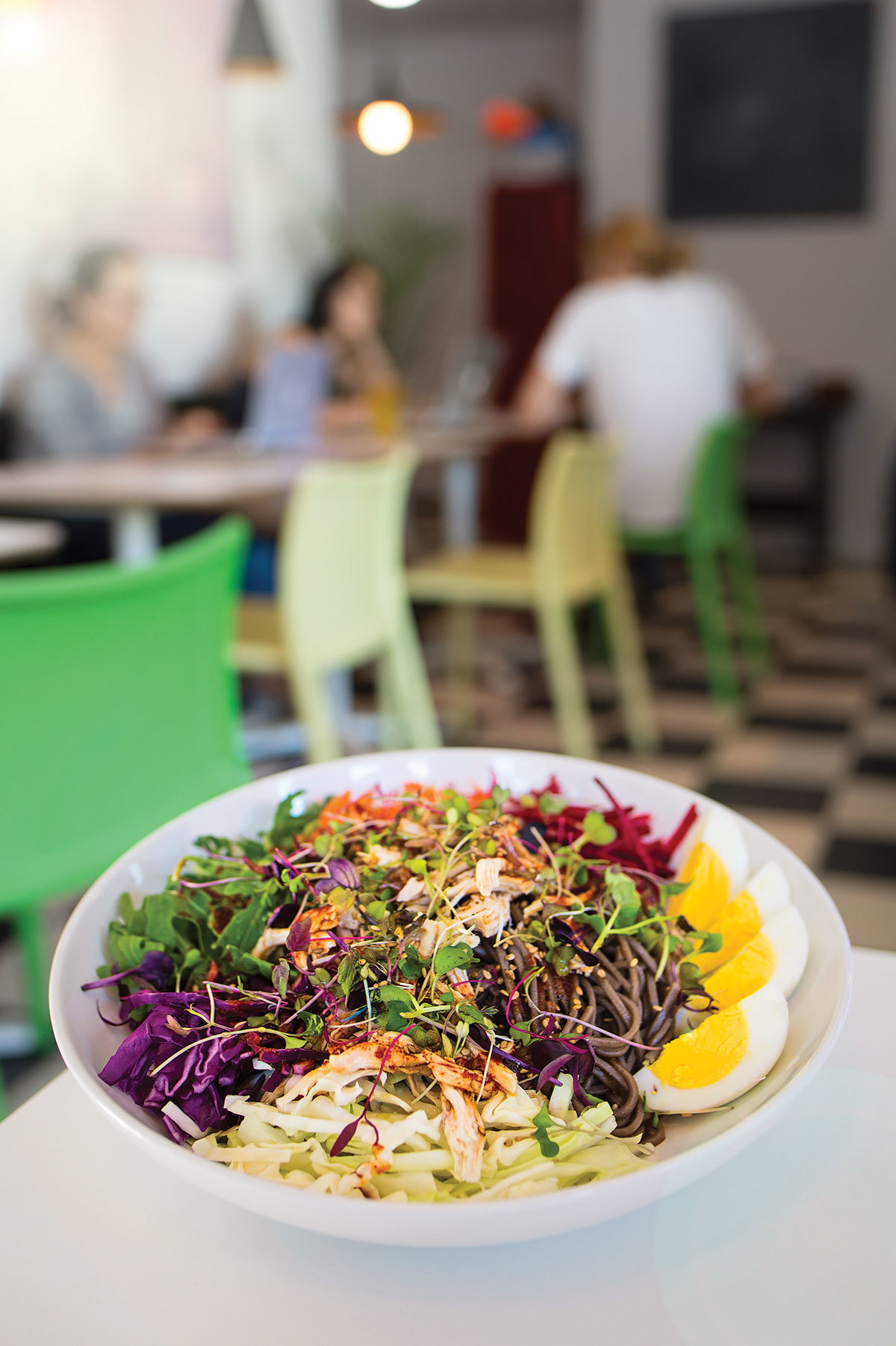 One balmy spring evening, as we were strolling through Mt. Vernon, we literally stumbled upon Café Andamiro. Despite the tiny lights glowing inside this dark pocket-size spot, there was little indication it was even a restaurant, other than a white logo on the glass door and a few employees who were closing up for the night. But we knew we had to return.
Not long after, we came back to find the place bustling and bright. Shoppers from the area's antiques and art boutiques stopped in for coffees, colleagues talked shop over lunch, and MICA students congregated to plan their weekends. Since opening last September, this little cafe on the southwestern edge of Midtown-Belvedere has become a warm, relaxed respite for the neighborhood's artistic crowd. There are few frills to the small space—just wide front windows, abundant greenery, and modern touches, like minimalist light fixtures and a colorful collection of local art.
But don't let the simplicity of the mini space and menu fool you. "Andamiro" means "overflow in abundance" in Korean, and the flavorful food does exactly that. Chef Ran Yun emigrated to the U.S. from South Korea in 2008 before moving to Baltimore for her daughter, Bomin Jeon, to attend MICA in 2012. Now graduated, Bomin acts as Andamiro's general manager while her siblings assist around the shop. Together, they fuse their rich homeland cuisine with a mix of American and European cafe standards.
While easy-to-indulge-in options abound—prosciutto sandwiches, pork belly platters, the prettiest avocado toast you'll ever see—go for the Seoul-inspired specials. The seasonal buckwheat noodle bowl was a delight to the senses, with its colorful ingredients taking us on a flavor and texture journey through chewy noodles, crunchy cabbage, creamy hard-boiled egg, peppery microgreens, and shredded chicken. A drizzle of homemade hot sauce was balanced by the sweetness of carrots and beets.
The bulgogi plate was another winner, with thin slices of marinated beef served with enoki mushrooms, kimchee cucumbers, and rice. The richness of the meat and the cool kick of the cukes made for a killer combo. Whatever the weather, don't sleep on the savory sweet potato curry soup, filled with fresh vegetables and feel-good turmeric spice. Their full-service coffee bar features a beautiful La Marzocco espresso machine for everything from frothy cappuccinos to dirty chai lattes to accompany a selection of pastries from Pâtisserie Poupon.
A few meals later and we think we've found our new spot to read the newspaper or bring a laptop. The staff is super friendly, the prices won't hurt your wallet, and the food is a fresh riff in an old neighborhood. We'd return just for a seat outside and an iced lemon ginger tea as a sweet-sour way to start our day.
---
›› Café Andamiro 241 W. Chase St., 443-453-9314. Hours: Tue.-Sun. 10 a.m.-8 p.m. Drinks: $2-5.70; lunch: $2-15; desserts: $1.50-3.50.