Review: Emma's Tea Spot
Keep calm and visit Emma's Tea Spot in Hamilton.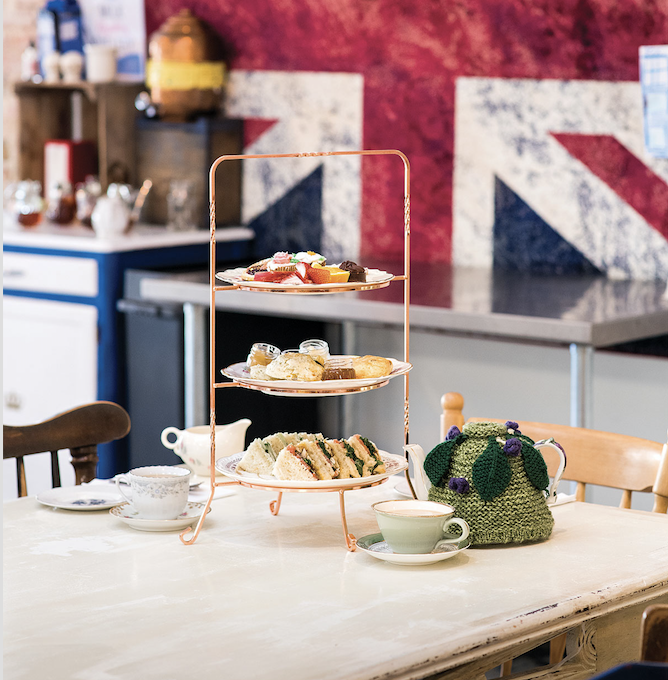 Even though we cut ties with our British overlords in 1776, a strong strain of Anglophilia has remained alive and well in America, occasionally even infiltrating the mainstream (see also: Abbey, Downton). Another flare-up is inevitable this month as American actress Meghan Markle marries Prince Harry, fulfilling the dream of many by going from Yankee commoner to a member of the House of Windsor. If all the royal hoopla makes you pine for Blighty—or if you're just looking for a good cup of tea and a hearty sandwich in charming surroundings—head to Emma's Tea Spot.
Open since last fall, Emma's bills itself as a "proper British experience," and it's hard to argue with that. Co-owned and run by Emma Canoles, a native of Surrey, England, with an assist from her husband, Benjamin, the restaurant's décor—including a replica of a red British Telephone booth—proclaims its heritage. Emma's also sells British essentials such as Cadbury chocolate and Marmite. 
Perhaps more importantly, it offers the kind of tea experience familiar to Brits but foreign to Americans. Yes, Emma's serves a formal High Tea ($27.50/person) with towers of pastries and dainty sandwich triangles, but it can also serve what Brits refer to as "a good cuppa"—an unfussy cup of a comforting brew, often augmented with milk or cream. Along with that come everyday edibles, such as sarnies (sandwiches), butties (sandwiches with cold bread and hot filling), biscuits (cookies), soups, salads, quiches, meat pies, and other pub favorites (though, sadly, no fish and chips). 
One recent blustery day, I met a friend for an early dinner and split a pot of tea for two ($10.95). Eschewing the standard Earl Grey and British breakfast, we ogled exotic flavors such as tangerine ginger and coconut-lemon oolong. We opted for the latter and found its gentle sweetness irresistible. That the pot arrived covered in a knitted tea cozy and was accompanied by a plate of six house-made biscuits was a bonus.
For sandwiches, we went traditional, selecting tuna and cucumber and egg and cress, each served with a choice of house-made coleslaw, fruit salad, or crisps (chips). Served on flour-dusted, hearty white rolls baked just up the street at Batch Bake Shop, the sandwiches were thoroughly British, by which we mean thoroughly doused in mayonnaise. And though that may not sound enticing, something about the sturdy crustiness of the bread, the creaminess of the mayonnaise against the egg and tuna, and the bright clarity of the coconut tea combined to satisfy. 
Next time, we agreed to try other distinctly British flavor combos such as the cheese and pickle sarnie or the banger (sausage) butty. We also made a mental note to return for the house-made scones.   
There are plenty of reasons to return besides the food. In just the few months it has been open, Emma's has become a community anchor, hosting book clubs, cooking classes, First Friday BYOB nights, and story time for kids. In this way, Emma's is both a proper British experience and a proper Baltimore one, too.
---
›› EMMA'S TEA SPOT 5500 Harford Rd., 410-444-1718. Hours: Mon. 10:30 a.m.-6:30 p.m. Tues. closed. Wed-Fri. 10:30 a.m.- 6:30 p.m. Sat. 9 a.m.-4p.m., Sun. 10 a.m.-3 p.m.