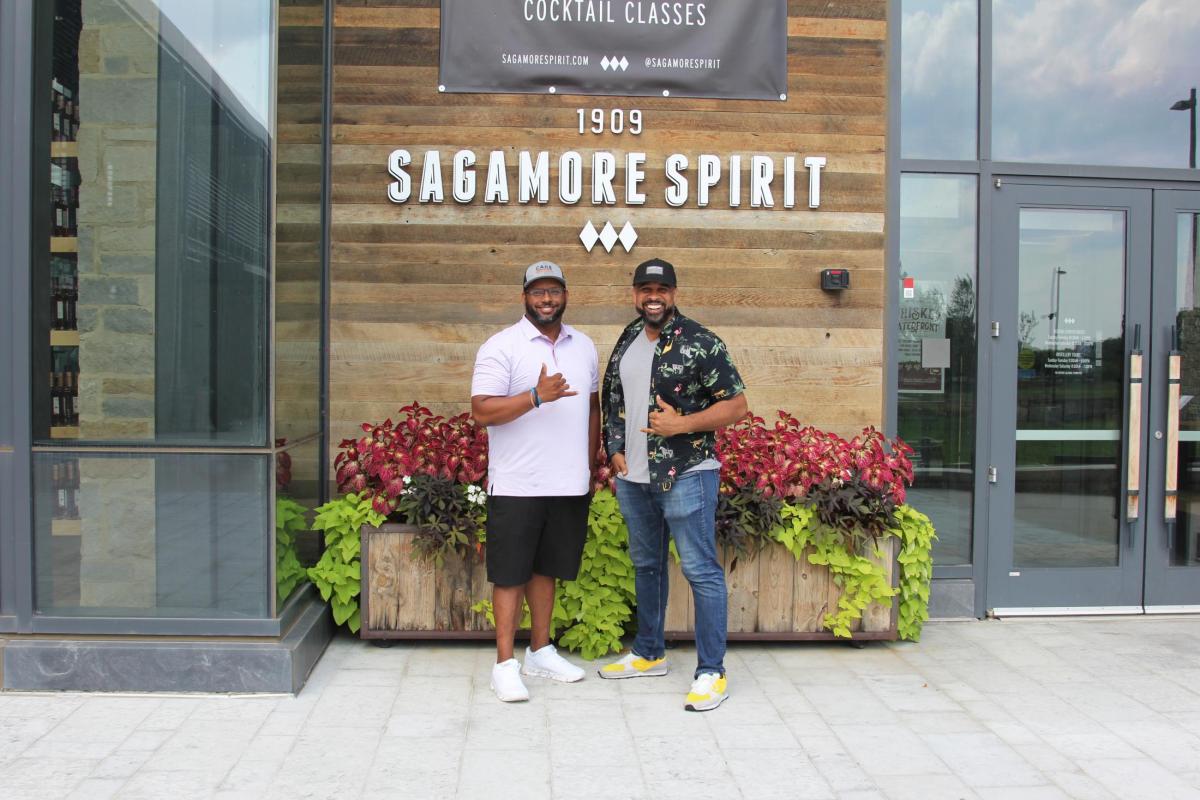 Cane Collective's Aaron Joseph (left) and Ezra Allen (right) at Sagamore Spirit.
Sitting at a conference room table on the Sagamore Spirit distillery campus in Port Covington, Ezra Allen and Aaron Joseph—the veteran bartenders behind Cane Collective's craft mixers—crack open test cans of Sagamore Spirit's new ready-to-drink whiskey cocktails. The pours in front of them are a culmination of more than a year spent researching, sampling, and adjusting hundreds of varieties to get the final product just right.
"We've done so many iterations with the team," Joseph says of the project, a collaboration between Sagamore Spirit and Cane Collective, "and we've done double that just ourselves. We were sometimes up until two or three in the morning working on these. That's the appreciation we got from this process—the realization that you have to give yourself time. It's not just something you whip up." 
Between the two of them, Allen and Joseph have spearheaded multiple bar programs, dreamed up countless cocktails, and educated the masses about the complexities (and histories) of spirits from rum to amaro. But none of their libations have ever made it into a can—a dream the two have had for years. 
Next month, that will change as Sagamore Spirit releases the three carbonated cocktails that highlight its four-year-old, Maryland-style straight rye whiskey. Four-packs are expected to hit shelves throughout Maryland, Washington, D.C., and New Jersey in early September, with a nationwide release slated for next year. The sips will also be available at the distillery's on-site cocktail bar, Nineteen O'Nine. 
"It's an opportunity to really showcase the versatility of our rye," Sagamore Spirit president Brian Treacy says of the new product line, which includes Lemon Tea Fizz, Honey Paloma, and Black-Eyed Rye flavors. "We get a lot of people who ask 'How am I supposed to drink this? Can I put it on ice? Does it always have to be neat?' We're not bartenders, but we have our bartending community to help us show that there are so many ways to enjoy it."
Treacy also says that approachability and convenience were factors that were considered when deciding to get in on the fast-growing, ready-to-drink cocktail trend. He hopes the cans will appeal to people who are new to whiskey, and allow Sagamore Spirit to travel beyond the traditional bar setting.
"You would normally never see a bottle of Sagamore rye at the beach," he says, "or going boating, or at the poolside. The fact that we can do it in a way that complements our whiskey makes it a no-brainer."
For Cane Collective, enhancing the 83-proof rye was top of mind throughout the entire process. "We kept the rye as a North star," Allen says. He and Joseph like for their cocktails to tell a story, and they say that part of the inspiration came from Sagamore Farm—the brand's Reisterstown property that recently transitioned its focus from horse breeding to providing corn, rye, and limestone-filtered water (fetched from a springhouse built in 1909) to the distillery. "Sagamore encompasses Maryland history as far as rye production," Joseph adds.
To nail down the flavors, the duo spent a lot of time researching how to make them inclusive for all types of palates. The result is a line of gluten-free sips that riff off classic cocktail combinations.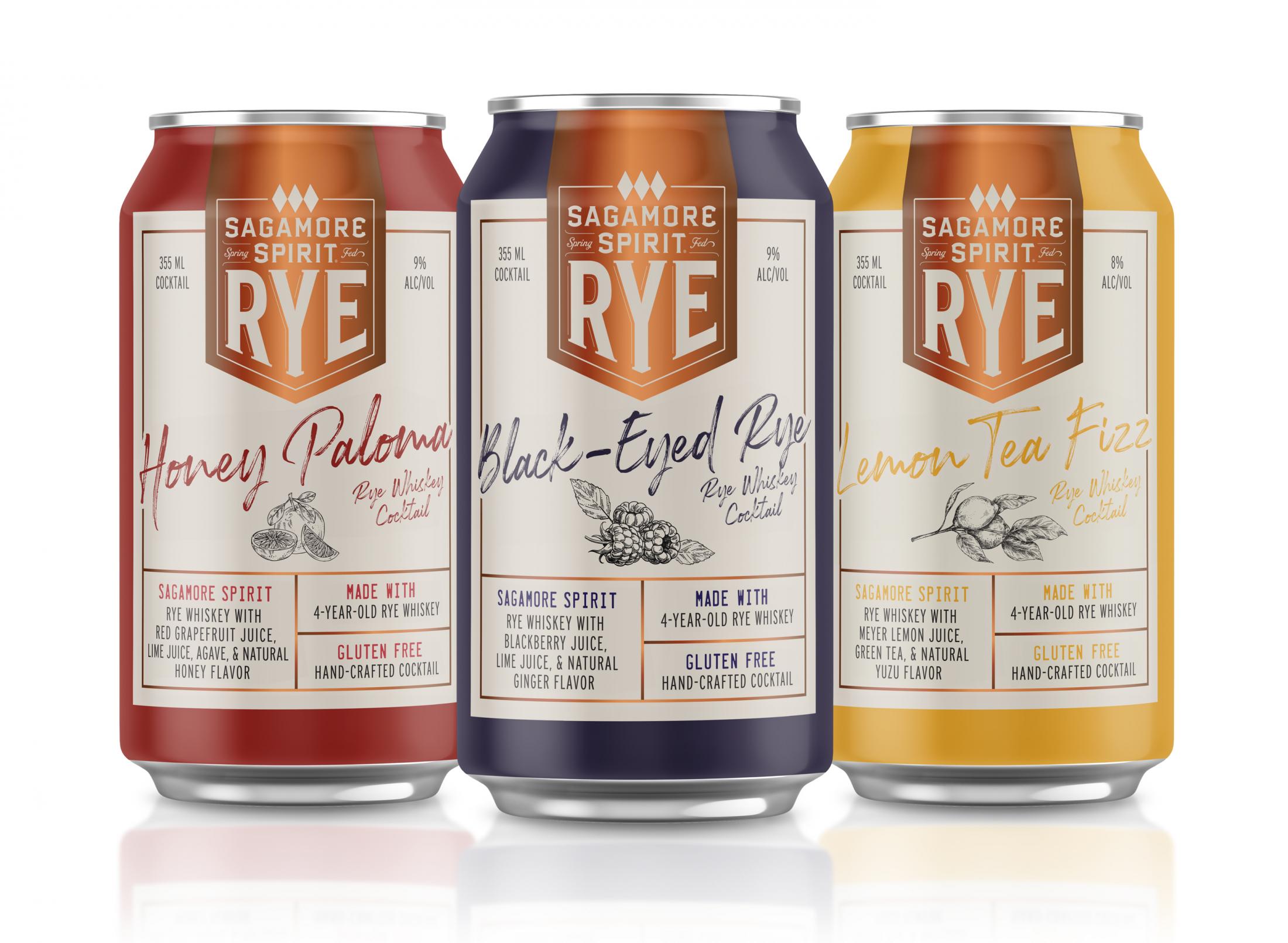 "Who doesn't love an Arnold Palmer?" Allen says of the Lemon Tea Fizz, a crushable, citrusy, 8-percent ABV blend made with Meyer lemon juice, green tea, and yuzu. "It's a bright, tropical, refreshing tea that's also a reference to Baltimore and our beloved half-and-half."
At a 9-percent ABV, the Honey Paloma fuses red grapefruit juice, lime, agave, and honey. "They all have layers," Treacy explains. "When you sip this, you pick up the honey, then the grapefruit, and you get the complement of the rye and see how it all works. Ezra and Aaron helped us get all of those little hints in there so the drinks weren't one-dimensional."
Though the Lemon Tea Fizz and Honey Paloma are brand new, Sagamore Spirit regulars might recognize the Black-Eyed Rye—a signature that Joseph created for the distillery when it first launched. (It was also the official drink of the Preakness Stakes in 2017.) The team added it to the lineup with the hope that people could enjoy it more consistently.   
"It includes a lot of things that remind me of summertime in Maryland," Joseph says. "You've got blackberry, fresh herbs, and citrus. Those things take me back to memorable moments at my grandmother's house in Chestertown—being on the Eastern Shore, going to farm stands, going blackberry picking in the woods. I wanted to create something that paid homage to that setting."
That sense of hometown pride will certainly translate into the cans, which are a continuation of Sagamore Spirit's overall mission to put the Old Line State back on the rye whiskey map. 
After a year that included rounds of recipes, pages of notes, and a "tasting bootcamp" trip to Sagamore Spirit's production partner facility in Kentucky (the cocktails were finalized there before heading to the canning line at Wildpack Beverages in Northeast Baltimore), the team is looking forward to seeing the sips finally hit the market.  
"What we eat and drink is such a communal thing," Allen says. "Aaron and I love spirits. We love the art of it, and we're enamored with the process of grain-to-glass."