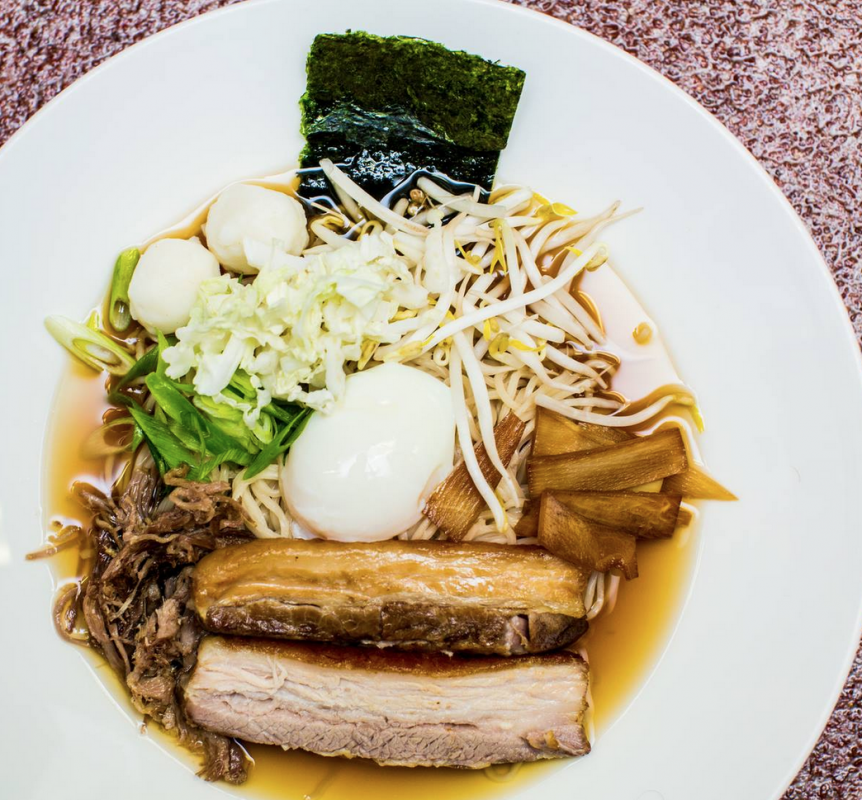 Ten Ten
At first, this snowstorm was called a "bust," but as the flakes continue to fall in Baltimore, it looks like a snow day is in full effect. To celebrate, many bars and restaurants around town are featuring specials, so bundle up and enjoy:
Cunningham's: This Towson fine dining spot is lowering its prices for the weather with $1 pork presse (caramelized onion crumble, celery root puree), braised pork cheek (truffle glaze, parsnip puree, and micro greens), black forest cremeux, lamb chops, and crab balls all night long. This will only be available at the light-up bar with its huge glass windows, a great place to take in the snow-globe-like view.
Ten Ten: Another Bagby restaurant, Ten Ten, will be offering $1 Korean tacos at the bar and, since the snow looks to continue overnight, is also highlighting ramen bowls tomorrow through Friday. Options include Pork Tonkatzu (deep-fried pork cutlet in panko, shredded nappa cabbage and tonkatzu sauce) and Shoyu Ramen (wheat noodles, tonkotsu style broth with soy sauce tare, pork belly, pork shoulder, 45 minute egg, bean sprout, scallions, nappa cabbage, bamboo shoots, and nori). Nothing better on a snow day than ramen.
The Rowhouse Grille: This Federal Hill bar will be featuring its usual Monday night special of mussels, $5 mule drinks, and $4 Heavy Seas beer offerings all night. In addition, the bar is featuring a snow day happy hour with 2 for 1 drinks from 4-7 p.m.
Riptide by the Bay: Usually known for its seafood, Riptide is going tropical despite the snow with $5 margaritas and $2 chicken tacos available at the Fells Point spot.
Alexander's Tavern: This Broadway bar (with an incredibly fun game room upstairs) is getting on the fun, too. In addition to its usual special of $3 off all burgers, the bar will feature happy hour drink pricing all day—$3 drafts and 16 oz. rails, $4 wines, $5 Captain Morgan & Stoli drinks, $1 off all bottled beer, and discounted appetizers.
The Food Market: This Hampden favorite will be featuring happy hour all night (5-11 p.m.) at the bar. There will also be a snow day giveaway where every diner tonight. will be entered to win an all inclusive brunch for four (yep, that includes Bloody Marys.) The drawing will take place at 10:45 tonight.