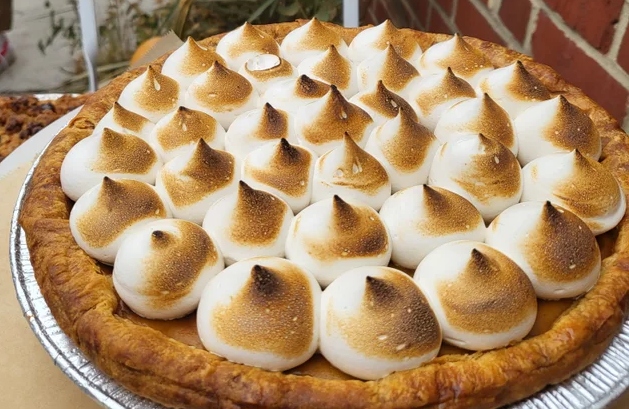 Pumpkin pie with maple meringue from Cafe Dear Leon. —Courtesy of Cafe Dear Leon
The task of baking pies stares us in the face every holiday season, but not everyone has "master baker" listed as a skill on their resume. This year, if you're hoping to keep the measuring cups in the cupboard, let one of the following local bakeries take over to sweeten up your table. (Thanksgiving is nothing without the pies, after all.) Trust us, it will make holiday prep a piece of cake—or, pie, in this case.  
Atwater's: Shop a scrumptious variety of pies and holiday desserts at this local cafe chain, which has locations in Canton, Catonsville, Belvedere Square, and The Shops at Kenilworth. Serve up sweet treats like classic holiday pies, an apple-cranberry crisp, or even a chocolate cake with mocha icing.
Order deadline: Orders must be placed online for in-store pick up by Nov. 20 at 6 p.m. 
Bertucco's Bakery: Pumpkin, deep dish apple, pecan bars—what more could you ask for? This Hampstead bakery has you covered with plenty of pie and dessert options, with gluten free recipes also available.
Order deadline: Stop in or call ahead (410-374-2500) to place your order ASAP.
Bethany's Bakery: This quaint Cockeysville bakehouse offers nine-inch pies to curb even the most intense sweet tooth cravings. Choose from a selection of fruit pies or request custom flavors, like chocolate peanut butter and vanilla cream, for something unique. You can also shop cakes, cookies, and other pastries.
Order deadline: Call 240-341-3225 to place orders. For custom orders, allow at least a week's notice. 
Bramble Baking Co.: The delectable creations at this small-batch bakery in Hamilton-Lauraville will make you the talk of the potluck. Decadent desserts, such as the maple bourbon pie and salty herby caramel apple pie, are available for preorder.
Order deadline: Preorder by Nov. 21 for pickup on Nov. 22 and 23.  
Cake By Jason: Enjoy an assortment of delicious pies from chef Jason Hisley's sweets shop in Timonium. Traditional apple and pumpkin pies are yours for the taking, as well as bourbon maple pecan and sweet potato marshmallow varieties. Not a pie person? Try the Thanksgiving cupcake six pack to add some variety to the dessert spread. Gluten free pies are available, as well.
Order deadline: Order online ASAP for in-store pickup.
Cafe Dear Leon: This wildly popular Canton cafe has three gorgeous pie options that will make for the perfect ending to Turkey Day. Indulge in the pumpkin pie with maple meringue, Dutch apple pie with vanilla mascarpone cream, or bourbon pecan pie with brown butter mascarpone.
Order deadline: Pies are available for preorder online to be picked up from Nov. 22 through Thanksgiving Day. 
The Charmery: This time of year, Baltimore's famed scoop shop dishes out limited-edition ice cream pies. Head to any of The Charmery's locations in Hampden, Towson, Federal Hill, or Columbia to snag creative flavors like apple Speculoos and brown sugar molasses pecan pie.
Order deadline: Pies are available to preorder online for pickup on Nov. 23 and Thanksgiving morning. 
Charlsie's Bakehouse: With these caramel-drizzled, flavor-infused, freshly made pies baking in Catonsville, there's no need to get messy in the kitchen. Choose from Charlsie's pumpkin buttermilk pie, pecan cranberry pie with shortbread crust, or apple double crust pie that comes loaded with three pounds of locally grown apples.
Order deadline: Pre-order now online for pickup on Nov. 22 and 23. 
The Classic Catering People: Holiday pies, cookies, and cakes are a specialty of this full-service caterer in Owings Mills. Enjoy classics like a lattice-topped apple or pumpkin pie. Other inventive desserts include s'mores pumpkin cupcakes, pecan bars, and cinnamon sugar cookies shaped like turkeys.
Order deadline: Pre-order are due Nov. 17.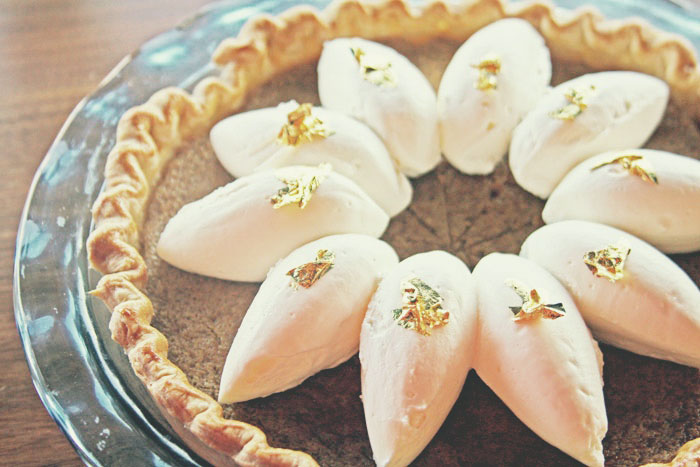 Food & Drink
Our ode to the holiday dessert, complete with recipes from Foreman Wolf Restaurant Group and Dangerously Delicious Pies.
The Corner Pantry: The delightful creations at this Mt. Washington favorite include sweet potato and sage scones, pumpkin cheesecake swirl pie, or toffee apple pie.
Order deadline: Orders must be placed by Nov. 18. 
Dangerously Delicious Pies: True to its name, this famed pie shop is almost guaranteed to have you asking for seconds. Choose from more than 50 fruit, cream, savory, or pancake pies (think: a blueberry or chocolate chip short stack in thick pie form) to decorate your dessert table. Stick to the classics, or try creations like the Baltimore Bomb (aptly loaded with Berger cookies), toffee crunch, or cookies n' cream pancake pies.
Order deadline: Order by Nov. 15. Walk-ins will be served based on availability. 
Maillard Pâtisserie: Head to this Hampden confectionery for a selection of delicious Thanksgiving pies, pastries, and breads. Choose from favorites like the pumpkin pie or pecan tart, or indulge in outside-of-the-box flavors such as butterscotch pie filled with a decadent  custard.
Order deadline: Pies can only be picked up Nov. 22 and 23, as the shop will be closed Thanksgiving Day.  
Pie Time: This Patterson Park shop is no stranger to the art of churning out heartwarming pies—in fact, they do it all year long. Visit Pie Time to pick up an apple almond, traditional apple, caramel pumpkin, lemon tart, or other freshly baked pie.
Order deadline: Pies are available to pre-order in the shop by Nov. 18. 
Santoni's Marketplace & Catering: Let's stick to the basics—apple, pumpkin, cherry, and pecan. Santoni's in Glyndon is whipping up its time-honored recipes to serve after Thanksgiving dinner.
Order deadline: Orders must be placed by Nov. 20 at 4 p.m.
Sugarbakers: If you're not a big fan of pies, this Catonsville cake shop might just be your sweet spot. Sugarbakers turns favorite holiday flavors into cakes, with options like a pumpkin Smith Island Cake and pumpkin swirl cheesecake, as well as turkey-themed cakes and cookies.
Order deadline: Order online or visit in store. 
Weber's Cider Mill Farm: Pies from this Parkville farm are freshly baked daily. Choose from a selection of more than 15 tasty types, including apple, black cherry, peach, pumpkin, and pecan. Weber's also serves homemade fudge and ice cream (a pie's best friend) by the pint and quart.
Order deadline: Be sure to order with at least 24 hours notice of your pickup time.   
Why Wait Cakes: Local pastry chef Courtney Wright is on dessert duty this year with five of her delectable dessert creations on offer. Enjoy mouthwatering options like pumpkin pie, sweet potato cheesecake, or carrot cake bundts, all available for preorder from her online shop.
Order deadline: All orders must be in by Nov. 20.