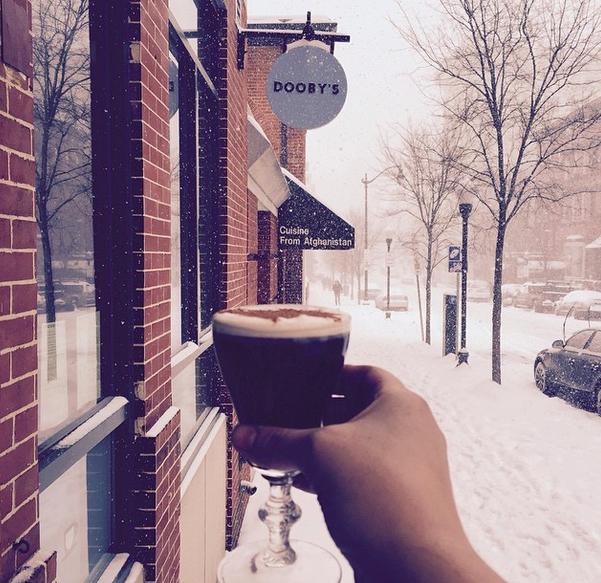 Dooby's
Well this certainly seems like the winter that just won't end. So before the last flake falls, throw on a pair of Hunters and your favorite snow suit, and make the trek to one of these establishments featuring snow-day specials:
The Rowhouse Grille proclaims this is the "last snow day drinking party of the year (we hope)." The Federal Hill bar will be offering 2-for-1 drinks all day today and its typical happy hour from 4-7 p.m. with $1 oysters, $7 Irish nachos, and a $7 assorted fruit and cheese plate.
The Bagby Group restaurants are getting in on the fun, as Ten Ten is offering an all-day happy hour ($5 wines, $6 cocktails, $4 beers, and various bites from $4-7) plus $1 Korean tacos. Right next door, Bagby Pizza Company will have $2 off beers all day.
Kooper's Tavern in Fells Point is having a celebrating of Belgian beer on this snow day, with select brews starting as low as $3
Starting at 5 p.m., Max's Taphouse will begin be offering casks new and select beers like Heavy Seas Desert Island Scottish Ale, Union Balt The More with Orange Zest, and New Belguim Portage with simcoe hops and Snapshot with citra hops.
Speaking of beer, the Federal Hill bar Brewer's Cask is open early today, with the kitchen coming on board at noon.
Just down the street is Mad River, which never needs much of an excuse to get rowdy. Today, the multi-level bar is offering $15 all-you-can-drink deals and 50-cent wings.
For its part, Dooby's in Mt. Vernon is boasting an apres-ski theme with "boozy coffees, rich hot chocolates, 12 beers on tap, and food. Lots of food."
Alexander's Tavern is celebrating its snow day with $6 pizzas all day, $2.75 for the spicy UFO Gingerland wheat ales, Sam Adams Winter Lager, and Southern Tier 2XMas double-spiced ale. The bar's happy hour starts at 3.
And, I for one totally agree with what Alexander's says: "Let's get this winter stuff out of here, once and for all!"