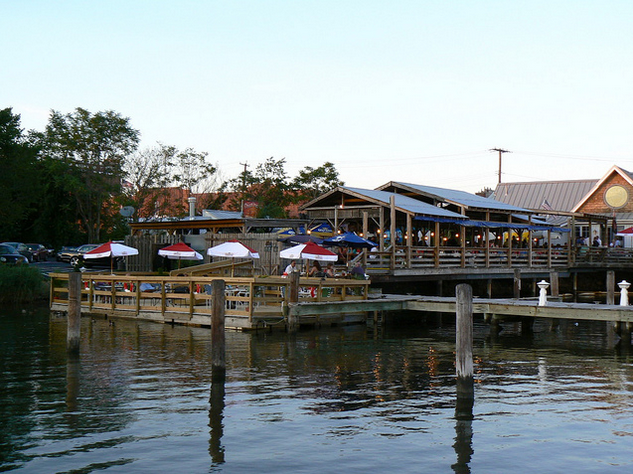 Courtesy of Canton Kayak Club/Flickr
With its seafood specialties and waterfront views, Nick's Fish House and Grill is already reminiscent of some of our favorite beach town hangouts, but last week the South Baltimore establishment got one step closer to officially joining the Eastern Shore restaurant family.
Live tweets from SouthBmore.com at Thursday morning's Baltimore City Liquor License Board hearing broke the news that an application to transfer liquor license ownership of Nick's Fish House to the team behind The Starboard and Bethany Blues has been approved.
Steve 'Monty' Montgomery, co-owner of The Starboard in Dewey Beach, says that he and his business partners are looking forward to bringing a little bit of the beach to Charm City.
"We were invited to come see the property by friends who were purchasing real estate and once we saw the potential, in addition to the great business Nick's currently operates, we were interested," Montgomery says. "We each have a love for Baltimore and the waterfront and we felt this venue screamed for what we already do at the beach."
The new management team is planning on staying open while remodeling the space, hoping for minimal inconvenience to the staff and customers in the next few months while improvements are being made. They're also planning to launch a revamped menu in the spring with a focus on quality fresh fish and seafood from partners at Eastern Shore-based Big Fish Restaurant Group.
"Within a few months we will create a new 'look' to the menu, which emphasizes quality fresh fish, seafood, #1 Live Crabs, Center Cut Angus Steaks & Chops, an assortment of great salads and appetizers plus yummy desserts. A really cool raw bar & new menu will be a top priority," Eric Sugrue, managing partner of Big Fish Restaurant Group, said in a press release.
The Port Covington restaurant sits on 2.5 acres of waterfront property and, much like its prospective sister-restaurants, locals frequently flock to Nick's for its authentic seafood dishes and relaxed atmosphere.
"We are keeping the restaurant's original staff and will continue the tradition of providing the freshest seafood and quality service that Baltimoreans have enjoyed on the waterfront at Nick's for years," Montgomery says.
We think it's a perfect match.