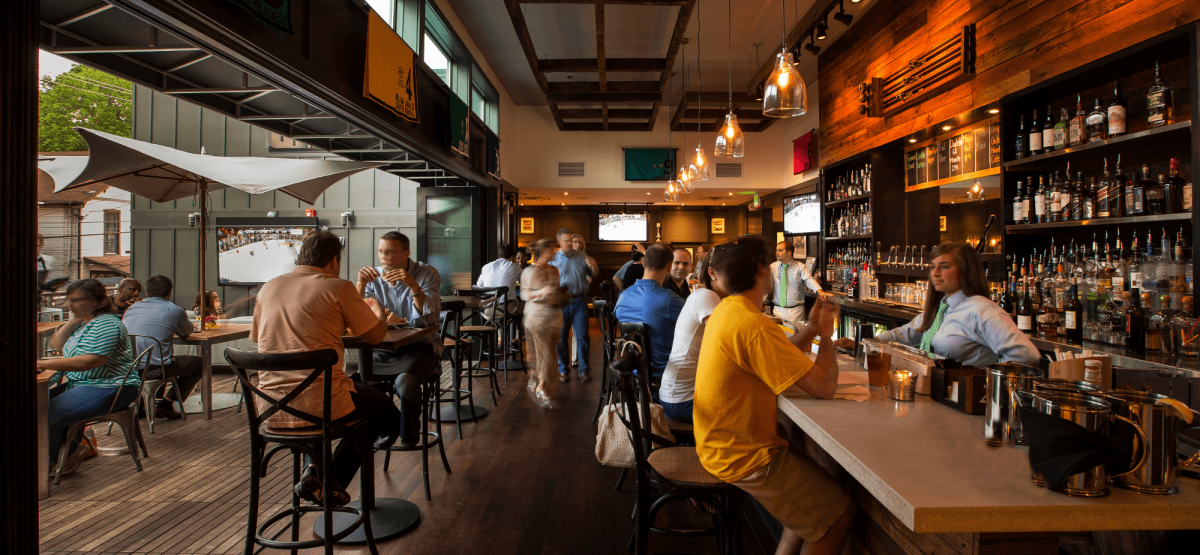 Courtesy of Mt. Washington Tavern
From breaking the wishbone to going around the table and saying what you're thankful for, Thanksgiving is a holiday full of traditions. But perhaps one of the best of them all, food and football aside, is what happens the night before the big feast. It's a time to reunite with old friends, celebrate the homecoming of Baltimore natives, and get excited about the long weekend ahead. Here are some of the best drink specials around town on November 26.
Power Plant Live! 34 Market Place, 410-727-5483. If you're planning to bar hop on Thanksgiving Eve, this nightlife destination will be hosting a "Homecoming Bar Tour" with free access to nine of its bars. Tickets include three hours of all-you-can-drink domestic beers and call cocktails at all of the bars including Leinenkugel's Beer Garden, PBR Baltimore, Tin Roof, and Mosaic Nightclub. Group packages are also available if a reunion is in order.
No Idea Tavern 1649 S. Hanover St., 410-685-4332. "Wheel Wednesday" will be in full effect at this Federal Hill bar and lounge to highlight its recently revamped menu and inexpensive drink offerings. The wheel will feature food and drink specials including $3 drafts, $4 glasses of wine, and $4 Fireball shots, and will be spun every half-hour. Whatever it lands on becomes the running special for the next 30 minutes.
Pazo 1425 Aliceanna St., 410-534-7296. All night long, this Harbor East restaurant will be offering half-off all bottles of wine in its fully stocked cellar. If you're trying to mix things up before Thanksgiving leftovers consume your entire diet, enjoy artisan pizzas and Southern-Italian fare from the recently transformed menu to accompany the wine special.
The Get Down 701 S. Bond St., 443-708-3564. Enjoy the house music and modern vibe of this Fells Point nightclub while sipping on half-priced beers and cocktails from 8-10:30 p.m.
Charles Village Pub & Patio 19 W. Pennsylvania Ave., Towson, 410-821-8155. A favorite of Towson University students, CVP's provides the perfect atmosphere to grab a drink and catch up with friends. Drink specials will include $5 bombs, $3 Fireball shots, $3 Blue Moon and Redd's Apple Ale drafts, $2 rail drinks, and $2 Miller Lite and Coors Light bottles.
Smaltimore 2522 Fait Ave., 410-522-1421. This cleverly named Canton bar, known for its diverse menu featuring sushi and burgers, will be offering 2-for-1 sushi rolls from 5-7 p.m. and $6 small batch bourbons all night. (If you're feeling up to it after a night on the town, Smaltimore will be accepting cash and canned good donations for Maryland Food Bank while serving free turkey burgers and fries to those in need on Thanksgiving Day starting at noon.)
Ropewalk Tavern 1209 S. Charles St., 410-727-1298. What better way to celebrate our country's history the night before Thanksgiving than by stopping into this pre-Prohibition building with walls showcasing plenty of historical décor. The Federal Hill bar will be offering $2 Bud and Bud Lites and $3 Loose Cannon drafts.
Mt. Washington Tavern 5700 Newbury St., 410-367-6903. The happy hour options are endless at this neighborhood tavern. Offerings from 5-7 p.m. will include $3.30 select drafts, $4 house wines, and $5 16-oz. margaritas. Guests will also receive a free order of quesadillas with the purchase of any drink.
Hudson Street Stackhouse 2626 Hudson St., 410-342-0592. This go-to Canton spot for uniquely imported craft beer will be featuring $2-off all drafts until 7 p.m. and half-off select German and Belgian bottles all night.
Michael's Cafe 2119 York Road, Timonium, 410-252-2022. A "Thanksgiving Eve Bash" will be hosted at this trendy Timonium space starting at 9 p.m. Bartenders will be pouring discounted drinks and guests will be able to enjoy live music from DJ Der and Code Red.
The Point in Fells 1738 Thames St, 410-327-7264. No Fells Point bar crawl is complete without a stop into this neighborhood hangout, well known for its weekly drink specials. Kick off the weekend early and enjoy music spun by DJ Mike Jointz while sipping on $5 bombs, $4 rails, and $3 Miller Lite drafts.