The Essential


Crab House Guide
The Essential
Crab House Guide
Put these 25 crab houses on your
(galvanized) bucket list.
---
Come April through November, it's our favorite four-letter word. Hint: It's steamy and spicy (and exceedingly blue). It's meaty, yet delicate, too. And just thinking about it gets us in the mood.
Any Marylander worth their salt—or, in this case, Old Bay—knows exactly what we're talking about. That word is crab—and our love runs as deep as the brackish bottom of the Chesapeake Bay in which they burrow (though out of season, Gulf-sourced are acceptable, too).
It's hard to swing a mallet in Maryland without hitting a crab house. Most times you can't go wrong—as long as crabs come properly sized, steamed, seasoned, and served on brown paper. Even so, we're here to help you narrow things down with a list of our favorite haunts (plus a few other goodies, including the history of houses, and some do's and don'ts).
Forget those tourist traps. We're particularly partial to the real deal: We're talking neon beer signs, floors of sawdust or sand, laminated menus, galvanized buckets, and piles of crabs unceremoniously plopped on a picnic table. Feeling (true) blue? Read on.
Crab Houses, Hon
HOW TO SPOT
A LEGIT CRAB HOUSE
In Maryland, crab houses are often imitated, but never duplicated. Here's how you know you've come to the right spot.
BY AMY MULVIHILL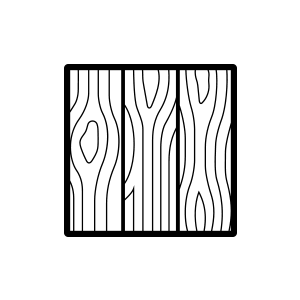 The Walls Knotty pine paneling.
Fish Out of Water Mounted sport fish on the walls.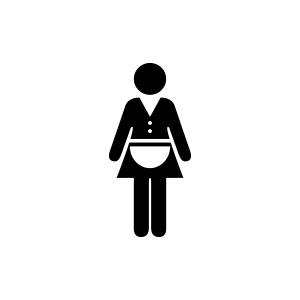 Sassy Waitress Waitresses old and sassy enough to call you "hon" and mean it.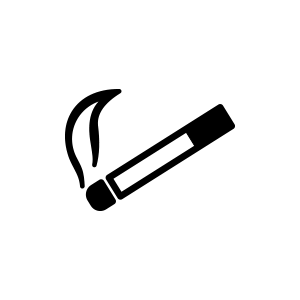 No Smoking Cigarette machine, even though smoking has been outlawed in restaurants since 2007.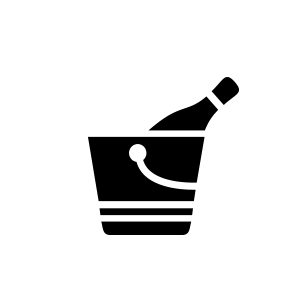 Bucket List Buckets of drinks: beer/ water/soda, etc.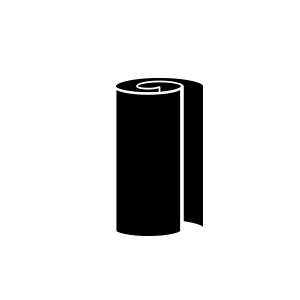 Getting Crafty Bulk supplies of brown paper, napkins, and paper towels.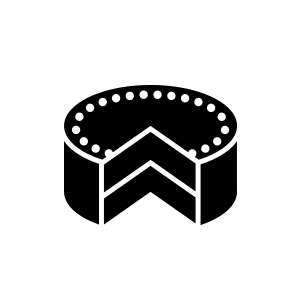 Just Desserts Dessert case stacked with lacquered-looking cakes and pies—bonus points if it rotates.
Bird River Inn & Crab House Middle River
House Rules: Bird River Inn consists of two buildings—the bar and the crab house—separated by a gravel parking lot. You can order hot, heavy, steamed crabs in both, though we prefer the bar for its inviting atmosphere, attentive service, and menu full of pub favorites. We started with half-and-half soup (a combination of cream of crab and Maryland crab) and crispy hush puppies. Crab Cred: Crabs come from Louisiana early in the season, but otherwise, the owner catches the crustaceans himself. They come in five sizes—small, medium, large, jumbo, and the aptly named colossal. Eating crabs on the bar can be messy, but they have it down to a science. In lieu of placemats, they supply box tops, on which you can place your crabs, mallets, and knives, and pick away. Standout Sides: Even in early spring, the kitchen scrounged up sweet Maryland corn, which arrived still in the husk. 10529 Bird River Road, Middle River, 410-344-9220
Bo Brooks Canton
House Rules: A bit of blue-collar Bawlmer might have left this local institution when it moved from Belair Road to the more polished confines of the Canton Coast, but it still shines when it comes to doing what it's always done best: serving scrumptious steamed crabs. The crowds still come (many of them from the 'burbs, enticed no doubt by the two-hour free parking), so if there's a wait to sit outside near the water or in the spacious dining room, grab a drink at the usually hopping tiki bar out front. Crab Cred: Depending on the day, Bo Brooks offers five sizes of crabs, ranging from mediums to colossals. And unlike many crab houses, here the crabs come true to size. The mediums have some heft, and two colossals have so much meat they make a meal on their own. Crabs come from both local waters and the Gulf coast, and while priced by the dozen, can be ordered individually. Standout Sides: The menu is dotted with crab dishes, many of which can serve as shared accompaniments to your hard-shell main course. The crab guacamole, a spicy variety topped with large chunks of meat, is among the best of the bunch. 2780 Lighthouse Point, 410-558-0202
Canton Dockside Canton
House Rules: We have a crustacean crush on this Canton crab spot with its Instagram-worthy views (cue the boats bobbing, seagulls soaring), tables with built-in holes for galvanized buckets (makes the mess manageable and, a few Bohs in, you can practice your aim), handpainted seaside murals by local artist Robert Merrill, and T-shirts reading "Size does matter." As long as we're talking crushes, their Orange Crushes come strong, frosty, and fruity to counteract all that seafood spice. Crab Cred: Crab consistency is what it's all about here, which means they hail from Louisiana year-round, because it's not always crab season in Maryland. Don't feel like cracking? There are plenty of other ways to fill your fix with a bowl of bisque or even crabmeat strewn across a burger. Standout Sides: Consider the gooey goodness of the seafood skins—potato skins laden with lump crab, cheddar, Jack cheese, and shrimp. Technically, they're listed as a starter, but this is no time for semantics. 3301 Boston St., 410-276-8900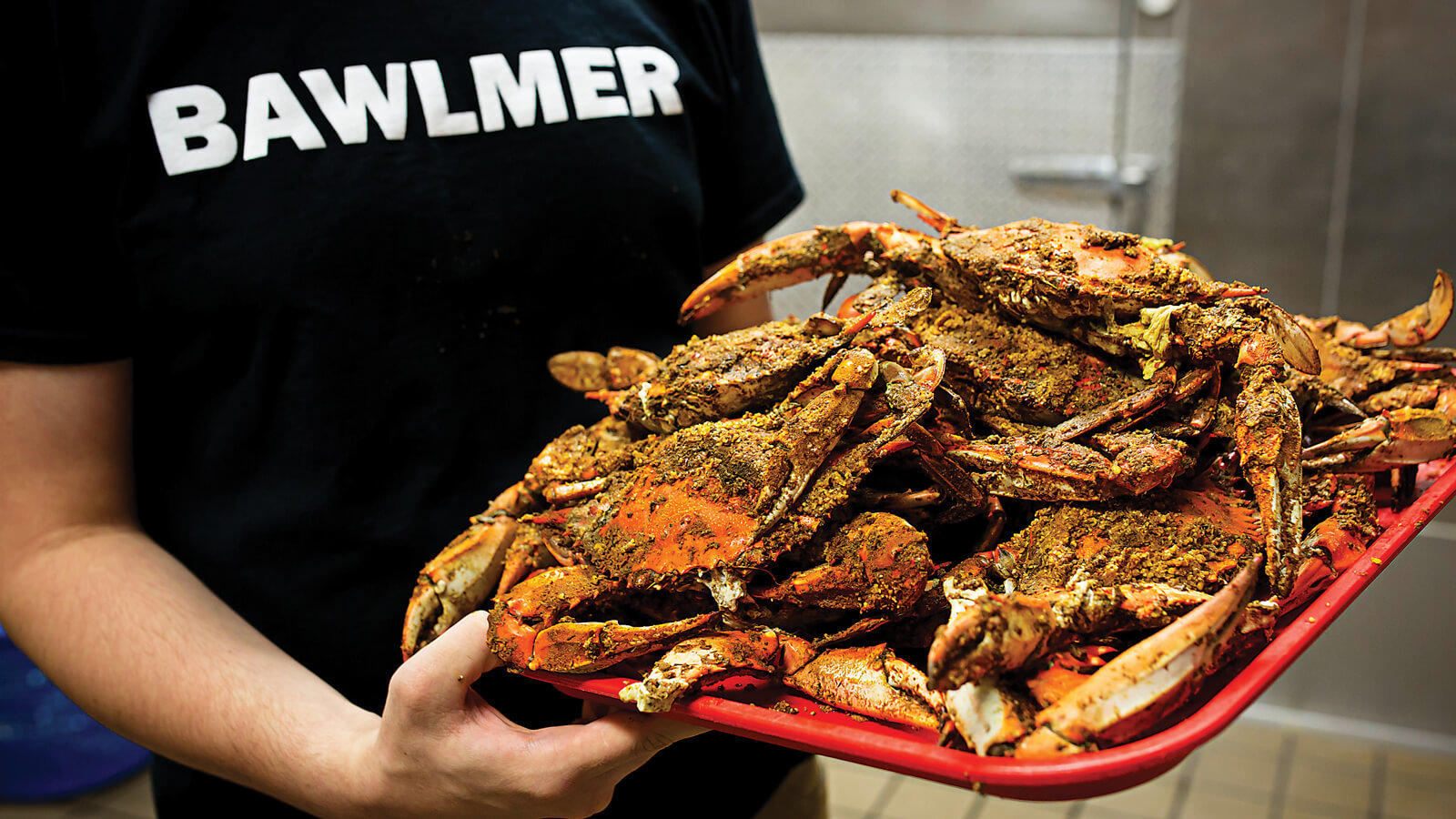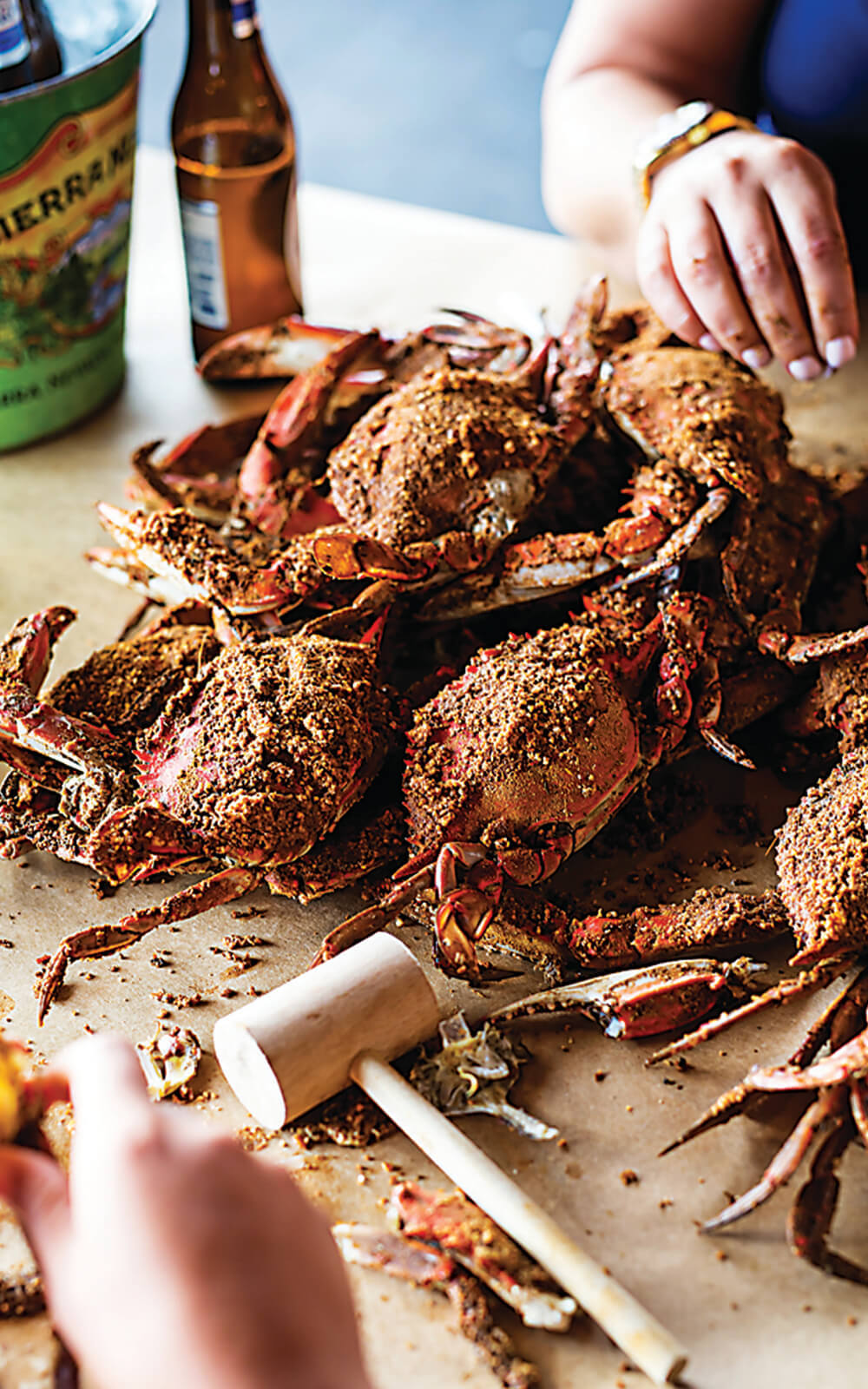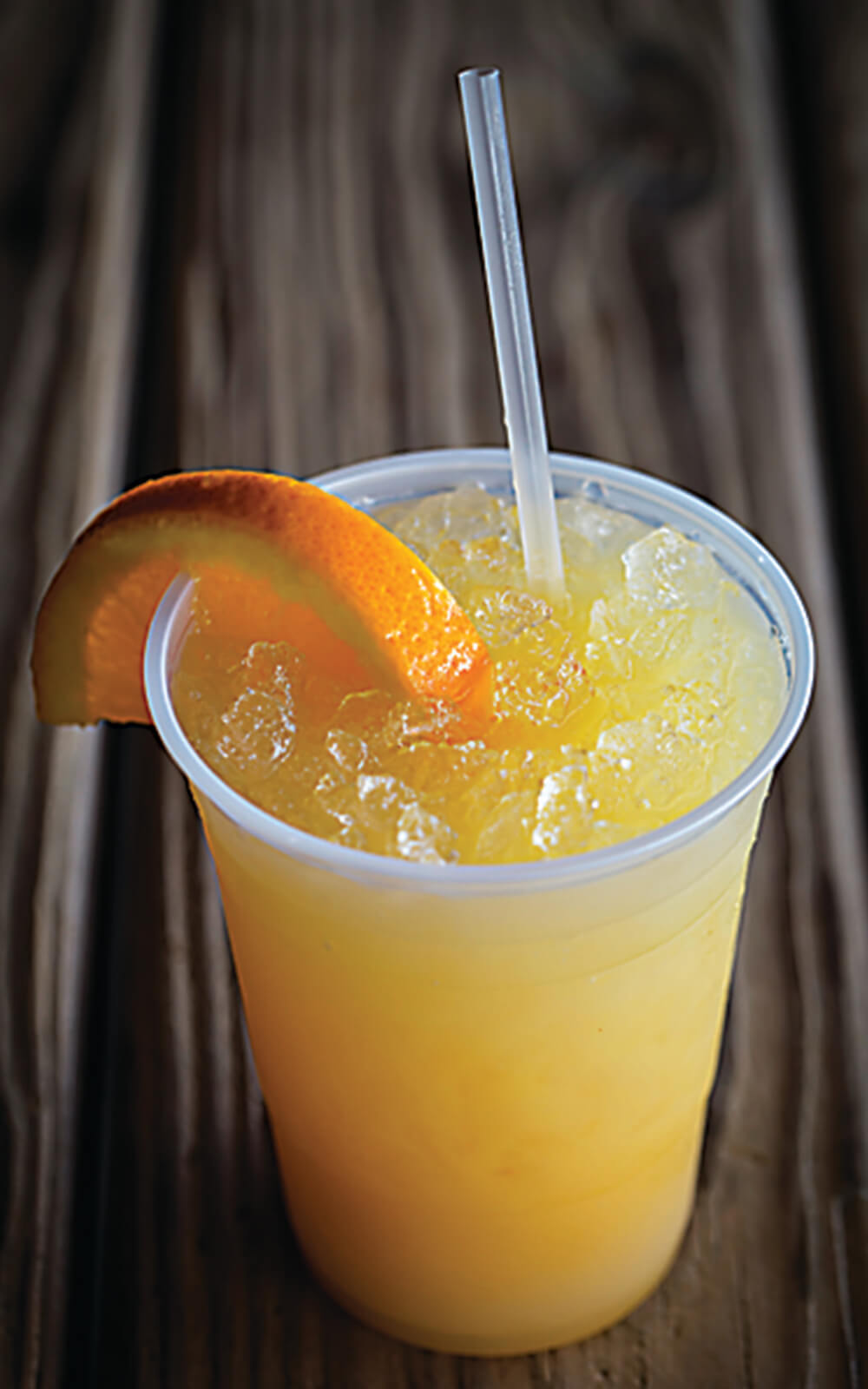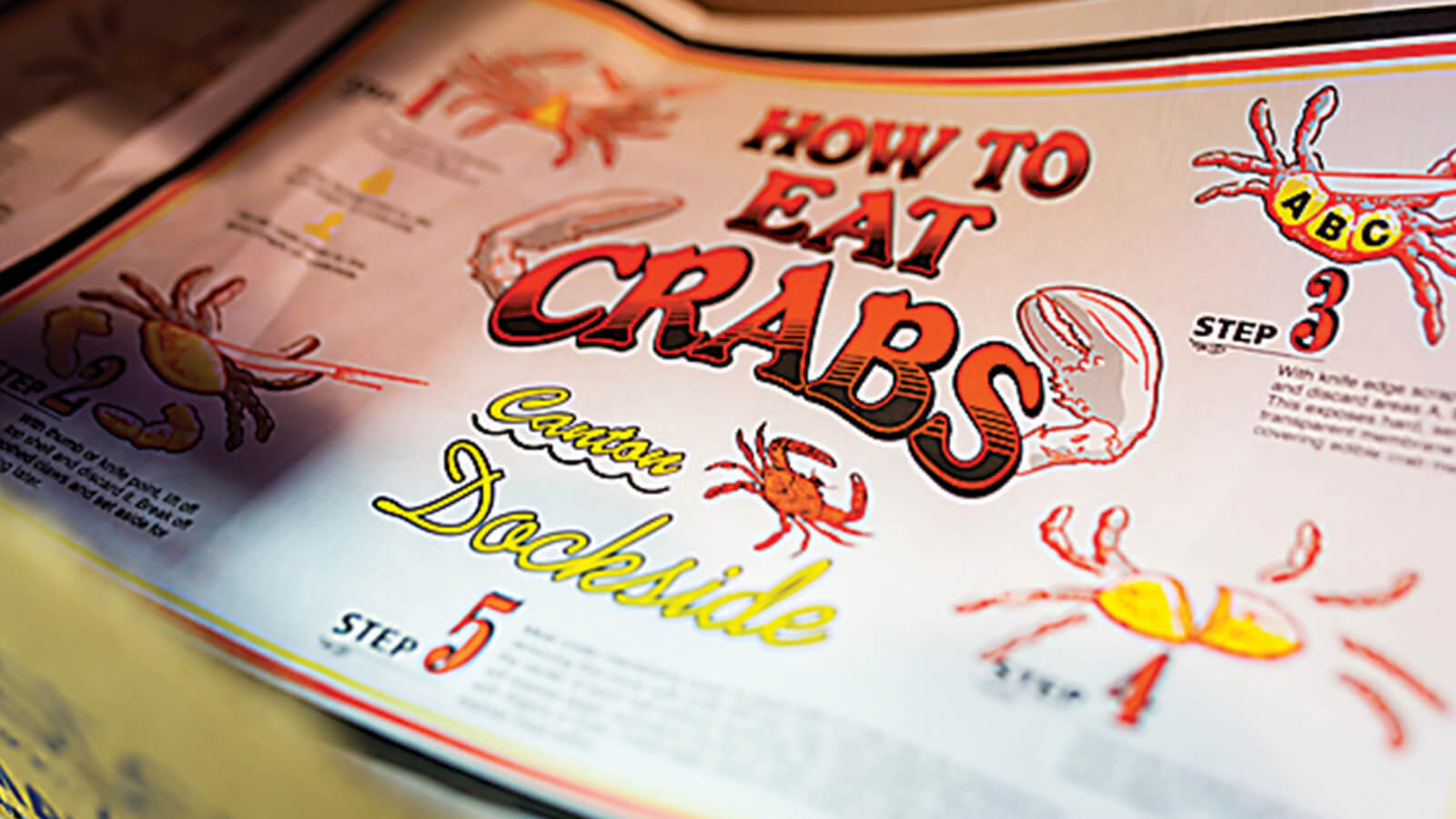 Canton Dockside: The goods; an orange crush; seafood skins; getting down and dirty; step-by-step.
CAPTAIN DAN'S CRABHOUSE Eldersburg
House Rules: A family feeling permeates this Carroll County strip mall restaurant and seafood market, which Dan Schuman opened in 2003. His brother, Mike, and wife, Cathy, lend a helping hand along with a staff of cheerful young servers like Rachel, who on our visit couldn't have been more helpful. There's no bar here, but beer and wine are available. Crab Cred: The combination of quality and price is among the best we've encountered. On a recent visit, a mixture of a dozen local mediums and larges cost $60. They were spiced perfectly, using Captain Dan's seasoning. Late in the season, the restaurant offers $1.50 crabs Monday through Thursday, and often will throw in a free half-dozen with an order of mediums or larges. Standout Sides: A cup of seafood chowder or cream of crab soup, both of which boast rich—but not-too-creamy—broth with chunks of seafood, is a great way to start your crab feast. 2021 Liberty Road, Eldersburg, 410-549-2511
CAPTAIN JAMES SEAFOOD PALACE Canton
House Rules: "The boat," as it's known, has been anchored in concrete at the intersection of Aliceanna and Boston streets since 1978, the year before it started serving its seafood-skewed menu to hungry locals and tourists (and even Oprah Winfrey). Across the street, adjacent to a water taxi stop, is the restaurant's designated crab house, which serves a more stripped down version of the full menu in a quasi-open-air pavilion. Because it was cold and windy on the night we visited, we gladly opted for the snuggly warmth of "the boat," which we found to be nicely nautical with touches of contemporary design. Crab Cred: The dozen larges we ordered arrived smothered in J.O. Spice and so piping hot that one of our dining companions scalded his finger while trying to pop off the shell. Once deconstructed, however, the crustaceans—at the time hailing from Maryland, Louisiana, and Texas—yielded rich chunks of snowy lump that we happily dunked into melted butter. Standout Sides: The Boston Street Crab Dip served with toasted pita and baguette slices was a crowd pleaser. 2127 Boston St., 410-327-8600 (restaurant), 410-675-1819 (crab house)
CJ'S CRABHOUSE & GRILL Owings Mills
House Rules: If you're looking for the quintessential crab house experience (walls covered in Orioles and Ravens memorabilia, old family recipes, year-round Christmas lights), this venerable second-generation family business, open for 39 years, is the place to go. Crab Cred: In season, the hard- shells are hot, heavy, and local, and seasoned just so with CJ's special proprietary blend. Out of season, they hail from the waters of Louisiana and Texas, which means if you crave crabs and there's a snowman and a sled in your yard, it's still summer at CJ's. We could go on, but perhaps our favorite aspect of this spot is the respect it has for our regional treasure. On a recent visit, when we left one specimen uneaten, our veteran server, Debbie, grabbed the crab by the claw and threw it on another customer's table. "We can't let this go to waste," she said. Standout Sides: We recommend an order of pickled beets, a sweet substitute for the usual corn on the cob. 10117 Reisterstown Road, Owings Mills, 410-363-6694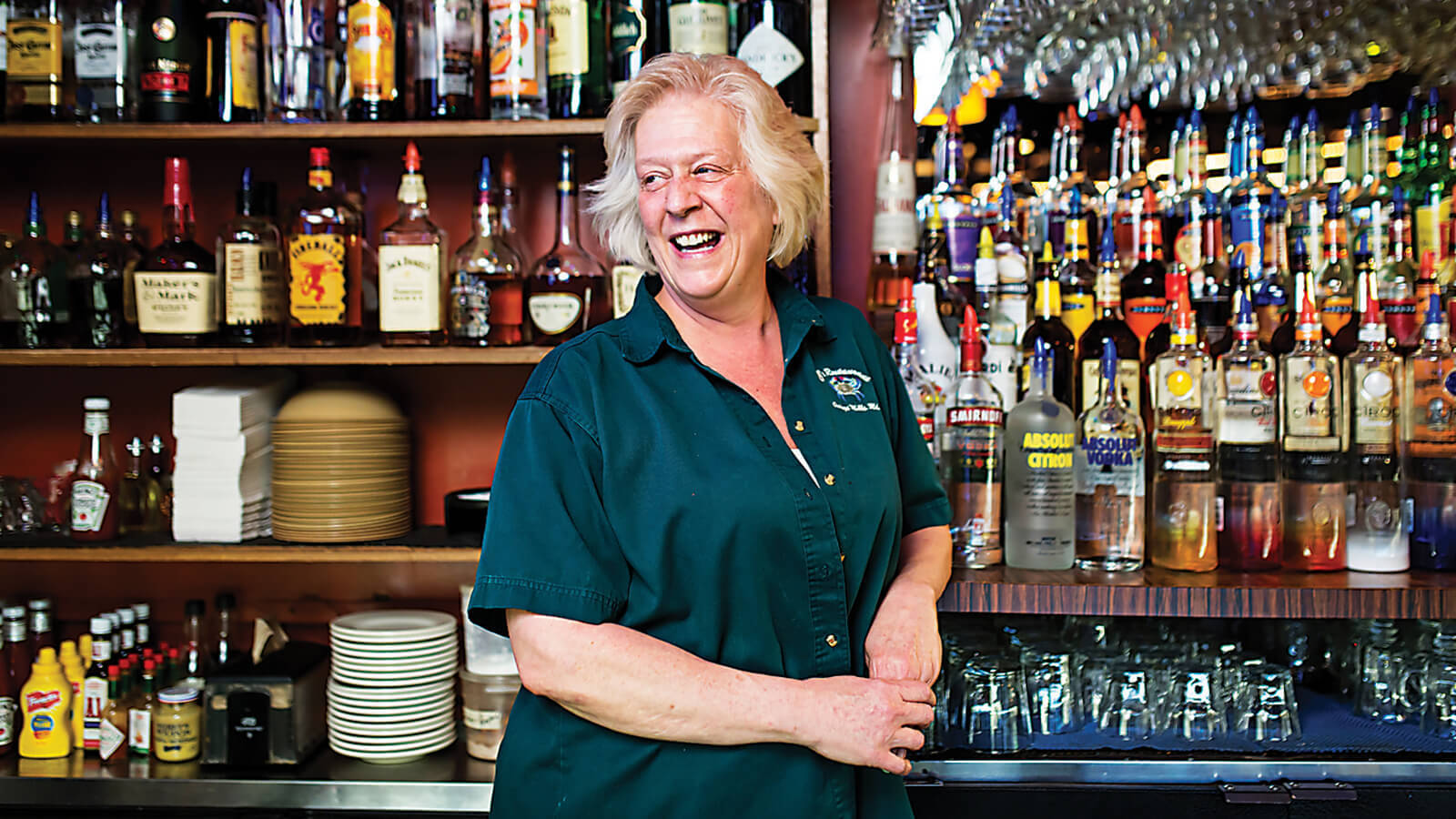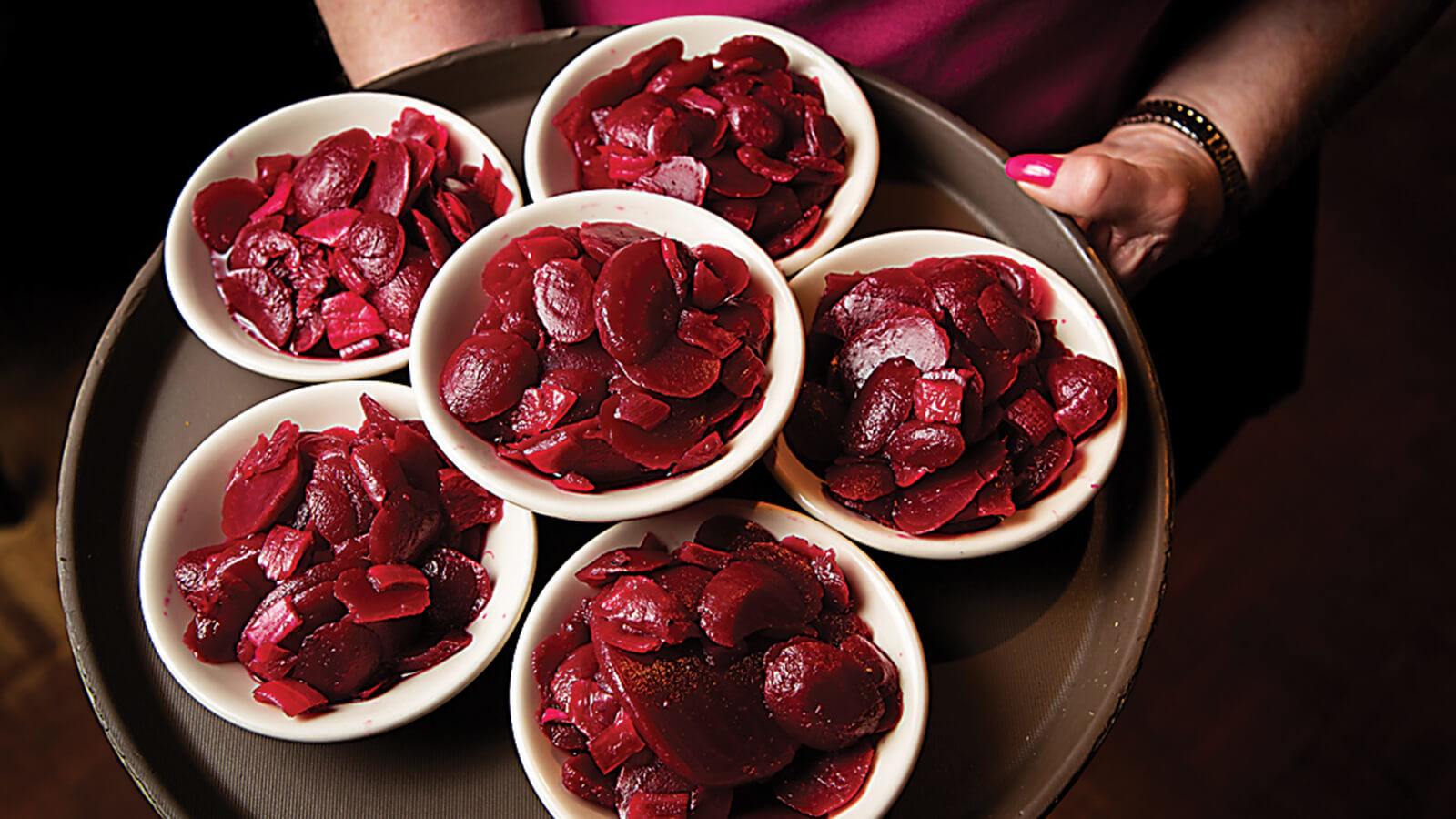 CJ's Crabhouse & Grill: Bartender Brenda Collins; tools for picking; the pickled beets.
CONRAD'S SEAFOOD RESTAURANT
Perry Hall
House Rules: Anthony Conrad decided to ditch the corporate rat race and become a waterman in 2003, and boy, has that decision paid off for all of us. First there was his namesake seafood market and carryout in Parkville. Then, in 2014, came the seasonal stand in Jacksonville, the "seafood deck" at Ripken Stadium in Aberdeen, and Conrad's flagship restaurant in Perry Hall, which boasts a beach-chic vibe with crisp white walls and exposed duct work. Sit in the bar area with its numerous flat-screens for a game-night outing or class it up in the dining room where we spied loads of families and empty-nester couples cracking claws. Crab Cred: When the co-owner is a waterman, you can trust the catch will be fresh. And so it was with our half- dozen extra larges, sourced from several spots including the Chesapeake Bay and Louisiana. The spice-crusted crustaceans arrived with steam still rising from their shells and were full of sweet lump meat. Standout Sides: Golden loops of calamari just kissed by the fryer were a highlight. 9654 Belair Road, Perry Hall, 410-529-3474
COSTAS INN Dundalk
House Rules: Past the city lights of Baltimore and down the long highway drag of Dundalk, this 45-year-old, family-run landmark is the place to come for colossal crustaceans, piled-high pit beef, a round of Keno, and even a little live music on Friday nights. If that ain't Balwmer enough for you, every wall of the bar is covered with TVs, so you can grab a pint of Boh and never miss a minute of the O's. Crab Cred: These gigantic Gulf crabs come covered in a special blend of spice and are scattered across your paper-wrapped table like a medieval feast. (Thanks to their Southern origin, you can expect these Texas titans year-round.) Standout Sides: While crab is king, you can't go wrong with a side of boardwalk-style "OC fries." 4100 North Point Blvd., Dundalk, 410-477-1975
THE CRACKPOT RESTAURANT Towson
House Rules: Housed in an unremarkable suburban shopping center, The Crackpot Restaurant is kind of like the steamed crabs it has been serving since 1972: It might not look like much from the outside, but crack the shell and you'll find treasure inside. From the crab pot light fixtures to the plastic sport fish mounted on the wood-shingled walls, The Crackpot feels like a tide-lashed sea shanty rather than an eatery sharing strip mall space with a Giant and a Domino's. Crab Cred: When we visited in early spring, the crabs were sourced from Louisiana, but The Crackpot carries Chesapeake crawlers in the summer and fall. We opted for a half-dozen large Louisiana jimmies, which arrived piping hot with a thorough coating of seasoning and—to our delight—a ramekin of melted butter to bolster the naturally buttery taste of the crab. Standout Sides: We enjoyed the crab pretzel, a long twist of dough supporting generous dollops of creamy crab dip smothered in toasted cheese. 8102 Loch Raven Blvd., Towson, 410-828-1095
DOCK OF THE BAY Sparrows Point
House Rules: A restaurant has occupied this building near a marina at the end of a long road to seemingly nowhere since the 1950s. The latest version opened in October 2014. A large space with a massive indoor bar, an outdoor one, an area for kids to play, and yes, outdoor tables near a dock on the bay make this a fantastic spot to pick crabs. Otis Redding would be proud. Crab Cred: When we visited in May, only smalls and larges from Louisiana were available. Sold by the half-dozen, they arrived at our table hot and moderately spiced. The at-least-a-foot-long crab pretzel, topped with a gooey combination of crab dip and melted cheese, is a stellar way to start. Standout Sides: The all-encompassing waterman's sample, a huge tray filled with hefty helpings of steamed shrimp, mussels, and giant fried clams, makes a great appetizer, entree, or complement to crabs. 9025 Cuckold Point Road, Sparrows Point, 410-477-8100
FAT BOYS CRAB SHACK Gambrills
House Rules: A cog in the Land and Sea Group empire (which includes Buddy's crab houses), Fat Boys exudes a beachy, we're-on-vacation feeling. A few tables and a small bar comprise the indoor space, where diners seat themselves, order at the counter, and are served their fare in red plastic baskets. There's much more room on the deck in the backyard, where you'll also find a playground and picnic tables. Crab Cred: All sizes of crabs—sourced from the Gulf of Mexico when we last visited in April—ranging from mediums to colossals can be ordered individually. They arrive hot and steamed perfectly, though lightly seasoned. If you're looking for some crab diversification, it's worth attempting to save room for an appropriately named colossal lump crab cake.Standout Sides: Fried clam strips always conjure memories of the beach, and the ones at Fat Boys are fantastic. 1581 Defense Hwy., Gambrills, 410-721-5252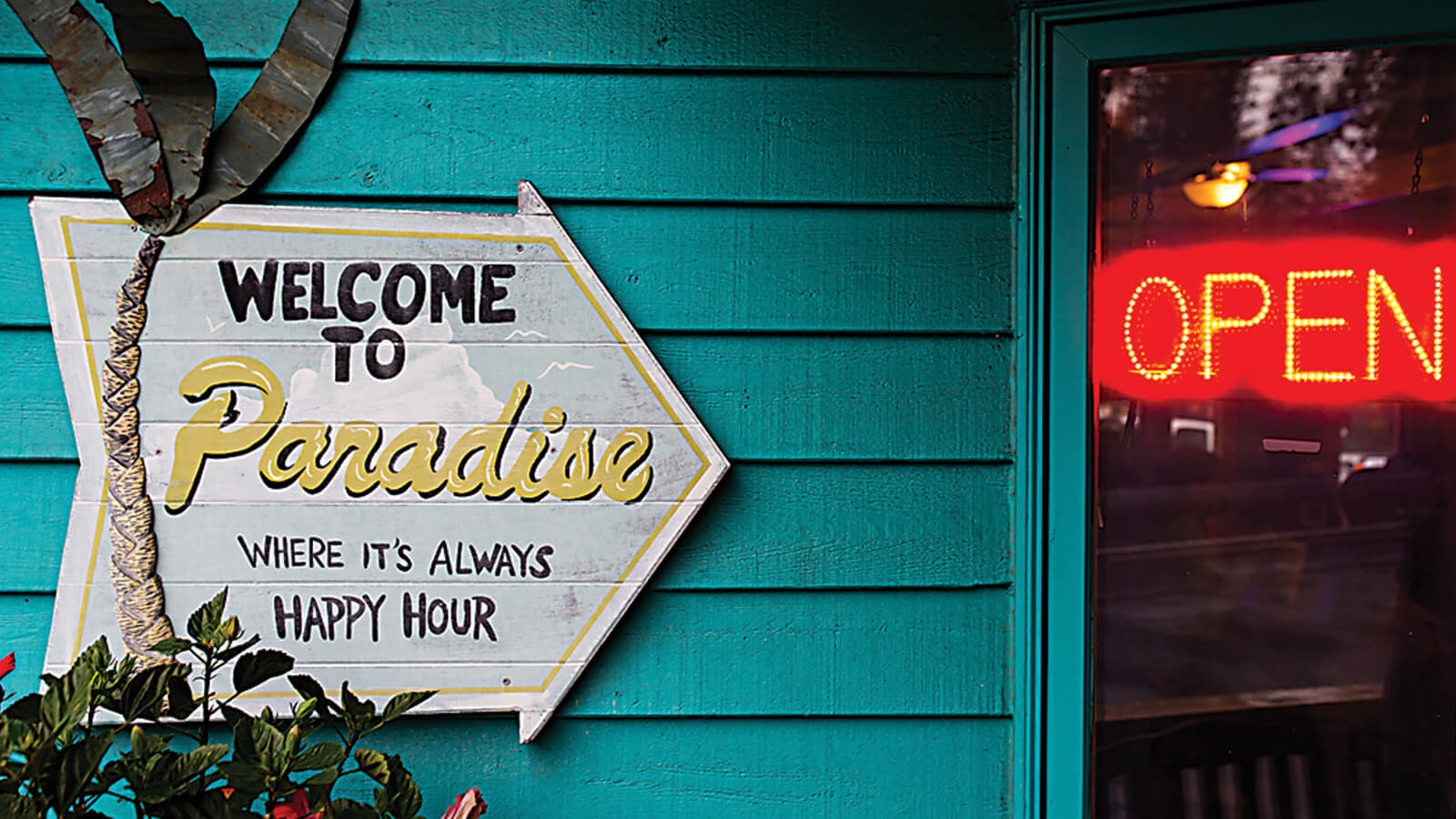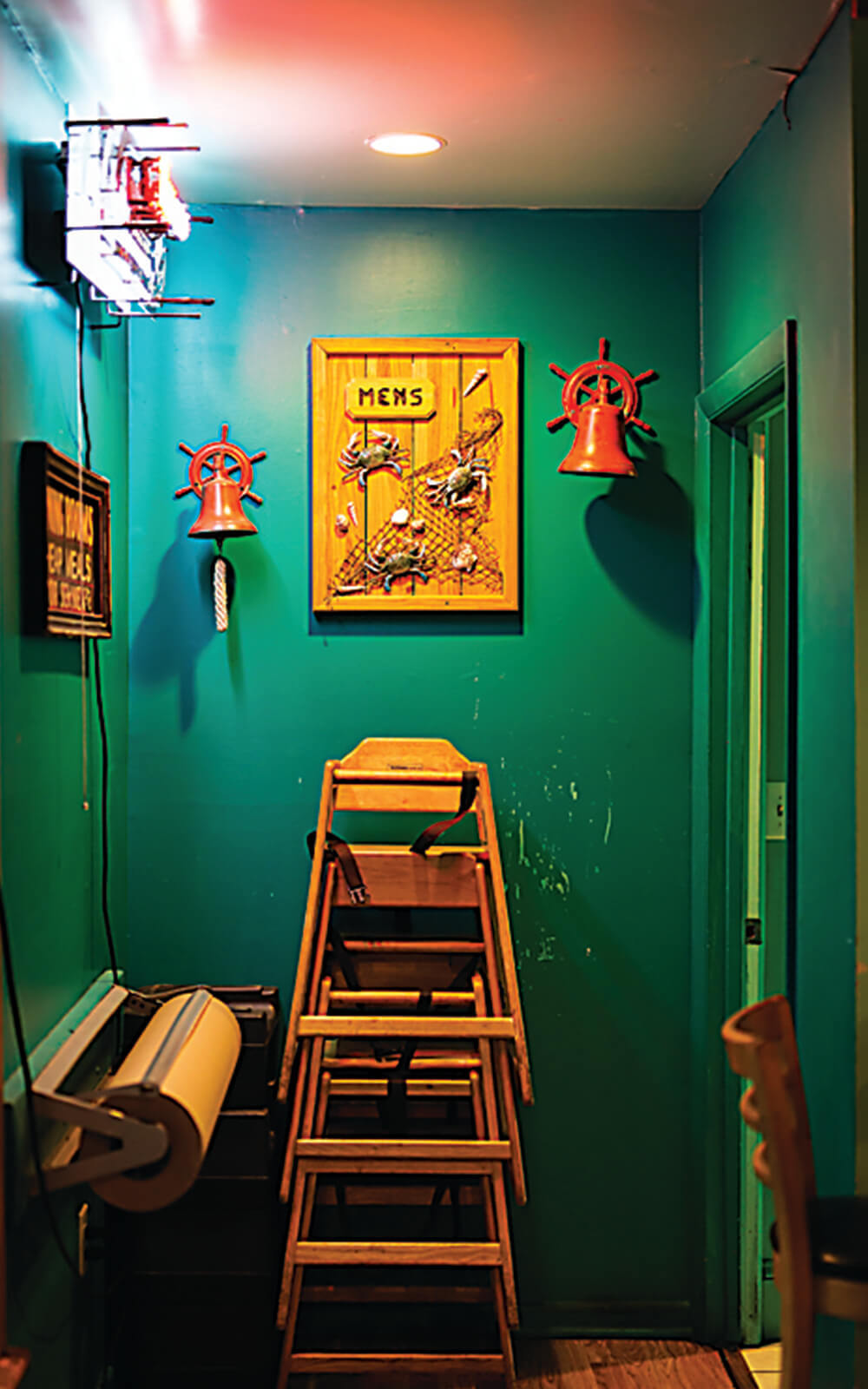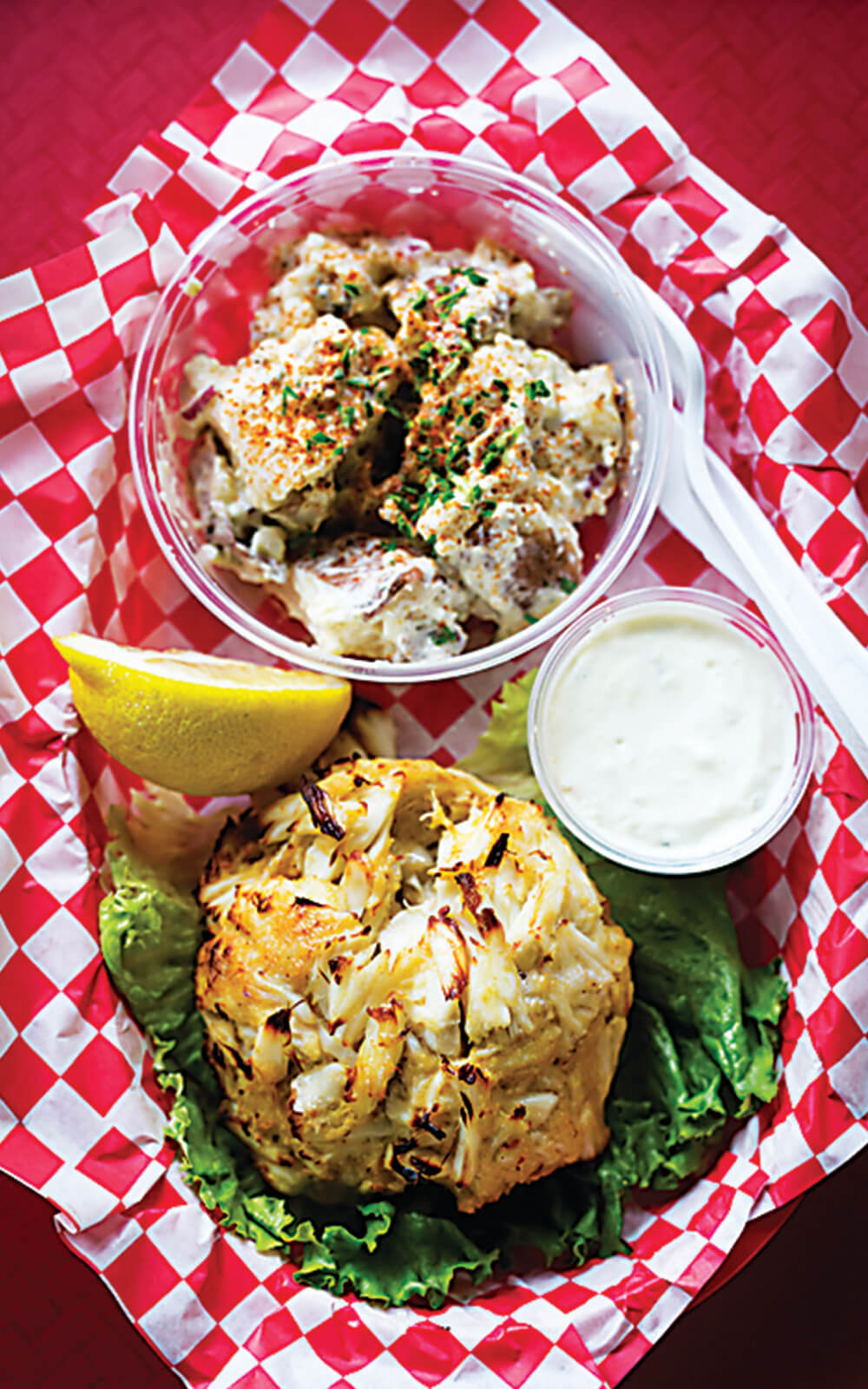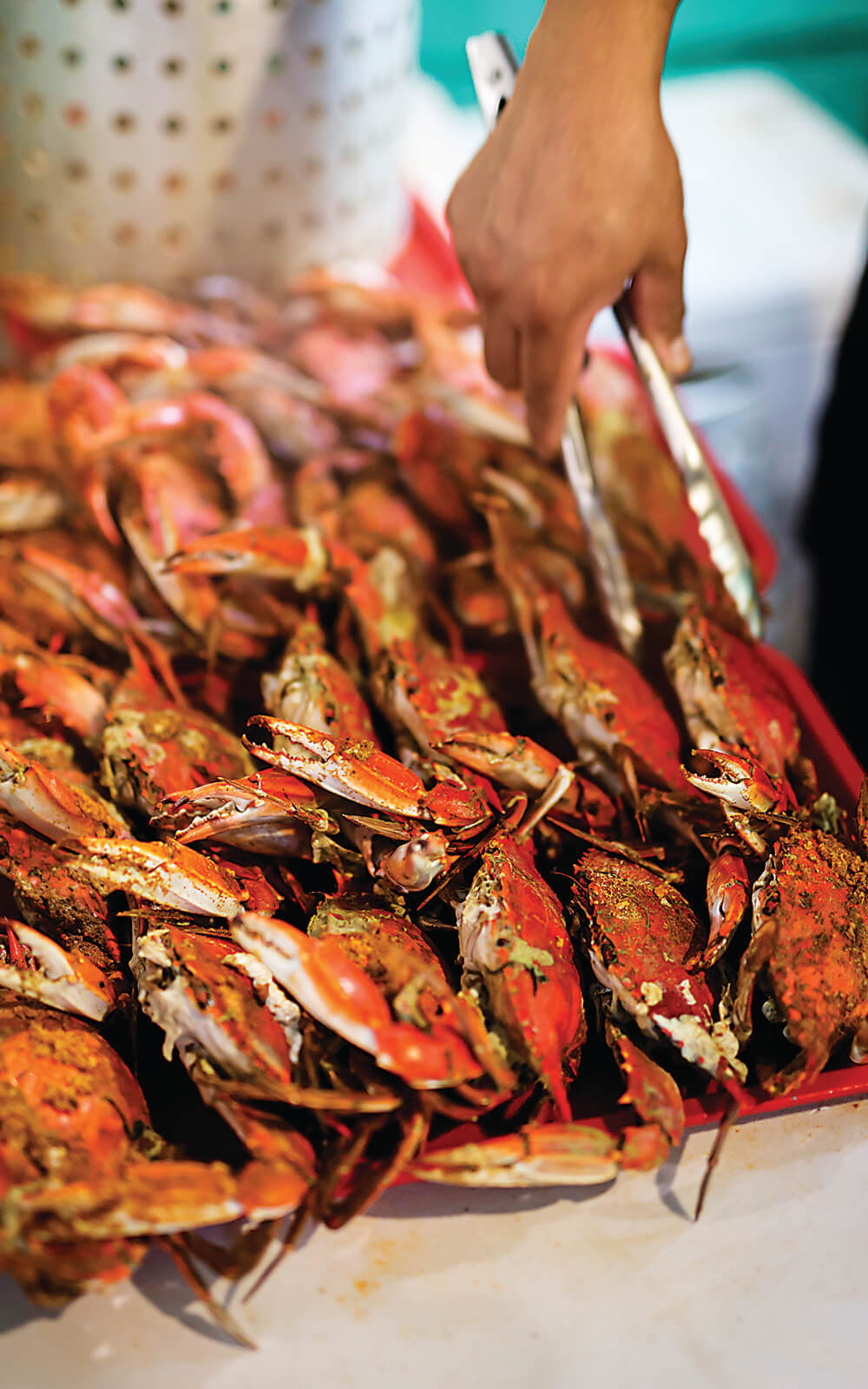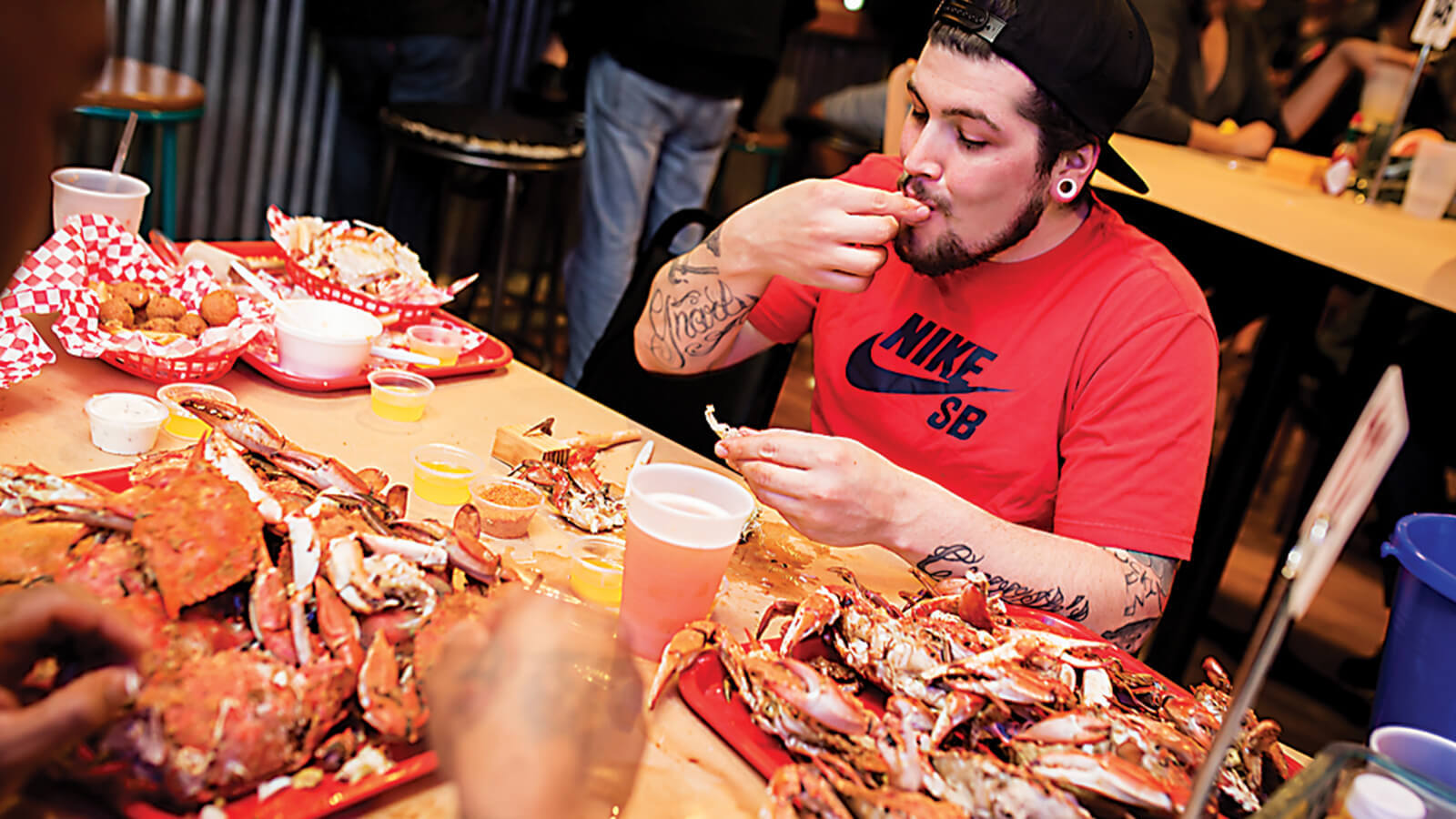 Fat Boys Crab Shack: A sign beckons; stacking them deep; a crab cake platter; the decor; picking crabs is finger lickin' good.
Crab House
Do's & Don'ts
DON'T ask for tartar sauce (that is, unless you want to look like a tourist).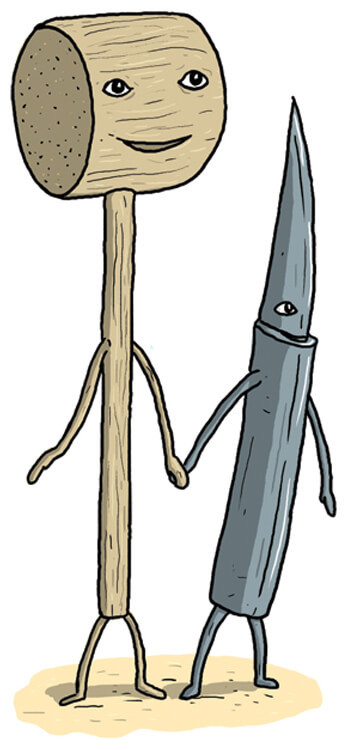 DO use the mallet gently to avoid cracking shells into the crab meat. Pro tip: Use your mallet in conjunction with a knife by placing the knife into the shell and tapping the top gently.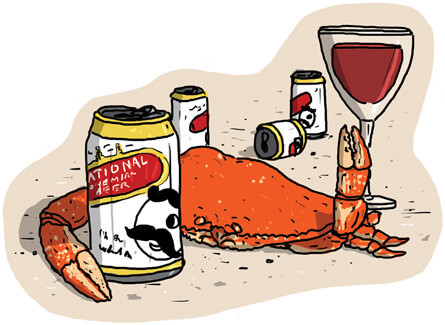 DON'T drink wine. Repeat after us: "Natty Boh."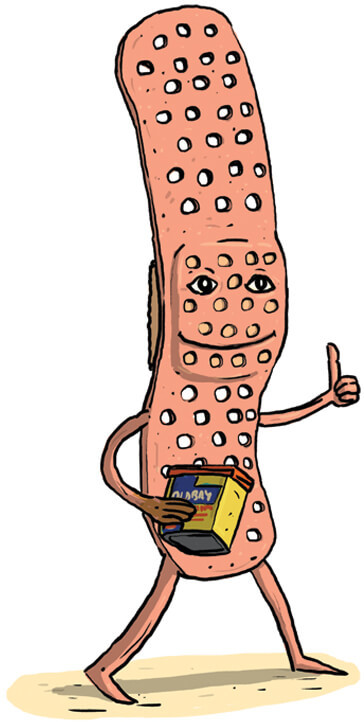 DO pack Band-Aids. It's always fun until someone gets hurt. In other words, crab spice stings when it gets into an open wound!
DON'T ask for a lobster bib. (If you DO, we DON'T know you.)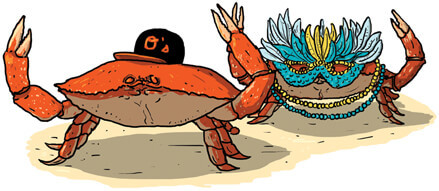 DO ask where the crabs are from before you order (acceptable answers are Maryland, Louisiana, or Texas Gulf, all of which are where you can find blue crabs). If the answer is Asia, note the nearest "exit" sign.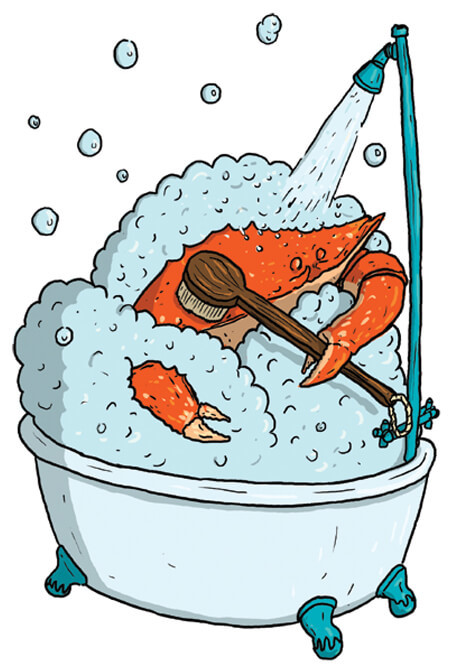 DON'T wash the shell. In this case, "dirt" is desirable.
DO wear appropriate clothing. Read: Avoid white, even if it's after Memorial Day.
FLOYD'S CROSSROADS PUB Dayton
House Rules: Family-owned since 1998, this roadside pub is a HoCo landmark for more reasons than one. The fare—from hard-shells and steamed shrimp and clams to fat, no-fill crab cakes—is as good as it gets, and the place oozes neighborly appeal. On a recent visit, when it was our turn to move off the waitlist, a patron (and part-time waitress) who was cracking crabs at the bar abandoned her barstool between bites to bus our table and chime in with recommendations. The best seats in the crab house are under the newly tented outdoor deck (with a fireplace and karaoke-singing waitresses). Crab Cred: Floyd's keeps it simple with brown paper, a mallet, and a plastic knife to help you get down to business. (We loved the paper bag strategically placed on the floor, so we could dump our own detritus.) Our extra larges (from the Gulf out of season and the bay in season) were stupendous. Standout Sides: Two words: onion rings. They're killer. 4809 Ten Oaks Road, Dayton, 410-531-7485
GIANNI'S ITALIAN BISTRO AND CRAB HOUSE Halethorpe
House Rules: Located in a mini-strip mall in the shadow of a Home Depot, Gianni's may not be much to look at, but there's more than meets the eye. Regulars crowd the bar to feast on an array of Italian, American, and seafood favorites. Friendly female bartenders pour plenty of cold beer and call everyone "hon"—they genuinely want their customers to have a good time. Crab Cred: On a recent Wednesday, we passed on the all-you-can-eat deal ($35 per person, mostly sourced from Louisiana) and ordered a dozen Maryland blues. They were expertly seasoned, perfectly cooked, and oh-so-sweet. The steak and crab cake special is a steal at $19.99 (with two sides), especially considering the denseness of the cake. Standout Sides: Start with a large bowl of spinach crab dip (you'll never finish it), then, when your entree arrives, spread spoonfuls of it over a baked potato or fresh broccoli and thank us later. 3720 Washington Blvd., Halethorpe, 410-242-4555
JIMMY CANTLER'S RIVERSIDE INN Annapolis
House Rules: Tucked away on a wooded waterfront cove off of the Severn River, this tiny Annapolis crab house is a true hidden gem. For more than 40 years, seafood-loving locals and in-the-know out-of-towners have flocked to Cantler's for its simple seafood, creekside crab deck, and cold cans of beer. Snag a spot at one of the sun-shaded picnic tables and watch the world on the water go by. Crab Cred: Though the options include fish, lobster, scallops, mussels, clams, oysters, and shrimp, Maryland blues are why you go. These bay beauties are brought in daily by local watermen, steamed in-house, and served red hot. The only catch, so to speak? The coveted crustaceans are first-come, first-served, so arrive early in case they sell out.Standout Sides: Swap your classic side of fries for sweet potato spuds or a summertime special of fried green tomatoes. 458 Forest Beach Road, Annapolis, 410-757-1311
WORTH THE DRIVE
FEAST ON THE EAST
CRAB SPOTS ON THE EASTERN SHORE
By Lydia Woolever
Ocean Odyssey
This shingled crab shack might sit on the edge of the ever-busy Route 50, but you'll feel a world away as you sit just inside the crab-and-beer garden and eat your heart out with hard crabs, soft crabs, and crab-topped goodies like burgers and even poutine. 316 Sunburst Hwy., Cambridge, 410-228-8633
The Crab Bag
This joint prides itself on hand selecting each male crab for its size and weight. This guarantees that you get what you pay for, whether it's just one crab or a feast option with wings, ribs, and shrimp. 13005 Coastal Hwy., Ocean City, 410-250-3337
Crab Claw
The 50-year-old former-shucking-house-turned-seafood-hot-spot is the place to go for dockside seating, oysters and clams, and, of course, Maryland blues. Afterward, stroll through the quintessential tidewater town. 304 Burns St., St. Michaels, 410-745-2900
Harris Crab House
For the best seat in the house, head to the awesome outdoor deck with stuffed soft-shell sandwiches, cold pitchers, and a front-row seat to watch boaters pass beneath the Kent Narrows Drawbridge. 433 Kent Narrows Way N., Grasonville, 410-827-9500
The Masthead at Pier Street
This hidden gem is the marina-side hangout for steamed crabs and spectacular sunsets. Insider's tip: the rockfish-and-chips are to die for. 104 W. Pier St., Oxford, 410-226-5171
Waterman's Crab House
Slide into a paper-wrapped picnic table for a Maryland-style summer feast with killer crab soup, hot hard-shells, and sweeping views. 21055 W. Sharp St., Rock Hall, 410-639-2261
JIMMY'S FAMOUS SEAFOOD Broening Manor
House Rules: In the early '70s, Greek immigrant Jimmy Minadakis came to America with $5 to his name and not knowing any English. After working as a dishwasher and a busboy, he eventually saved enough to open this seafood spot and, since then, has become the personification of the American Dream. Today his Holabird Avenue hangout (unapologetically old-school with its circular leather booths and nautilus-themed décor) is a local landmark (drawing Ravens and Orioles players galore) and has become famous throughout the land, shipping hard-shells and colossal crab cakes all over the country. Crab Cred: In season, Jimmy's serves some of the largest local jimmies (and sooks) around; out of season, they import their goods from Louisiana; year-round, they earn major presentation points—crabs are piled high in a stainless steel pot, along with several ears of corn for every bushel. (Those pots do the trick—even after two hours of hard-shell labor, ours stayed piping hot.) Oh, and if you want crabs on Christmas, Jimmy's is open 365 days a year, from 10:30 a.m. to 1:30 a.m. Standout Sides: Please pass the house-made mozzarella sticks. 6526 Holabird Ave., 410-633-4040
L.P. STEAMERS Locust Point
House Rules: In the formerly industrial neighborhood of Locust Point, this 20-year-old stalwart remains a true old-school Baltimore favorite. With cold beer by the pitcher, hot crabs by the dozen, O's on the TV, and a SoBo-style deck on the roof, this narrow row house has hosted locals and tourists alike. Grab a bench at a picnic table up top and watch the sunset behind the neon light of the Domino Sugars sign. Crab Cred: While true blues are served year-round, you can expect Maryland crabs in the summer months, with sweet meat and a salt-studded dusting of J.O. Spice. The seasonal soft-crab sandwich is another must, pan-fried in butter, flour, and seafood seasoning on soft white bread. Standout Sides: With everything from homemade macaroni salad and coleslaw to curly fries and applesauce, L.P.'s sides remind us of those all-American backyard barbecues of our youth. Nab a basket of hush puppies and corn on the cob and call it a day. 1100 E. Fort Ave., 410-576-9294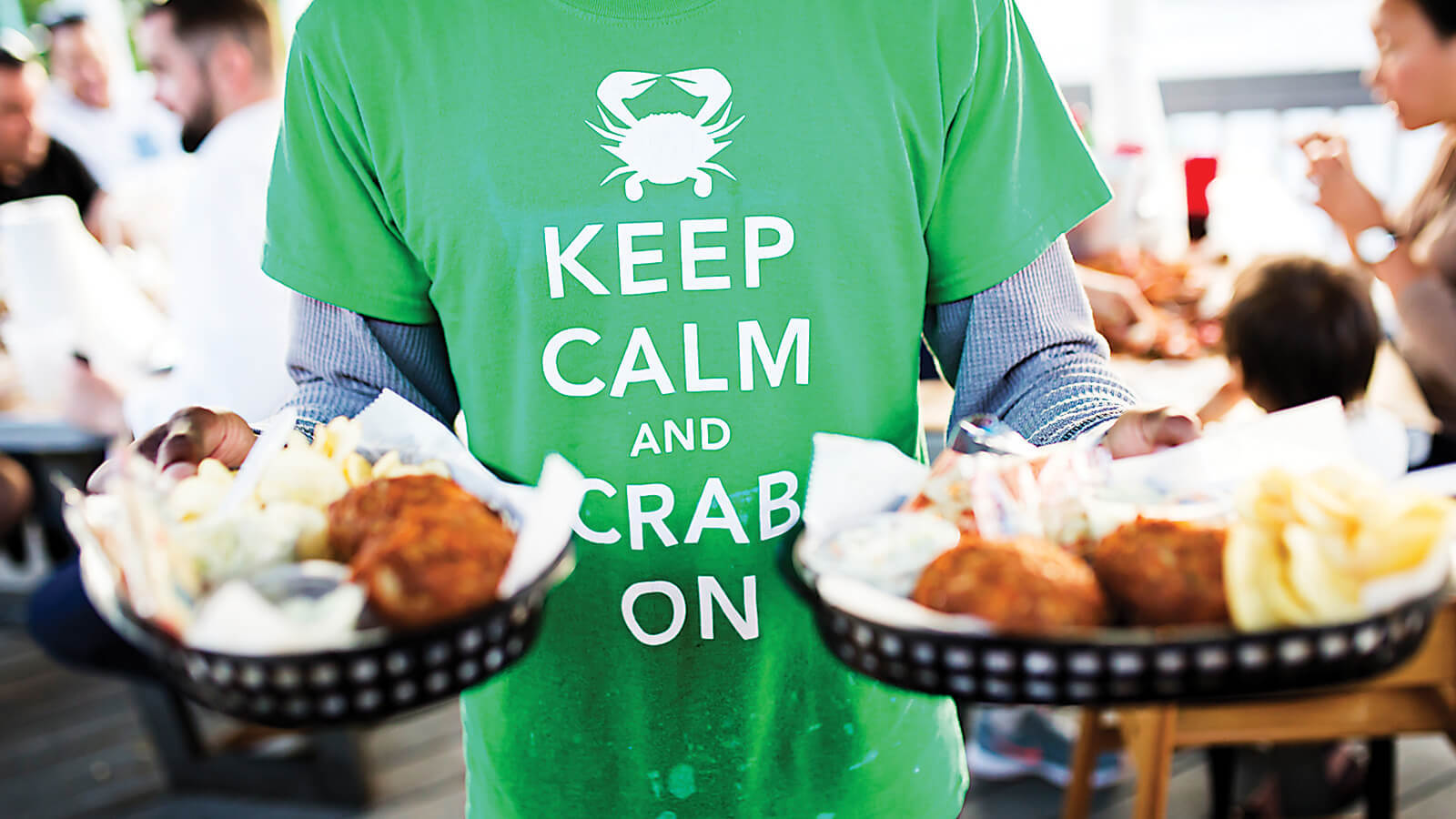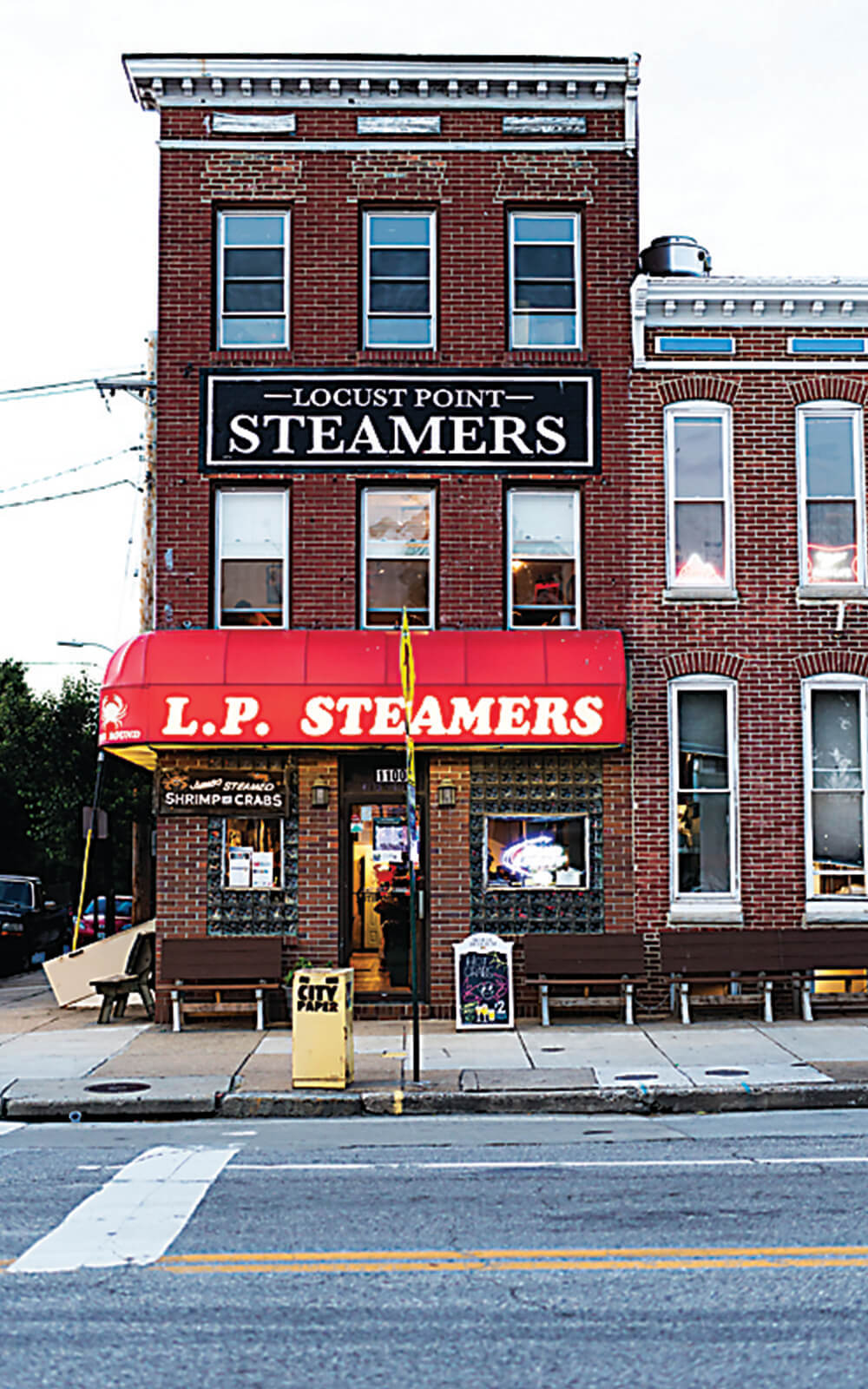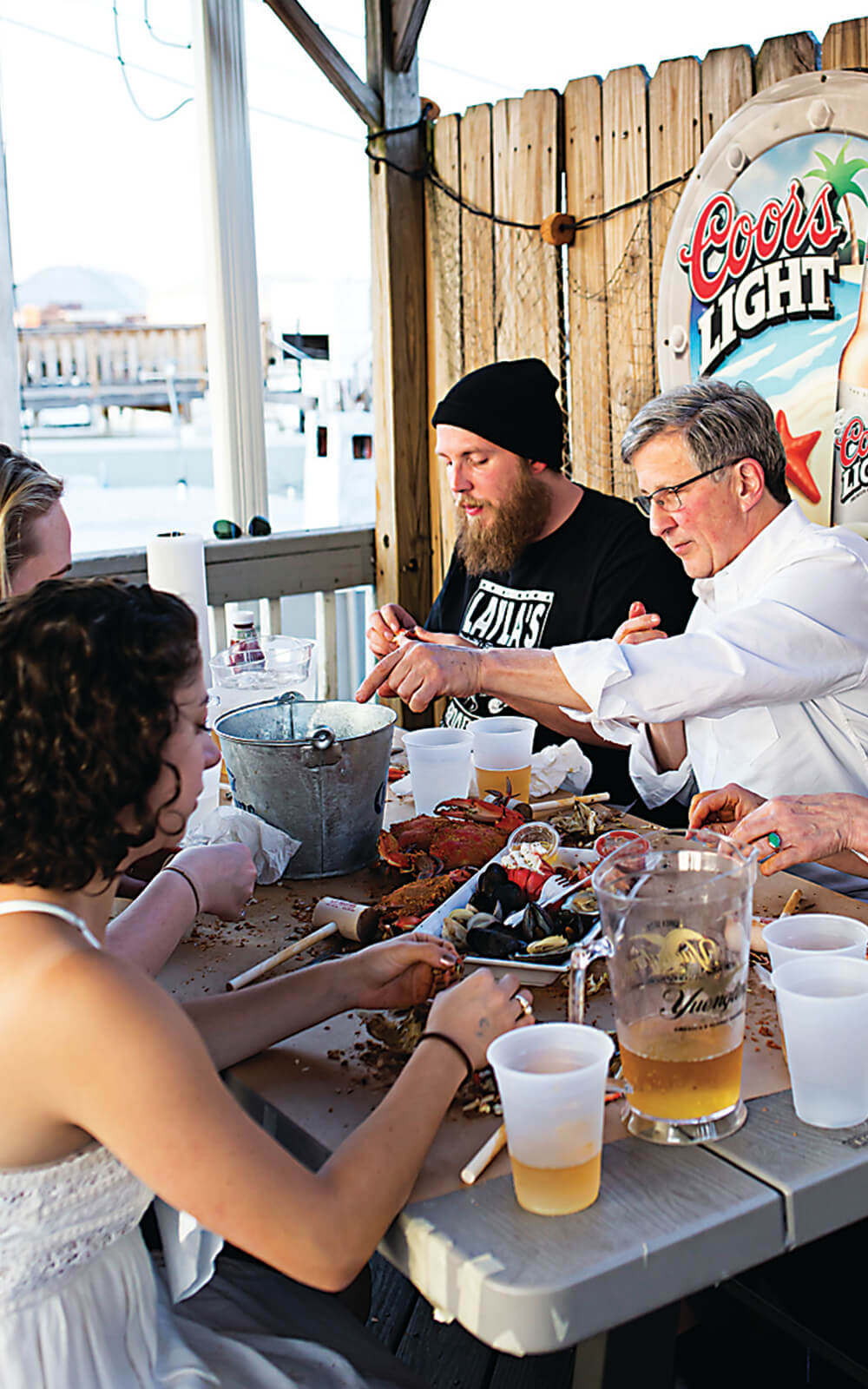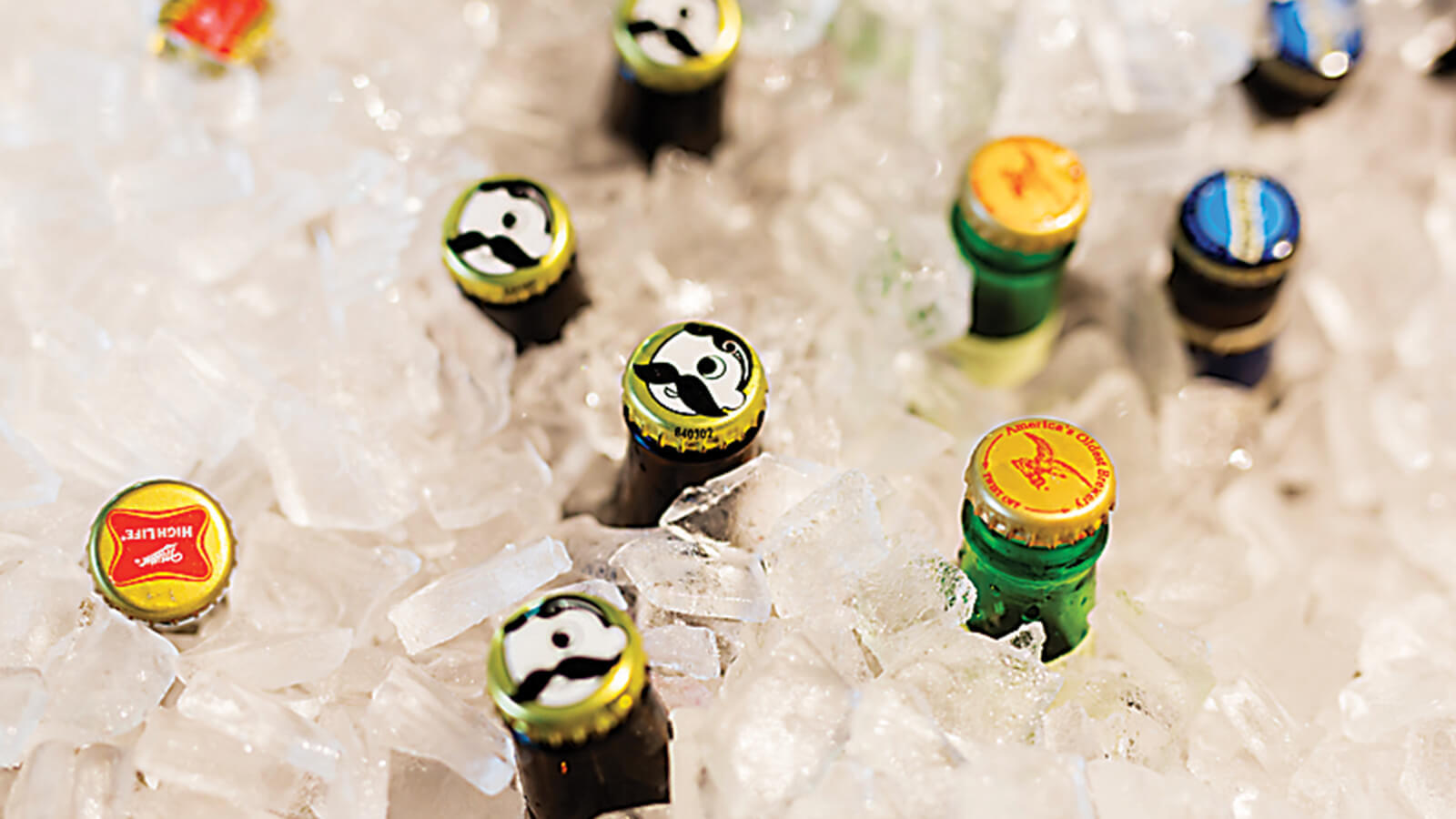 L.P. Steamers: Keep calm and crab on; sorting the sweeties; digging in; the rooftop deck; the view from the street; Bohs and other beers.
MIKE'S CRAB HOUSE NORTH Pasadena
House Rules: This second outpost of the wildly popular Riva crab house opened in 2012 and bears a close resemblance to its big brother. Located at White Rocks Marina, it offers free dockage for boaters and has a massive deck and tiki bar for cracking crabs outside. (There's also a large dining room and full bar inside.) However, the newer location is a bit more sterile than the original—it needs another layer of Old Bay caked into the tables and walls to achieve that genuine Mike's feel. Crab Cred: Get there while you can, because Mike's North closes out of season. It sources its crabs primarily from Louisiana and Texas and offers an all-you-can-eat deal for $28.95, in addition to larges by the half- dozen. (Call first to confirm availability.) The meaty crab balls—basically bite-size, round crab cakes—are a solid way to start before your hard-shells arrive. Standout Sides: Onion rings are the best of a standard armada of fried sides that include solid French fries and hush puppies. 1402 Colony Road, Pasadena, 410-255-7946
MR. BILL'S TERRACE INN Essex
House Rules: There's no terrace or inn at this crab house, but you'll often find Mr. Bill sitting at the bar. Say "hi" to the jovial proprietor, then make your way to a paper-covered table in the back, beneath old photographs, fishing nets, and baseball-game-tuned TVs. For over 50 years, this has been the go-to seafood spot for cold buckets of beer and hot heaps of crabs. To this day, the place is packed with those on a crab crusade. Prepare yourself for a well-worth-it wait. Crab Cred: These heavy-hitter hard-shells are steamed-to-order and come crusted in a thick salty seasoning. Orioles-turned-restaurateurs Rick Dempsey and Boog Powell are fans. Standout Sides: When in Maryland, there's no such thing as too much crab, so order a side of "Stevie Fries"—hand-cut, covered in house-made crab dip, and topped with cheese. 200 Eastern Blvd., Essex, 410-687-5994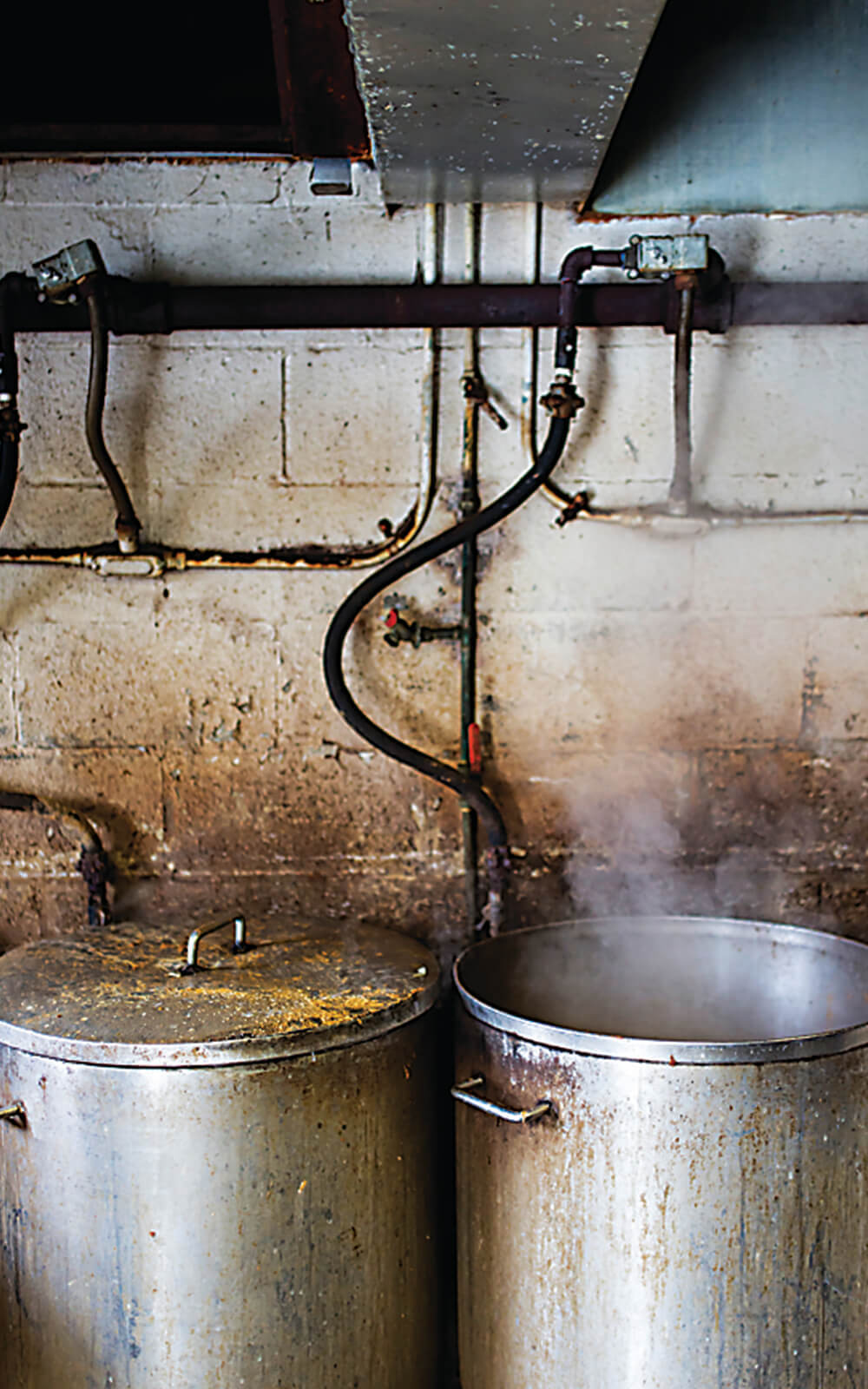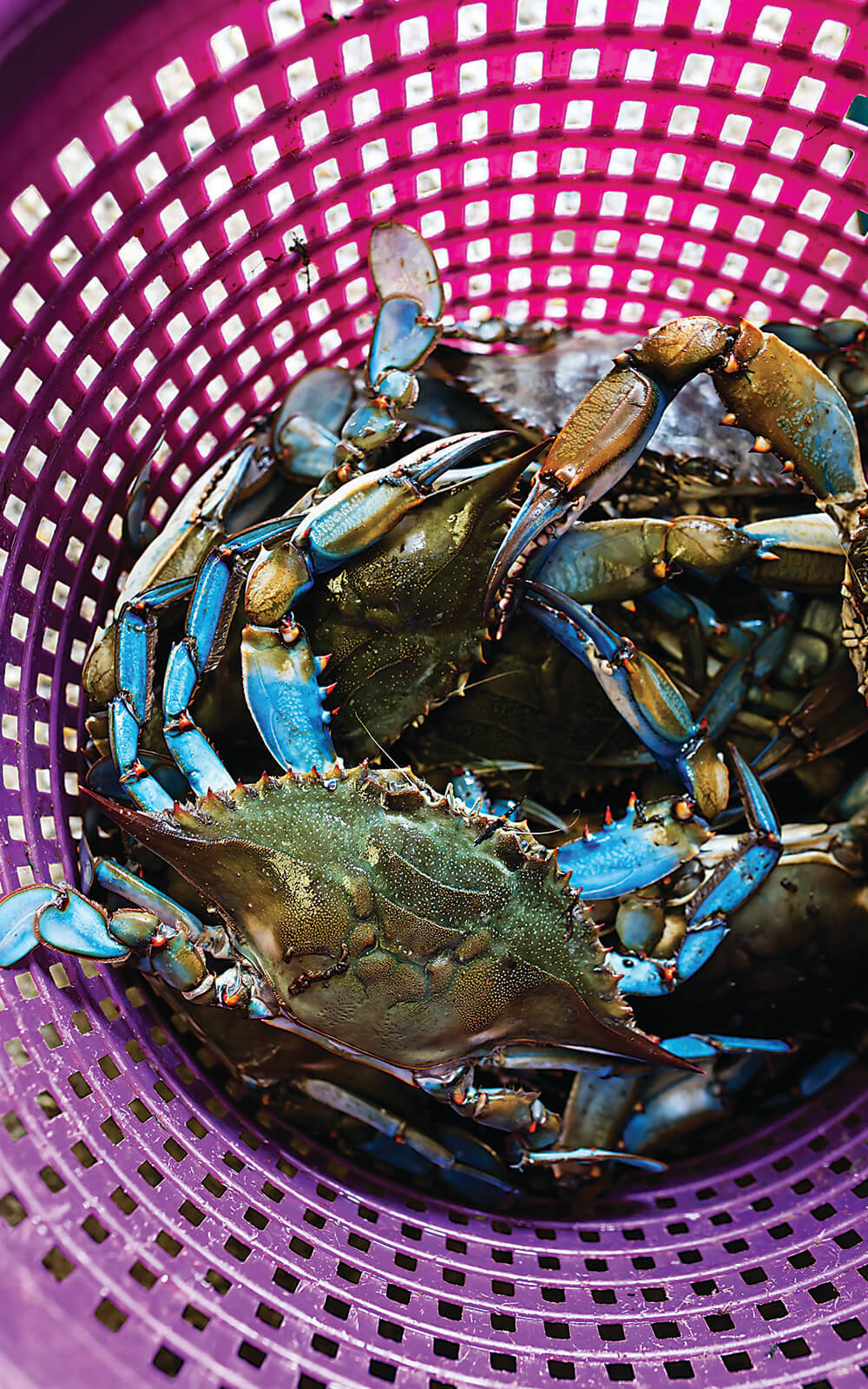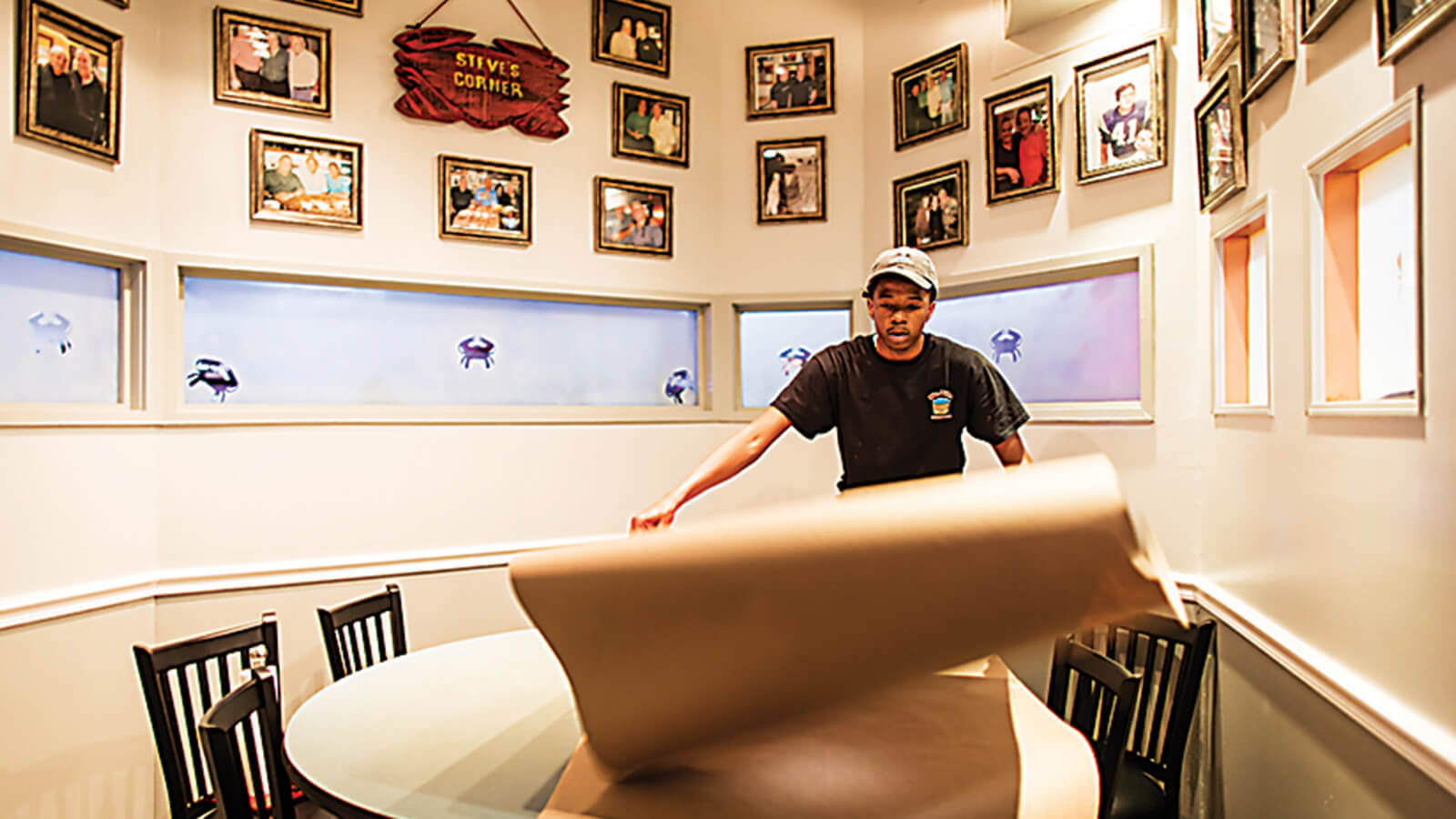 Mr. Bill's Terrace Inn: Getting to work; just-caught true blues; behind-the-scenes; a tray of seasoned crabs; rolling out the paper.
THE NEW SUE ISLAND GRILL & CRAB HOUSE Essex
House Rules: This past January, Sue Island Grill, a marina dock bar nestled among the boats parked at Sue Creek, got a massive makeover, including new owners, a rehauled interior and exterior, as well as new management and kitchen staff. One thing that remains, however, is the beautiful outdoor ambiance of the deck with pastel Adirondack chairs, a sandy beach, and umbrella-covered picnic tables overlooking a creek. Grab a seat right before sunset and enjoy hard-shells, local beer on tap, and live music. Crab Cred: Early in the season, our crabs came from the Gulf and, while the dozen we ordered were a bit inconsistently cooked, the good ones were high caliber—heavy and filled with smooth lump meat. Standout Sides: Pregame your hard-shell feast with a crab pretzel: pieces of warm Bavarian soft pretzels with spicy crab dip on the side. 900 Baltimore Yacht Club Road, Essex, 410-574-0009
NICK'S FISH HOUSE Port Covington
House Rules: Nick's Fish House opened in 2004 when the idea of Port Covington taking off as a trend was laughable. Owner Tommy Chagouris, who also steered the ship at Nick's Inner Harbor Seafood in the Cross Street Market, sold his business in 2015 to several owners of Delaware beach bars like Starboard and Bethany Blues BBQ. The new owners have kept the laidback vibe, but made cosmetic changes like revamping the deck. In fact, your best move is to snag a picnic table on the deck, overlooking the Patapsco River and Hanover Street Bridge. Crab Cred: All of Nick's crabs are steamed to order and come from Maryland until Nov. 15, when they're shipped from the Gulf Coast. The crabs come piping hot, full of sweet lump meat, caked in spice, and, natch, atop traditional brown paper. Standout Sides: May we suggest the flash-fried calamari served with basil aïoli and marinara sauce for dipping? 2600 Insulator Dr., 410-347-4123
OFF THE SHELF
OLD SPICE
After more than 70 years, the J.O. Spice Company is hotter than ever.
By Lydia Woolever
– david Colwell
Yes, it has been around since 1945—six years after the birth of Old Bay—but the J.O. Spice Company is the seafood seasoning underdog you need to know. Shipping from Maine to Mexico and beyond, the company is a third-generation enterprise. Unbeknownst to many, it's likely the spice you lick from your fingers after leaving your favorite crab house. In summer, J.O. manufactures between 3 and 5 million pounds of its bright red seasoning. That's at least 80 percent of the market share, according to owners' estimates, or enough to cover more than 1 million bushels of crabs at 200 houses throughout the state. But after all the years of this family-run Halethorpe company (once housed on Pratt Street), not much has changed. "The recipe is not too far off from those early days," says owner Donald Ports, the grandson of founder James Ozzle Strigle (aka J.O.). So what makes their blend such a standout? "Because of the larger salt crystal, our seasoning adheres to the crab when it cooks, while others clump like mud, as they're not formulated for steam," explains Ginger, Don's wife and J.O.'s marketing manager. Brand loyalty sticks, too. "We still love J.O.," she says. "Don and I always smell like crabs."
➤TOUGH TO CRACK: J.O. also makes mallets. Last year alone, they turned out more than 800,000 of the wooden crab busters.
OCEAN PRIDE SEAFOOD RESTAURANT Lutherville
House Rules: Ever since it opened in 1971, Ocean Pride has been a Baltimore County staple. In 2001, it got a reboot in new ownership from the Bielski brothers, Rick and Randy, who steamed crabs there as teenagers 25 years ago. While there's not much to write home about in the ambiance department, that only adds to the authenticity. Try to score a seat on the tented back patio with picnic tables. The menu is extensive (flatbreads, burgers, ribs, spaghetti) and options from the raw bar are always excellent. Crab Cred: Shipped all around the country, Ocean Pride is known to have some of the best, and fattest, local steamed crabs ranging in size from medium to "whale." We especially appreciate OP's house-made seasoning, which is heavy on the black pepper and packs a fiery punch. Standout Sides: Whether it's the fried pickles or hot wings, anything tossed with Ocean Pride's Buffalo sauce (Old Bay meets BBQ) is a sure bet. 1534 York Road, Lutherville, 410-321-7744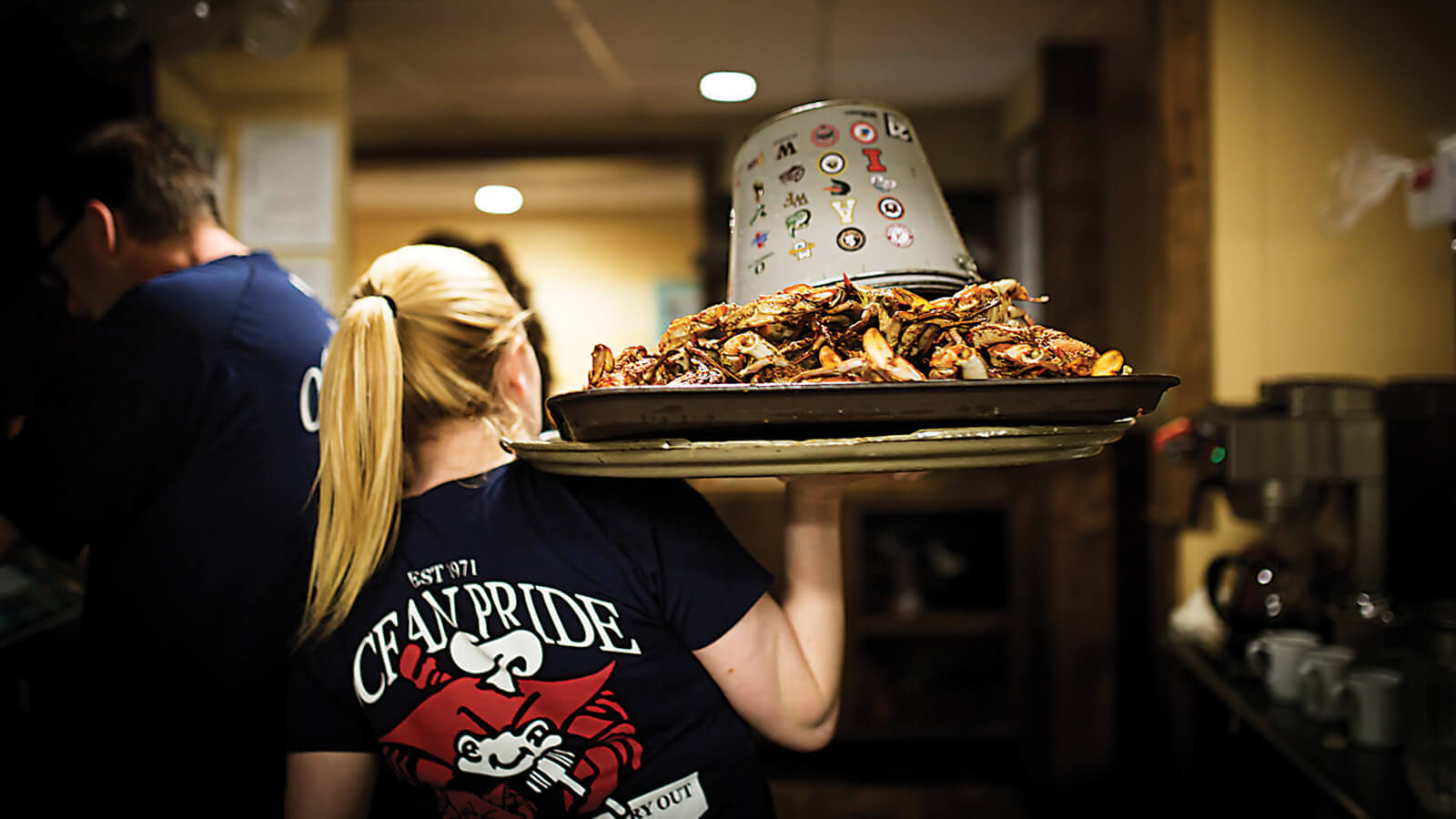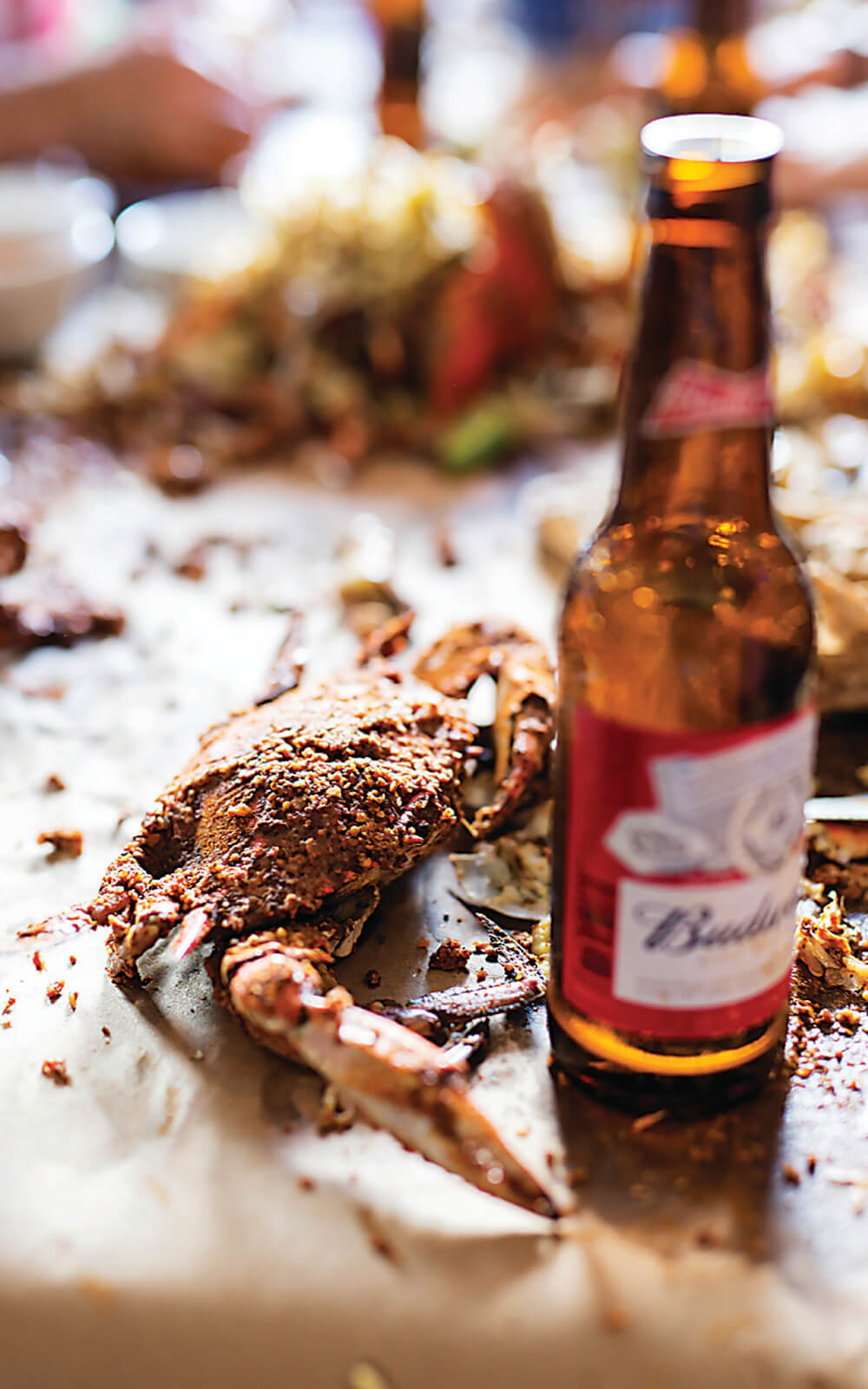 Ocean Pride Seafood Restaurant: A tray of seasoned crabs; a perfect pairing; in the kitchen; scooping the seasoning.
THE POINT CRAB HOUSE & GRILL Arnold
House Rules: Away from the hubbub of downtown Annapolis, this little Arnold getaway is a neighborhood hangout nestled on a secluded creek just off the Magothy River. With a roll-up garage-door bar, a picnic-tabled patio, and waterfront location, it's the perfect place to soak up a summer sunset, watch the boats bob by the dock, and crack some claws. Take advantage of their great craft-beer list, weekday happy hours, and live music on Wednesday and Thursday nights. Crab Cred: Unlike most seafood shacks in Maryland, The Point's crabs are certified "True Blue," meaning most are sourced from the Chesapeake Bay. These beauts are noticeably smaller than their Gulf Coast cousins, but their meat is sweeter and more succulent, and that is what makes Maryland crabs the very best. Standout Sides: Save room for a basket of hand-cut herb fries, jalapeno cheddar cornbread, and bleu cheese coleslaw. 700 Mill Creek Road, Arnold, 410-544-5448
Q&A
HOUSE KEEPING
How Maryland's crab houses came to be
BY JANE MARION
Kate Livie wrote Chesapeake Oysters: The Bay's Foundation and Future last year, but the director of education for the Chesapeake Bay Maritime Museum in St. Michaels is also something of a crab historian. We caught up with her to talk about the history of Maryland crab houses.
Baltimore: Historically speaking, when did people figure out that crabs were something you could eat?
Kate Livie: We know more about the harvesting and commercial market and the consumption of oysters than we know about crabs, but the commercial market only started paying attention to crabs around 1917.
Baltimore: Is that as far back as we can trace them being consumed?
KL: People thought that Native Americans and colonists didn't eat them because, historically, no crab shells were found, but that's because hard-shells break down and decompose rapidly. Now, archaeologists are going to sites where they sift soil with a really fine mesh. We're finding some evidence that Native Americans onward were eating crabs, though if you think about it, when compared to oysters, they're not the most efficient form of protein. Oysters don't run away and can fill you up quickly. At that time, it made more sense to eat oysters.
Baltimore: So how did the culture of cracking crab as a communal activity arise?
KL: There was more of a market for soft shell crab in the 18th century—they are polite to eat and make more of a meal. But toward the end of the 19th century, when there is the greatest change in leisure time and people have more free time to spend on something that is truly a social custom, we see cracking crabs as a social activity. The first hard crabs were available [to the public] around 1917 at places like Riverview Park in Baltimore. With its five-cent admission for this iconic summer event, they advertise things like, "We have hard crabs at our famous crab stand."
Baltimore: So was that the beginning of crab houses, as we know them today?
KL: Crabs were not really a restaurant food. It was considered impolite and messy to eat in public, as you are savaging this creature. In the 19th century, you even see handbooks for women saying that they shouldn't eat in public at all. Hard-shell crabs were largely an at-home food, but as the concept of politeness shifted and you see a more relaxed atmosphere in the 20th century, you see people going out to crack crabs. This idea is also wrapped up in the concept of transportation, as cars and refrigeration become more commonplace in the teens and '20s—the crabs have to be alive when they get to the houses. By the 1950s, the picking facilities became crab-serving facilities. At that time, some of the first crab houses such as Phillips started to open and eating crabs became something you could do in public.
Baltimore: Why were they called crab houses?
KL: The early crab houses were actually at someone's house. Some lady would make crab cakes and clam cakes and hand them through the window. It was very informal. The first crab houses would have served crab cakes or prepared dishes—you'd walk on up to a window and someone would feed you. That's the earliest concept for crab houses.
RETER'S CRAB HOUSE AND GRILLE Reisterstown
House Rules: Despite its location in a strip mall in sleepy Reisterstown, Reter's does a darn good job of convincing you that you're on vacation. Everything from the décor of surfboards and kites to the soundtrack of beach-party hits conspires to create a relaxed, vacation-y vibe. Seating is at a long, L-shaped bar or at tables, and if there's a wait, you can scope out the lobster tank and raw bar, which offers several kinds of oysters, plus other fruits des mer . Crab Cred: In season, Reter's tends to carry Chesapeake crabs only, but because of this year's long, cold spring, it was still serving a mixture of Chesapeake and Gulf crabs when we visited in mid-May. The half-dozen large steamers we cracked were a bit on the small side but had more than enough good lump to satisfy. Standout Sides: A gold star goes to the plump chicken wings, available in five flavors (we chose hot and spicy) and served with bleu cheese and ranch dipping sauces. 509 Main St., Reisterstown, 410-526-3300
SCHULTZ'S CRAB HOUSE AND LOUNGE Essex
House Rules: Schultz's has been slinging crabs since 1969 and in business as a bar and lounge for even longer. You sense every bit of that history in the comfortable wood-paneled space, which is bifurcated into a cozy blue-collar barroom and a dining room festooned with nautical bric-a-brac and dotted with tables topped with thick butcher's paper. Crab Cred: Even on the cold spring day we visited, Schultz's was carrying Chesapeake crabs, which helped us forgive the fact that the half- dozen jumbos we ordered lacked the full-fledged buttery richness of high summer. Still, we're sure that, by now, those fat bay beauties have ripened to peak flavor. Standout Sides: We heartily recommend the Maryland crab soup, a suitably spicy tomato-based broth bursting with veggies and crabmeat. Don't miss dessert. A slice of lemon meringue pie provided just the tartness we needed to end our meal. 1732 Old Eastern Ave., Essex, 410-687-1020
SHIPS CAFE RESTAURANT AND CRAB HOUSE Catonsville
House Rules: This maze-like, two-story restaurant features a bar and numerous dining rooms, all of which echo with the sound of mallets striking shells. Its extensive menu of land and sea favorites is served by a staff of young employees, who aim to please. Crab Cred: There's a reason people have been boarding Ships since it opened in 2002. Its crabs, sourced primarily from Louisiana and Texas, are reliably fat, spicy, and cooked to crabby perfection. They can be ordered by the half-dozen, and on a recent night ranged from $68 a dozen for smalls to $102 for extra larges. Standout Sides: If Ships serves it, it can be topped with crab. Crab nachos, crab potato skins, even a crab-topped Caesar salad dot the menu. The crab mac and cheese, chock full of melted cheddar and crab, isn't fancy—but it is addictive. 828 Frederick Road, Catonsville, 410-744-1838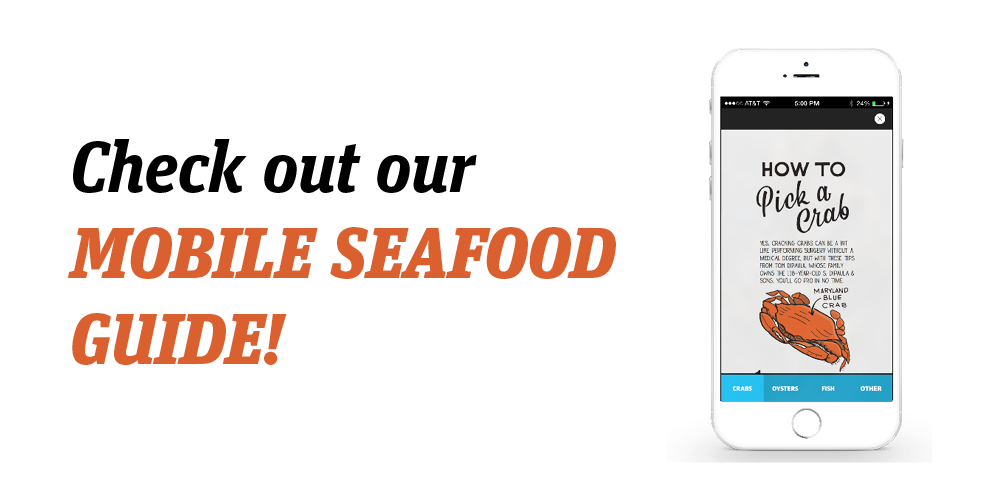 making crab history
All In The Family
Baltimore's oldest crab house is a family affair.
BY JESS MAYHUGH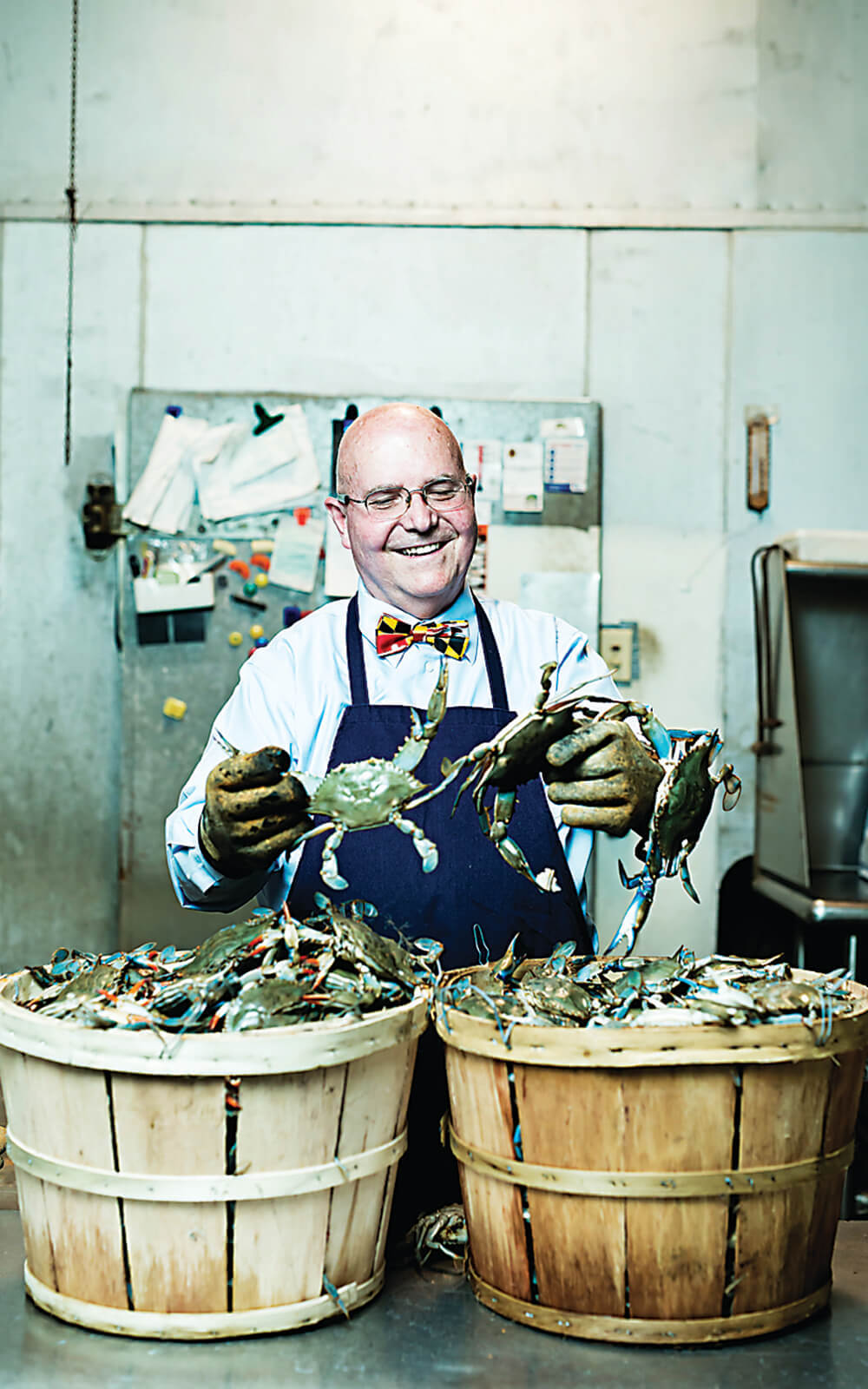 As Baltimore continues to gentrify, with condos transforming the skyline and national food chains opening left and right, S. DiPaula & Sons Seafood remains a stronghold of yesteryear. The Rosedale crab house—founded in 1897—has always been in the family, calling three different locations home, refusing to sell out to big buyers, and even surviving the Great Baltimore Fire of 1904.
"Keeping the family name going is important," says DiPaula owner Thomas Edward Schisler Jr., pictured. "I suppose that my grandparents would be proud of me."
Now 68 years old, Schisler chronicles the history of what's believed to be Baltimore's oldest crab house, which started when his great-grandfather Salvatore DiPaula opened the doors at 421-23 E. Lexington St., right across the street from City Hall. At the time, it was just a modest storefront that offered carryout seafood to the neighborhood.
"My great grand-parents fed the policemen and firefighters during the Great Baltimore Fire," he says. "I'm not exactly sure what they ate, but I know they didn't go hungry."
Several years later, the family moved to a slightly bigger location at 505 Forrest St., adjacent to the bustling Old Town Mall and Belair Market. As Salvatore's sons, George and Andrew, became business partners and focused on the wholesale side, business began to boom. "It wasn't an eatery," Schisler explains. "They were selling to restaurants, clubs, and who knows what the heck else."
After Andrew passed away, his only child, Rosemary DiPaula, and her husband (Schisler's parents) inherited the business. It wasn't long before Schisler, about 5 years old at the time, became indoctrinated in crab house culture.
"One of my first memories was learning how to count to 10," he recalls. "I had to stack clams in piles of 10, so that when customers ordered them, they could just scoop them up."
He remembers riding around in the delivery trucks as a youngster in the summertime, and punching away at the cash register at the store. Oddly, his favorite activity was cleaning the fish in the back.
"It was pretty good, honestly," he remembers with a laugh. "It was a nice distraction from your problems, since you had to pay close attention and not hurt yourself."
In the fall of 1972, the city's "urban renewal" plans forced the company to move to its third and present-day location at 7613 Philadelphia Road in Rosedale. The move gave them the opportunity to add a produce line in 1979. Schisler took over the wholesale and retail business in 1991 and says it has been interesting to watch trends change.
"We were locally sourcing before it was fashionable," he says, explaining his close relationship with Eastern Shore crabbers and fishermen. "The new term everyone uses is 'wild caught,' which is what we've always done."
Today, Schisler works with his two daughters, Arlene and Brenda, teaching them the trade. Through the years, his family has gotten numerous inquiries to sell. But they haven't ever budged. "I guess the idea of being family owned appeals to some customers," he says, as his two grandchildren, 1-year-old twins, coo in the background. "I'm already teaching them how to count daily."