Ain't the Beer Cold!
Twenty hoppin' taprooms for a craft brew in Baltimore and beyond.
Edited by Jess Mayhugh | Photography by Justin Tsucalas
Written by Lauren Cohen, Ryan Detter, Rebecca Kirkman, Jess Mayhugh,
Amy Mulvihill, Mike Unger, and Lydia Woolever with Ronald Hube and Gabriella Souza
Charm City was once home to the ninth largest brewery in the country. Natty Boh still winks in our skyline. And what other city can say that it invented the six-pack? So it's no wonder that when the microbrewery boom took off across the country, this region followed suit. Starting with pioneers like Heavy Seas and The Brewer's Art in the '90s, the craft beer movement has now picked up steam in earnest—to the point where almost every neighborhood has its own brewery. "The amount of growth has been incredible," says Kevin Atticks, executive director of the Brewer's Association of Maryland. "But most of the newer breweries want to be smaller in size and limited in scope." Think less commercial and more community. Today's Maryland breweries are more like gathering places for like-minded neighbors to get together and share a couple of pints. "The taproom is rooted in the idea of meeting the maker," Atticks says. "The consumer is interested in the provenance of the product: who made it, where it came from, the tanks, the malt. It becomes a much more connected experience." With that idea in mind, we wanted to focus on taprooms—those small bars adjacent to giant brewhouses where you can get a growler filled, play cornhole or grab a bite from a food truck, and talk to the very person who crafted your drink from grain to glass. Though the number of Baltimore area taprooms is ever growing, we've narrowed our list down to 20 favorites from the mountains to the ocean—and we even give you some gluten-free options. We also look at the expanding role of women in the craft beer industry, hear some spirited stories from local lager lovers, and give you a glossary of terms to keep up with the beer nerds in your life. "You're seeing this craft beer resurgence all around the country, but Baltimore's really the sweet spot," Atticks says. "We're a port city where the early, national brands were based. The history has been written, but now it's really starting to come to life."
Black Flag Brewing Co.
Established: 2016
Top Seller: Rainbow Road Pale Ale
Tasting Room: Wed.-Thu. 4-10 p.m., Fri. 4-11 p.m., Sat. 11 a.m.-11 p.m., Sun. 11 a.m.-6 p.m.
>> The name might give it away—when home-brewer-turned-pro Brian Gaylor launched Black Flag last June, he had rebellion in mind. "If you flew a black flag back in the day, you didn't have an affiliation and did whatever you wanted," he says. "That's our take on making beer." The first-ever brewery to open in Columbia, Black Flag's spacious tasting room with windows into its gleaming brewhouse have already made it a favorite for local families and groups of friends passing time by playing Bear Pong—a super-size version of beer pong with red buckets and rubber dodge balls— or table games like Cards Against Humanity and Jenga. But it's the selection of 10 creative beers on tap, divided into five flagships and five rotating recipes, which keeps 'em coming back. Of course there's the signature Flagship IPA and Rainbow Road—a hazy, Northeast-style pale ale packed with juicy hops that stole the public's hearts and taste buds. "If you have a favorite, great, it's always here," Gaylor says. "But if you're the person who likes to try a new beer all the time, that's the appeal. You never have to get the same beer twice." 9315 Snowden River Pkwy., Columbia, 443-864-5139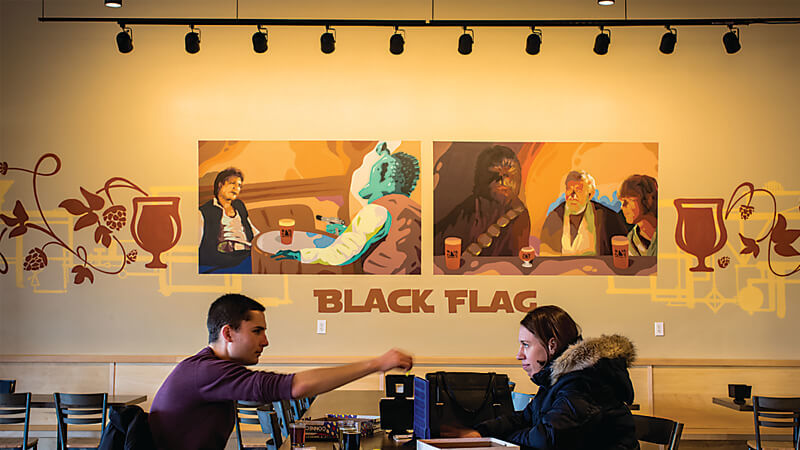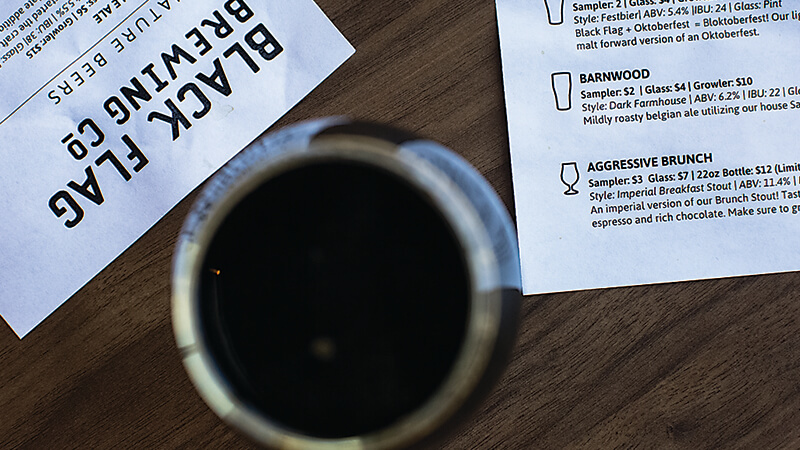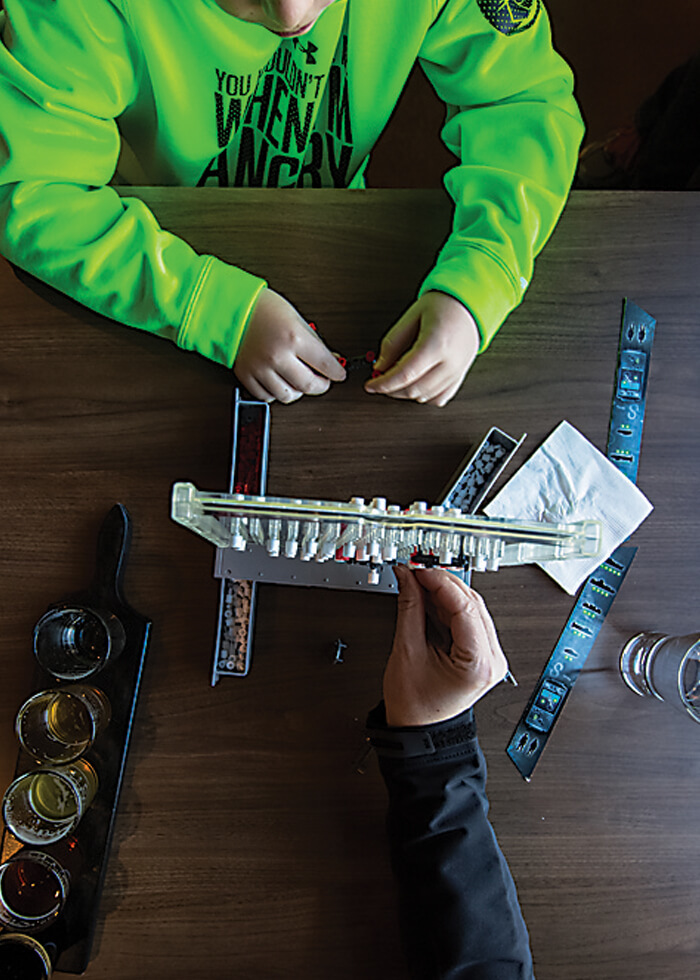 Staffers pour beers and Guests play games inside Black Flag Brewing co.'s Taproom in Columbia, which Boasts a beer-themed star Wars mural and descriptive menus.
Burley Oak Brewing Company
Established: 2011
Top Seller: Sorry Chicky
Tasting Room: Mon.-Thu. 11 a.m.-11 p.m., Fri.-Sat. 11-2 a.m., Sun. 11 a.m.-9 p.m.
>> On the edge of rural Worcester County, surrounded by farmland and just a few miles from the Atlantic Ocean, sits Burley Oak, the little brewery that could. Comfy and cabin-esque, the laid-back watering hole has evolved into a destination for beer enthusiasts—the Maryland version of Delaware's inventive Dogfish Head—by producing some of the most ambitious small-batch beers in the state. From fan favorites like the Sorry Chicky sour to dozens of barrel-aged beers like the Bunker C porter and awesome experimental releases like the Golden Sex Panther lemongrass-and-basil saison, the brewery goes big while focusing on community, local ingredients, and sustainable practices. (Almost all of its 20 employees bike to work for their microproduction of about 2,000 barrels a year.) The taproom itself doubles as Berlin's living room, helping to lead to the 4,500-person hamlet's designation as "America's coolest small town" by Budget Travel magazine. "We want to welcome everybody to our town," says owner Bryan Brushmiller. "For us, it's really just about having this little family of people who are super passionate about craft beer." 10016 Old Ocean City Blvd., Berlin, 443-513-4647
Calvert Brewing Company
Established: 2013
Top Seller: Good Company Pale Ale
Tasting Room: Wed.-Fri. 3-9 p.m., Sat. noon-9 p.m.
>> Given that his first job was picking snails off of vines at a winery in France, it makes sense that Mike Scarborough would grow up to have a green thumb. In 2013, five years after founding Running Hare Vineyard in Calvert County, he decided it was time to get in on the craft beer craze. "There's a symbiotic relationship between beer and wine," he says. "Now we have something for everyone." Though there are currently nearly a dozen of its kind across the state, Calvert Brewing holds the title of Maryland's first-ever farm brewery, growing some of its ingredients on the Running Hare property and brewing in its new 28,000-square-foot warehouse in Upper Marlboro. The facility's adjoining taproom is bright and modern and, on a recent visit, we bellied up to the horseshoe-shaped bar where our pints were poured out of a custom-designed keg tower with draft lines tracking up to the ceiling. We enjoyed the golden cream ale and the crisp Calvert Autumn Oktoberfest, but the light, malt-forward Wye Rye, named after Maryland's beloved Wye Oak tree, was so refreshing we snagged a six-pack for the road. 15850 Commerce Ct., Upper Marlboro, 240-245-4609
Diamondback Brewing Co.
Established: 2013
Top Seller: Green Machine IPA
Tasting Room: Fri. 4 p.m.-midnight, Sat. noon-midnight, Sun. noon-6 p.m.
>> Like the proverbial tortoise and the hare, Diamondback (fittingly) started slow. The founders spent years home-brewing in college then contract-brewed out of St. Michaels and Sterling, Virginia, before finding and painstakingly constructing their permanent home in Locust Point. The 7,000-square-foot facility and 50-seat taproom opened this past fall and reflects Diamondback's sporty, classic Baltimore aesthetic throughout—whether it's Ravens or Loyola Blakefield flags, the turtle shell décor, or the giant brick smokestack once used by Phillips Seafood. But the star of the show, of course, is the beer, which you can get from one of Diamondback's eight taps, have filled into a growler, or take home in a six-pack. We recommend its homage to The Wire, Omar's Oat Pale Ale, or its Oktoberfest when seasonally appropriate. "As 23-year-old kids, we couldn't just jump right in and open a brewery," says co-founder Francis Smith. "We started slow, built gradually, and it's really paying off." 1215 Fort Ave., 443-388-9626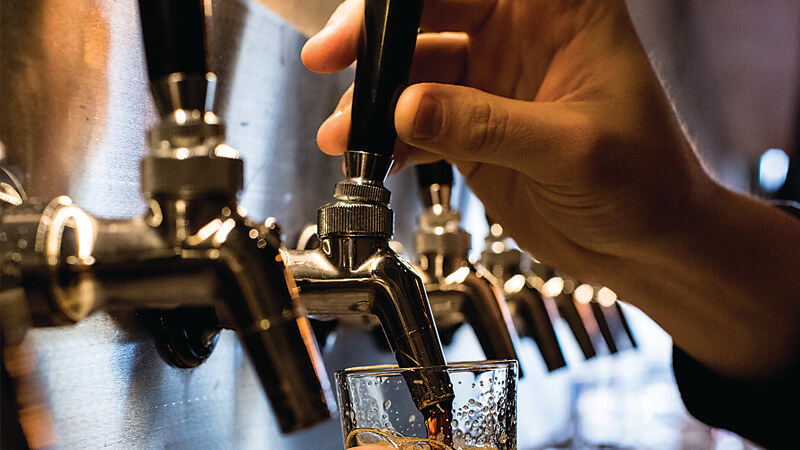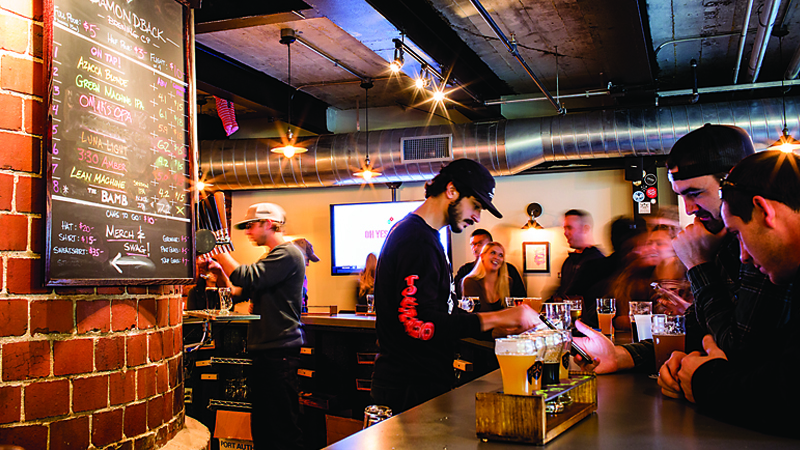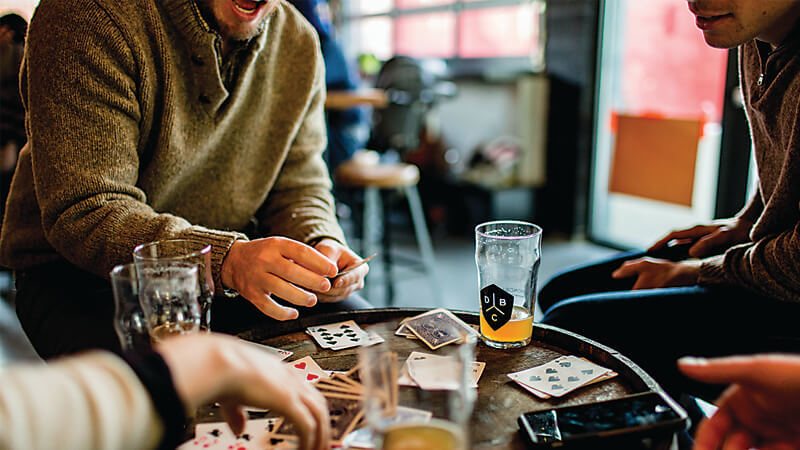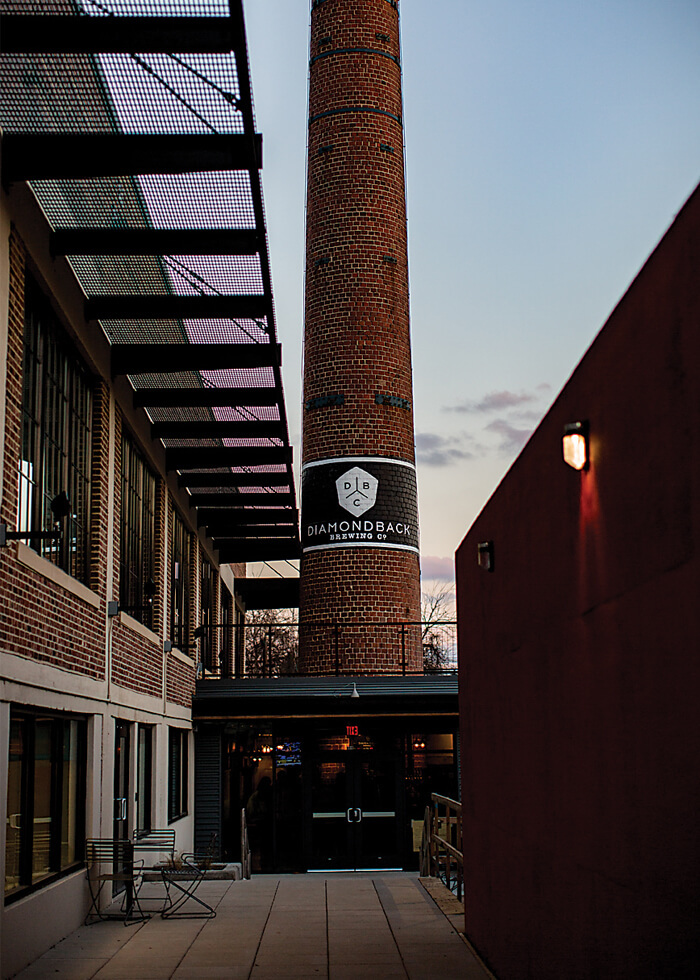 Diamondback Brewing Co.'s semicircular bar surrounds an original brick smokestack once used by Phillips Seafood; guests play cards on wooden barrels.
DuClaw Brewing Company
Established: 1996; taproom opened in 2013
Top Seller: Sweet Baby Jesus Chocolate Peanut Butter Porter
Tasting Room: Open for monthly events, regular hours coming in the spring
>> What started in Dave Benfield's Loyola University dorm room more than 20 years ago as a way to meet girls has grown into one of the area's most successful breweries. Initially, Benfield spun his homemade suds into a chain of area brewpubs. But over the last few years, he has recalibrated the business to focus on the brewing operations, selling off some of the restaurants and opening a 65,000-square-foot production facility in Rosedale. DuClaw hosts about one public event per month in its taproom, a large interior room with a bar, game tables, and a flat-screen TV. At a recent fundraiser for The Ulman Cancer Fund for Young Adults, revelers tasted DuClaw's latest concoction: Euforia Toffee Nut Brown Ale, a medium-weight sipper with a subtle sweetness. Benfield says a renovation of the taproom will come this spring. But in the meantime, schedule a private tour. "We love giving tours because you're talking and drinking beer," says Benfield. And what's not to like about that? 8901 Yellow Brick Road, Suite B, Rosedale, 443-559-9900
Evolution Craft Brewing Co.
Established: 2009
Top Seller: Lot No. 3 India Pale Ale
Tasting Room: Mon.-Thu. 3-8 p.m., Fri.-Sun. noon-8 p.m.
>> The folks who gather around Evolution's tasting room bar describe the brewery as their "local." That's because it's where they end up most Friday nights to catch up over a pint (or two) of Lot No. 3 IPA or Rise Up Stout. The cozy bar is a gathering place for the community that has rallied around the pioneering Eastern Shore brewery since it opened seven years ago in Delmar, Delaware, and then followed it after its 2012 move to a larger location in Salisbury with an on-site restaurant. But the 16-tap tasting room—where brewers test new recipes—remains Evo's hub. "The brewers walk over to the taproom for a pint at the end of the day," says founder Tom Knorr. "It's our community, where we want to hang out." So grab a seat, pair your pint with $1 oysters shucked right behind the bar, and strike up a conversation with your barstool brethren. 201 E. Vine St., Salisbury, 443-260-2337
Breaking the Pint Glass Ceiling
Craft beer isn't just a boys' club anymore.
By Jess Mayhugh
On a sunny afternoon in October, a group of 30 craft beer lovers crowds around the tiny back bar of Bertha's in Fells Point.
"It's so great to see such an amazing turnout," says Baltimore Beer Week organizer Joe Gold, with a pint in hand. "As all of you know, brewing started out as a woman's job."
"Of course it did!" guest Suzanne Amsbaugh interjects from the back.
"See, I don't even need to be here," Gold laughs. "You all can take it from here."
The group he is speaking to is almost all women, who came to discuss their role in the craft beer industry. Home-brewers, production managers, and bartenders agree that, while there is still some distance to go, their place in the industry is more promising than ever.
"No matter how nice people are, you're always going to run into sexism," says Lynn Pronobis, head of production at Union Craft Brewing. "If I am pouring beer at a festival next to a guy, people will always look at him and ask about the beer even though I was the one who made it with my own hands."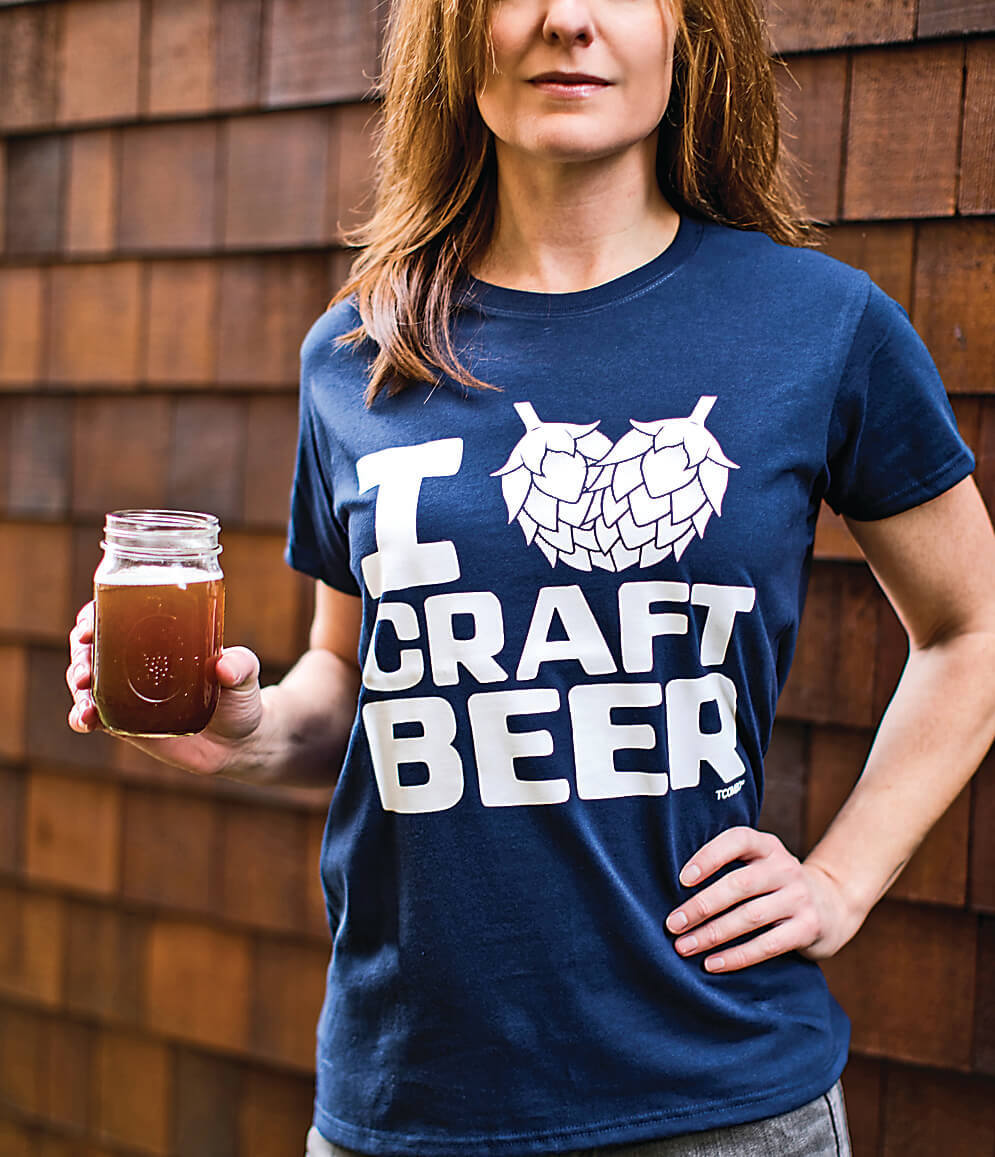 Though the numbers are changing—a recent survey found that out of 2,500 breweries, 21 percent had at least one woman in a top-tier role—the perception still exists that women working in the beer industry have an administrative role.
"Everyone assumes that Brian started it and I just run the register," says Jill Antos, who co-owns the Nepenthe Homebrew shop in Meadow Mill with her husband. "But actually I started brewing before him. The difference is he automatically gets respect from customers and I have to earn it."
Since they opened the store in 2013, Antos has seen more and more women come through. "And they're not coming because of their husbands or boyfriends," she says. "They're interested in brewing for themselves."
In fact, it's young women, in particular, that will have a big impact on shaping the craft beer scene. Data from the 2016 Craft Brewers Conference says that 26 percent of weekly beer drinkers are women and, even more telling, 51 percent are millennials. As this subset continues to grow, groups like the Pink Boots Society and, locally, Baltimore Beer Babes (BBB), are gaining traction.
"Our goal was to see a girl amongst a group of guys tell them what they should drink for once," says Judy Neff, who co-founded BBB as a beer appreciation club for women and is opening a brewery of her own, Checkerspot, later this year.
Neff points out that while BBB attracts big crowds at its events, numbers aren't everything.
"Even if women were 50-50 in the craft beer industry," she says, "there is still the need for camaraderie and support."
Pronobis from Union agrees that galvanizing the support from each other is key.
"When I started out, I felt like a loner," she says. "But now I feel more a part of a community. And we need even more of us. We just pay better attention to detail. Sorry, guys."
Flying Dog Brewery
Established: 1994 (1997 in Maryland)
Top Seller: Raging Bitch Belgian-Style IPA
Tasting Room: Wed.-Fri. 3-8 p.m., Sat. noon-8 p.m., Sun. noon-6 p.m.
>> What started as an ill-prepared hike in the Himalayas led to the discovery of founder George Stranahan's Flying Dog moniker. (He saw an oil painting of a "flying" dog in the hotel post-conquest.) The name stuck and, before he knew it, a brewpub opened in Aspen, Colorado, and expanded into a brewery in Denver, before ultimately taking up permanent roots in Frederick, Maryland. Known for its aggressive beers such as Raging Bitch and Bloodline, Flying Dog's taproom is worth a quick jaunt up I-70. Adorned with an Edison bulb chandelier, whiskey barrel tables, and enough space for 96 people (140 if you include the large outdoor beer garden), the taproom features 20 beers on tap, including their experimental Sub Rosa Series. Or try a flight after taking one of their free tours. A highlight is a mural inspired by Ralph Steadman, who also does the brewery's bold label art and was Hunter S. Thompson's famed illustrator. As Thompson so famously said, "Buy the ticket, take the ride." We couldn't agree with him more when it comes to visiting Maryland's largest brewery. 4607 Wedgewood Blvd., Frederick, 301-694-7899
Heavy Seas Beer
Established: 1995
Top Seller: Loose Cannon IPA
Tasting Room: Wed.-Fri. 3-10 p.m., Sat. noon-10 p.m., Sun. 11 a.m.-5 p.m.
>> In 1989, Hugh Sisson added a brewery to his bar in Federal Hill. Fifteen years later, he added a bar to his brewery in Halethorpe. Taking quick advantage of changes in state law both times, Sisson—a local craft beer pioneer—created Maryland's first brewpub 28 years ago, and today his Heavy Seas Beer is part of the vanguard of area brewery taprooms. Located in an unassuming industrial park, Heavy Seas' taproom doesn't exactly draw much business off the street, but throngs flock on the weekends, when you can tour the brewery or just study the "How Heavy Seas Beer Is Made" sign while sampling one of the eight beers on tap and two on cask. Weeknights can be popular, too—there are no tours, but there are trivia contests and release parties. Heavy Seas' pirate-themed beers include the Pounder Pilsner, Peg Leg Imperial stout, Cross Bones session IPA, and Treasure Fest Oktoberfest lager. But the real star is Loose Cannon, a triple-hopped IPA that makes up 50 percent of the brewery's sales. Don't leave the taproom without trying one. 4615 Hollins Ferry Road, 410-247-7822
Independent Brewing Company
Established: 2015
Top Seller: Blue Eyed Blonde
Tasting Room: Tue.-Thu. noon-10 p.m., Fri.-Sat. 11 a.m.-11 p.m., Sun. 11 a.m.-8 p.m.
>> Housed in a former auto garage, this Bel Air newcomer has carved out a niche for itself by brewing gluten-free beer. (See more below.) Owner and brewer Phillip Rhudy says people regularly come from as far as Pennsylvania and New Jersey to fill their growlers or pick up a 32-ounce crowler for $10. Those who stay to have a pint or two from one of the tasting room's 22 taps can belly up to the bar, sit at a communal table, or set up shop on the large outdoor patio. Paintings (for sale) by local artists hang on the walls alongside three televisions that are off unless a customer asks to watch a specific game or show. "It's to get people to step away from technology and make friends," Rhudy says. "I hear all the time that someone made a new friend here. That's really what it's all about." 418 N. Main St., Bel Air, 410-836-8313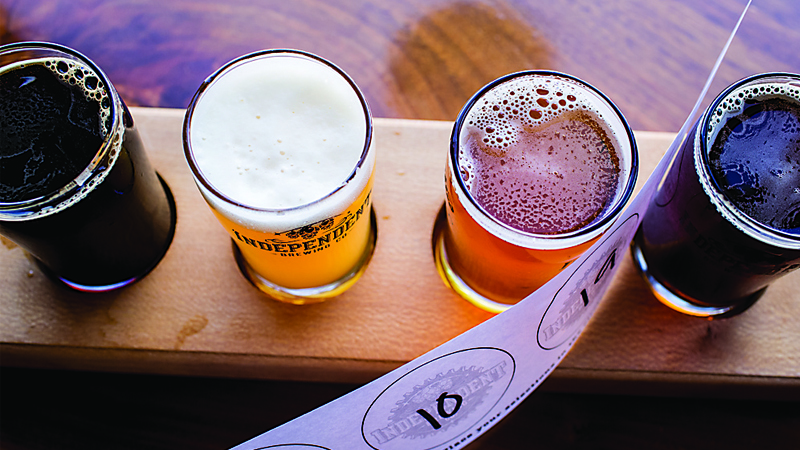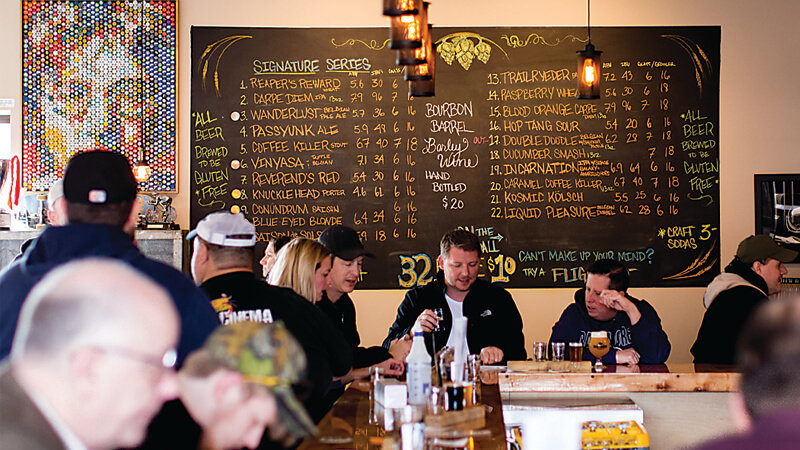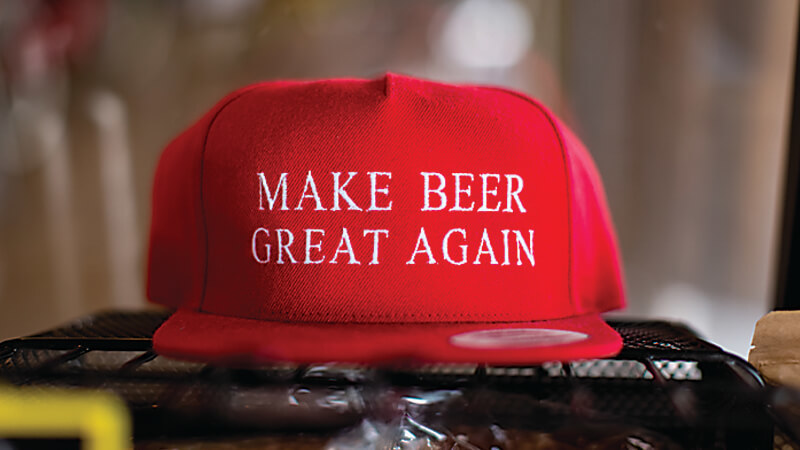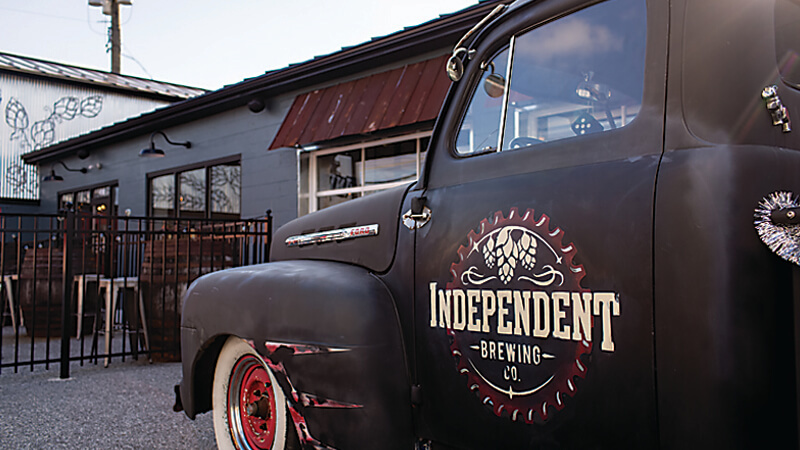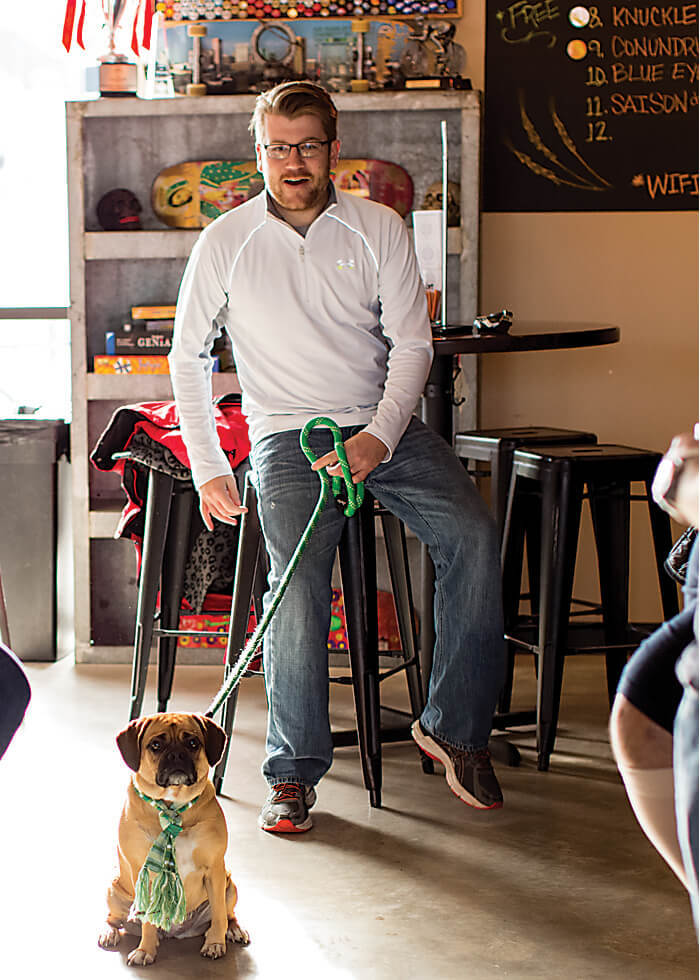 "/>
Independent Brewing Company in Bel Air reflects its name with colorful menus, Kitschy Décor, and a vintage pickup truck out front.
Gluten Free For All
Jailbreak Brewing
Established: 2013
Top Seller: Feed the Monkey
Tasting Room: Wed.-Fri. 3-10 p.m., Sat. noon-10 p.m.
>> Jailbreak Brewing is not really D.C. and it's not really Baltimore—and that's just fine by them. Happy to think outside the box, the brewery has filled the void in Laurel (just a 30-minute MARC train ride from Baltimore) for those in need of a pit stop off 95 or locals craving high-quality craft beer. Indeed, the night we went, it seemed like all of the surrounding area was packed into the tasting room, which has a glass wall looking into the brewhouse, LED TV screens for menus, and a lounge with leather furniture. Jailbreak has a penchant for The Big Lebowski (see its mural and White Russian coffee cream ale) and, fittingly, keeping things weird. Take their experimental beers, like the spicy Scoville Jalapeño IPA and the surprisingly delicious Carrot Conspiracy spiced amber ale. "The whole idea behind our name is that we want people to break free from the drama in their life," says co-founder and COO Kasey Turner, who quit his job as an engineer to start the brewery. "And we want to be a place that all of Maryland can be proud of." 9445 Washington Blvd. N., Suite F, Laurel, 443-345-9699
Key Brewing Co.
Established: 2015
Top Seller: Rye Porter
Tasting Room: Fri. 4-9 p.m., Sat. noon-8 p.m. (Sunday hours coming soon)
>> Part of the fun of visiting taprooms is the adventure of finding them. It's often an "over the river and through the woods" experience or, in Key Brewing's case, past the golf course and across the railroad tracks. Nestled in an industrial pocket of Dundalk, a stone's throw from Sparrows Point Country Club, Key Brewing Co. has been releasing no-frills craft beer since 2015, and in no time at all has made waves in Baltimore. "Our goal is to brew great, consistent beers that we like to drink ourselves," says co-founder Spike Owen. "I mean, we're in Dundalk and we're very proud of that." Key's taproom is equally homey with wood-paneled walls, a corrugated steel bar, and a view of the adjacent brewery. Grab a pint of a Helles Lager or a Chesapeake Common or play a game of pool or retro pinball, all while watching the brewers perform the magic of turning barley and water into beer. 2500 Grays Road, 410-477-2337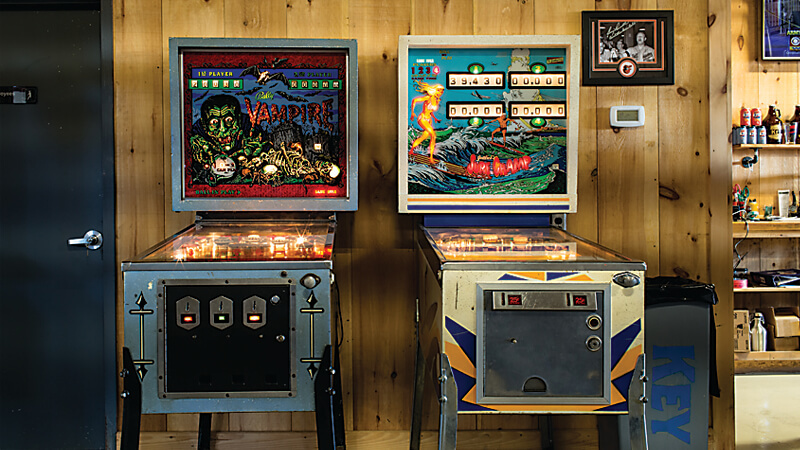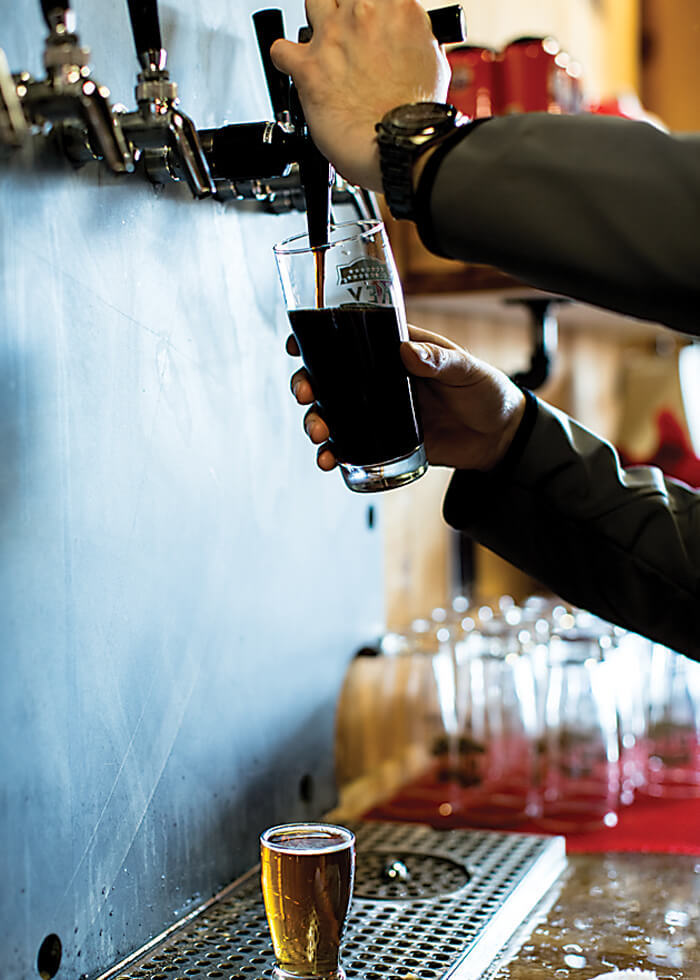 pool games and retro pinball at key brewing.
Manor Hill Brewing
Established: 2014
Top Seller: Mild Manor'd Amber Ale
Tasting Room: Fri. 4-8:30 p.m., Sat. 11 a.m.-8:30 p.m., Sun. 11 a.m.-6 p.m.
>> After reading a feature on Oskar Blues founder Dale Katechis—who operates his own cattle and field crop farm in Colorado—Victoria Gastro Pub owners Randy and Mary Marriner were inspired to begin harvesting hops and brewing beer on their 54-acre farm in Ellicott City. But it took Randy nearly three years to acquire zoning permits and challenge manufacturing legislation in Howard County. "It's just like anything else, you have to have a vision and be persistent," he says. "Most people fail because they can't see the finish line, but we're determined folks." And thankfully so. As you coast down the bucolic lane off of Clarksville Pike, it's easy to get distracted by cows grazing in the distance and the dozens of hop poles towering over the property. Inside a refurbished barn sits the relaxed taproom, which reminds us of a rustic Napa winery, boasting reclaimed red barn siding, wine-barrel tables, strung white lights, wooden tap handles, and artsy chalkboard draft lists. On a recent fall Sunday, we felt serene as we sampled the sweet Citra Splendor double IPA and wheat-brewed Grisette farmhouse ale, as soft indie rock played in the background. 4411 Manor Lane, Ellicott City, 410-997-7771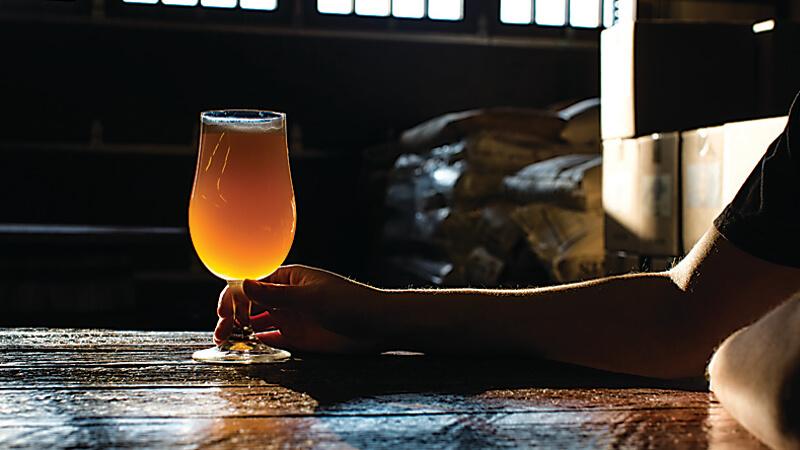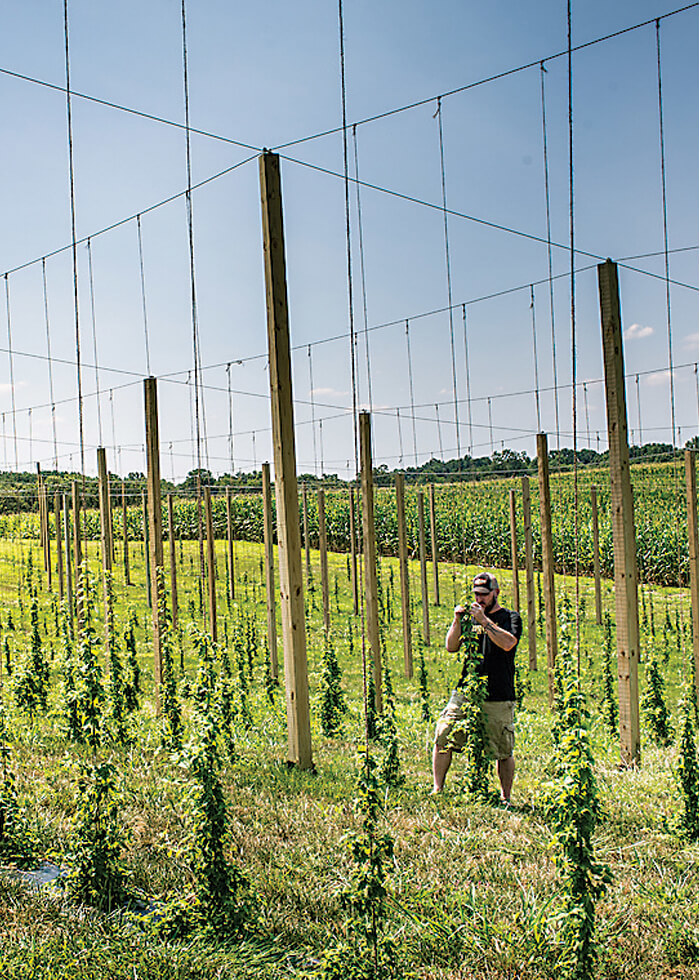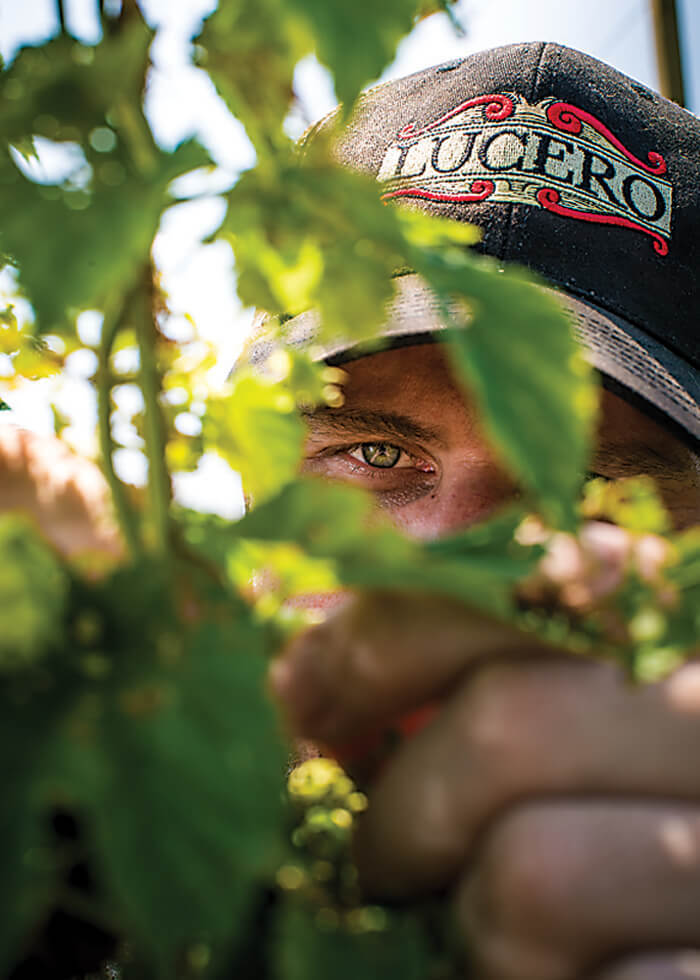 Manor Hill brewing in Ellicott City is authentically rustic with red barn siding, wine-barrel tables, wooden tap handles, and dozens of hop poles growing right outside.
Monocacy Brewing
Established: 2012
Top Seller: Riot Rye
Tasting Room: Thu.-Fri. 4-8 p.m., Sat. noon-8 p.m., Sun. noon-6 p.m.
>> When Brewer's Alley was looking to expand, its owners founded Monocacy Brewing in the old Ebert's ice cream factory on the edge of town. While they continue to contract brew for the downtown brewpub, Monocacy now touts its own tasting room and a whole line of exclusive beers. If you're looking for a more intimate experience than nearby Flying Dog, take a ride over to this quaint brewery, where you can sample 10 beers on tap including the Blank Slate series, a list of mostly taproom-only beers that constantly change at the brewers' whim. (We loved the Gose of Althea.) Although there are only eight chairs, we enjoyed rubbing elbows with the locals and then grabbing a seat at one of the many outdoor picnic tables. We recommend a tour with Jason Weaver, the enthusiastic tasting room manager who doesn't pull any punches when it comes to answering your questions. If you're feeling really inspired, head next door to The Flying Barrel home-brew shop, where you can buy all the gear to do it yourself. 1781 N. Market St., Frederick, 240-457-4232
Monument City Brewing company
Established: 2014
Top Seller: 51 Rye
Tasting Room: Thu.-Fri. 5-8 p.m., Sat. noon-5 p.m.
>> Monument City, one of the first members of the Peabody Heights Brewery co-op to spawn its own spot, is opening on the east side of the city, just up the street from where Gunther and Natty Boh once called home. Patrons can enter the brewery, which is housed in a brick industrial space in Highlandtown, through a set of huge double wooden doors, which open into a 1,200-square-foot tasting room with exposed iron beams, original green industrial pendant lights, and a half-walled seating area that allows you to enjoy a 51 Rye while watching the brewing take place. Or, grab a seat at the bar, which features eight beers on tap from their 20-barrel system. So what is the secret to the brewery's success? "We just focused on making a good product," says Ken Praay, who co-owns the brewery with his brother, Matt. "And while we'll be the first to tell you we're not 'cool,' we are true to ourselves." That's pretty cool in our book. 1 N. Haven St., 443-529-8131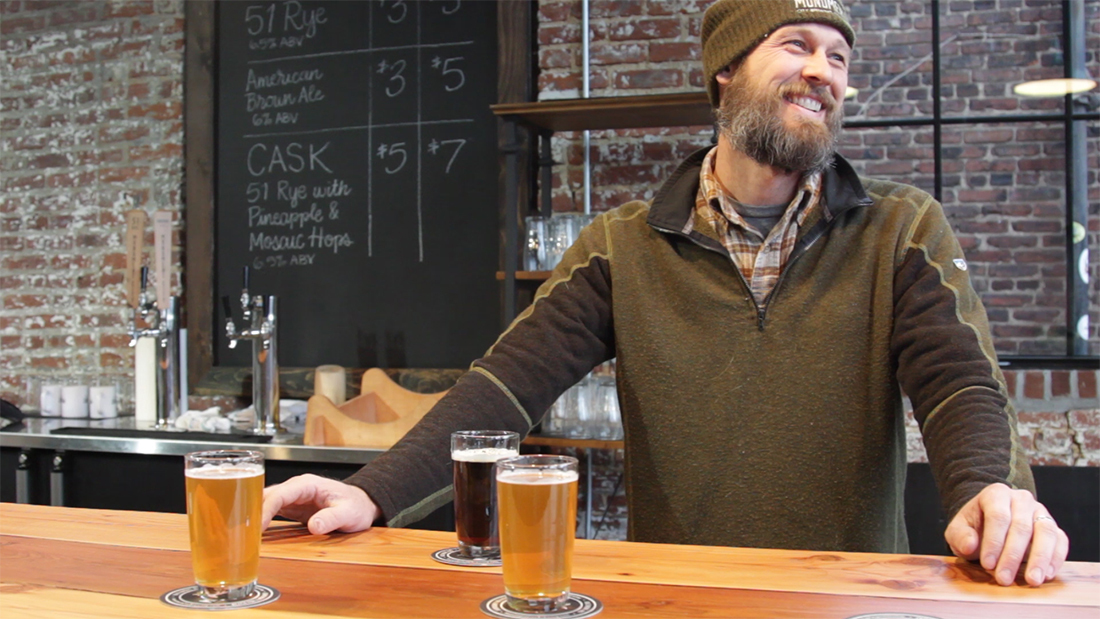 Brothers Ken and Matt Praay just recently opened the brand new taproom of Monument City in Highlandtown with wooden accents—like their tap handles and bar top—made by next door neighbor Mark Supik.
Ocean City Brewing Company
Established: 2014
Top Seller: Nuckin' Futs honey brown walnut ale
Tasting Room: Mon.-Sun. 11-2 a.m.
>> When heading downy ocean, it's best to go big, hon. Big buckets of Thrasher's fries, huge piles of jumbo steamed crabs, and, of course, enormous drinks. At the behemoth brewery that is O.C. Brewing, belly up to the 10-foot-long Oktoberfest-style tables and browse through more than 20 brews made on-site. One of the beach town's first breweries, this family-run craft beer hall features suds for winter through fall, with everything from a sweet potato porter to an orange wheat inspired by Maryland's summer-in-a-glass, the Orange Crush. But we say skip the big flavors: You can't go wrong with a simple pint of Route 50 pale ale, the Ravens on one of the bar's many flat screen TVs, and a round of cornhole at the front of the house. Don't feel like taking the three-hour drive? There are now two nearby locations in Abingdon and Reisterstown. 5509 Coastal Hwy., Ocean City, 443-664-6682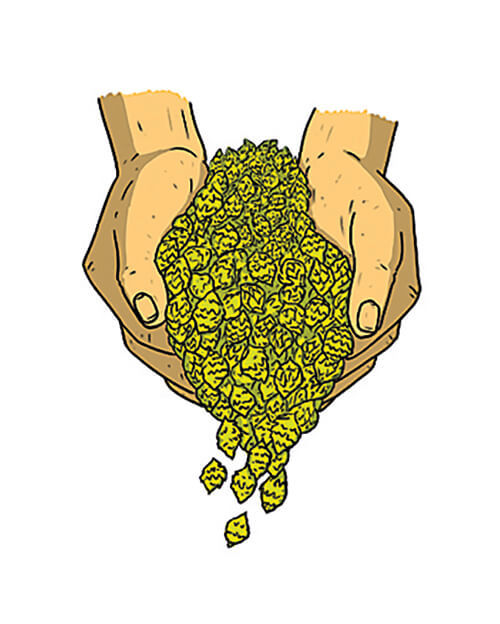 Hops Flowers used as a preservative in beer—giving off bitter, zesty, or citric flavors.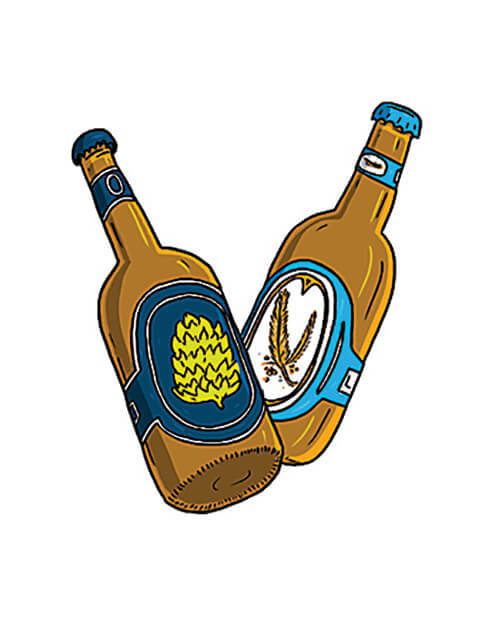 IPA vs. pale ale Pale ale is one of the world's most popular beer styles, made by gently roasting the barley and using pale malt. An India Pale Ale (IPA) has more hops and higher bitterness.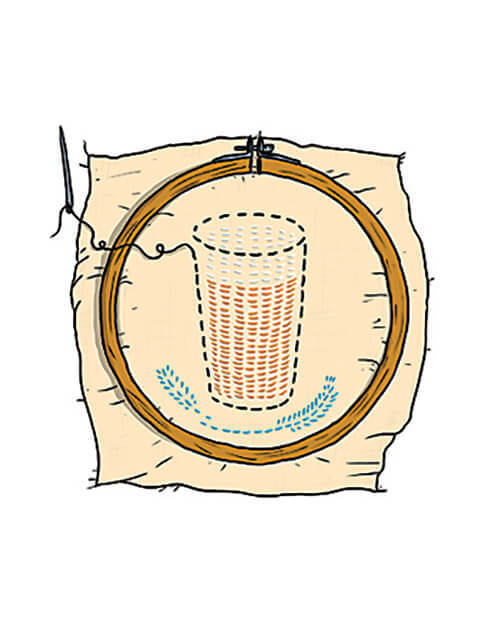 Craft beer A craft brewery produces less than 6 million barrels of beer annually.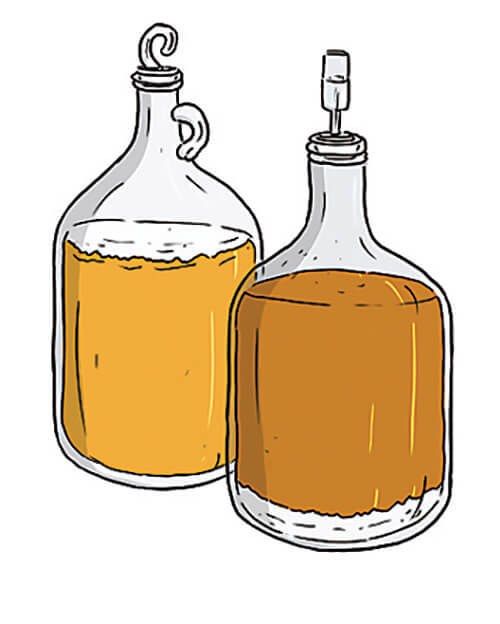 Ale vs. lager Ales are brewed with top-fermenting yeast at midrange room temperatures, resulting in a fruitier and spicier flavor. Lagers are made with bottom-fermenting yeast at cooler temperatures, resulting in a crisper quality.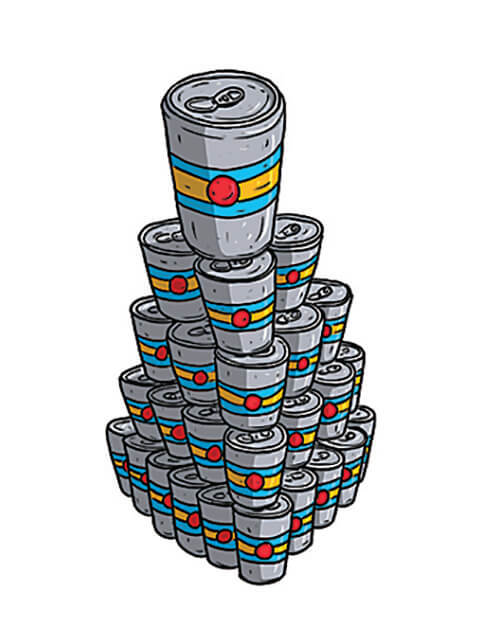 Session A beer with low alcohol by volume (ABV), hence you can have many in one session.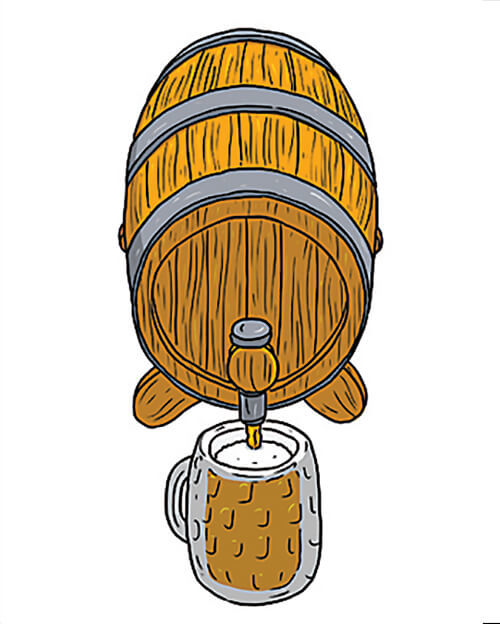 Cask Unfiltered and unpasteurized beer without nitrogen or carbon dioxide pressure added, with naturally lower carbonation levels (or "fizz").
Oliver Brewing Company
Established: 1993
Top Seller: 206 IPA
Tasting Room: Sat. noon-4 p.m.
>> The "tasting room" in Oliver's Belair-Edison brewery isn't so much a room as it is a nook in a giant warehouse. The three-sided bar and handful of tables and barrels around which people sip the company's beers from nine taps coexist with mountains of kegs and large tanks. "This is a very interactive place, since you can take 12 steps back and you're in the brewing facility," says Jenn Cissel, tasting room manager (she also leads tours). "We have everyone from 21-year-olds just starting to get into beer to old-school guys." Some patrons are really young. Next to a kids-size picnic table is a box of books and toys for the little ones, who can drink organic juice offered by the brewery while they play. Older guests are more into the Jenga, beer pong, and cornhole games that frequently break out. Oliver has been brewing beer for more than two decades, but its tasting room, just over a year old, has breathed new life into this old favorite. 4216 Shannon Dr., 410-483-3302
Peabody Heights Brewery
Established: 2012
Top Seller: RavenBeer Tell Tale Heart IPA
Tasting Room: Wed. and Fri. 5-9 p.m., Sat. 11 a.m.-4 p.m.
>> Who doesn't love a grand slam? Start with a Belgian wit from RavenBeer then move to an Old Oriole Park Bohemian backed by an amber from Public Works and finish with a coconut porter from Full Tilt. At Peabody Heights, Baltimore's only co-op brewery, variety is the hops of life. Brewing since 2012, the company produces more than 2,000 barrels each month for a diverse roster of brands. Most can be ordered from one of the 20 taps in its tasting room, which expanded in 2015. Located on the site of the old Oriole Park (a precursor of Memorial Stadium), the industrial space is adorned with photographs and memorabilia from Baltimore baseball history. There's a room with toys for kids and another with free pool and foosball for grownups. "I wanted a relaxed atmosphere and a space for families to hang out and not feel guilty about bringing their kids," says Eddie O'Keefe, who runs the tasting room. Grab a bag of popcorn from the old-school machine, order a pint, and play ball. 401 E. 30th St., 410-467-7837
Label Makers
how design influences beer brands
We can talk malts, hops, and ABV all we want, but some of us base our liquor store selection on something more simple: the label. "As brewers have a newfound passion in the industry, there's nothing more fitting than a beautiful beer label and expertly tailored visual brand," says Nathalie Cone, senior designer at Gilah Press + Design, whose clients include Union Craft and Diamondback. "We always ask: 'Who is drinking the beer? What makes the brewery stand out?' To help each brewery differentiate itself, we take risks that craft beer is also known to take."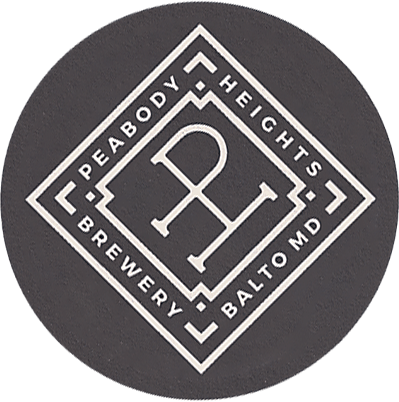 Peabody Heights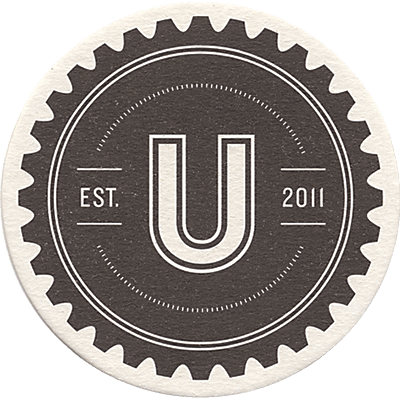 Union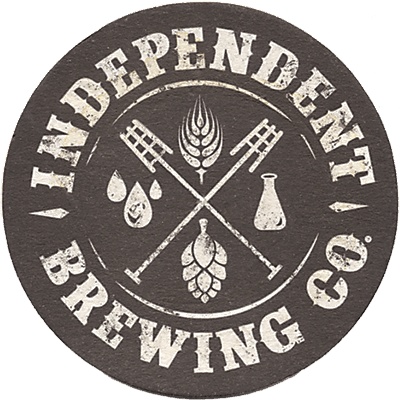 Independent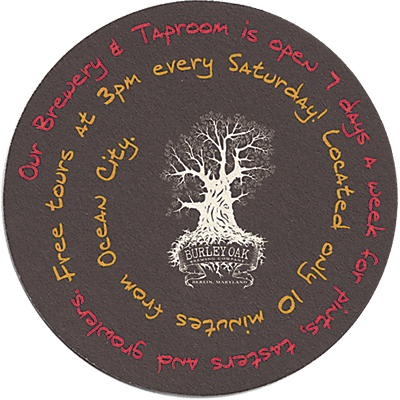 Burley Oak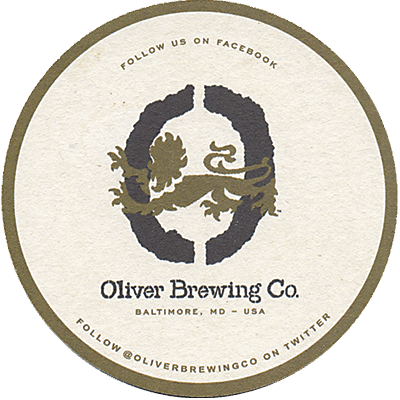 Oliver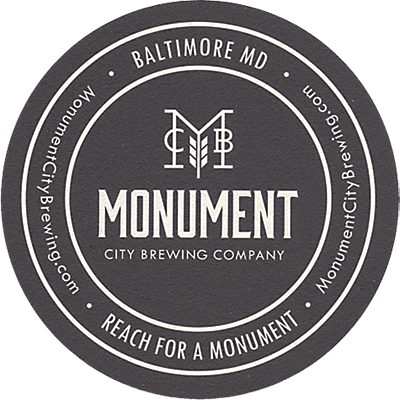 Monument City
RaR Brewing
Established: 2013
Top Seller: Nanticoke Nectar IPA
Tasting Room: Sun.-Thu. noon-midnight, Fri.-Sat. noon-2 a.m.
>> It's been three short years since RaR (pronounced R-A-R) started making its American and Belgian-inspired brews on the Eastern Shore, but with such popular pints as the Nanticoke Nectar IPA and Bottom Feeder blonde, we can't imagine the future of the Maryland brew scene without it. Short for Real Ale Revival, the brewery's name "came from this whole movement of beers being brewed by small, local people," says co-founder Chris Brohawn. "As a brewing community, we can impact the big boys, and give folks control over what they enjoy to drink." Keeping with that homegrown mission, this hip Cambridge taproom is imbued with a skate-punk aesthetic and plenty of local pride, serving as the primary source of entertainment, family fun, and post-work relief in its tiny tidewater town. Whatever the hour, expect everyone from children and grandparents to coworkers and couples to come on by for brewery tours, rounds of shuffleboard, and badass pub grub like tater tots topped with cheese and bacon. On release days, there are lines around the corner as visitors trek from near and far to try limited releases like the citrusy Reaper Double IPA. 504 Poplar St., Cambridge, 443-225-5664
LOCAL BEER STORIES

The Brewer / Brian Strumke

"One note" is definitely not a way in which we'd ever define Stillwater Artisanal, but that's what the unorthodox brewery felt it had become, says founder Brian Strumke, after creating dozens of artisanal ales covered in "dark, creepy" macabre labels since their launch in 2010. "People enjoyed the beers but everyone thought all of the products looked the same," says Strumke, who also co-owns Of Love & Regret. "In order to break out, I had to do something completely radical."

About two years ago, he started "diversifying to the extremes," using his life as a muse for both his beer and labels. Take Strumke's 2015 Contemporary Works series, inspired by minimalism, Dadaism, and Strumke's time as a techno DJ. Or his 2016 #popculture series, which served as flavor odes to hip-hop icons Drake, Kendrick Lamar, and Kanye West (who served the brewer a cease-and-desist order). But throughout every release, Strumke keeps Stillwater in a constant state of evolution—a sort of mad-science art project—using an unexpected mix of ingredients and changing its brand design from beer to beer.

"It's anti-branding," says Strumke. "But it's interactive. People are having fun with it. We want them to wait for what we're going to do next."

The Bartenders / Casey and Jason Hard, Dana Norris

Most bartenders tend to be nomads—updating their résumés once every few months. Not so at the beer mecca of Max's Taphouse. "I've been working here 18 years and I'm not even the longest one," laughs general manager Casey Hard, who worked his way up from door guy to cellar man and still does all the research and beer buying for the Fells Point corner bar. "We are like family here," he says quite literally, since he works with his brother, Jason.

The veteran team also includes Bob Simko (22 years), Jamie Ritter (20), and Dana Norris (more than a decade). "Everyone knows each other's strengths and weaknesses," Hard says. "One guy might be great with sours. Another might really know his cocktails."

And they all certainly know the language. When a customer has to choose from the 130 kegs Max's goes through in a week and the 2,000 additional bottles available, Hard says there is one question bartenders ask to help narrow it down: "Light, dark, hoppy, or sour?"

The Regular / Joanne Barker

Everyone remembers their first. Joanne Barker's was a Dogfish Head 120 Minute IPA, which left her feeling "a little loopy." That happiest hour was back in 2007, when Barker was a regular Miller Lite drinker. Now, more than 5,000 lagers, ales, and pilsners later, the Canton resident is the undisputed leader—by many a swig—at Mahaffey's Beer Club, where 4,000 members are on a never-ending quest to try every beer the pub can acquire.

Barker is at the bar five or six days a week (truth be told, sometimes seven), sipping a pint, playing her lucky Keno numbers, and greeting regulars, who treasure her for her warmth and wit, with a kiss on the cheek.

"It's a family atmosphere," she says of her beloved bar. "It's young people and old, but everybody gets along and watches after one another." The place wouldn't be the same if she left. Luckily, she's having another.

The Chef / Andrew Weinzirl

When you think of a Resurrection from The Brewer's Art, a plate full of its famed garlic-rosemary fries instantly comes to mind. But dig deeper and you'll discover that chef Andrew Weinzirl incorporates beer or a beer ingredient into about 75 percent of his menu items. "It would be 100 percent, but we are cognizant of people with gluten issues," he says.

The butter served with your bread is whipped with a Resurrection reduction, a pork chop last fall was brined with St. Festivus ale, and sauces are regularly flavored with house beer in lieu of caramelized sugar. Then there's a hop salt, which he uses similarly to an herb—sometimes to add citrus flavors, other times to add notes of pine.

Asked how he keeps things from getting too bitter, he says, "Oh, sometimes I'll just use the wort before they add the hops, which is easy since the brewery is right behind the kitchen." Doesn't get much more locally sourced than that.
Union Craft Brewing
Established: 2011
Top Seller: Duckpin Pale Ale
Tasting Room: Thu.-Fri. 5-10 p.m., Sat.-Sun. noon-5 p.m.
>> At other watering holes around town, roaming golden retrievers and parents strapped with baby carriers might raise a few eyebrows, but inside Union Craft Brewing's homey Woodberry taproom, anything goes. "A big part our overall concept was to be very inclusive," says co-founder Jon Zerivitz. A former graphic designer, Zerivitz toyed with home-brewing a bit before meeting fellow co-founders Adam Benesch and Kevin Blodger through mutual friends in 2010. "There was no brewery in Baltimore at the time that we really connected with, and we had seen other breweries all over the country that had this great sense of community." With strung lights, live music, cornhole, and a shelf fully stocked with board games, an evening visit to Union's indoor/outdoor facility feels like you're swinging by an old friend's house party. On a recent Friday night, as we sipped standouts like the tart Old Pro Gose and classic Double Duckpin IPA, a cohort of craft beer lovers in the back dished out birthday cake to revelers and onlookers alike. Though most probably had no idea whose special day it was, they indulged because being neighborly at Union just feels right. 1700 Union Ave., 410-467-0290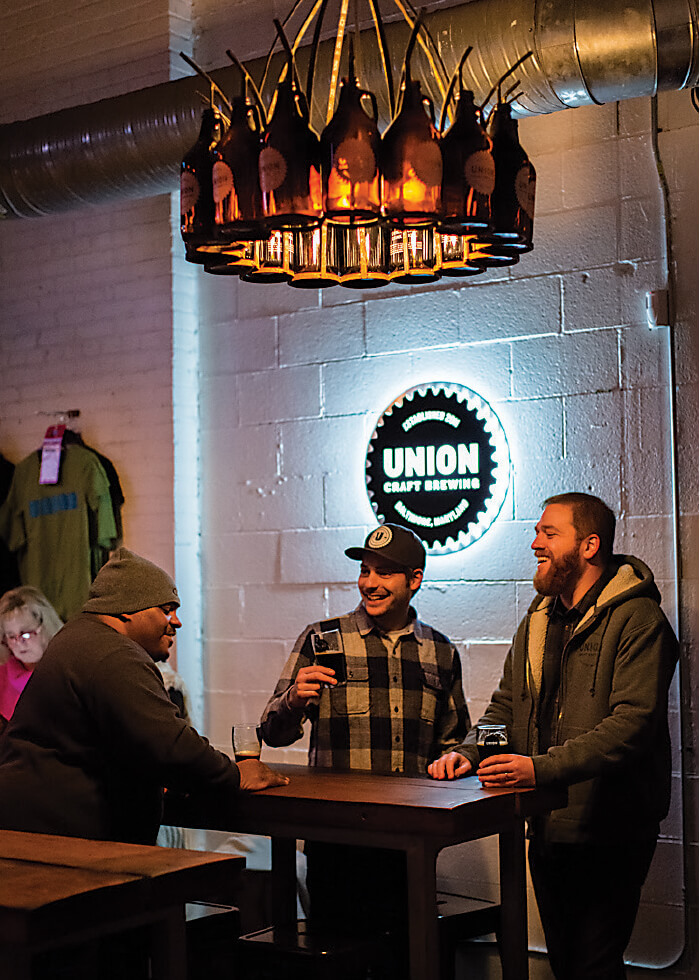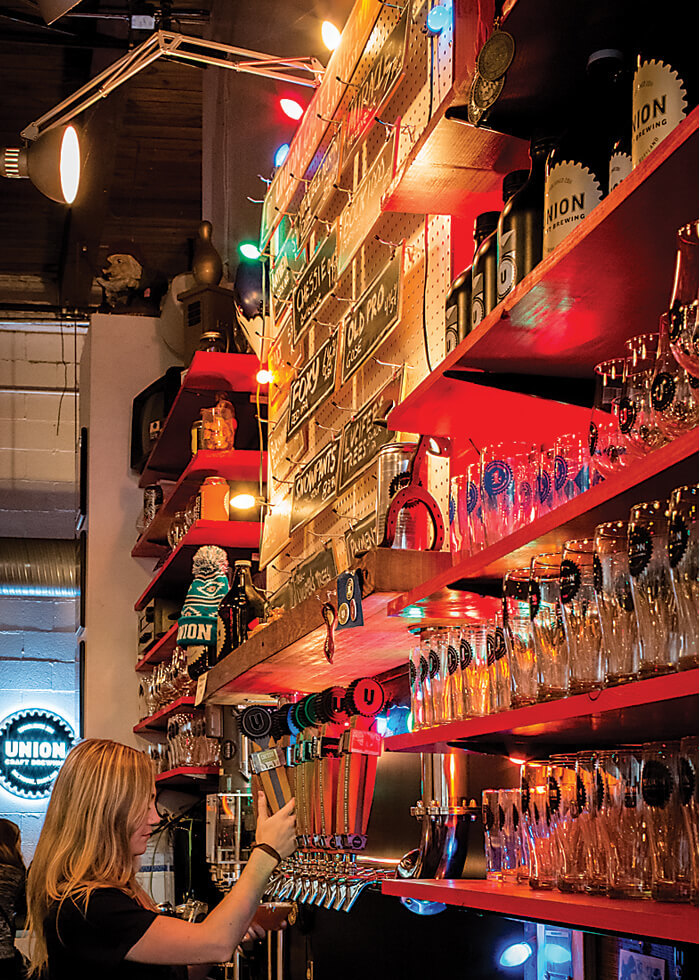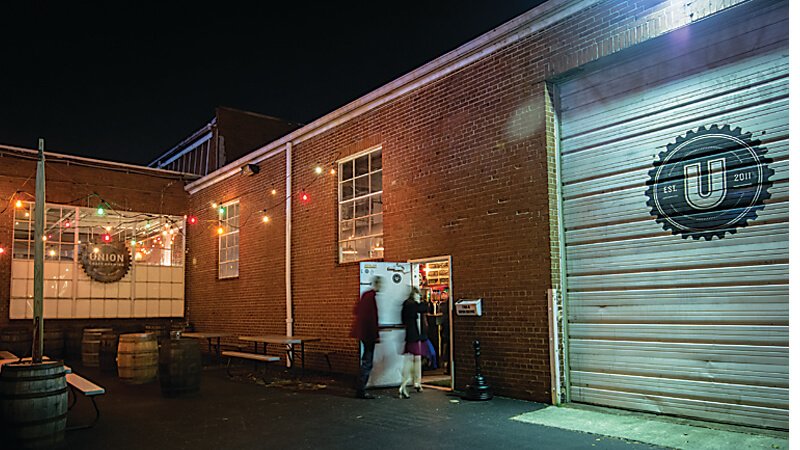 Union Craft Brewing has a decidedly homey feel, with a taproom where woodberry neighbors meet for a cold one beneath growler-decorated light Fixtures.
Waverly Brewing Co.
Established: 2015
Top Seller: Golden Sombrero Blonde Ale
Tasting Room: Mon. 5-10 p.m., Wed.-Thu. 4-10 p.m., Fri. 4 p.m.-midnight, Sat. noon-midnight, Sun. noon-7 p.m.
>> Let's address this upfront: Waverly Brewing Co. is not in Waverly; it's in Woodberry, about a stone's throw from Union and I-83. Confusing, we know. But don't let that deter you from visiting what just might be the city's most stylish taproom and brewery. Head brewer Roy Fisher and six friends opened it in late 2015, and they wanted their taproom—which they call "The Shed"—to be more than just an "afterthought." Mission accomplished. A hodgepodge of rough-hewn wood walls, corrugated aluminum wainscoting, antler chandeliers, and vintage photos and memorabilia lends the taproom an atmosphere of homey eclecticism. And, in warmer months, a courtyard strung with party lights offers sanctuary for special events or a friendly game of cornhole. But of course, all of this would be for naught if the beer weren't good. Fisher has been brewing since he was a teen, and he still has the enthusiasm and inventiveness of an adolescent. The results are imaginative, like the Ginger Not Mary Ann (yes, a Gilligan's Island reference), a substantial porter with notes of ginger and chocolate, and Ain't That Right, Boo? around Halloween, a "pulpy ale" with blueberries and Boo-Berry cereal in the mix. 1625 Union Ave., 443-438-5765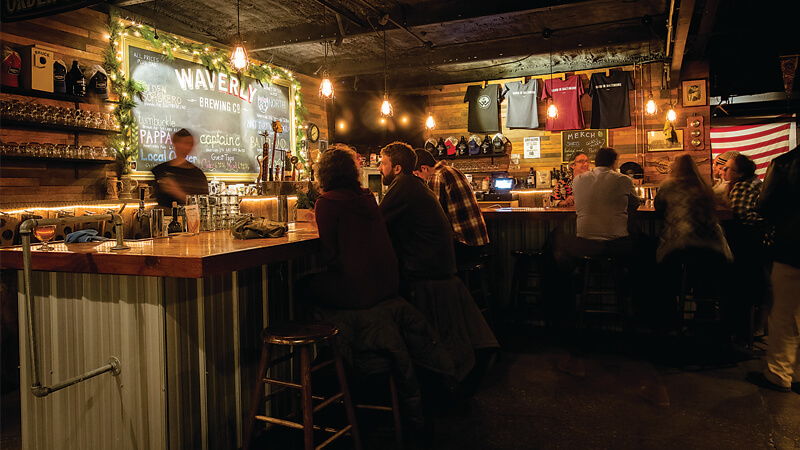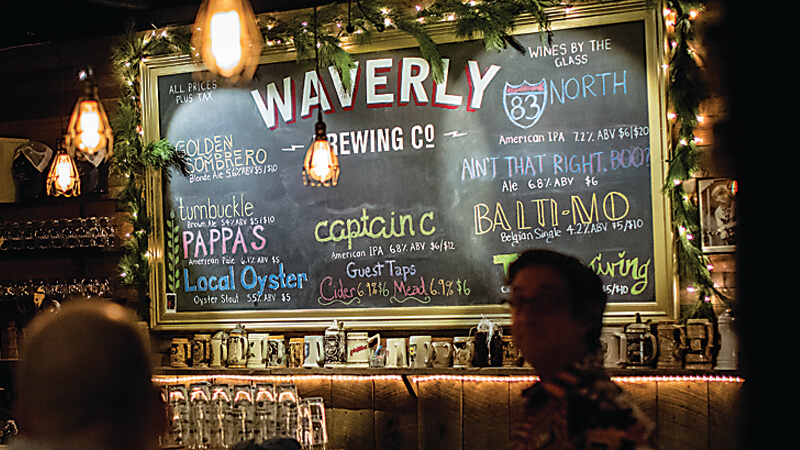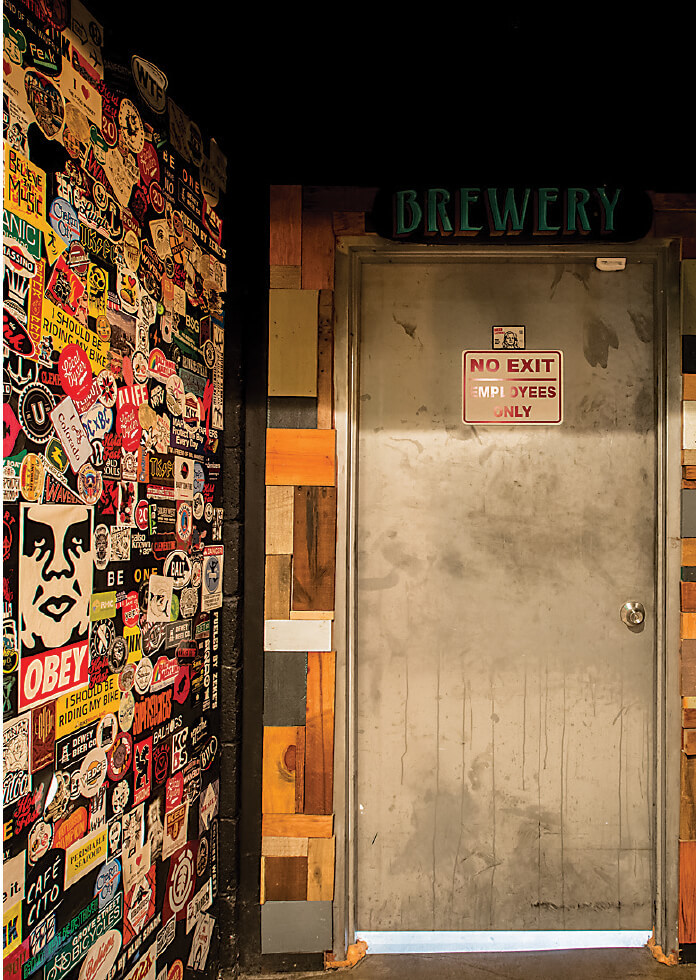 The taproom at Waverly brewing Co. in Woodberry is a hodgepodge of vintage memorabilia, agricultural and rustic touches, and a punk rock vibe of pinups and old stickers.