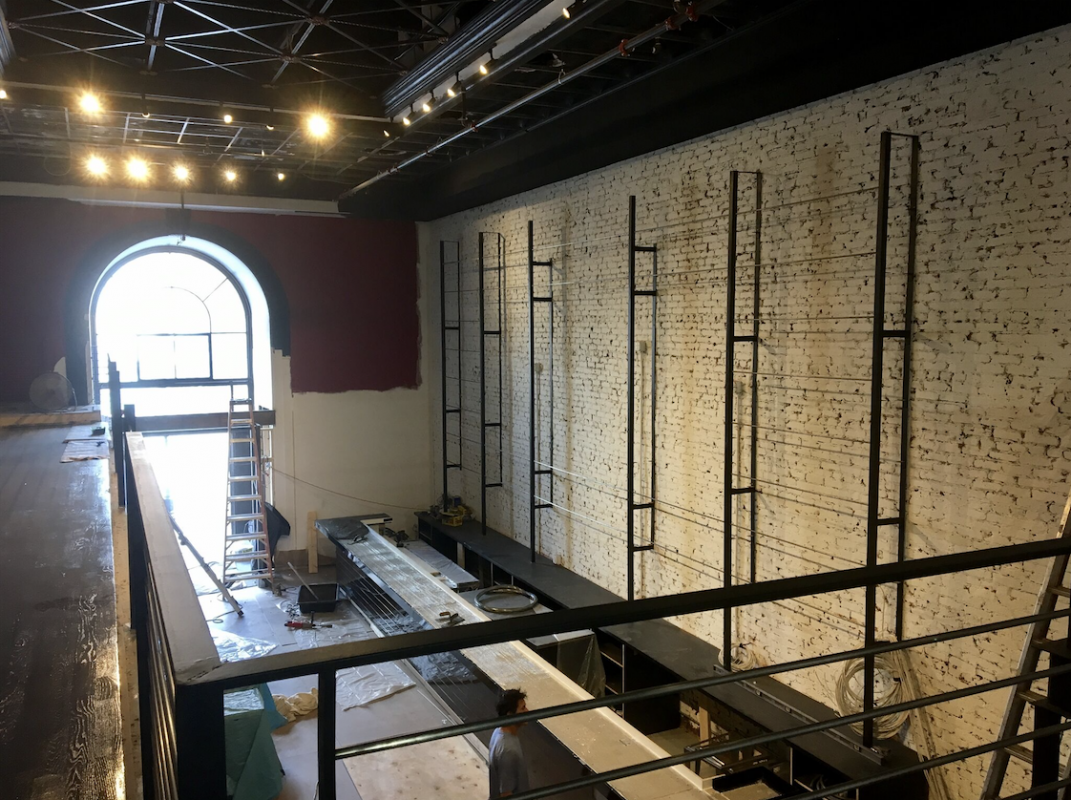 It's been four months since the familiar velvet ropes have been stationed outside of the Mad River building on South Charles Street in Federal Hill. But later this month, revelers will return to the multi-level bar to marvel at a new modern industrial concept that plays up the roots of the 117-year-old bank building.
Now dubbed The Charles, the reimagined social spot features a spacious design, streamlined cocktail program, and updated menu of small plates meant for sharing.   
"We've noticed that going out has become less about eating and more about socializing," says operation partner David Yike, who previously managed Kimpton Hotels' Stratus Lounge in Philadelphia before joining the project. "That's what we wanted to create—an open space with lighter entrees where everybody feels like a part of the action."
Although Mad River's old sports bar image has been shed in conjunction with the rebrand, Yike and business partner Andrew Wheeler used the building's proximity to Camden Yards and M&T Bank Stadium as inspiration for the design.
"We wanted everything to be featured as if you were at a stadium," says Wheeler, a Baltimore native, who worked with the Mad River franchise for eight years. "Everything feels like one space. You can be either downstairs or upstairs and still feel like you can see everything that's going on."
Among the most notable changes is a new 32-foot, subway-tiled bar that has been relocated to the left side of the main floor. Custom banquettes by Mt. Airy-based McDuffee Case and Cabinetry will now line the space under the mezzanine where the bar previously sat. The partners say that the move was strategic, in order to give patrons a clear a view of where their cocktails are being created.  
Upstairs, a large wall that once separated the second-floor bar and private back room has been torn down to let in more natural light and contribute to the airy feel. Other fresh interior touches include a relocated DJ booth, 82-inch flat screen, and new U-shaped bar upstairs. 
The partners say that preserving the building's history (think white-washed original brick walls and refinished concrete floors) was important in executing the industrial vibe.
"During the demolition, we just kept pulling back layer upon layer," Yike says. "And as we kept digging down so many cool things were exposed." Adds Wheeler: "We're keeping the original charm, but adding a bit of a modern twist to it."
Along with interior changes, The Charles will unveil a new menu helmed by executive chef Cory Pastor (formerly of The Nickel Taphouse), and sous chef Jacqueline Mearman, who previously worked in the Four Seasons Baltimore's pastry department.  
Though some menu details are still under wraps, Pastor says that it will be small plate-driven with ingredients sourced from local farms. He describes the plates as "concept dishes" that differ from a typical appetizer or entrée.
"We did a whole twist on bar and street food with a global perspective," he says, mentioning a lobster roll Rangoon as an example. "There's going to be dishes from Baltimore to Japan and everything in between."
Bar manager Harrison Livingston will pair all of the eats with signature sips crafted by cocktail consultant Liz Jankiewicz—who currently heads up the beverage program at Barcocina in Fells Point.
"It's a space to unwind, and perhaps get a little dressed up for," Jankiewicz says. "So that's the direction that we took the cocktail menu in. We wanted to create that classic party feel with something for everyone."
The lengthy beverage offerings include wine and sangria on tap, an array of local and domestic beers, and clever cocktails including the "Tin Man" (Tin Cup whiskey, cranberry, lemon, and ginger beer) and the "Feed the Ego," which combines tequila, agave, and black walnut bitters.
As the Federal Hill bar scene continues to reinvent itself with more modern concepts—including cocktail club Bookmakers, German beer hall Crossbar, and trendy Southern watering hole Wayward Smokehouse—the partners are excited to unveil their vision to the neighborhood.
"We want to deliver something different, and continue lifting Federal Hill up from the college bar scene reputation that it once was," Yike says. "It's exciting seeing everything that we had down on paper finally come to reality."